Omey Island Horse Riding in Ireland
Take an unusual horse ride to Omey Island in the Connemara Region on the Emerland Isle
If you travel to the far West in Connemara in Ireland, about as far West as you can go, check out Cleggan Riding Centre and their interesting ride to mythical Omey Island. Omey Island is a tidal island that is only accessible via a sand bridge during certain parts of the day. During full tide, the water can rise up to your horses' elbows or right up to his withers, so timing your ride to Omey Island is key.


It was almost eerie to ride across the sand bridge out to the island with my riding guide, Siobhan Cazabon, who grew up riding in this area, and knows the unpublished history of Omey Island. A low fog hung close to the sand, as a small herd of cattle made a break away from the island towards the mainland. I guess they saw that the tide was low, and they had only a short window to escape Omey Island.


There is only one man living on the island year-round now. There are about 15 houses, and many more abandoned homes. Like many parts of Western Ireland, Omey Island felt the harsh effects of the potato famine.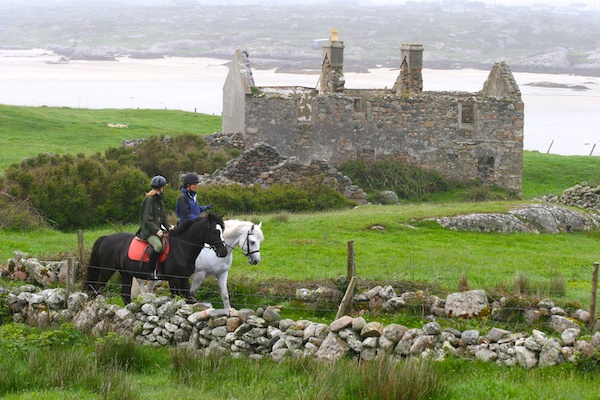 The mist thickened, as we traveled further away from the sand bridge, our only way home. We alternated from riding on the island's roads to crossing grassy meadows.


In the 7th century Saint Feichin, who is known for spreading Christianity throughout Western Ireland and was believed by many to have supernatural powers, established a monastery on Omey Island.
"In his day, this was like the wild, wild west," Siobhan tells me. "They had a notion that the closer you were to, you know the ocean, the closer you were to the edge of the world, and basically, the closer you were to God. So islands were very important to them. This being a special island having the sand bridge, you know they thought that this was really sacred and really special. So that's why they built his monastery out here."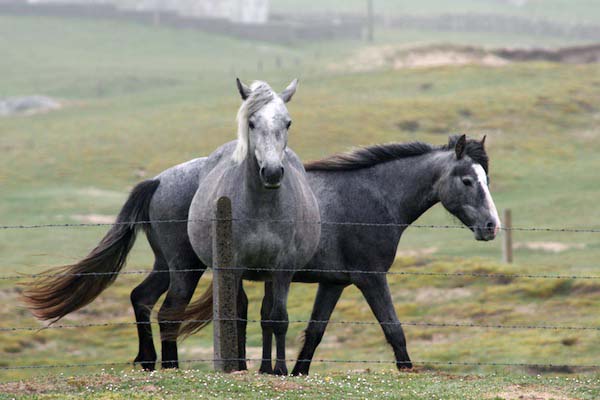 We rode to St. Feichin's well. Legend has it that the well's waters hold curative powers, and people still travel to the island to make offerings. We made an offering of our horses' manes before moving on.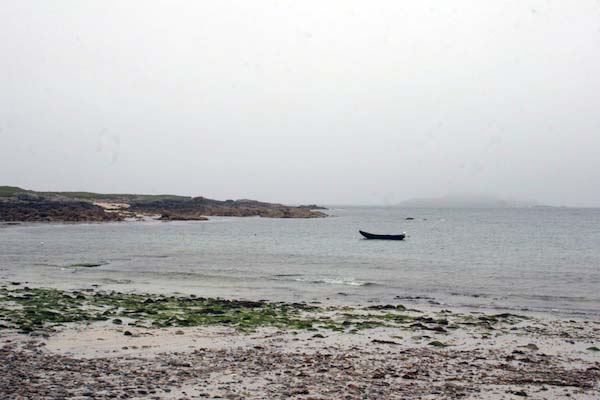 We passed two Connemara Ponies, the only other island visitors that we met. This part of Ireland is definitely not on the typical tourist itinerary, and it is a great place to explore on horseback. Just make sure to travel with a local, who knows the tides and the stories of life on Omey Island.
How you can go:
Rides can be arranged with Cleggan Beach Riding Centre, located in Cleggan Village overlooking Cleggan Beach. Cleggan is just a ten minute drive from Clifden town. There are a variety of accommodations in Clifden. I've stayed at the Abbeyglen Castle Hotel, which I really liked, and also tried Foyle's Hotel, which is in a great central location. More on these hotels and staying in Clifden at www.clifdenchamber.ie