Clonshire Equestrian Training in Ireland & Adare Village
Our visit to Adare, Ireland's "prettiest village," and Clonshire Equestrian Center, where you can take a riding vacation combining horseback riding lessons, summer horse camps for kids and training in cross country, dressage, show jumping and flatwork.
by Equitrekking host Darley Newman
The last time I visited Clonshire, we were filming a pilot episode for Equitrekking. I was really excited to head back on my recent trip to Ireland and see how it had changed. Julie Snyder, Equitrekking Travel's preferred travel agent, visited Clonshire with me en route to the Galway farmhouse in County Clare, two good equestrian vacations to consider combining if you want to experience training in the horsey area of Adare with County Clare's authentic pub culture, monastic ruins and the Cliffs of Moher.
A fun and challenging hack at Clonshire
Clonshire is a British Horse Society approved training center that specializes in dressage, cross country and show jumping. It's 2.5 miles outside of the beautiful village of Adare and only about 40 minutes drive from Shannon Airport, so if you're not much for driving in Ireland, this is a good destination. On my initial visit, I took a lesson, interviewed trainer and manager Sue Foley, a past winner of the prestigious Dublin Horse Show, and observed some riders jumping some treacherous looking cross country obstacles. On our next trip, Julie and I spent time with Sue once again to learn more about Clonshire's specialties and explore the horsey town of Adare.
Adare has been voted the prettiest village in Ireland and with its thatched roof cottages, quaint parkland, upscale boutiques, historic church and restaurants, it's easy to see why. Sue told us that Adare has recently become a place for aspiring fashionistas to shop for unique designer clothes, shoes and accessories. There are four pubs in the village and a myriad of dining options, including the more formal restaurant at Dunraven Arms, a wonderful horse themed lodging, and the nearby Mustard Seed at Echo Lodge, a gourmet's delight. I had the good fortune to try the Mustard Seed on my last Ireland trip and could understand why it's been serving guests since 1985.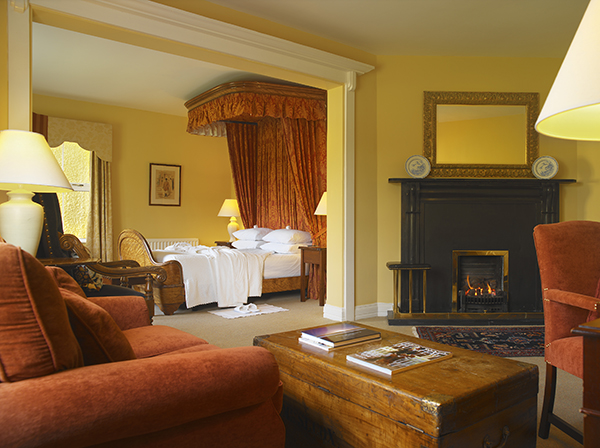 A Dunraven Arms plush suite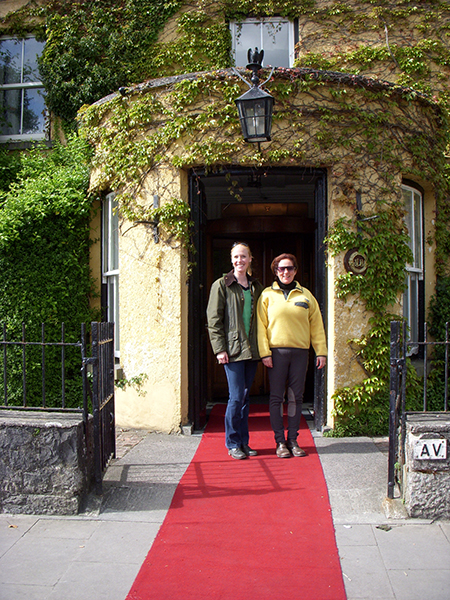 Julie and me outside of Dunraven Arms
Julie and I had lunch with Sue at Dunraven, feasting on turnip soup, ham and sharp cheddar on thick homemade wheat bread and of course hot tea. We've tried the most interesting soups in Ireland! Nowhere have I seen chicken noodle on the menu, but turnip, leek and onion, and creamy cauliflower have all been available.
For horse lovers, the Dunraven Arms is a dreamy place to stay. Avid horsemen Brian and Louis Murphy, who are well attuned to the local equestrian community, run the hotel. Their inspiration is evident in the hotel's design with its rich colors, warm fireplaces and horsey artwork and decorations. You can choose to stay at Dunraven if you ride with Equitrekking Travel at Clonshire and it's a grand choice. I think I'd like to attend one of the January Hunt Balls at Dunraven Arms, formal affairs after the Saturday hunts, to truly soak in the essence of equestrianism in Adare.
The hotel is right in the village, so you can walk to everything, including The Country Dressor. After lunch, Julie and I popped over to check out this small tack shop with some fashionable equestrian apparel. I purchased a cute polo with an embroidered horse for my young goddaughter, who at three is already horse crazy. Julie got the fitted Barbour jacket she'd been eyeing online. It was actually a better price than she could have gotten at home, and she was able to try it on.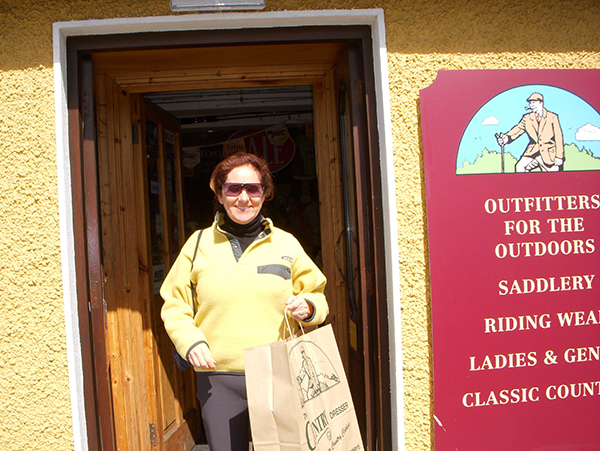 Julie shopping in Adare
Back at Clonshire's indoor equestrian center, we met some more of the strong Irish horses and watched a lesson in the indoor arena. When you come to train at Clonshire, all riders take an initial assessment lesson in the indoor arena with Sue on the first day, before heading out for a cross country hack on Clonshire's 140 acres. Sue and Dan work to individualize the program as much as they can for each rider. Some equestrians want to do lots of jumping, while others wish to take in the countryside and work on the flat.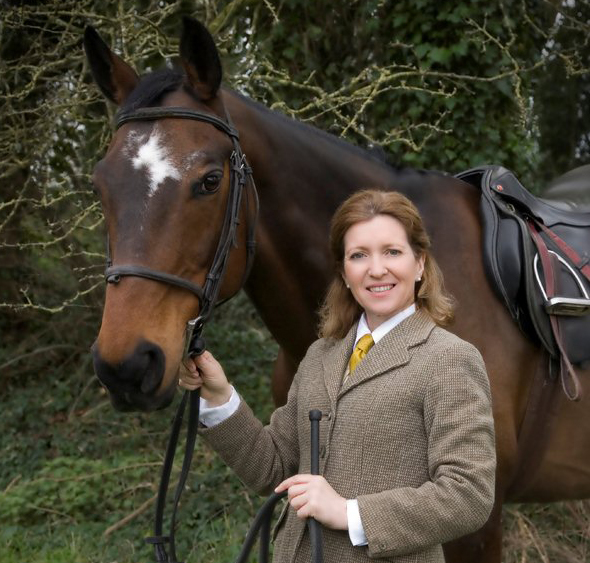 Sue Foley and her horse Tough Guy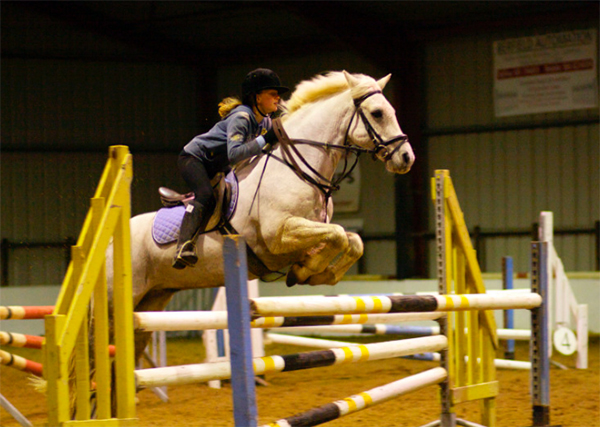 The indoor arena at Clonshire
There are a variety of breeds to choose from at Clonshire including tall Irish Draught / Thoroughbred crosses and Connemaras for kids. Julie and I remarked at how athletic some of the horses are at the stables, particularly one that Sue had been jumping cross country when we arrived. It's always nice to ride a strong Irish mount, especially with other Irish riders around the horsey village of Adare!

How you can go: Learn more about the Clonshire Equestrian Training Vacations in Adare from Julie at EquitrekkingTravel.com.