Insider's Tour with Farm to Table Dining at Salamander Resort
Caroline Maffry goes in depth to learn more about Salamander Resort, including an insider's tour, room service and dining at Harrimon's Grill.
By Caroline Maffry

To understand and appreciate how Salamander was transformed from an idea into a luxury destination, we were able to sit down with General Manager, Trey Matheu for a conversation about the journey. He invited us into the library where we sat down in front of the fireplace. The dark paneled room was filled with guests and friends. A couple behind us was playing chess, and a small group of friends seated to our left was enjoying an evening cocktail. In the corner was a family of young and old laughing and sharing memories together.
The room carried an aura of old European elegance–– a chateau in France perhaps or an English country estate. Several guests were enjoying the space together while each nestled into a corner of the room appreciating their privacy. I was curious about the collection of books staring at us from the shelves. Mr. Matheu noted that Ms. Johnson provided much of the collection herself from her own personal library, much like the art collection that we had been admiring already throughout the hotel. The rest of the collection was purchased from the Middleburg Community Library and from the National Sporting Library and Museum in Middleburg. From biographies to classics, guests are allowed to borrow any of the books to enjoy while at the Resort.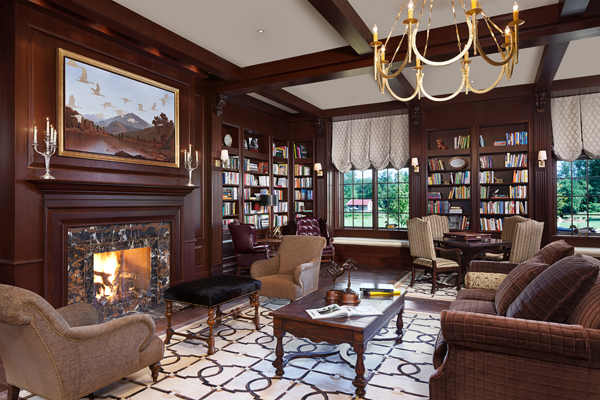 Salamander's Library features 3,000 books purchased from the Middleburg Community Library. Photo credit Justin Kriel.
As we walked through the living room towards Harriman's Grill for dinner, Mr. Matheu gave us a tour of some of the other rooms for us to enjoy. We admired a state-of-the-art cooking studio that hosts culinary classes and guest chefs. It can also serve as a private dining venue for up to 20 guests. The Gold Cup Wine Bar adjacent to the cooking studio was designed to look like a winery tasting room and Mr. Matheu noted that local Virginia wines are featured and then served throughout the day and evening. Tastings are conducted throughout the year with visiting winemakers, and you are guaranteed to leave the Gold Cup Wine Bar with a true understanding of Middleburg and Virginia Wine Country history. Pair your wine choice with a small plate of Piedmont-inspired cuisine and enjoy the beautiful setting.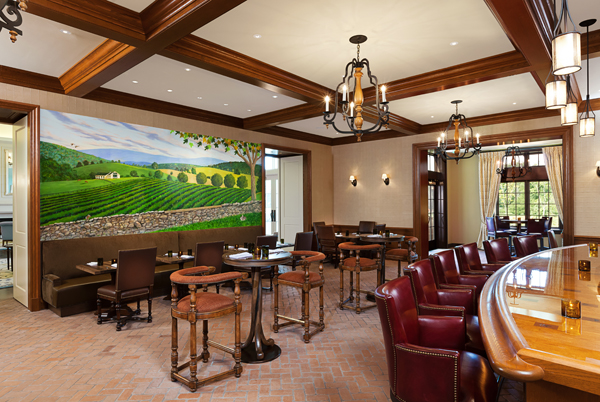 Gold Cup Wine Bar at Salamander Resort. Photo credit Justin Kriel.
Harriman's Grill Dining
Staying true to the equestrian theme throughout the Resort, Harriman's Grill features stable and stall inspired elements. The menu "highlights fresh, seasonal ingredients, captivating farm to table elements, literally, with the Chef's garden located just outside the restaurant," as the Salamander website eloquently describes. I dined on oysters and swordfish, while my daughter preferred to try the truffled mac and cheese paired with a mouth watering chicken plate. The restaurant overlooked the stables in the distance and as we enjoyed our meal we were delighted to see the first flurries of the season that had started to fall outside. With a selection of local Virginia wines and the delights being prepared by the kitchen, we had truly a wonderful evening.

The meal was everything we had hoped for but I knew that we were in good hands when I looked to my left and noticed that Prem Devadas, President of Salamander Hotels & Resorts, was also enjoying a private dinner with some family and friends. He was not there for a corporate business dinner or to be noticed, but privately enjoying his guests' company on a Saturday evening in the back of the restaurant.
Towards the end of our meal, the chef himself greeted us tableside. He didn't say much, but was genuinely interested in what we thought of the meal and wanted to make sure that we were enjoying ourselves. I noticed as he headed back to the kitchen, that he made a point to stop at a number of other tables to gauge enjoyment of the meals prepared in his restaurant.
We were handed the dessert menu and after seeing the selection that the neighboring table had received, we had to sample something. After the long day of riding and pampering though, we could not stop thinking about returning to the room to rest. Our waiter suggested that our desserts be packed to go and within a minute had returned to our table with our to-go bag complete with napkins and forks.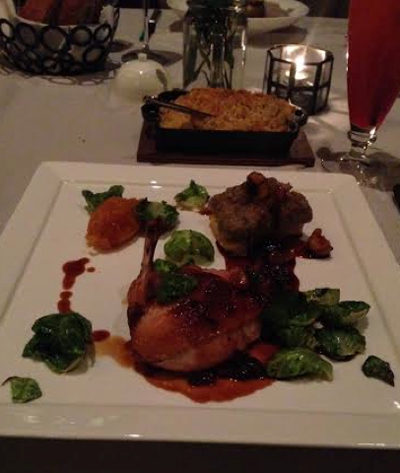 Our dinner at Salamander. Photo by Caroline Maffry.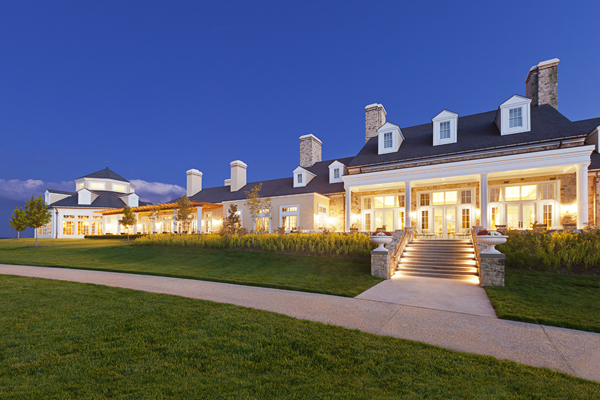 A rear view of the resort in the evening. Photo credit Justin Kriel.
As we settled in for the evening in our room, the fire was lit and the staff had been in for evening turn down. Soothing music had been turned on, fresh towels had been placed in the bathroom and our next day's itinerary was typed and placed on my pillow.
As my daughter cozied into her bed with her chocolate delight from the restaurant, I decided to pre-order our breakfast for the morning. Addressed by name, everything would be taken care of for the morning. I was reminded that should we wish to take care of the complimentary boot cleaning, to just leave our riding boots outside the door and they would be returned in the morning. What better a service to offer guests that might have riding boots dirty from the equestrian center!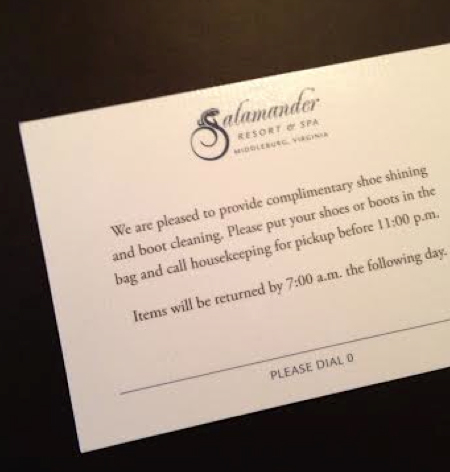 Complimentary boot cleaning for equestrian guests at Salamander. Photo by Caroline Maffry.
I drew a bath for myself in the pedestal tub and later relaxed reading for a while with the fire keeping me warm. With the outdoor fire pit flickering in the faint light from outside the window, dreams were sure to be of the wonderful day at Salamander.
We enjoyed the beautiful sunrise while we lounged in front of the fireplace, eating our breakfast elegantly set up for us. We were scheduled to return to the equestrian center that morning to experience the Equi-Spective Experience and learn about this innovative leadership program. Despite every detail being thought of throughout our stay, the resort could not control the weather and the unexpected morning freeze. This created conditions that were not ideal and with the welfare of the horses in mind and wanting to be able to experience the program at its best, we agreed with Sheryl that we would have to return to try the Equi-Spective component of the equine program at a future date.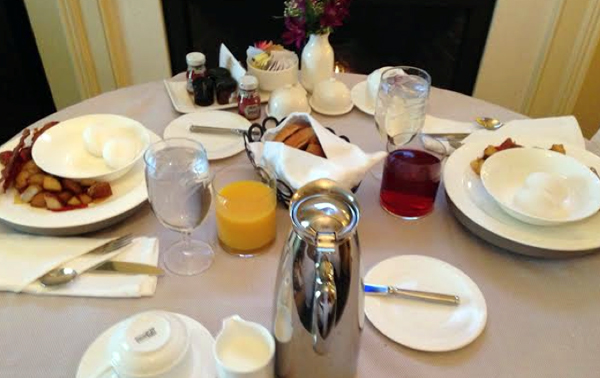 Our breakfast in our room at Salamander. Photo by Caroline Maffry.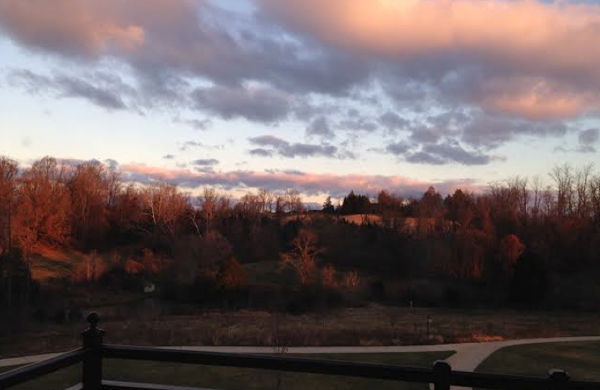 Morning sunrise view from Salamander Resort & Spa. Caroline Maffry photo
Before our departure, we explored the resort a bit further and spent some time sitting in the main living room. A wonderful stay and the first of many to come. Information about all of the equine programs at Salamander Resort & Spa can be found on their website. Stay tuned for my return visit to the resort in the New Year! I cannot wait to try out the other equine programs and see what is in store for 2014!
Salamander in 2014 and beyond...
While visiting with Mr. Matheu, I asked about future plans for the Resort. For the Equine program Sheryl has an indoor arena on her wish list so that the equine programs cannot be interrupted by weather factors, particularly during the winter months. Other discussions include foxhunting clinics, expanding the lesson program to locals, and developing more clinics, demonstrations & equine topic classroom presentations. Soon to start are the carriage rides that will be a grand addition to the Resort!
Other exciting ideas range from expanding on the kids programs and offering some summer programs to having an ice rink in place for the 2014-15 winter season.
The vision of peace and tranquility that owner Sheila Johnson wished to bestow on each guest has been achieved in my opinion. True luxury can only exist with impeccable service and the Salamander Resort & Spa has achieved this through simply extending an extra effort of a small personal touch for each of its guests.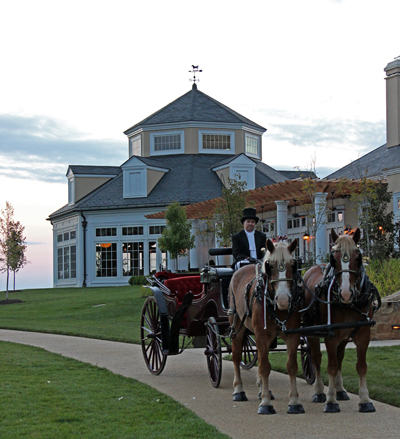 A horse-drawn carriage at Salamander.
A Special Thanks
From the personal touch of being greeted at every corner by name to the itinerary reminders in the room for evening turndown, nothing was overlooked or forgotten to make our stay extraordinary. Professionally, I left with a wealth of information and great experiences to share with our readers and invite them to also experience Salamander Resort & Spa. I will be back to continue to experience Salamander Resort & Spa as well.
A special thanks to Patricia Tang, Vice President of Marketing Salamander Hotels & Resorts and Matt Owen, Corporate Director of Public Relations for setting up this opportunity and for coordinating the itinerary for our stay.
To Sheryl Jordan, Equestrian Director, for a wonderful experience at the equestrian center. To Natalie Hampshire, Assistant Spa Director. Your ability to ensure that we received all that we needed during our stay was most helpful and a particular thanks for setting up the rider's relief massage.
A special thanks to Trey Matheu, General Manager for Salamander Resort & Spa, for the opportunity to have you personally introduce the Resort to us. Your particular attention to our stay was 5 star service.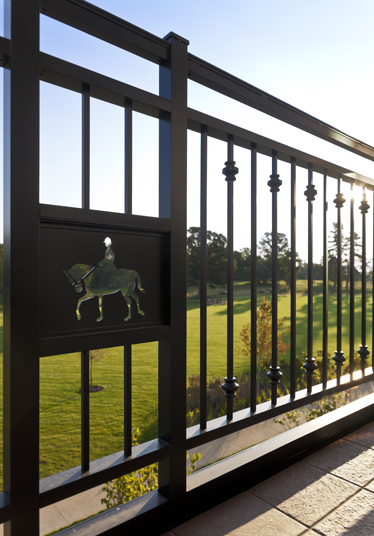 Equestrian elegance is seen throughout Salamander Resort.

How you can go: Learn more about Salamander Resort & Spa, where you can bring your horse or take an equestrian vacation riding one of their mounts.