Iceland Horseback Riding Vacation Photo Journey
Want to ride the Land of Fire and Ice? Check out captivating photos from Iceland horse riding vacations to see what it's like!
by Darley Newman
Photos by Íslandshestar
Called the land of fire and ice, Iceland is home to spewing geysers, roaring waterfalls, giant glaciers and pure nature with all of its beautiful fury. With summers of almost constant sunlight and winters blanketed in darkness, Iceland is a fascinating country of extremes. It is also the land of the Icelandic horse. A source of national pride for the Icelandic people, this ancient breed has survived over a thousand years in isolation in the tumultuous landscapes of Iceland.
If you're interested in a horse riding tour in Iceland, scroll down to enjoy nature at its finest and some of the scenery and adventure you may enjoy on your travels.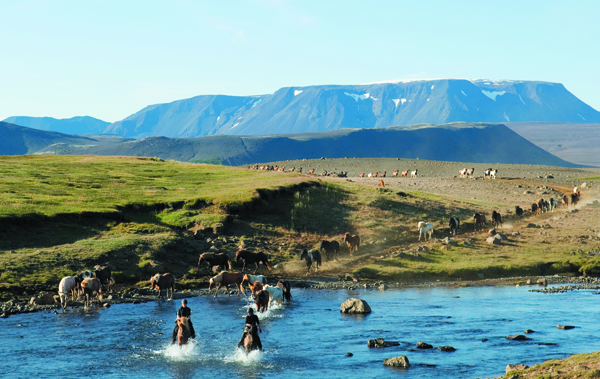 During traditional Icelandic horse drives, riders move at high speeds through lava fields, green valleys, rivers and to waterfalls alongside fifty or more horses. This unique adventure is true freedom that can only be found with the spirited Icelanders and their horses.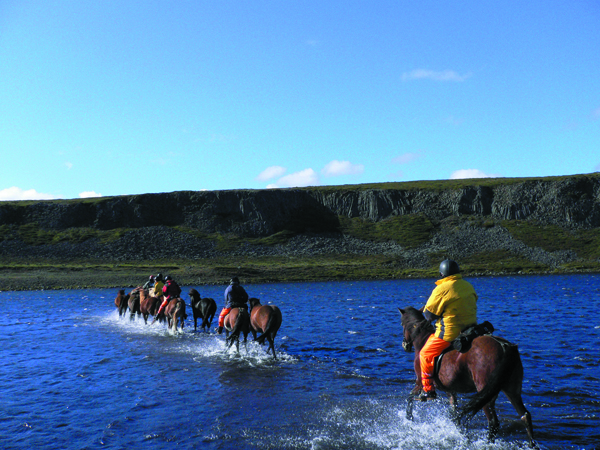 Because there are vast distances to cover, the Icelandic people ride one horse and pony or hold onto another, so that when the horse they are riding gets tired, they can switch mounts and keep going at a good pace. You can see that in this action photo of a river crossing on horseback.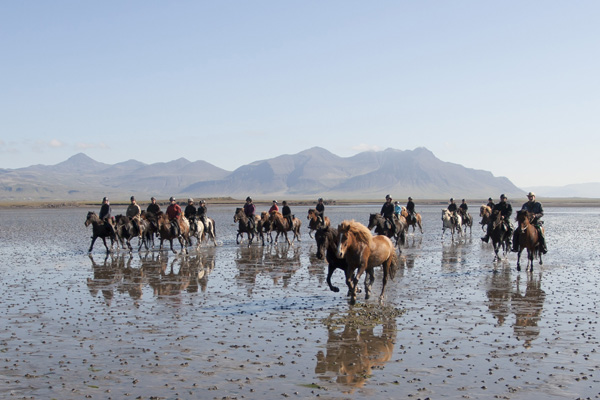 Believe it or not, you can horseback ride on the beach in Iceland. The Snæfellsnes Peninsula in western Iceland has black and golden sand beaches, allowing riders long tolts and canters.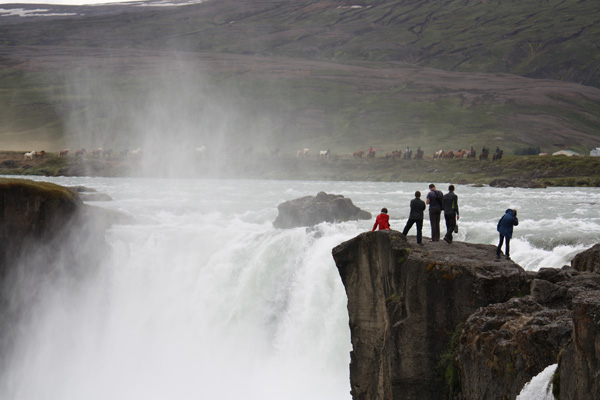 A favorite riding tour in Iceland takes travelers along the popular Golden Circle to visit hot springs and geysirs in the lovely countryside of South Iceland.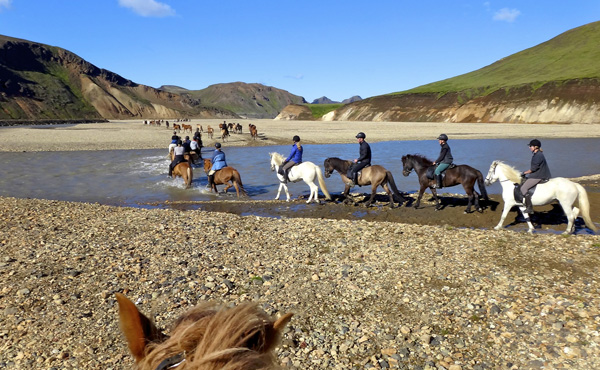 It is traveling through these landscapes that one can begin to understand how the Icelandic horse developed the strong and versatile attributes, for which it is so prized today and how the Icelandic people needed these horses to survive.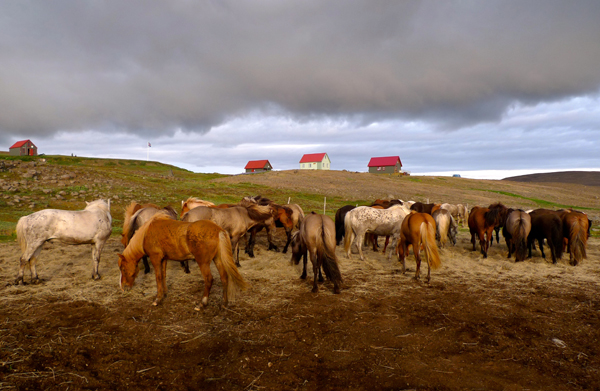 When horses are born in Iceland, they usually spend their first few years in the wild with other horses. They are not ridden or trained until they are about four years old.

You may end up crossing large glacial rivers on your travels in Iceland. This isolated island nation has abundant hydroelectric and geothermal power harnessed from many rivers and waterfalls.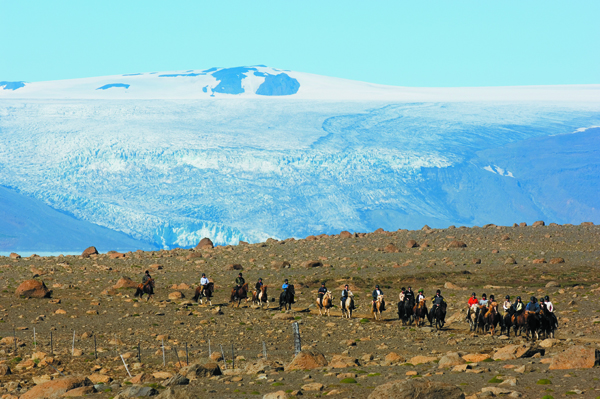 Icelanders have ridden along the historic Kjölur trail for centuries. Riding this terrain, you're glad to be on a sure-footed horse who can pick his way through the lava rocks.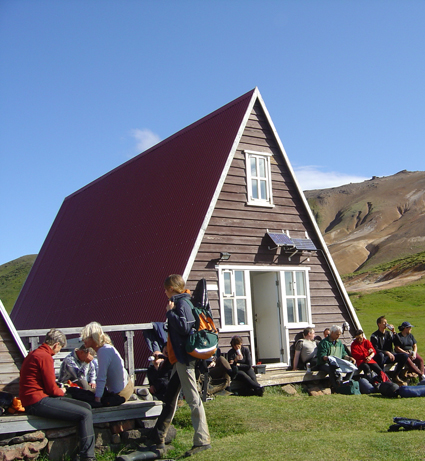 On many Iceland riding vacations, you stay in rustic mountain cabins in the middle of Iceland's untamed nature.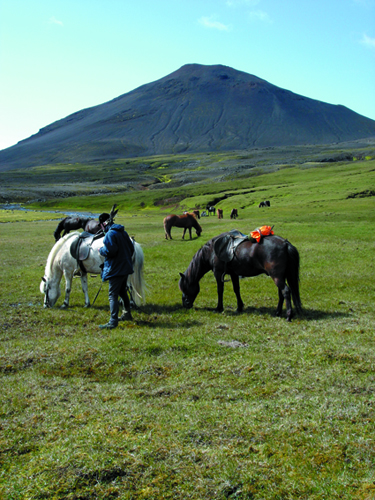 Icelandic horses graze in a meadow. Until the 19th century, horses were the sole mode of transportation around Iceland's rugged lava fields. Still today, Icelandic horses are used to travel the highlands and other parts of Iceland inaccessible by any other means and are horses are still considered part of the family for many Icelanders.

Learn more about Iceland riding vacations and get matched with a trip at EquitrekkingTravel.com.