Hurricane Harvey Updates on Relief for the Horses
In August 2017, one of the costliest hurricanes in U.S. history hit the Gulf Coast of Texas and Louisiana mercilessly. Many people were displaced from their homes and extensive flooding led to the injury and death of both people and animals in the area. Hurricane Harvey had a drastic impact on Texas, and relief funds and rescue expeditions were put into place to help during this time of recovery.

So often after a disaster or big news event, the coverage is only seen for a short amount of time. We wanted to revisit what happened with Hurricane Harvey, who helped the horses, as well as what's happening now.
By Madeleine Davis
About Hurricane Harvey
Hurricane Harvey began as a tropical storm, forming east of Barbados in late August 2017. On August 24, it was classified as a Hurricane and continued to increase in strength. On August 25, Hurricane Harvey hit land south of the Houston area, between Port Aransas and Port O'Connor, Texas, as a Category 4 hurricane. This was the first Category 4 hurricane to hit the U.S. since Hurricane Charley in 2004, and the first big hurricane to hit the middle Texas coast since Hurricane Celia in 1970.
Once it hit land, Harvey lingered over south and southeast Texas for days and caused heavy flooding, with "the most rainfall ever from a tropical cyclone in the continental U.S." (CNN). After hitting the Houston area, Harvey moved back to the coast and over to Cameron, Louisiana where it hit landfall for the last time.
With winds reaching up to 130 mph, and over 60 inches of rainfall in some areas, Hurricane Harvey caused extensive damage to many homes and businesses in Texas and Louisiana. Power was lost for days all over south Texas, with just under 400,000 people left without electricity. Many people lost their homes and belongings, and some even lost family members or companion animals. The death toll for Hurricane Harvey amounted to over 100 people and caused about $125 billion in damage overall.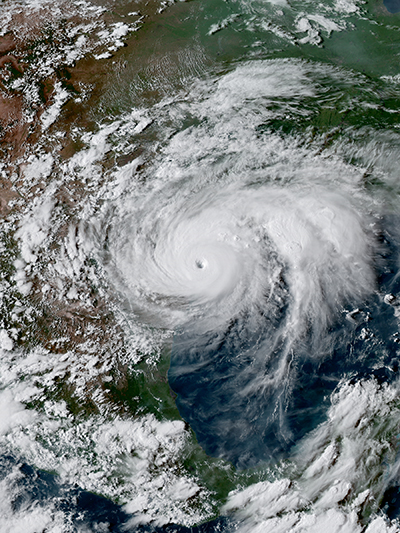 Hurricane Harvey near the coast of Texas at peak intensity late on August 25, 2017
Harvey's Impact on Horses
While many people were able to move themselves and their horses to a safe place before the hurricane's arrival, still some were not able to move. All throughout South Texas, pets and livestock were left stranded in the floodwaters awaiting their rescue.
The floodwaters raised some serious health and skin issues for horses. Horses are capable of sustaining themselves in water up to their backs for about two days without exhaustion or serious limb injury. However, if stuck in floodwater for too long, horses are very susceptible to serious injury.
As far as health impacts go, floodwaters contain toxins and other microbes, such as E. coli, that can result in severe flesh-eating or infectious diseases. In addition, the abundance of waters can bring in mosquitoes and mosquito-borne diseases, such as Eastern and Western Equine Encephalitis, West Nile Virus, Equine Infectious Anemia, and rain rot. Many foot problems can occur and wounds are easily attainable and infected in high floodwaters.
Leslie Easterwood, Clinical Assistant Professor at Texas A&M University College of Veterinary Medicine, stated that during this time they, "responded to horses that were evacuated prior to the hurricane, as well as animals that were in standing water of varying depths for up to a week. The conditions varied from no significant lesions to horrific skin lesions that led to systemic illnesses".
Horses are also at a high risk for injury when encountering unseen obstacles in the water. They are often forced a certain direction by the running water and are not able to guide where they are going. It is not uncommon that horses injure themselves, or even get caught in wire and fencing. In the case that the horse gains freedom and is rescued, they are still susceptible to serious limb injury and infected wounds.
Not only were the horses' health at risk, but many horse owners and trainers lost their facilities and even their homes. Especially in the areas south and east of where the hurricane hit, many buildings were completely wiped out, and the ones still standing were very structurally unsound.
Hurricane Harvey caused extensive damage and left many towns sitting underwater. Many families were displaced and homes were destroyed. Animals, both pets and livestock, were left abandoned and stranded in the floodwaters, making them very susceptible to injury and for some, death. This hurricane had a huge impact on horses, their owners, and the horse industry, but did not leave them without hope.
Rescue team saves horse from floodwaters in College Station, Texas
Who Has Helped
While Hurricane Harvey left many distraught, it did not leave them helpless. People from all over the country, from celebrities to sports teams, came together to help raise money and give their time to the recovery from Hurricane Harvey. Businesses across America raised over $72 million dollars for relief funds, and still many others donated their time and other resources to those in need.
For the horse industry specifically, many trainers and different breed associations raised money and sent supplies to those in need. There were many organizations and societies that went out and rescued stranded horses and provided them with shelter, food and water, and any rehabilitation or wound care that was needed.
The U.S. Equestrian Federation's Equine Disaster Relief Fund was founded after Hurricane Rita and Katrina in 2015, and took donations that went directly to the Houston SPCA for horses and their owners. Both the Humane Society of the United States and the Houston SPCA took in stranded animals and donations to care for and rehome these animals. The American Association of Equine Practitioners (AAEP) Foundation's Equine Disaster Relief Fund and Texas A&M's Veterinary Emergency Team also collected donations, and made their way into the Houston area to rescue the stranded horses. The Veterinary Emergency Response Team at Texas A&M University was involved in rescues and aftercare for about three weeks during this time, as well as partnering with other organizations to collect donations. Along with many others, the Habitat for Horses organization, based out of Galveston, Texas, took in these rescued horses and focused on injury care and rehabilitation.
Many other organizations and individuals dedicated both their time and resources to those in need. One video in particular went viral after a father and son in Houston rescued a stallion from a round pen, that was neck-deep in floodwater.
Father and son rescue a stallion from round pen
Status of Horses as of April 2018
According to Leslie Easterwood of Texas A&M University's College of Veterinary Medicine, there are not many horses still in need today. Many horses and owners have either rebuilt or relocated, and are working on reestablishing their homes. However, Easterwood mentions that, "undoubtedly, there are likely horses that will never return to their original facilities. At this point, the owners have either rebuilt or relocated. A very small percentage of the horses were never able to be reunited with their owners. Those were adopted out by the Humane organizations after they were surrendered by the owners, or after all efforts to identify the owners were exhausted".
Keith Kleine of the AAEP Foundation stated that one of the main objectives for organizations such as these, is now focused on preparation for emergencies in the future: "We are still reviewing applications for preparedness programs in Texas and other states that want to educate first responders".
While the remaining horses are not in continued need, donations are still being collected and distributed for those that are rebuilding their homes and facilities, and many organizations are working to educate and prepare first responders for future disasters such as Hurricane Harvey.

How You Can Help
Many people and organizations are still in need of resources, and are still accepting donations for hurricane relief operations. While a simple internet search for Hurricane Harvey relief will direct you to different donation destinations, listed below are a few organizations that are committed to helping care for and rehome the horses affected by the hurricane:
American Association of Equine Practitioners (AAEP) Donations by mail can be sent to: Equine Disaster Relief Fund, AAEP Foundation, 4033 Iron Works Parkway, Lexington, KY 40511; (800) 443-0177 (U.S. only) or (859) 233-0147.

Habitat for Horses Donations

U.S. Equestrian Federation's Equine Disaster Relief Fund

Humane Society of the United States

Texas A&M Foundation
and more!

About the Author: Madeleine Davis is a college student at Texas A&M University, studying Animal Science and pursuing an Equine Certificate. Having ridden and competed Arabians since the age of seven, she has a passion for the Arabian horse, and enjoys writing about her experiences and knowledge of the industry.