How to Get Involved with Equestrian Skijoring
If you're ever wanted to try this daring and fast paced sport, look no further!
by Jocelyn Pierce
Equestrian Skijoring, now a popular competitive sport, has been around since the 14th century, where it was originally used as a method of travel in Scandinavian countries. Simply put, horse and rider tow a skier across the snow for fast paced fun. If you have always wanted to give this unique sport a try, consider learning from the experts with these options around the globe.
Pisan Eraratsut in Finland
Go back to Skijoring's origins and learn about this sport in the arctic wilderness of Finland's Lapland, located 50km from Rovaniemi. Horsewoman Tuulia Karppinen has studied natural horsemanship, therapeutic riding, and trail riding education. She wanted guests to be able to do more than just trail ride and devised a plan to teach guests about skijoring.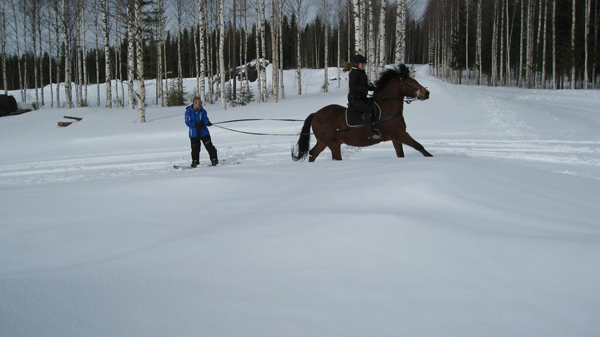 At her farm, guests can ski or snowboard behind her well trained horses, most of which are Finnhorses, the traditional breed of Finland and a type of draft cross. For safety reasons, guests must have former experience in downhill skiing, or be a very good cross-country skier to participate.

In addition to skijoring, Karppinen offers one, two, and four hour rides, as well as overnight trips.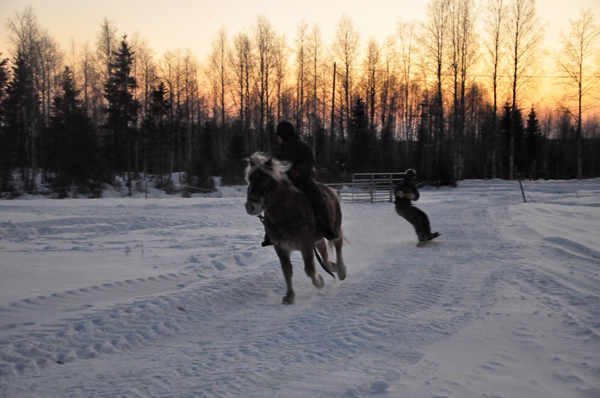 Photo by Mary Dutra and Caio Rodrigues
Triple Creek Ranch in Montana
If you want to combine a guest ranch getaway with skijoring, Triple Creek Ranch is a good option. Located in the mountains of Montana, Skijoring at Triple Creek focuses more on fun than competition. Experienced staff work with guests and tailor the experience to each guest's skill level.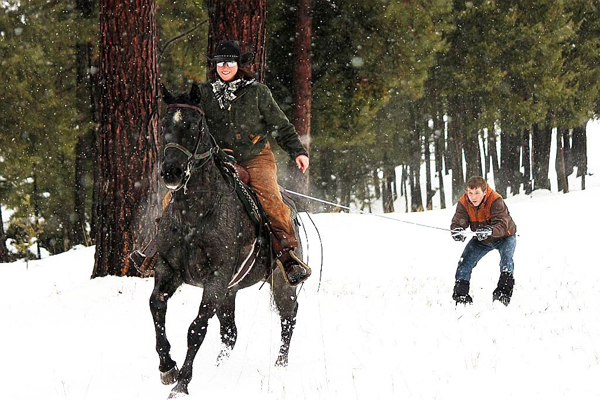 In addition to skijoring, guests will have the opportunity to see an authentic skijoring competition about one hour from the ranch at the Wisdom Winterfest Weekend in Wisdom, Montana, Febuary 25-29, 2016. Visitors can hang out with the cowboys and pick up tips from the racers while enjoying the rowdy spirit of all that skijoring has to offer. It is even rumored that some Triple Creek staff may be participating!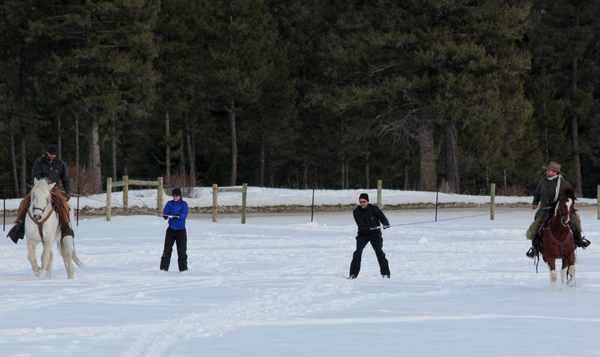 Butternut Farm in Ontario
Pat Wolfe, his wife Jane, and their Norwegian Fjords teach people of all ages about skijoring in on their 100 acre farm in Middleville, Ontario.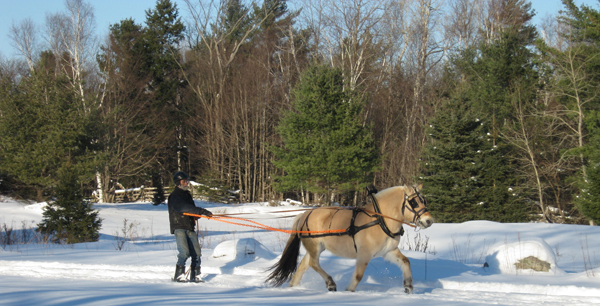 The Wolfes offer skijoring clinics on specific dates all winter at Butternut, and Pat is available to teach clinics off the farm throughout the season. The Wolfes also take requests for families or groups that may want to visit on a specific date. Clinics typically last all day, from 9am-4pm.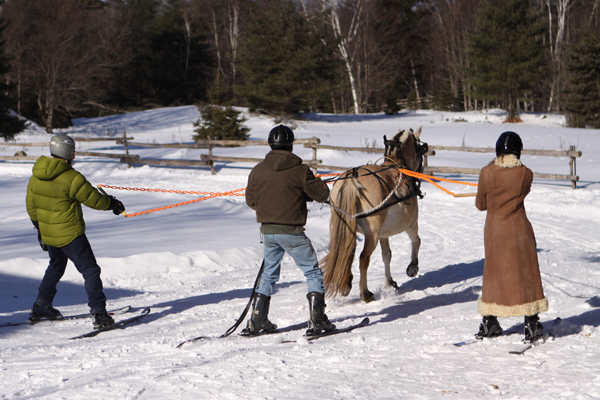 Guests have the option of learning to drive the horse while skiing, or can ski behind as a rider controls the horse. Pat spends the morning teaching people from the horse's perspective-how it feels to have a bit in your mouth and how sensitive the horse's mouth is. Next, students will learn how to correctly drive with one hand if they want to skijor on their own. Their other hand will hold the tow bar.
Guests should bring a helmet and downhill skis.
Current clinic dates for 2016 are January 23, February 6, and February 20.
Other Skijoring Options
In addition to the above educational opportunities, check with these skijoring organizations for any clinics or training sessions they may be offering in your area:
The North East Ski Joring Association, based in New London, New Hampshire is holding a clinic on January 23 in Rochester, New Hampshire. Click here for more info and a calendar of events.
The North American Ski Joring Association, based in Whitefish Montana, typically hosts training opportunities and practice sessions with local ski joring experts once a week. Contact them more information here.
For a listing of 2016 skijoring races click here.