How to Choose the Perfect Horseback Riding Holiday
Thinking of booking your first horseback riding vacation? Here are a few expert tips from globetrotting equestrian, Janine Whyte, that will help you pick the perfect equestrian holiday for you.
It was 2009, and I was searching furiously on the internet to find the perfect and most authentic Cattle Ranch Holiday when I stumbled across a whole new world. Pandora's Box had been opened and I more than willingly began to forage. Since then, I have partaken in over twenty horse riding holidays all around our beautiful world. There are a plethora of choices for exploring the world on horseback. My bucket list keeps steadily expanding without any end in sight, but there is one question I am constantly being asked: "How do you choose the trips you do?"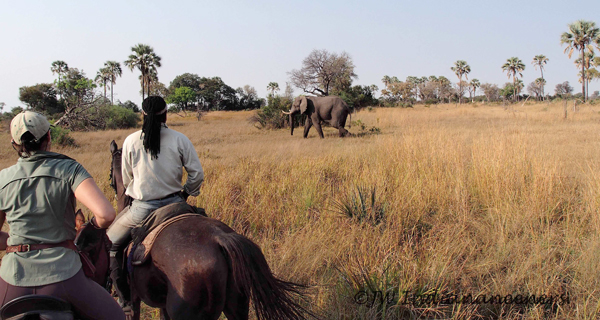 An African horseback safari might require the confidence to flee at speed from danger. Photo courtesy Janine Whyte.
For me, it's simple. I love the outdoors, adventure, and being on horseback. I prefer to roam off the beaten track, in less traveled destinations. Forgoing luxury is not an issue for me. I grew up in the eighties and nineties in Ireland, so I know how to rough it--my grandparents had no bathroom! However, the aspect of these trips that I enjoy the most is, of course, the bond between horse and rider--a bond that's built on trust, understanding, and (most of all) respect.
I have covered countless kilometers in the saddle, over some of the harshest, most inhospitable and barren environments. I've climbed mountain ranges, waded through rivers and seas, and galloped across great expanses of wide open spaces in far away magical places. None of this would have been possible without the trust and companionship of my four-legged friends, and it never ceases to amaze me how far a horse will go for you once you have gained his trust.
I find this bond between horse and rider incredibly unique and fascinating. I enjoy exploring it, which is why I prefer trips that really test this bond, such as the expeditions that last from 10 to 14 days. The adventures that challenge you and your horse in every conceivable way, and then the pure, unadulterated, and euphoric joy you feel when you reach the end and know that you rode as one, that deep relationship consolidated...that is my motivation. It is the first question you should ask yourself when choosing a riding holiday.
What is your motivation?
Everybody has a reason for doing something, and trust me, you certainly need some sort of motivation to ride a horse while exposed to the elements for at least six hours a day, and then camp in sometimes arctic conditions by night. Unless you are inspired to partake in a particular horse riding expedition, it may turn out to be a very long and arduous holiday for you!
Your motivation may be to ride a particular breed of horse. When I decided to do The Sacred Valley Ride in Peru, I had already spent time riding in the majestic Andes mountain ranges of Ecuador, Argentina, and Chile. I knew the landscape would be breathtaking, and I had already felt the biting chill of the air at high altitude, coupled with the burning sun. I knew the terrain would be technical and challenging since I had experienced it all previously. I wasn't overly keen on spending our nights in a hotel away from the horses, but I had never ridden a Peruvian Paso, and I wanted to dance the paso llano with the Rolls Royce of the horse world. Where better to ride this national treasure than in Peru?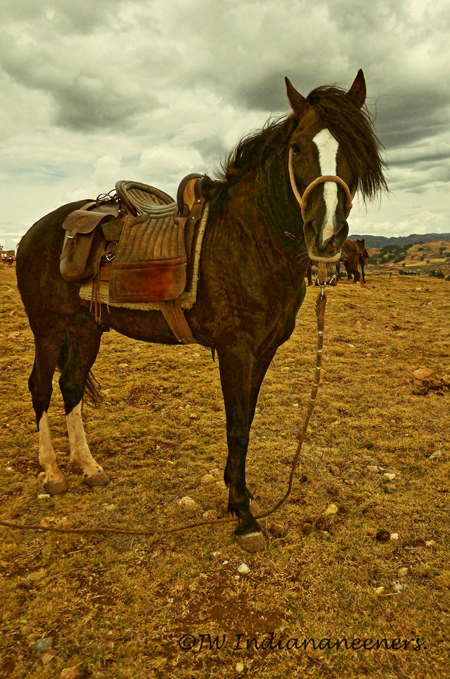 Cruz de Jaime, a Peruvian Paso Stallion and a pretty good motivation to ride in Peru! Photo courtesy Janine Whyte.
Perhaps, you want to test yourself? A lot of these rides require discipline and determination. Despite having traveled around the globe to far-flung places, I haven't taken many riding holidays in Europe (only three). I'm always of the opinion that it is just on my doorstep and I will explore the rest of my continent by horse when I no longer want to fly long distances!
The first riding holiday I did in Europe was "The Transpirancia, Europe's Toughest Ride." At that point, I had already traversed the Andes from Argentina and into Chile, as well as crossed the Namib, the oldest desert in the world, so I was looking for a challenge. I certainly found it! You definitely need a lot of motivation to start riding at 4:00 am in the morning to avoid a thunderstorm!
At times you may question your sanity. I certainly have at various points along my expeditions, usually when it's a ridiculously early start. But if you've selected a particular riding holiday because you have a strong motivation to do it, no matter what happens along the way, you will weather the storm and enjoy it immensely.
How far out of your comfort zone are you willing to go?
As I've mentioned previously, I love the great outdoors. I also love camping, but not so much at home in Ireland due to the high volume of rain we receive on pretty much a daily basis. But in general, give me the five million star hotel over the five-star hotel anytime! A lot of the places that I have ridden in are very remote. I often find that the most beautiful and serene landscapes are those that are inaccessible. Therein lies the beauty of discovering the world in the saddle.
I'm also extremely comfortable with basic living. With remoteness comes a distinct lack of facilities, so if you are somebody who enjoys the slightly more luxurious things in life and can't possibly cope without a comfortable bed and hot showers every night, then there are definitely some trips that you would not enjoy, i.e., most of the ones that contain the word camping!
A minimalist camping setup from an equestrian holiday at the Makgadikgadi Pans. Photo courtesy Janine Whyte.
Of course, degrees of camping differ. Crossing the Andes, we camped by glacial mountain streams every night. That's also where we bathed--very invigorating and refreshing! In the Atacama Desert (the driest in the world), for ten days showers mostly consisted of baby wipes, although we did manage to find some clear, crystalline streams to have a very brief dip in before losing our extremities to hypothermia.
And then you have more opulent camping. Crossing the Namib Desert, there are hot water bucket showers available every night. But even that wasn't enough to satisfy one particular guest, who could not understand why we would be without electricity for the 10-day duration of the trip. They firmly believed we would be staying in lodges and guesthouses while navigating our way across the oldest desert in the world!
There is a horseback riding holiday for everyone, but be mindful of your comfort zone. What are you willing to sacrifice for the experience of a lifetime? What can you not possibly live without? It is a holiday after all, not an endurance challenge, so go with your preference. If you would rather stay in a hotel every night, choose a stationary ride. If you want to experience the wilderness, choose a progressive camping trail.
Be honest.
Particularly with yourself! Riding holidays are intense--you will soon become very acquainted with muscles you never knew about or forgot existed!! It's difficult, even for the most experienced riders. Perhaps you are used to riding your own horse in a specific area. Now, you will be riding unfamiliar horses in the wide-open countryside, wild and free, sometimes with obstacles to jump, scramble, or wade through--sometimes with the presence of African game!
Stretching the truth on your riding experience is fooling no one but yourself. These guides have seen it all before, and they can tell the minute you sit in the saddle what you are comfortable with. You can never bluff a horse. They can sense if you are nervous or reticent, and they know if you are lying. Not only are you doing yourself an injustice, but it also places a lot of pressure on the rest of the group, whom, for safety reasons, can only ride at the level of the weakest rider.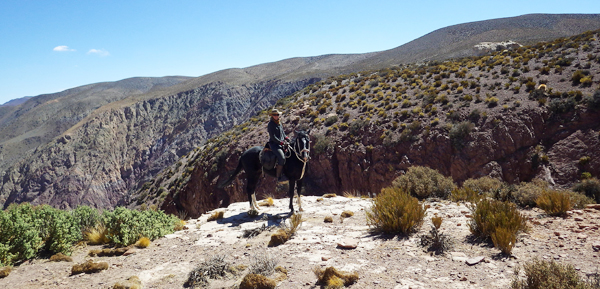 Some riding holidays will take you through difficult terrain, like this ride in the Atacama Desert. Photo courtesy Janine Whyte.
I've been riding horses on a regular basis since I was six years old. Horseback riding is like breathing for me. It is a life essential. I've clocked many hours and kilometers in the saddle and I have ridden a wide variety of horses--there is not a lot that I have not seen or experienced. I've only ever owned one mare, and perhaps that is to my advantage. Since I ride a variety of horses all the time, I am able to gauge a horse quickly and adapt my technique.
As a child I spent my time mucking out stables, grooming multiple ponies, and cleaning mountains of tack to earn extra hours in the saddle--so any time spent astride a horse is precious to me. I'd consider myself an experienced and confident rider: nothing fazes me in a saddle. I specifically look for adventurous riding trips, ones that are for strong, experienced riders. On some of the trips for advanced riders, some of the group certainly were no experienced and it is heart-breaking. As long as I'm on horseback, I'm happy, but when you pay for an experience and have an expectation of how it is going to be, it can be devastating to learn that the trip has to be modified because people have lied about their experience.
Riding holidays are graded according to experience level for a reason. A particular ride may not be very fast, but it may be extremely technical, which is why it would be classed as advanced. Be honest about your experience. If you are not at an advanced level or confident in the saddle, do not choose a ride meant for experienced riders. You're not only putting yourself at risk, you're also putting your group at risk.
Are you comfortable with the terrain?
Anywhere a horse is willing to go, I will go! I don't have a particular preference for a certain type of terrain--I enjoy them all. From galloping along deserted beaches with the wind tousling my hair to scaling precipitous heights and descending deep into bottomless gorges, or from hanging out on the edge of sheer mountainsides to taking unexpected swims across beach rivers, every type of terrain is unique and presents its own individual challenges for both horse and rider.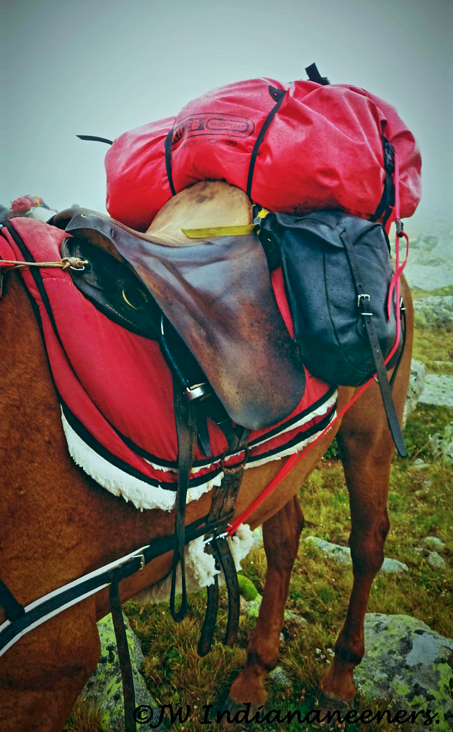 Transpirancia, Europe's toughest ride, involves carrying camp for two days on horseback. Photo courtesy Janine Whyte.
There are many majestic mountain ranges and canyon floors to discover and personally, I love the ruggedness of the ridges and the technical riding involved in mastering the dizzying ascents and tricky descents. However, I can imagine these situations would cause palpitations if you suffered a fear of heights! Crossing deserts, being exposed to the harsh unrelenting and vengeful conditions of arid, barren land can also be particularly challenging, especially if you are not a fan of sand infiltrating every crack and crevice of your being. Splashy canters in the Okavango Delta were one of my favorite things about riding there, but if you're averse to being pelted with water and mud on a regular basis, it may not be so enjoyable!
Read the itinerary, look at the pictures, and get a general sense of the area you will be riding through to ensure you are completely comfortable and confident with the terrain to fully enjoy your horseback riding holiday experience!
So what are you waiting for? Keep these few tips in mind, go forth, and scour those brochures and websites. Saddle up! Your perfect riding holiday is waiting for you!
About the Author. Janine Whyte (Globetrotting Cowgirl), first got bitten by the travel bug in 2007 while backpacking around the world on a sabbatical year from work. In 2009, she stumbled across the world of equi-tourism and discovered that she could combine her two greatest passions in life--horses and travel. Since her first horseback safari in Botswana in May 2009, Janine has traveled off the beaten track and on four hooves in over 20 countries--enjoying many adventures such as traversing the mighty Andes mountain range and crossing the oldest desert in the world. You can read more about her travels and follow her adventures on her blog: www.indiananeenersglobetrottingcowgirl.com. Follow her on social media: Facebook and Instagram.