House Swaps for Horse Lovers
Interested in traveling the world but horses are keeping you at home? Ever considered a house swap with a fellow horse owner? What about swapping homes with someone who lives in a place you've always wanted to ride?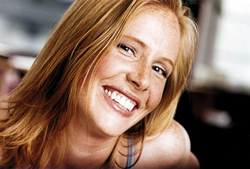 After hearing from horse owners who've watched Equitrekking and long to see the world, but can't because they can't find anyone to look after their horses at home, I decided to research the subject. Like anyone who has experienced great travels, I want many other people to experience the world too.
There are a multitude of companies who specialize in listing homes all over the world. You can list your home on these sites and actually trade with someone for a week, a month or even longer. They stay in your house and you stay in theirs.
In searching for houses to take over in foreign lands or states, you can use a free service like Craigslist, post on active horsey forums or pay to become a member of a fee-based service. Yearly membership prices range. Some sites I perused ranged from $45 to $80. The advantage to these fee-based sites is that they hold their members to standards, have advanced search mechanisms so that you can search for horses and horseback riding specifically, address issues such as security and give you the added comfort of knowing that each person who lists is somewhat vetted.
Trading houses with someone allows you to really live like a local and better integrate into an area's culture, while saving money. You can search for homes with horses on site or houses near an area where you want to horse ride and explore.
"A major advantage of a house swap over renting a house or staying in a hotel is the cost savings as it is rent-free (many swap vehicles as well for extra savings)," said Lois Sealey of Home Base Holidays, a worldwide home exchange club started in 1985. "Regular home exchangers rate having the space and convenience of a fully equipped home as a major advantage along with the fun of living in a real community, often getting to know the home owners' friends and neighbours and discovering new places off the usual tourist trail. Many home swappers are happy to look after each others' plants and pets – even horses when qualified to do so."
Here are some options that I found on my search and some companies to check out when looking into house swapping for horse lovers.

Home Exchange Options for Horse Lovers
Home Base Holidays is out of the London and has been around since 1985. They also run a home exchange service for the Guardian newspaper, we have a particularly large choice of exchange offers in London and throughout the UK. It costs as little as £29 (around $47, depending on the exchange rate) for 1 year online listing and contact privileges. They have had several horse owners post on their forum about wanting to swap homes with other horse owners, and we emailed with them for more information on the options.
Using advanced search is a good way to find members with horses (or who are able to care for horses) and riding centers and trails close by. Try searching the plural, "horses", as well as "horse" as it may show some additional useful results. If you find any listings of particular interest, you can let the folks at Home Base Holidays have the member's user ID (HE + a five digit number you will see at the top of full listings) and they will contact the members to see if they would be prepared to answer questions.

On my search, I found a lovely little cottage in Brecon, Wales right on riding trails. I've ridden in the Brecon Beacons and there are wonderful riding trails and great stables there in Wales. Another interesting pick was a home in Cadiz, Spain with a pool where the owners are seeking people to look after their horses, dogs, cats, and chickens. There was also an eco log house touting a ten minute walk to the beach with views of horses and fields on the Gower Peninsula of Wales. Having ridden nearby with Olive Edwards, I know there's good horse riding there too.
Equitrekking host Darley Newman riding in the Brecon Beacons in Wales.
Digsville Home Exchange seemed to be another good site to search for homes or farms with horses. This site has been around since 1999 and costs $44.95 per year. This fee allows you to post your own home listing, peruse thousands of home listings in 53 countries and receive offers from members who want to swap with you.
On a quick advanced search for the keyword horses, I came across a lovely little Swedish horse farm with five horses located right by a lake that would accommodate me and six friends. In Lac La Biche, Alberta, Canada, someone's touting the sunrise from horseback as a must see, along with beach-side camping and a child's riding horse. In New South Wales, Australia, there's a large farmhouse on a 60-acre farm with horses available and vineyards nearby.
Another that caught my eye was a Romantic Getaway on Vermont Morgan Horse farm from that's run by Morgan horse breeders. They even offer stabling in case you just can't bear to leave your horses at home. The owner is touted as a former State Senator. Now, whether they wanted to trade with me was the question.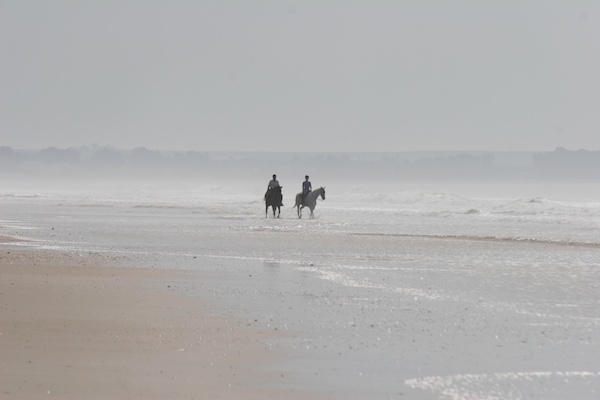 Horse riding along the coast of Southern Spain.

HomeExchange.com has been around since 1992 and costs $119.40 per year and offers three month memberships for $47.85. HomeEchange.com had some listings with horses on site, but most were in the United States. There are a lot of destinations that I found near horse riding opportunities, but not as many homes with stables or horse farms. One that looked appealing was nestled in the town of Cranbrook in the middle of the broad Rocky Mountain Trench. There was another in Upcountry Maui, where I personally know a good ranch for nearby riding, Piiholo Ranch.
I seemed to find more of what I was looking for when I googled "house exchange horse" and found more listings on this site that were horse specific. One that looked great was a California Horse Property with three horses available and access to the Pacific Crest Trail right outside of the home's front door. These folks didn't require house swappers to care for the horses, as they'd enlisted their neighbor, but did offer up the horses and a local rider to guide you out on trail rides.
Search HomeExchange.com by putting in the keywords "horse" for just riding or "horse farm" for actual destinations with horses on the property.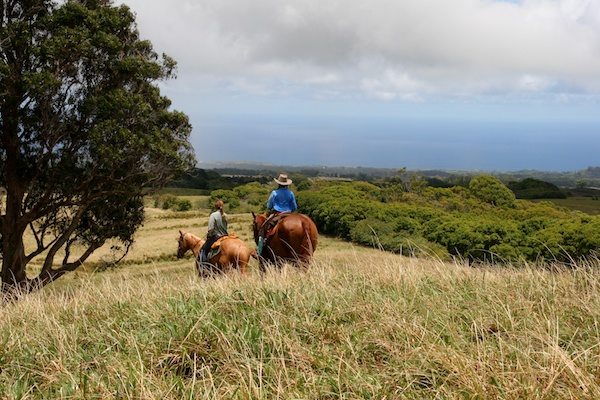 Piiholo Ranch horse riding on Maui with views of the Pacific Ocean.
Other sites I searched that didn't appear to have horses included or an advanced search to search for horse related properties include Intervacus.com, which specializes in listings of homes overseas, Homelink-usa.com, and Homelink International, which claims to be the largest homeswap site, with over 13,000 home swappers drawn from 78 countries around the world.

The Rundown on House Swaps for Horse People
The key if you are looking at homes with no horses on property, but where you want to ride, is to locate stables nearby that have trail rides or are open to the public. You may find ideas on Equitrekking.com and by watching our series or contacting us for great public stables around the world.
Certainly, there's a lot to consider when traveling somewhere where you may be taking care of someone else's horses or even riding them, but with the proper vetting, it could be a pretty sweet deal!
If anyone has actually done a house swap with a fellow horse lover, we'd love to hear about the ups and down and what to watch out for so please, comment below or write to us. Also, if you have other suggestions for resources or house swap sites for horse lovers, let us know about them!


About the Author: Darley Newman is the three time Daytime Emmy nominated host, writer and producer of the Emmy-winning Equitrekking TV show and an equestrian travel expert.