Horses of the Renaissance Festival - Part 1
Learn more about the horses, many of whom are rescues, and the performers who entertain us at the joust.

For more of this interview, see Horses of the Renaissance Festival - Part 2.

by Karen Braschayko

As the leaves start to turn colorful and the air gets a little crisp at night, I look forward to walking under the trees and through the streets of mock Tudor England. I live in Michigan, and early fall is Renaissance fair season. When I think about Renaissance festivals, my priorities are always soup in a bread bowl, shopping for handcrafted items, the outstanding people watching, and – of course – the horses. I've always looked forward to the flashing armor and equine pageantry of the joust.
Renaissance fairs often feature a jousting troupe, and frequently these teams spend much of the year on the road traveling to many fairs and festivals. Medieval festivals typically feature rehearsed theatrical jousting, recreated for drama and effect, but without the more frequent human injuries of their full-contact jousting counterparts.

I'd always wondered, where does a jousting troupe come from? How do they find their horses, and how do they train them? How do the knights learn to joust? How does this theatrical presentation come to be? So, I decided to meet the jousting troupe at the Michigan Renaissance Festival in Holly, Michigan, and find out. Kate Hopkins and Robert Earhart, owners of RoundTable Productions, took me behind the scenes.
Jousting as a Way of Life
Hopkins was an equine enthusiast from childhood on, growing up on a farm where her father used horses for pulling and attending horse shows with friends. About ten years ago, she decided she wanted horses in her life again, so she and fight instructor Earhart teamed up to form RoundTable Productions. Hopkins, also known as Dame Katherine of Lyoness, wanted to have her horses help make a living, and jousting became the way to do that.
"They do earn their own keep throughout the year, which is a lovely thing to be able to do," said Hopkins. "It gives us the ability to work with a lot more horses than ultimately ever joust."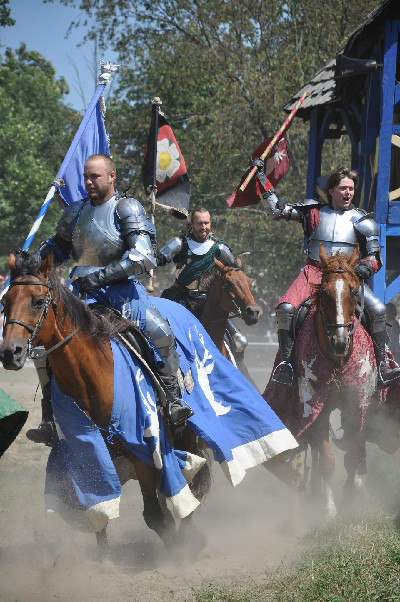 The crowd may not know it, but the knights often joust atop rescue horses who've found a new life.
RoundTable Productions has attracted performers from the sword fighting world as well as dedicated equestrians and equine professionals. "We are very lucky as a joust team that within our troupes we have an equine dentist, a farrier, a saddle fitter, a TTouch person and a veterinarian. It's very nice that we have that to draw on and to constantly be working with these horses," Hopkins said.
Based near Lancaster, Pennsylvania, the troupe is on the road from May to October. A second RoundTable Productions team is performing at the New York Renaissance Faire in Tuxedo, New York, while Hopkins, Earhart and crew are in Michigan. Up to six horses and 20 human team members may be needed to run the largest shows, including four knights, a master of ceremonies or mistress of the list, and several squires who help care for the horses as well. The performers, including the horses, become a family in which every member has an important job.
"There are a couple things that I remind my knights of every day," said Hopkins. "Number one, you'd look like an idiot running down the field with a stick without the horse underneath you, so you'd better treat them like gold. Number two, without somebody to hand you that stick, you'd also look pretty stupid. Squires work very, very hard to make us look good."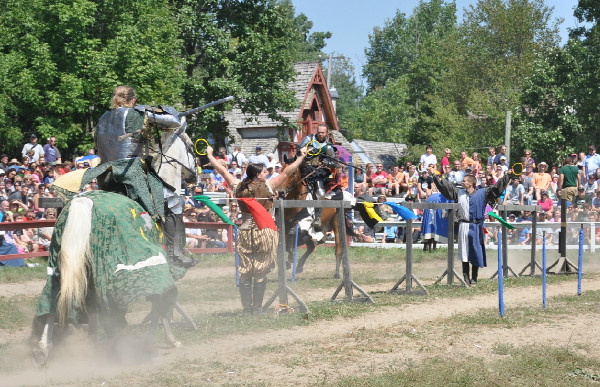 Squires hold the rings as knights race down the list, or joust field.
Having an extra horse on hand is important. "If we are more than six hours from our home base, we will always try to have one more horse than we need. We all know that horses, well taken care of, hypothetically do beautifully. However, it only takes one unusual step or a bad case of a muddy week. On top of that, a lot of our horses are rescues, so they're not always coming in at 100 percent," Hopkins said.
The troupe has formed contacts with many feed suppliers and veterinarians, since they frequent the same events from year to year. Hopkins coordinates with personnel at the fairs or calls local boarding stables to ask for recommendations months ahead of their trips. "I really like to have a good relationship with all of these people ahead of time, especially the veterinarians," she said.
Living on the road requires a lot of equipment. This branch of the troupe was traveling with two trailers, each of which was modified to carry three horses and 2,000 pounds of gear. Electric fencing, tack, costumes, targets, lances, a shower house, a full kitchen, and a myriad of horse paraphernalia moves along with the crew. Performers often sleep on-site in tents or in the small trailer tack rooms.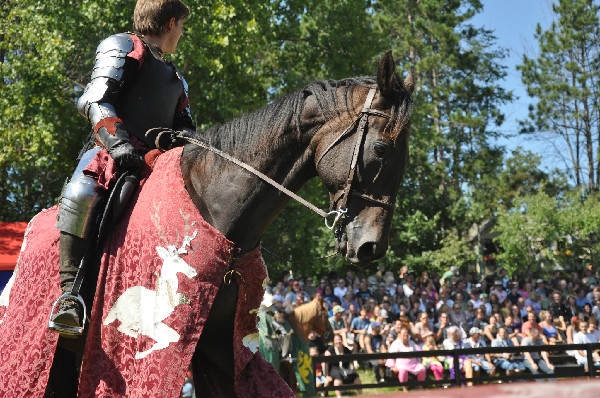 The joust horses, many of whom are Off-the-Track Thoroughbreds, are valued teammates.
For the human team members, it's not always the most glamorous career. Earhart joked, "It's a great job if you like using porta johns. Eight months of the year, a porta john is my bathroom. If you don't like porta johns, it's not the lifestyle to take up."

Recalling the Romance of the Jousting Era in a Safer Way

One of the coolest ways to see horses do something different and fun is at Renaissance festivals, and I've often noticed many other horse lovers gathered along the arena rails as well. Knights, ladies, elaborate gowns, gallantry, swords at the ready – Renaissance festivals showcase a romanticized era when the people at the top of the feudal system lived in castles and peasants worked the land, and horses are an essential part of the spectacle.

The theatrical jousting of Renaissance festivals recalls a time when horses were integral partners in human survival, laboring with humans to provide for themselves and their masters. Horses were so prized that they were status symbols knights showed off through jousting, and medieval festivals are a living illustration of that history long ago. Also, like equines from bygone eras, these horses are a central part of the jouster's lifestyle today, and a Renaissance fair would not be the same without them.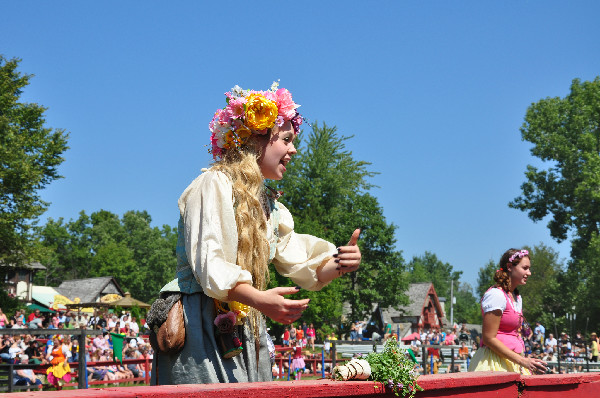 A lady-in-waiting warmed up the crowd before the horses and the queen arrived for the joust.
"It would definitely not be the same," said Hopkins. "It is old fashioned, but there is a lot of charm in those moments."

Glenn the Geek, founder of the Horse Radio Network and host of the show Horses in the Morning, has frequented Renaissance festivals for decades. In fact, that's how he met his wife Jennifer. They performed together at the Pennsylvania Renaissance Faire, one of the largest in the country. They also owned an acting company and performed at medieval feasts as the king and queen for ten years. He was attracted to the "history, and it was a time period I was fascinated by, the whole pageantry of it," he said.

Having met many jousting troupes, Glenn values having horses at the festivals and has observed the care that goes into providing for the equine stars.

"Any performer you've ever seen with their horses, they take such good care of their horses, because it's how they make their money," Glenn said. "It takes a long time to train them and desensitize them to doing this, because most Thoroughbreds aren't going to go out and do that for a living. It takes the right kind of horse, so you don't want your horses to get messed up. They're the livelihood. You have to protect them. Now, are there exceptions to that rule? I'm sure. Just like any other horse sport. But I haven't seen it. I can only speak from my experience, but the ones that I saw were very well taken care of. They were fat, and they were happy. A lot of them really seemed to enjoy their jobs."

The humans involved in jousting are much more likely to get hurt than the horses, and equine injuries are rare.

"Actually, at the theatrical joust they're probably better armored than at most places, because they want the look," said Glenn. "I've never, in all the years I've been going to Renaissance fairs, seen a horse get hurt. I've seen riders get hurt, but I've not seen a horse get hurt. It's sort of like professional wrestling — they're in there to make it look realistic, but they're not trying to kill each other because they have to come back and do the show tomorrow."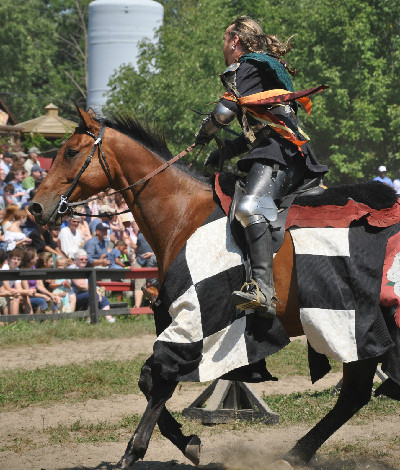 Slater, an orphaned Thoroughbred born with crooked legs, raced his knight around the list.
Different than competitive jousting where injuries are part of the game, with theatrical jousting, the performers try to keep each other as safe as possible. RoundTable Productions holds an intercompany tournament every five years, but it would be too hard on the horses and the riders to perform that type of joust three times each day at a Renaissance festival, Hopkins explained. Also, while the audience wants to see a good show, they don't want anyone actually getting hurt. One recent weekend a performer had a nosebleed, and some spectators were horrified to see blood on the field.

"We really do care that we're all coming through this show safely, and without injury, while still producing the look of something dangerous," said Hopkins. "It's a fun job. It really is. We have a great time. We treat each other as family. We all care about not hurting each other."


The blue knight lost his lance during his pass aboard Oscar, a Thoroughbred who has a fun new career as a joust horse.
RoundTable Productions has only had one joust-related equine injury in the company's history, and it was minor enough that the horse wanted to perform again the next day.

"Knock on wood, because I don't like trying fate, but in the 10 years that this company has been jousting, I have had one horse actually get injured due to the activities we do on the joust field," said Hopkins. "And ironically, the injury was not because of the rider, but because the horse tried to correct something. That horse was off the field and under medical treatment before I finished the show, and he still jousts today. In fact, that horse jousted the next day, because he refused to stay back in the stable. They really do love what they do."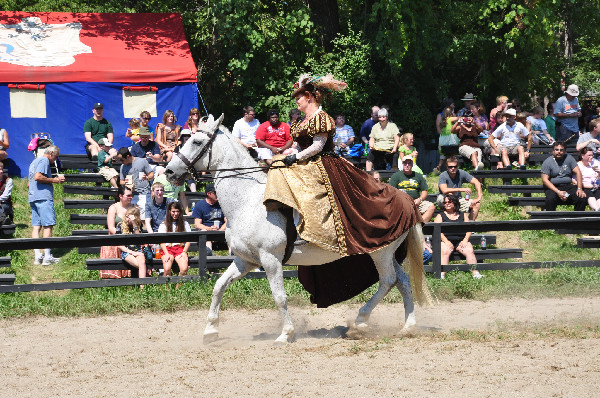 Kate Hopkins, mistress of the joust, announces the program and can adjust the show to suit the horses' needs. She rides Baron, a warmblood who once had severe behavioral problems but now loves his job as the princess horse.
As mistress of the joust, announcing the order of events from atop her mount Baron, Hopkins has many ways to keep the event as safe as possible. She can adjust the performance on the fly. "One of the cool things about my job is that I literally can change the whole show. If a horse takes a stone or trips in the sand and I see them going off, I can create the show to fit that they've been disqualified and pull the horse, so the horse doesn't have to work," she said.

This flexibility enables Hopkins to cut the show short in severe heat or to pull an event if a horse has become unhappy performing it. A newer horse might not be able to complete all of his joust passes, and horses sometimes choose a different plan. Making it all work with these challenges is "part of the fun of what we do," Hopkins said.

For more of this interview, see Horses of the Renaissance Festival - Part 2.

How you can go: Renaissance fairs and medieval festivals are sprinkled across the United States, Canada and other parts of the world, and they vary in season and scope. Find one near you to experience the historical fun for yourself. The Michigan Renaissance Festival is located at 12600 Dixie Highway, Holly, MI 48442, and it's open on weekends through September 30, 2012. Learn more on their website www.michrenfest.com or call (800) 601-4848. The New York Renaissance Faire is open on weekends through September 23, 2012, and it is located at 600 Route 17A, Tuxedo Park, NY 10987. Learn more at www.renfair.com/ny/ or call (845) 351-5174.

Contact RoundTable Productions at roundtableprod@msn.com, and view their tour schedule at www.roundtableprod.com.

Karen Braschayko is a freelance writer and horse lover who lives in Michigan.