Horses of the Renaissance Festival - Part 2
Learn more about the horses, many of whom are rescues, and the performers who entertain us at the joust.

For more of this interview, see Horses of the Renaissance Festival - Part 1.

by Karen Braschayko

Renaissance fairs often feature a jousting troupe, and frequently these teams spend much of the year on the road traveling to many fairs and festivals. Medieval festivals typically feature rehearsed theatrical jousting, recreated for drama and effect, but without the more frequent human injuries of their full-contact jousting counterparts.
I'd always wondered, where does a jousting troupe come from? How do they find their horses, and how do they train them? How do the knights learn to joust? How does this theatrical presentation come to be? So, I decided to meet the jousting troupe at the Michigan Renaissance Festival in Holly, Michigan, and find out. Kate Hopkins and Robert Earhart, owners of RoundTable Productions, took me behind the scenes.

Rescue Horses with a New Career

Much like working horses of bygone eras, many jousting horses come from colorful and, unfortunately, sometimes difficult early lives. Many of RoundTable Production's horses are rescues, including several Off-the-Track Thoroughbreds (OTTB) and retired hunter jumpers. It wasn't the company's plan, but it was a happy accident to find that sensible, older horses that had already had an active job made the best joust horses.

"All of the horses we use are rescues, or they had a previous career," Earhart said. "We take a lot of horses who had jumping careers and can now work on the flat pretty well. They do great as a joust horse because they still have a job. That's the best part – taking a horse who is used to having a job, and when he doesn't have a job he gets depressed."


Boney, a former hunter jumper, and his best friend Pappa relaxed in their stalls before the joust.
Earhart explained that aging horses with a few health challenges may do just fine as joust horses, because it's a fairly lightweight career. "Training is the hardest work they ever do with us. Once they're trained and they know their career, we'll do refresher stuff, but let's take an honest look at a joust show. It's 25 minutes, and in that 25 minutes, a horse will run up and down the field a dozen times at most. Then they're done, and they hang out and get petted after the show," he said.

Hopkins and Earhart work hard to make sure that the horses enjoy their new career, and they explained that often the more difficult horses do well with them.

"We have rescued probably 50 horses in the 10 years we've been doing this and retrained 50 horses," said Hopkins. "But we don't own 50 horses. They have to love their job, and we're looking for that special few. One of the beautiful things for us is that a lot of times the horses that rescues have a hard time placing – the alpha horses, the ones you can't turn out with other horses, the ones that are arrogant and for intermediate or advanced riders – those are the horses that do this job well. They often become really docile horses."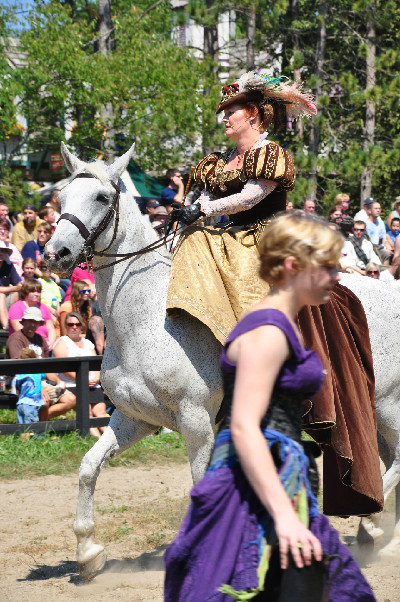 Kate Hopkins, Dame Katherine of Lyoness, circling the ring sidesaddle aboard Baron.
Earhart agreed that alpha horses are frequently the best choice. "A lot of them really do think it's fun. They've got to like the excitement, and they can't mind the armor. They have to be pretty fearless. A lot of the horses we get are prickish and bullheaded. We'll have 5,000 people at this joust show today, screaming and yelling. If the horse is scared of that, he's not a good joust horse. That's what we look for. But we also need horses that are not aggressive, because we're so much in the public. I need horses that can be calm and stand there, and not go 'oh I'm going to dance and trample you.' That's partially the reason why we get older horses," he said.

"Normally before 10, we don't even focus on them jousting, because it's too much for their brains to handle," said Hopkins. "In the horse industry, you often hear people say that horses don't grow their brains until they are 10 or 11. It's really true."

Hopkins loves mares in general, but since the horses live in such close quarters, geldings are her first choice. The troupe might be in one spot for several weeks, or they might move from weekend to weekend. Finding civil, happy travelers is key.

"The big thing with all the horses is they have to be good travelers," Earhart said. "We'll pull in for weekend shows, where we'll get there on Friday, set up a joust field, set up temporary paddocks, unload the horses, and do two days worth of shows. Monday morning, everything's packed out and we're back on the trailer. Another eight hours later, we're somewhere else. Definitely, good joust horses have to be good loading and unloading horses."

I met what Hopkins calls the "light horse crew," all Thoroughbreds but one. Imperion, commonly called Pappa, found the troupe after a long, successful racing career, and his polka-dot legs exhibit much pinfiring from that time. Pappa's best friend, Bonaparte or Boney, was born of pure jumper stock and competed until he began to display suspensory ligament breakdown. Slater was bred for the racetrack, but he was orphaned and born with crooked legs. PVC casting straightened his legs, but the scar tissue prevented him from ever racing. Oscar was placed with the crew when he became ring sour and his owner could not afford his upkeep. He has proven to not be joust sour, and he loves the knight who rides him. Watching these storied horses excitedly carry knights through the joust, I wished the rest of the crowd could appreciate the path that each horse has taken.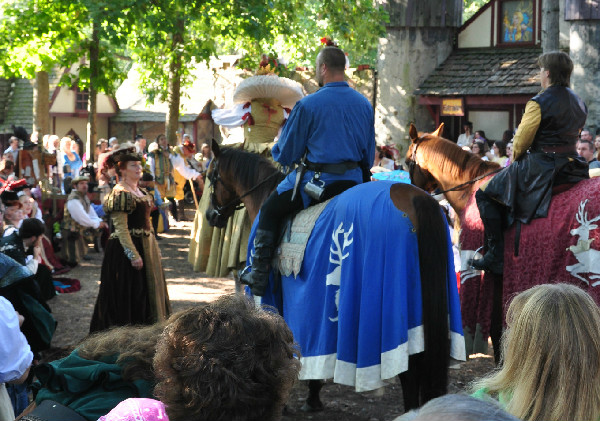 Kate Hopkins, in the brown gown to the left, helps the queen ride Baron sidesaddle into the festival, with knights behind.
Baron, a warmblood, was once so vicious that his owners planned to put him down. He was trained extensively in dressage, but health issues and ill treatment led to severe behavioral problems. Now, with a rider he trusts or with Hopkins beside him, he's happy in crowds and even carries the festival's queen into the fair each day. In the off season, Hopkins competes in sidesaddle events, and she and Baron do very well. It was hard to imagine that the sweet, patient, responsive horse I met came from such a difficult situation.

"It's been such a long road to get here that it's very important I give him his due," Hopkins said. "We succeeded in one of the major goals that we had set. We went to the United States Equestrian Team headquarters to compete in the sidesaddle show this year, and in our division, we took the championship. It's very exciting. He really has found a new career and a new life."

Keeping Horses Happy on the Road

Maintaining the happiness of the horses and the satisfaction they get from their jobs is very important to the jousting troupe. As mistress of the horse, Hopkins manages their vet care, medications and training.

"It's kind of an interesting job being mistress of the horse because it's not so much a character, it's what I'm actively doing," Hopkins said. "As you can see, I'm back here stipulating what's going to happen with each horse. We work very hard to train the horses to be able to enjoy this job. We work very hard to monitor their health, their careers and their psychological health as well. We have horses who, just like us, have bad days, and there are times when we'll modify a show so a horse does not have to do a particular activity. Every horse has their special needs, and we certainly work with that as much as humanly possible."

Like the people, the horses get a full day off on Mondays to rest after a long weekend of performing. They have light work such as riding lessons for the new knights during the week. Hopkins explained that the enormous, grassy parking lots of Renaissance fairs make for a wonderful hack. The team also constructs paddocks on the grounds so the horses can relax on their off days.

Hopkins prefers pasturing and natural horse handling as much as possible. "I like them to be in pastures with turnouts, so they can moderate their own comfort and move around. Especially when you're dealing with aging horses, they can get very stiff in stalls," she said.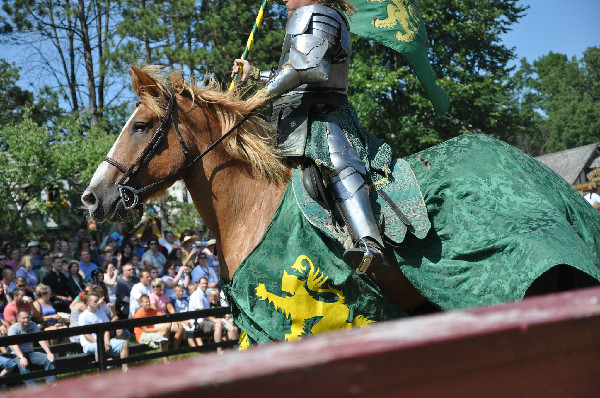 Fred, a draft horse mix, performed at the 2011 Michigan Renaissance Festival.
At the Michigan Renaissance Festival, the troupe has come up with a compromise allowing visitors to see the equine stars at rest but also enabling them to take a mental break. Large slatted stalls permit festival goers to peek in while still giving the horses some privacy. A few horses crave even more quiet in their relaxation time, so there is a small pasture hidden near the stable area. Fred, a Belgian/Quarter Horse mix and crowd favorite, needs to hang out there behind the trees and away from the noise when he's in town.

The troupe is careful to keep the horses enjoying the process of performing. They don't make riding modifications or retrain horses during the actual show because it could be dangerous to reprimand at that time. Also, they don't want the horses to associate a show day with any sort of discipline, and they can always tackle problems during the week. "Working exclusively with rescue horses, our discipline techniques are very specific anyway," Hopkins said.

Hopkins tells former owners that if they'd like to watch their beloved horses from afar, they can follow the troupe on Facebook. "A lot of the people who have horses who've come to us can track their careers. We are so photographed. It is really fun for them," she said.

Riding for the Joust

Hopkins suggests that anyone wishing to try jousting should learn to ride exceptionally well first.

"We work very hard at having our jousters become excellent riders," she said. "Riding horses, by itself, is a lot to think about. Riding horses in an insane crowd is even more to think about. Then you have to do all of that so well that you're not thinking about it, because you now have a lance, a shield, a target, safety precautions, the show, and the mistress of the list who might be changing the show arbitrarily to cover something else that might be going on. You have all of these things. The riding literally has to be so comfortable that it's secondary."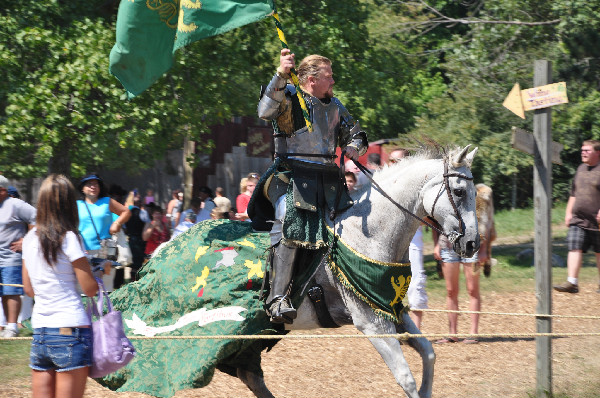 Robert Earhart, the green knight, raced into the arena on Boney.
Hopkins explained that riding for the joust is unlike any other style of riding, and it's a combination of techniques that any new knight will have to learn. She calls it joust riding. The knights ride in English-style saddles of their preference, and they use the bit that works best for the horse. Some of the horses even do well in bitless bridles.

"I will recommend English over Western to start, not because one is better than the other, but because there is less to physically hold on to with that saddle," Hopkins said. "You really have to be able to ride and stay balanced on these horses. You're doing a lot of crazy things on this field. So, I generally recommend the English riding first. Then, take some Western lessons to learn how to neck rein. For a pass, we teach people to ride at a longer rein than even most Western horses are riding at. All of our leg cues are English, all of our rein cues are Western, and the angle and pitch of the body is purely joust. It's not correct for a regular riding style. You cannot go into a pass sitting upright in the saddle and then be hit, so the idea is that you have a slight forward incline."

The horses are taught to stretch forward with a long power stride to begin a pass, and riders have to let the reins slide and trust their mount. The reins are offset to compensate for carrying a lance and a shield.


Pappa and his knight stoked up the crowd during the joust.
Hopkins explained that she spends a lot of time nullifying standard training and getting horses ready for joust riding. "I spend a phenomenal amount of time undoing amazing amounts of work that have been done by trainers and riders. Joust horses have to learn to not take hyper-subtle cues. Because when you're wearing 80 pounds of armor, and handling a lance, and handling a shield, with just the action of the lance going from the upright position and dropping down, your seat bones will actually give a cue that we don't want the horse to take. So joust riding really focuses on hyper-exaggerated cues."

Training a jousting horse has taken as little as two weeks, or it can take years. "It really depends on the horse," Hopkins said.

Hopkins also suggests working as a squire to see if Renaissance festival jousting is right for you. "Find a joust company, and offer to squire. The best knights in the country always squire first. When you're up in the saddle, you won't know what's happening around you. You can't see it when you have a helmet on. But if you've done the ground work, you kind of know what's going on."

RoundTable Productions values their squires and helps them learn as much as possible. "We try very hard to give our squires opportunities to ride. We'll let them run the list, take rings and do a lot of the gaming stuff. In order to hit actual shields, you have to be trained to a point that we feel is safe."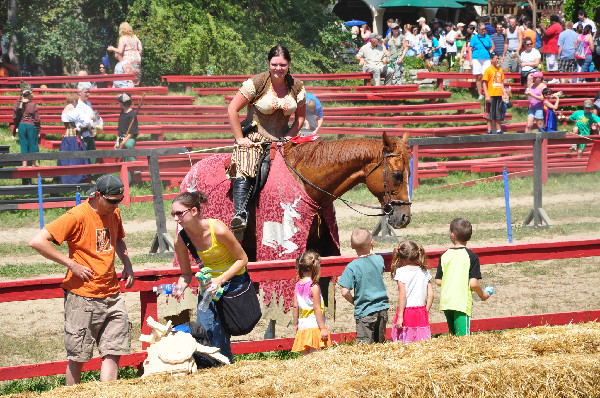 A squire encouraged joust fans to meet ex-racehorse Pappa after the show.
When visiting a Renaissance fair, curious visitors can always ask questions to learn more about the horses and the jousting troupe. Hopkins says she answers a lot of questions at the moment about why the horses' hooves are so long. She's happy to tell people that it's a conscious decision to leave them longer on the hard ground, but the farrier will be here in three days. "After the show we bring the horses to the edge of the rail, and we let people meet the horses. We want them to be able to ask questions," she said.

Whether you're a dedicated "rennie" in full medieval attire or just seeking a day out with family and friends, the lighthearted fun of Renaissance fairs is infectious. Turkey legs, enormous pickles, Old English accents, handmade costumes, enthusiastic actors, many activities and games for children – the unique entertainment surrounds you. After the thrill of the joust, stop by to visit the equine stars who make the show possible and remind us of the vital place horses have in our history.

For more of this interview, see Horses of the Renaissance Festival - Part 1.

How you can go: Renaissance fairs and medieval festivals are sprinkled across the United States, Canada and other parts of the world, and they vary in season and scope. Find one near you to experience the historical fun for yourself. The Michigan Renaissance Festival is located at 12600 Dixie Highway, Holly, MI 48442, and it's open on weekends through September 30, 2012. Learn more on their website www.michrenfest.com or call (800) 601-4848. The New York Renaissance Faire is open on weekends through September 23, 2012, and it is located at 600 Route 17A, Tuxedo Park, NY 10987. Learn more at www.renfair.com/ny/ or call (845) 351-5174.

Contact RoundTable Productions at roundtableprod@msn.com, and view their tour schedule at www.roundtableprod.com.

Karen Braschayko is a freelance writer and horse lover who lives in Michigan.