Horses We Can't Forget on Memorial Day
by Jocelyn Pierce
Memorial Day is a day of reflection and remembrance to honor those who gave the ultimate sacrifice and lost their lives while serving in the military. Perhaps the most largely unrecognized, and sometimes altogether forgotten veterans are the horses that served alongside man.
Since the domestication of the horse, humans and horses have shared a partnership that has been integral to the thriving of civilizations. Horses were essential in agriculture, transportation, and warfare, not to mention companionship in some of history's darkest hours and in the face of humankind's brutality.

Throughout the United States's military history, the horse played an indispensable role. In wartime, the horse was used to transport cavalry troops, supplies, and artillery weapons as well as for charges, scouting, raiding, and communication. While serving man and country, the horse faced many hardships including disease, starvation, exhaustion, and injuries. Ultimately, many suffered and died in service.

Below are five noble horses that deserve recognition for their heroism and are a representation of all equines that served in the United States Military.
Black Jack (1947-1976)
Black Jack was the "riderless" horse in more than one thousand full honor military funerals at Arlington National Cemetery. The riderless horse, or caparisoned horse, is led behind the caisson of any Army or Marine Corps commissioned officer holding the rank of Colonel or above. The riderless horse wears an empty saddle with the rider's boots reversed in the stirrups, symbolizing the deceased will never ride again.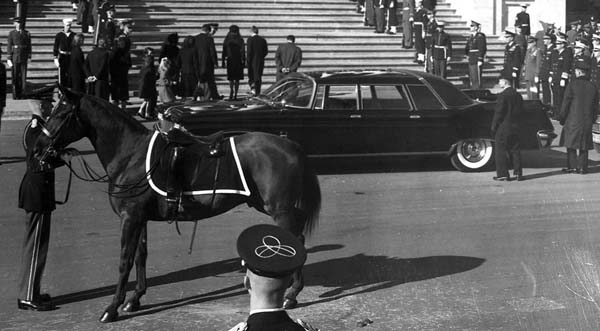 Black Jack, a black Morgan-Quarter Horse cross is only one of three horses to be buried with full military honors (the other two, Comanche and Reckless, are mentioned below). Black Jack was named to honor General of the Armies, John J. (Black Jack) Pershing who is the only person to be promoted in his own lifetime to the highest rank held in the United States Army.
Black Jack not only took part in the funerals of Presidents John F. Kennedy, Herbert Hoover, Lyndon B. Johnson, and five star General Douglas MacArthur, but more than one thousand others at Arlington National Cemetery during his 24 years of service with the Old Guard. Black Jack passed away on February 6, 1976, and is buried on the parade ground of Fort Myer's Summerall Field.
Comanche (1862?-1891)
Comanche was a 15 hand bay mustang that was captured in a wild horse roundup and sold to the U.S. Army Cavalry in 1868. Along with Black Jack, Comanche was only one of three horses to be given a funeral with full military honors.
The horse became a favorite of Captain Myles Walter Keogh of the 7th Cavalry who purchased him to use as his personal mount in battle.
Comanche was known to be fearless and powerful. In 1868, while fighting the Comanche in Kansas, the horse was wounded in the hindquarters by an arrow, but continued to let Keogh fight from his back. Keough decided to name the horse "Comanche" because of the bravery he exhibited during the battle. Comanche was wounded many more times, always showing the same toughness.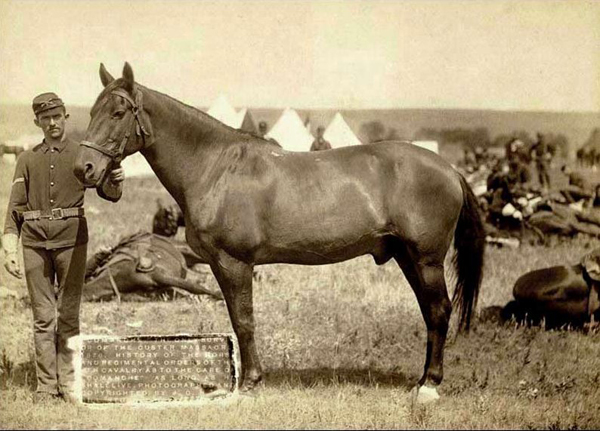 Comanche was the only confirmed survivor of the 7th Cavalry at the Battle of Little Bighorn on June 25, 1876, in which Lt Col. George Armstrong Custer led his troops to a massacre. It is, however, likely that more horses survived the battle but were captured by American Indians. Two days after the Custer defeat, Comanche was found severely wounded and very weak.
Comanche was celebrated as the only living representative of the battle and became a symbol of heroism. Colonel Samuel Sturgis writes of Comanche, "Wounded and scarred as he is, his very existence speaks in terms more eloquent than words, of the desperate struggle against overwhelming numbers of the hopeless conflict and the heroic manner in which all went down on that fatal day."

The horse spent an entire year recuperating at Fort Lincoln in North Dakota. In 1879 he was brought to Fort Meade where he stayed until he was transferred to Fort Riley in 1887. Comanche was retired, with specific orders the he never been ridden or put to any kind of work, but was still used in ceremonies and parades and was indulged and treated as a pet.
Comanche died of colic in 1891 and was believed to be 29 years old at the time. Comanche's remains were preserved and are on display at the University of Kansas Museum of Natural History.
Little Sorrel (1851-1886)
Little Sorrel was the mount of Confederate General Thomas "Stonewall" Jackson. Originally a purchase for his wife, the General began using Little Sorrel because his horse, Big Sorrel, was easily frightened and unreliable on the battlefield. Stonewall Jackson admired Little Sorrel for his toughness, smooth gait, and intelligence.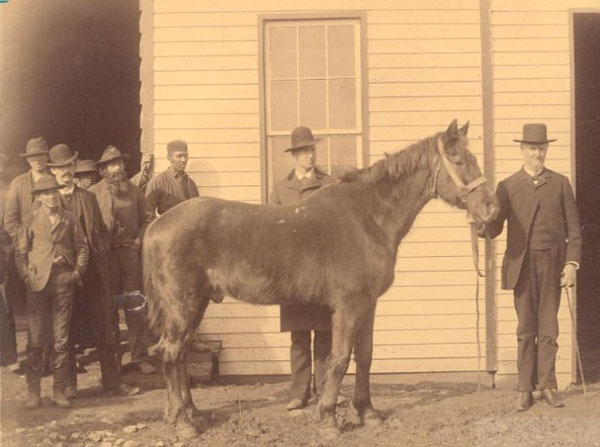 Little Sorrel carried Jackson on many battlefields, including the 1862 campaign through the Shenandoah when Jackson marched his cavalry 646 miles in 48 days, engaging Union armies and winning several small battles along the way. The pair also saw some of the most famous and bloodiest conflicts of the American Civil War including First and Second Manassas, Front Royal, Port Republic, Harpers Ferry, Sharpsburg, Fredericksburg, and Chancellorsville.
At the Battle of Chancellorsville, Jackson was mounted on Little Sorrel when he was mistakenly wounded by his men. He died a few days later. After Jackson's death, Little Sorrel briefly lived with Jackson's widow before moving to the Virginia Military Institute. The horse was shown at county fairs and was present at many Confederate soldiers' reunions before he was retired to the Confederate Soldier's Home in 1885. The following year he passed away at the age of 36. Shortly after, his remains were given to a taxidermist, who mounted his hide on a plaster model. He is presently on display at the Virginia Military Institute's Museum in Lexington, Virginia.
Old Baldy (1852-1882)
Old Baldy was the horse of Union Major General George G. Meade and fought in major Battles such as the Gettysburg, Fredericksburg, and Chancellorsville.
Baldy was taken by Union soldiers at the first battle of Bull Run where the bright bay horse was found standing wounded on the battlefield. He recovered from his injuries and months later General Meade bought the horse and named him Baldy, for the white markings on his face. The general became so attached to Baldy that he rode him in all of his battles in 1862 and through the spring of 1863.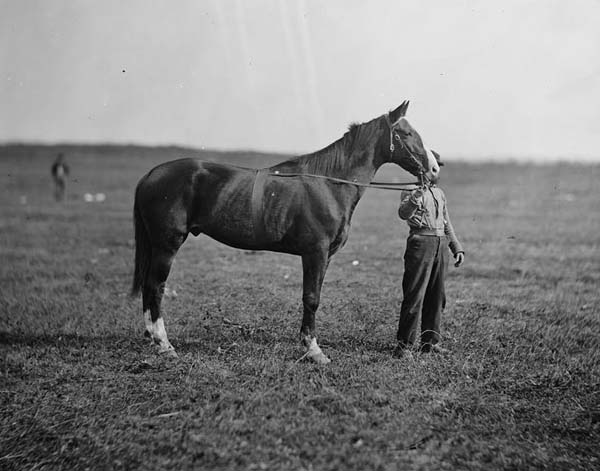 Baldy held am extraordinary war record with Meade astride. Taking part in nine main battles of the war, Baldy suffered major wounds in many. At Antietam, Baldy was wounded in the neck and left on the field as dead. Remarkably, Baldy was later discovered grazing on the battleground. The horse recovered and was soon fit for duty.
Baldy and Meade charged at the battles of Fredericksburg and Chancellorsville and for two days, he was present at Gettysburg. At Gettysburg, he received his most severe wound from a bullet lodged between the ribs. Because of Meade's great affection for the horse, Baldy stayed with the army until the following spring.
Meade decided to retire Baldy and after the surrender of Lee's army at Appomattox, Meade was reunited with the warhorse who had fully recovered. Meade spent a lot of time with his companion through the years and continued to ride him in memorial parades. When Meade died in 1872, bullet-scarred Baldy was the riderless horse at the funeral.

Ten years later Baldy was euthanized on December 16, 1882, at the age of 30, when he became too weak to stand. Today, Baldy's head is mounted on a plaque and is on display at the Civil War and Underground Railroad Museum of Philadelphia.
Reckless (1948?-1968)
Sergeant Reckless is perhaps the best example of an equine "hero." The 14 hand fiery chestnut mare served bravely as a U.S. Marine in the Korean War. Reckless, then called "Ah-Chim-Hai," or "Flame of the Morning" was purchased at a Seoul racetrack in 1952 by Lieutenant Eric Pedersen, the commanding officer of the Recoilless Rifle Platoon, Antitank Company, Fifth Marine Regiment. Pederson bought the horse for $250 from a Korean boy who needed the money to buy an artificial leg for his sister who lost it from a land mine. The Mongolian's mare name was changed to Reckless, after the name the Marines gave to the recoilless rifle they used.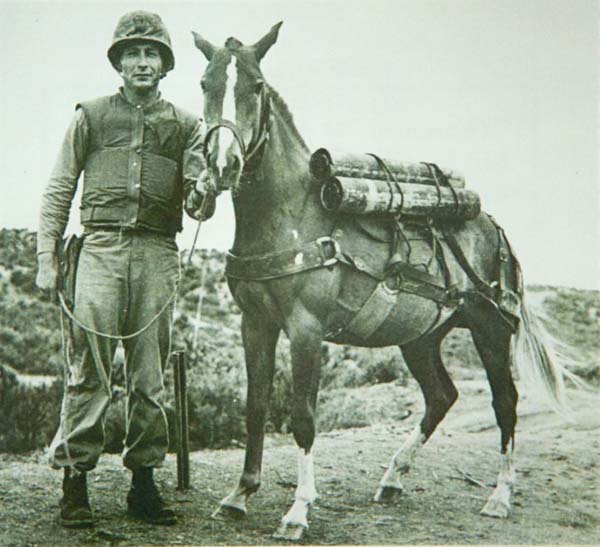 The little mare with the blaze had a big personality and was well loved and revered by her fellow Marines. She was known to stick her head in their tents for treats, occasionally sleep in the tents with the men, and eat scrambled eggs and drink beer alongside them. If she noticed she was different from her fellow soldiers, she definitely didn't show it.
Lieutenant General Randolph McC. Pate noted the camaraderie between the horse and men. "I first saw this little lady. . .when the [First Marine] Division was in reserve for a brief period," he wrote. "I was surprised at her beauty and intelligence, and believe it or not, her esprit de corps. Like any other Marine, she was enjoying a bottle of beer with her comrades. She was constantly the center of attraction and was fully aware of her importance. If she failed to receive the attention she felt her due, she would deliberately walk into a group of Marines and, in effect, enter the conversation. It was obvious the Marines loved her."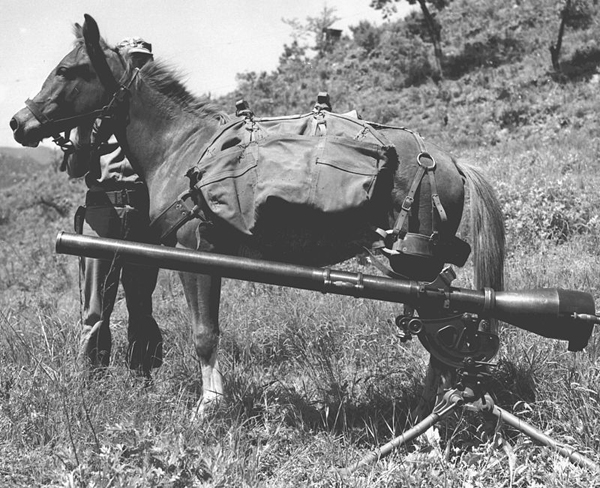 The courageous mare had the duty of carrying antitank ammunition to the front lines. During the Battle of Outpost Vegas in March of 1953, Reckless is credited with carrying 9,000 pounds of 75mm recoilless rifle ammunition from the ammunition supply point to the front lines in 51 trips over 35 miles in a single day. She carried the ammunition up and down rugged terrain and hills, most of the time without a handler and through the battle zone with gun and cannon fire blazing around her. The smart and industrious mare was trained to avoid trip wires and to drop to the ground if caught under fire in the open. She was cut by shrapnel at least twice, once over her left eye and once on her flank, but neither injury slowed her down.

After the war, Reckless was brought back to the United States. Because of her bravery, the Marine Corps honored her with the rank of Staff Sergeant and nine other awards including two Purple Hearts and a Marine Corps Good Conduct Medal.
"In my career I have seen many animals that have been adopted by Marines, but never in all my experience have I seen one which won the hearts of so many as she did," recalled Gen. Pate.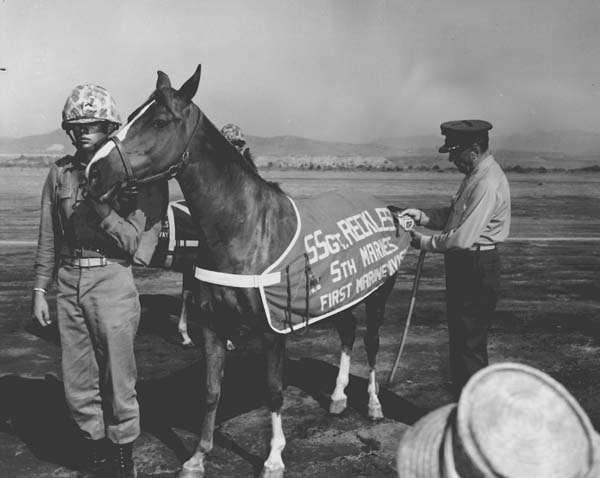 Reckless lived in retirement at the Marine Corps Base, Camp Pendleton, in California. She died there on May 13, 1968, at 20 years old and was buried with full military honors. A bronze statue of her now stands at the National Museum of the Marine Corps in Triangle, Virginia.
This Memorial Day, we should remember to honor and recognize the valiant horses that served alongside the brave men and women that we celebrate, for without them the history of the United States's would be quite different.
Learn about how horses are still helping military veterans today by clicking here.
About the Author: Jocelyn Pierce is an avid equestrian and lover of travel and photography. Her passion for adventure has led her on numerous excursions throughout North America and Europe. When she's not riding and competing her homebred mare, she enjoys hiking, camping, and snapping photographs.