Horseback Riding Vacation- Argentina Over the Border to Chile
A challenging horseback riding vacation takes a U.S. rider from Argentina over the border into Chile.
I rendezvous at Bariloche Airport in Argentina on Tuesday with six riders from the UK–– two couples and two single women–– and one single woman from Ireland. After a two hour van trip, we arrive at Estancia Huechahue and meet Jane Williams (horse trek organizer/ leader and owner of Huechahue) as well as two single women from the USA–– Alaska and Connecticut. After a quick change, we're on our horses at 7:30pm for a two hour ride followed by the first of many superb dinners. My horse is named LANCO, "Chief", and is delightful.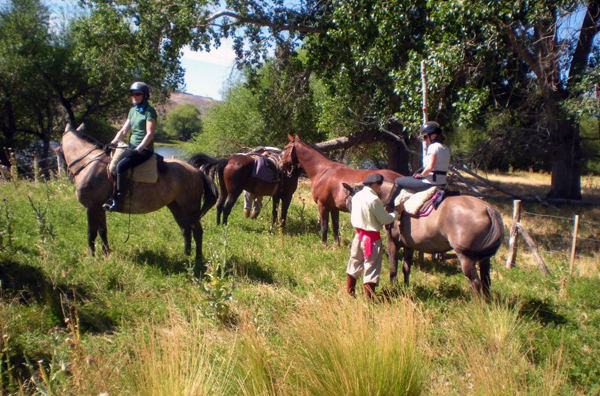 Estancia Huechahue is a a family owned Argentina estancia in the foothills of the Andes mountains.
The next day we ride off the Estancia and then on Thursday head to Chile. Our routine is as follows: breakfast 8:00-8:30, tack up and on horses between 9:00-10:00, ride until 1:00-1:30, untack and wash off horses in a stream with a bucket, tie them up to tree (all horses have "head collars" and rope under their bridles) and then lunch of salad/ sandwiches on metal plates followed by siesta 2:00-4:00... as Chris from the UK said "I need to talk to my boss about incorporating siestas into the work day!"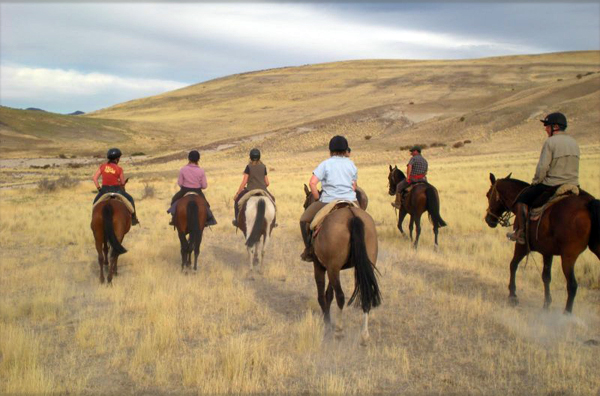 Horses are an integral part of the history and cultural traditions of the people of Argentina
Our afternoon ride was usually 4:30-6:30 or 7:00, when we'd arrive at a campsite of tents and a bonfire set up along a river. The horses again were washed off and tied up on very long ropes which often led to one or more getting their legs caught in the rope. We riders then changed into swimsuits and headed for the river to wash off some of the dust, followed by cocktails around the bonfire and dinner–– all while being serenaded by Juan Pedro, one of gauchos, playing guitar. Magical!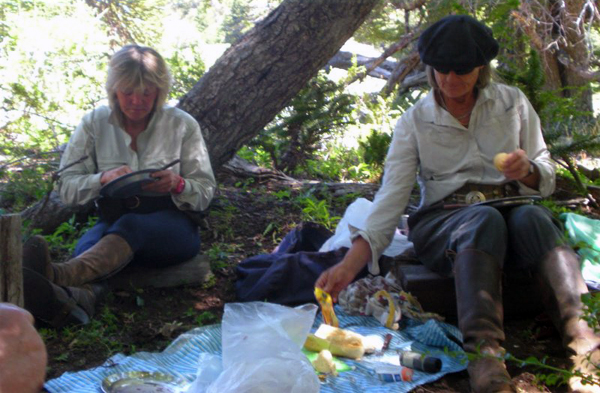 Argentinian people are well-known for their love of food, particuarly beef.
One morning, Jane met us with the horse truck and six horses. This was the day that our support vehicles couldn't access the campsite. Each rider carried personal items in their saddlebags and two pack horses carried the tents, water, food and utensils. The three kitchen and camp staff rode horses and Mary, from Ireland, swapped out her horse.
The "staff" took a direct route to our campsite that took about 4 hours, while we meandered the countryside. We were led by Roberto through an Indian Reservation, had our usual delightful lunch break and siesta, and arrived to find tents all set up and a bonfire going on banks of Malleo River–– a river that we camped near often.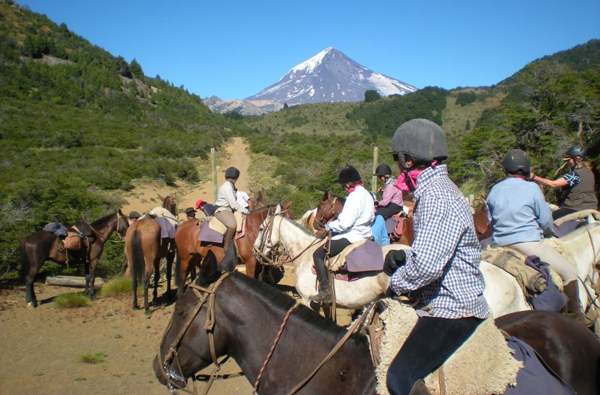 The magnificent, the snow-capped volcano "Lanin" dominates the entire area. Lanín forms part of two national parks: Lanín in Argentina and Villarrica in Chile.
Argentina country was varied–– streams meandering down foothills, rock walls through canyons, valleys filled with cattle, sheep, alpacas and horses, arid climbs up foothills and rocky descent... All the time, we were able to view Lanin Volcano, which marked the Argentina/ Chile border. We usually walked or galloped–– the later through pastures or along riverbeds. Sometimes we rode along dirt roads and through ranches ("Huechahue" is 15,000 acres) – the entire trek of 150 miles was incredibly organized.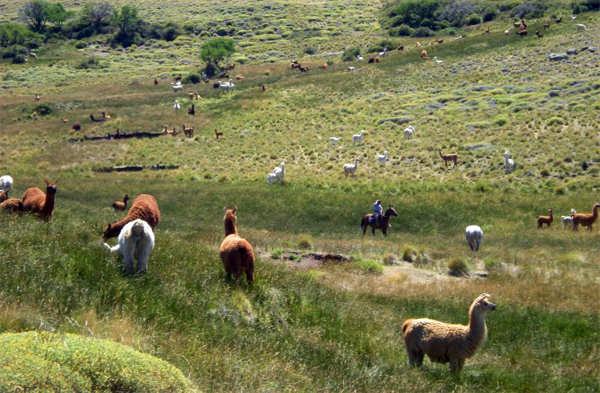 Llamas, used as a meat and pack animals by Andean cultures, dot the hillsides.
Sunday morning we woke to find five horses had escaped during the night –– including mine. Luis, the head Gaucho, was out looking for them and as Jane said to me "and if he doesn't find them, no need for him to return". Unfortunately mine came back lame so I switched to "Blackie" (horse #2), one of the staff ponies. That day we reached an elevation of 2000 meters (6562 feet), passing through forests of Monkey puzzle trees, foothills, rocky inclines and descents and lovely green pastures.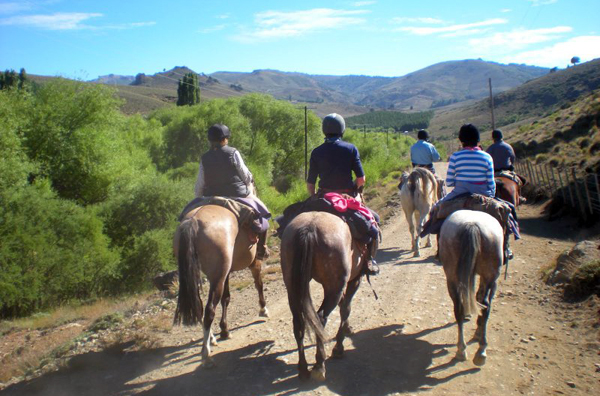 At many Argentina estancias, Argentine cowboys or gauchos, tend the animals and join guests on horse riding adventures.
Monday, after an hour ride, we got off our horses. We loaded half of the horses into Jane's horse truck for two hour drive to "Huechahue", which would take two trips, and we rode in a van for ten minute drive to Argentina border. We cleared customs and then took a short drive through "no mans land" to the Chile border. Again, we cleared customs and then got into new van and drove ten minutes to meet our Chilean staff and horses in time for lunch.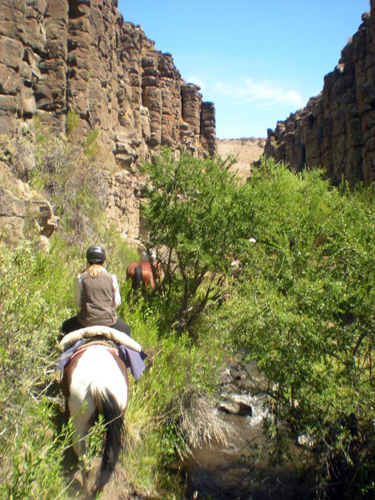 If you take a horseback riding vacation, you may truly get off the beaten path and truly experience nature.
Chile country was greener. We mostly rode through bamboo forests, along logging roads and up and down steeper inclines, reaching an elevation of 5000 feet (1524 meters) and passing through the Rio Trancure Valley as we left the Lanin Volcano.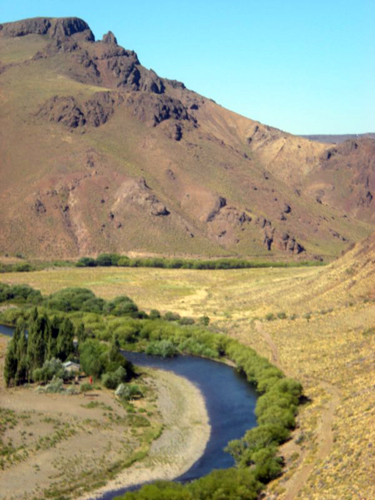 Some of Patagonia's most famous rivers draw travelers to this part of Argentina for fly-fishing.
All of the ponies had a breastplate as well as a crupper. My pony (horse #3) went in a caveson with crossed reins under his chin. I mistakenly thought he'd be quiet. On the second day when we had space to move out, I was totally out of control and barely able to refrain from passing our leader Lott–– but he was an incredible jumper!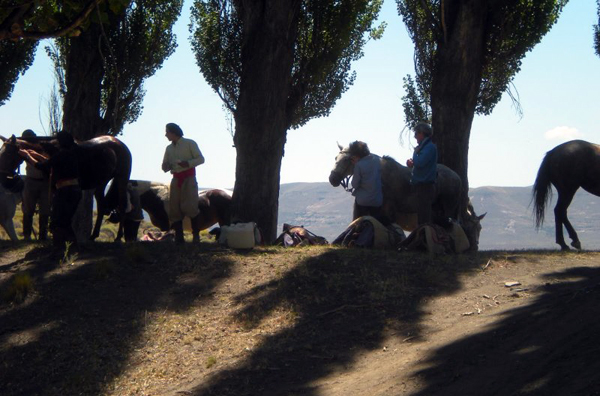 Estancia Huechahue lies on the River Alumine, perfect for swimming, fishing, or even a BBQ on its banks.
At one point on Monday, we had to dismount and lead our ponies down a steep, narrow and curvy trail for thirty minutes: two riders fell and one pony got a minor cut... challenging! We spent our first night in a farmhouse in the woods called "Refugio Los Colonos" and our second in two private houses closer to town. Wednesday, we took a van back to "Huechahue" and after lunch and siesta had our final ride (horse #4), through fields, over a rock ledge, past lakes and into pastures.
Another trip of a lifetime...
Written by Alice

Learn more about horseback riding vacations in Argentina with Estancia Huechahue. Check out more great riding vacations at EquitrekkingTravel.com, Travel Deals on ranches and riding escapes and more great places to ride in the Equitrekking Vacation Guide.