Horseback Riding in Central Park
Read About Equitrekking Host Darley Newman's Adventures Horse Riding in Central Park
Imagine riding your horse through city streets jammed with cabs, messenger bikes, pedestrians and traffic lights, the sound of honking horns and people yelling, "look at that lady on a horse!" No, your not in Katmandu, you're in New York City to take a whirl on the bridle paths in Central Park.
Years ago I was living in New York City, working in television and writing freelance travel articles about equestrian pursuits. Though I was getting out here and there to ride in Connecticut, New York State and beyond, I longed to saddle up somewhere closer to my urban digs and busy work schedule. I had heard about and seen the equestrians trotting through New York's Central Park, so one day I went over all by myself to explore Central Park on horseback.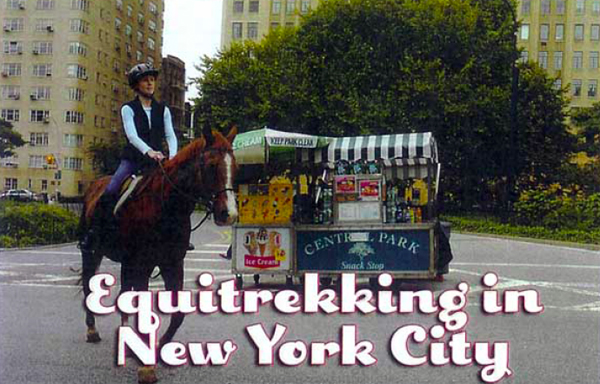 As I approached Claremont Riding Academy, the only remaining stable in New York City, I wondered if the horses lived in quarters as small most New York apartments. Established in 1892, Claremont was housed in a converted firehouse. When I looked at the small lesson ring inside the academy, I was curious to know where the stables were hidden.
Claremont Riding Academy was located on the Upper West Side of Manhattan and was the oldest continuously operated stable in the United States, before it closed in 2007. It had served city equestrians for 115 years.
I had a little time to spare before my one o'clock appointment, so Salvadore Garcia, a groom at Claremont, offered to take me on a quick tour. We headed up the ramp, which connected the first floor ring to the second floor where the stables were located.
I ambled over to Casco, a beautiful white horse, who seemed to be calling me over, peaking his head out of his stall. I ask Salvadore why Casco had no rope or door on his stall. Salvadore said that Casco was a special celebrity horse. Not only did he perform in the operas at the Metropolitan Opera and in television commercials, but he also got irritable when he felt roped in and confined. I suppose that I too would want to keep a lookout on all of the action if I were a horse living in a New York City stable.
Horses at Claremont Riding Academy either walked down from the second story or up on a ramp from the basement to meet riders. Riders who wanted to trek into the park had to be experienced enough to walk, trot and canter comfortably. Before you were assigned a horse, you had to be prepared to answer detailed questions about your riding experience.
Though most of the horses at Claremont were accustomed to the hustle and bustle of riding in the city, the distractions could take a little getting used to for the non-city rider. Moreover, rides in the park were unescorted, meaning that for my ride I would be braving the city alone, well almost alone. I meet Quesar, a chestnut colored Quarter Horse, at the ramp coming up from the basement.
In a city where street fairs and parades happen every weekend, I was not surprised to find that I had to wait a bit for the parade on Amsterdam Avenue to pass before I could head out with Quesar. After the traffic subsided, we walked out into the crisp autumn air towards Central Park. With my map in hand, I was ready to navigate. It's not so easy to ride a horse through busy city streets and find your way over to Central Park. I had tried to quickly commit the route to memory and though it was only a few blocks, I did find myself getting a little nervous as we meandered around a taxi and walked along the city streets. Good thing Quesar totally knew the way.
We passed by a hotdog stand and I gave a wave to the vendor, feeling pretty cool to be riding to the park. Finally, Quesar and I walked down the wide steps that lead to the bridle path in Central Park. It was almost surreal to enter into the park on horseback. I looked across the reservoir at the skyline of trees topped by concrete skyscrapers. Quesar and I picked up a trot and begin our 1.65 mile lap around the reservoir, passing under a gothic cast iron bridge and venturing deeper into the park. We rode around past the tennis courts on the North side of the reservoir, and I could no longer hear the loud sounds of city life, yet I still felt the urban vibe. There were people jogging, walking and just hanging out. A Chihuahua let out a few sharp yelps as Quesar and I trotted by and then slowed down to soak in more of the semi-bucolic ambience.
When Central Park was designed by Frederick Law Olmsted and Calvert Vaux, they envisioned only a small bridle path through the park. In that pre-automobile age, they thought that horses would make the park too urban. Olmsted and Vaux wanted people to venture to the park in search of peace and relaxation. They were convinced otherwise by some avid riders, and began plans to include several loops throughout the park. In modern times the bridle path not only allows horse lovers to ride in one of the world's most famous parks, but also allows passersby the unexpected delight of seeing riders in the city.
After a loop around the reservoir, I wondered what else Quesar and I could fit into our hour-long adventure. I decided to head down the southern path to discover a few more of the park's bridges. No two bridges in Central Park are alike. Olmsted and Vaux intended them to be hidden treasures, stumbled upon around corners or concealed behind trees.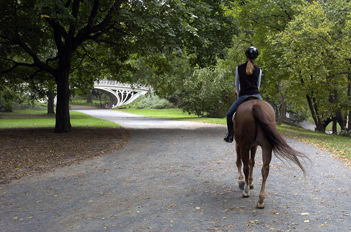 As we neared the exit of the park leading back to Claremont, Quesar knew that it is time to journey home. We dodged the double parked cars and by a moving van packed with furniture and by the brownstones on 89th Street, stopping at lights and following the walk signs as necessary.
Once I returned Quesar to his home, I reflected upon my Central Park riding experience, which had definitely been unique. It's that magic of New York City and the vibrant, metropolitan atmosphere that makes riding in Central Park a truly novel experience.
If you really want to stand out in a city where only stars make the A-list, hop on your four-legged friend and see the old city from a new perspective. I guarantee that you will make a splash riding in New York's Central Park.
How You Can Ride Horses In New York City's Central Park
Claremont Riding Stables closed in 2007 after 115 years.
Today, saddle up with Riverdale Equestrian Centre, who offers trail rides in Central Park by appointment.
The City is working on a possible permanent riding concession in Central Park. Read about this latest news in the New York Post.