5 Great Horseback Riding and Yoga Vacations
Learn about great global retreats where you can combine yoga with horseback riding for a true Zen experience.
by Jocelyn Pierce
There are many parallels between horseback riding and yoga. Like riding, yoga is an ongoing learning process in which both the mind and body are exercised. Practicing yoga can help you become a more effective and sympathetic rider, strengthening your capabilities to better communicate and bond with your horse. Here's a look at five great vacations that incorporate horseback riding and yoga for a unique and meaningful experience.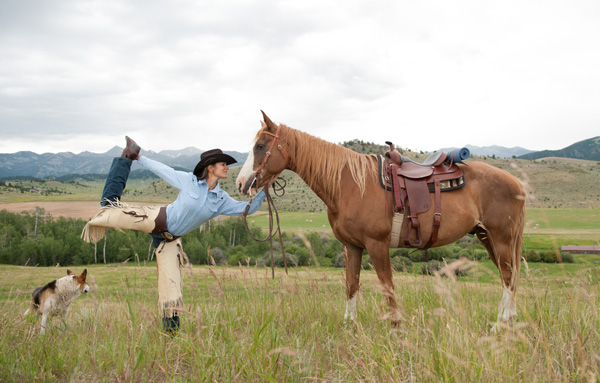 Big Sky Yoga Founder Margaret Burns Vap offers several equestrian themed retreats in Montana.
Photo credit Larry Stanley.

Big Sky Yoga Retreats, Montana
Best for: The Yogini wishing to unleash her inner cowgirl
Big Sky Yoga Retreats, established and run by Margaret Burns Vap, corporate mogul turned cowgirl, offers several three-day retreats for the yogini looking to tap into her inner cowgirl. Situated in breathtakingly beautiful Montana, Big Sky Yoga revolves around the connection between yoga and riding while embracing the untamed yet peaceful country of big sky Montana.

Discover yourself with any of the equestrian themed yoga vacations Big Sky Yoga offers. Check out their original retreat, Cowgirl Yoga™, get the most riding time at Cowgirl Yoga™ Ranch Camp, or get pampered with Luxe Cowgirl Yoga™. Burns Vap, along with photographer Larry Stanley is now also offering a Cowgirl Yogatography™ retreat that incorporates yoga, riding, and photography, allowing participants to express their creative side.

Big Sky Yoga also conducts a scholarship program called Cowgirls vs. Cancer for yogini breast cancer survivors. Big Sky Yoga takes between eight and ten women every year on this healing holiday, using yoga and horses as vehicles for peace and balance. Nominate someone you know who has faced physical and emotional trials who can benefit from this annual retreat.

Retreats include daily yoga classes, practicing mostly vinyasa flow yoga with a mix of restorative yoga. The practice focuses on body awareness, core strength, and trouble spots for riders. Participants also spend a lot of time with the horses, first discussing the human-horse relationship and learning about grooming and groundwork, and later practicing yoga in the saddle, and of course, riding.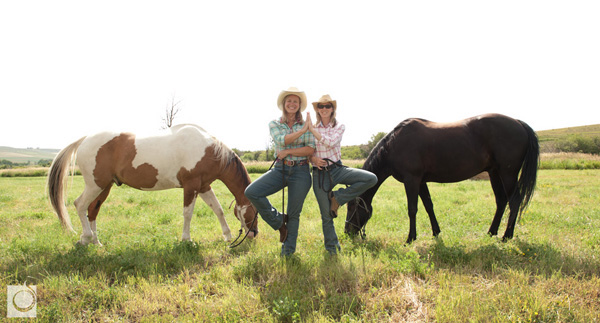 Participants connect with nature, horses, and each other in Montana's big sky country.
Photo credit Larry Stanley.

Group sizes are small with about nine to twelve people, allowing for individualized attention. Big Sky Yoga adjusts their activities based on the skill level of their participants for each retreat. Because the group sizes are so small and intimate, participants are able to work on specific areas they wish to improve. Beginners are welcome, but Burns Vap recommends having some yoga classes under your belt to get the most out of her retreat. She can recommend studios in your local area to check out before coming to Big Sky Yoga Retreats.

To get more time in the saddle, add on a trail ride at the end of the retreat for a nice culmination to the program. Burns Vap typically takes riders on all day trail rides in the Bridger Mountains, complete with lunch and yoga on the trail.

The Home Ranch, Colorado
Best for: The outdoorsy type craving a week of luxury with the original yoga and riding retreat in the West
Together, friends Tammy Pate and Janice Baxter created the original yoga and riding retreat in the West. The all-inclusive, weeklong Women's Horse Yoga Retreat is held four times a year just north of Steamboat Springs at The Home Ranch in Clark, Colorado. Bond with other women from around the world in this intimate getaway, limited to just 14 guests.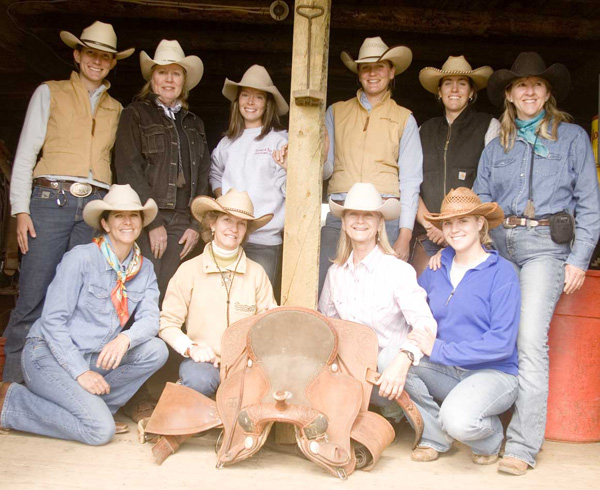 Tammy Pate and Janice Baxter's all-inclusive Women's Horse Yoga Retreat is held four times a year.

The Home Ranch, founded by two families in 1978, is a luxury boutique dude ranch renowned for its hospitality and excellent guest service. The quality of this dude ranch is indicated by their membership with the famed Relais & Châteaux small hotel association. Situated in the upper Elk River Valley and surrounded by one million acres of undeveloped public lands, guests will have a true western experience in a beautiful mountain setting for their horseback riding vacation.

This yoga horseback retreat combines the specialized skills and knowledge of cowgirl Tammy Pate and equestrian yoga instructor Janice Baxter. Pate comes from a ranching family and has worked with horses her entire life. She aims to combine her horsemanship knowledge with yoga, transitioning body awareness from the yoga mat to the back of the horse. Her main intention is to help horsewomen better bond and communicate with their mounts. Janice Baxter is an equestrian yoga instructor who began teaching in 1972 and believes horses bring a deeper intention to yoga practice. She hopes that through the retreat, equestrians will incorporate yoga to their routine and yoginis will be inspired to ride.


Participants practice yoga poses and movements specific to an equestrian's body.
Pate and Baxter's retreat focuses on wellness by combining yoga classes, riding instruction, and time to explore the beauty of the surrounding area. They practice Hatha Yoga and address postures and movements specific to a rider's body, hoping to bring more balance both mentally and physically in order to improve the individual's riding experience. You are not required to have previous yoga or horseback riding experience to participate. When you're not busy riding or practicing yoga, you will be indulging in fine food and drink with time for reflection and evening entertainment.

Buckaroo Balance, New Mexico
Best for: The serious equestrian eager to improve her riding by incorporating yoga
Christina Savitsky, founder of Buckaroo Balance, is a certified Centered Riding® Instructor and a certified Therapeutic Riding Instructor with PATH (Professional Association of Therapeutic Horsemanship International). Buckaroo Balance is a horsemanship centered program helping riders improve their body awareness and balance to better communicate with their horse, resulting in comfortable and happy partnerships.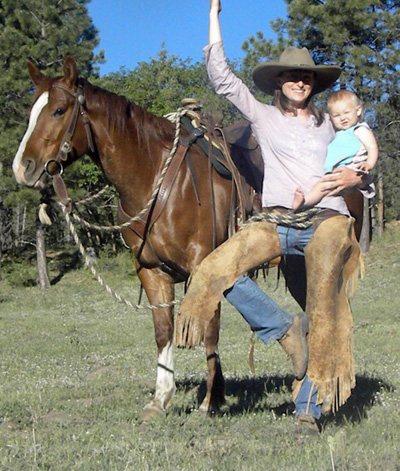 Christina Savitsky, founder of Buckaroo Balance, works with riders and their mounts to help them achieve harmony.

Bring your horse for a three-night vacation at Pecos Bar X Bar Ranch in Pecos, New Mexico where Savitsky and her husband live year round. This retreat caters to equestrians looking to improve their riding skills and achieve harmony with their equine partners. Savitsky teaches riders to use the least amount of energy possible to influence the horse in a correct way, with the intent of staying balanced, relaxed, and comfortable.
In an integrated weekend, participants practice yoga and clinic-style trail riding daily, (four to five hours, depending on the group) with Savitsky communicating through a radio system. Savitsky relates the yoga practice to riding, working to bring the concepts of the poses to the back of the horse. Participants will leave this horsey yoga vacation with newfound confidence and awareness they can continue to develop.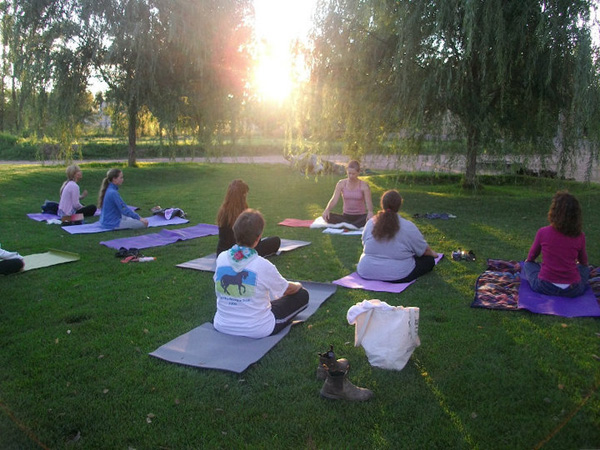 Yoga Instructor Georgia DaKonta leads the sunrise yoga practice before participants set out on the trail for the day.

Participants set the pace for themselves, either choosing to push their limits or have a relaxing, laid back experience. Group sizes are small, allowing for a tailor-made weekend. There is no rigid schedule; Savitsky establishes a plan for each individual retreat based on the group. If you are unable to haul your own horse in, Buckaroo Balance can provide a horse for you to rent for the duration of the retreat.

Savitsky also travels to other areas of the United States, teaching clinics to help people and their horses. Contact Buckaroo Balance to host your own retreat.

Finca El Moro, Spain
Best for: The eco-conscious romantic intending to get away from it all
One hour north of Seville, in a quiet valley of Andalusia sits Finca El Moro. Covering seventy-five acres of rural countryside, Finca El Moro's landscape is filled with wildflowers, chestnut groves, and gardens. Located in the Sierra de Aracena National Park, Nick and Hermione Tudor made Finca El Moro their home in the late 1980s. Finca El Moro offers a week-long yoga and riding retreat six times a year, so there is plenty of opportunity to plan a visit.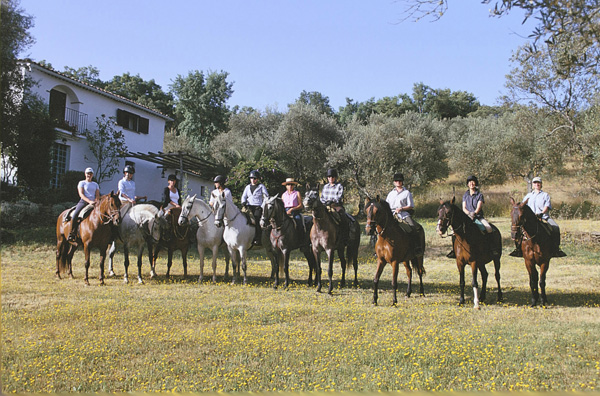 Explore the countryside and nearby villages on the back of one of Hermione Tudor's Andaluz cross breeds, which she breeds and trains herself

With a barn full of Andalusian horses bred and broken by Hermione herself, riders can saddle up in traditional vaquero tack and explore the surrounding landscape for two to three hours daily, stopping in small villages to satisfy their appetites along the way. The horses are well behaved and sure-footed, but the riding is not for beginners. Guests can also join Nick Tudor for a guided walking tour through the valley, as he points out local flora and fauna.

Finca El Moro's yoga instruction is suitable for both the experienced and the beginner and is practiced in the morning before riding and later in the afternoon. The practice aims to help participants with the stiffness that sometimes accompanies being in the saddle for hours as well as improving balance and unity with your mount.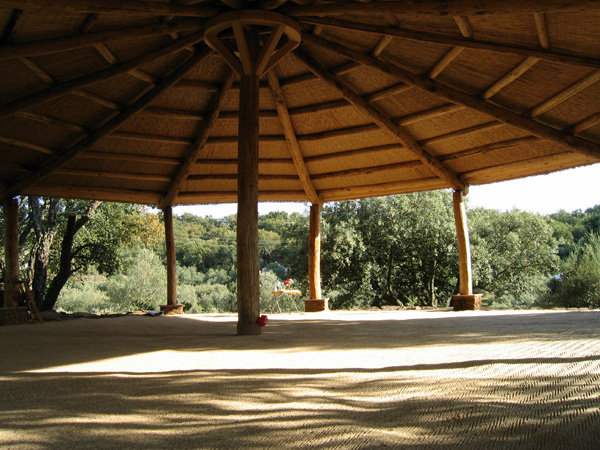 Yoga is taught in English by experienced instructors both in the morning before breakfast and after a day of riding.

Nick and Hermione grow and harvest the majority of the food guests will taste while at Finca El Moro. They provide fresh and organic food with a reputation for serving excellent vegetarian meals. Guests can taste home grown vegetables and fruits, jamon serrano and chorizo from their pigs, and olive oil, honey, and eggs, just to name a small selection of the fresh food the Tudors harvest from their farm.

Whether you're practicing early morning mediation before breakfast, riding through the wildflowers, or relaxing poolside after a delicious organic meal, Finca El Moro strives to give you a peaceful and revitalizing escape far away from it all.

Rancho Las Cascadas, Mexico
Best for: The spiritualist looking for a unique yoga practice and diversified riding experiences
Named for the three waterfalls that border the property, Rancho Las Cascadas offers a seven night, all-inclusive Ultimate Yoga Experience held in March. Located just 90 minutes from Mexico City, Rancho Las Cascadas is the perfect setting for peace and tranquility. You can enjoy the rural Mexican landscape with the comforts of quality hacienda accommodations and local, gourmet cuisine.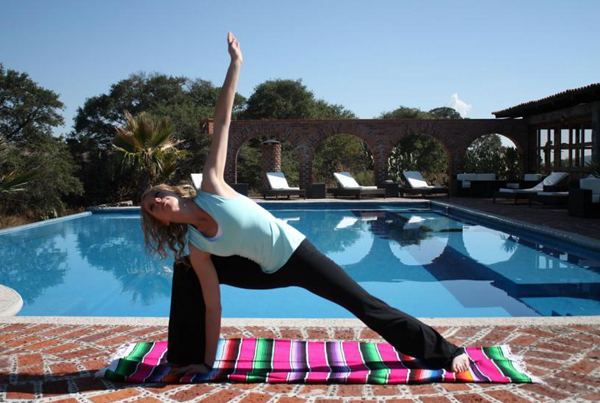 Guests enjoy a resort / ranch setting at Rancho Las Cascadas during yoga retreats, including the ranch's solar heated infinity pool with built in Jacuzzi and Hot Tub.

Led by Patricia Dymond, the retreat includes yoga classes in the morning and evening, unlimited riding, and a personal attention and healing session from Dymond. Customize your riding experience with over 30 trails of open range riding through various terrain including mountains, canyons, rivers, villages, and archeological sites.

Dymond teaches Shakti Naam yoga, a practice almost unknown in the western world, which raises the life force energy using breath, mudra, and postures to remove unwanted blocks and strengthen spiritual connectedness.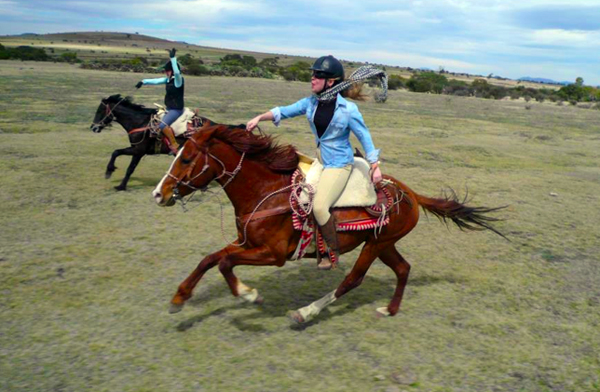 Guests with Rancho Las Cascadas don't just visit the normal tourist stops, but immerse themselves into the Mexican culture, riding through the open countryside to colorful markets and villages.
Learn more about ranches with yoga and other riding vacations where you can try yoga classes and other fun activities in the Equitrekking Vacation Guide and at Top20Ranches.com.

About the Author: Jocelyn Pierce is an avid equestrian and lover of travel and photography. Her passion for adventure has led her on numerous excursions throughout North America and Europe. When she's not riding and competing her homebred mare, she enjoys hiking, camping, and snapping photographs.