Horseback Riding to Bog Lake with T Cross Ranch
A trial ride to Bog Lake brings stunning Wyoming views of Five Pockets, the Wind River Range, the Absaroka's and beyond with T Cross Ranch.
by Cindy Coe
One of my favorite rides in the wilderness that surrounds T Cross Ranch is to the destination of Bog Lake. The name is a misnomer, unless you consider the few bogs that you ride by on the way. Bog Lake itself is a clear body of water surrounded by timber and mountain peaks. Recently I had the luxury of taking an all-day ride there with Jake, one of the cowboys at the ranch. Other groups were heading out on shorter rides, and I was seeking something a little more adventuresome, and of course the T Cross crew is all about keeping everybody happy, so I got Jake all to myself!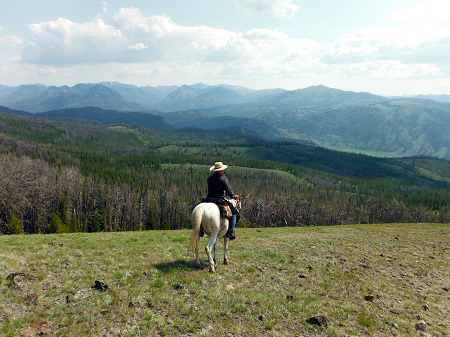 We headed out toward Hole in the Wall on a clear and beautiful morning. Arriving at the top of the ridge, and after adjusting Idaho's saddle, we decided to head off cross country hoping to scare up some elk horn. None were to be found this day, but we then thought it might be fun to climb up to the highest point on Elkhorn Ridge to see what the view held. We were in no hurry and with just the two of us, it was easy to just wander.
Idaho worked her way back and forth as we made the ascent. The view did not disappoint. Far below was T Cross-- to the north, Five Pockets and Upper Twilight and to the South, the Wind River Range, including Gannet Peak and Grasshopper Glacier. Behind us to the East, the Absaroka's in all of their mystical beauty. Simply breathtaking.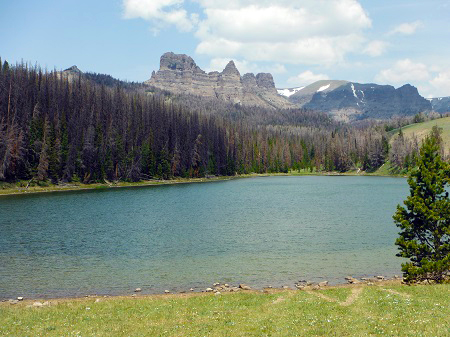 Winding our way down through fields of lupine, arnica, paintbrush and columbine we picked up the trail and rode on to Bog Lake, our lunch destination. We found a place close to the lake in the timber to tie our trusty steeds, and a nearby fire ring of which we also took advantage. Even though the day was warm, a fire would be welcome to keep the persistent flies away, and I just love a fire no matter the temperature!

Now, I fully admit I am not the most stimulating conversationalist, and was not offended when Jake made himself more comfortable by the fire, and placed his hat over his face to take a nap. Ah, to be young again and find sleep so easy to come by. While Jake caught up on his shut eye, I wandered around the lake enjoying the quiet. I spotted something up on the ridge, perhaps a mule deer. It eventually wandered off and I was again left to myself and the whisper of the wind in the tree tops. It is such a beautiful and peaceful place for a noon time respite.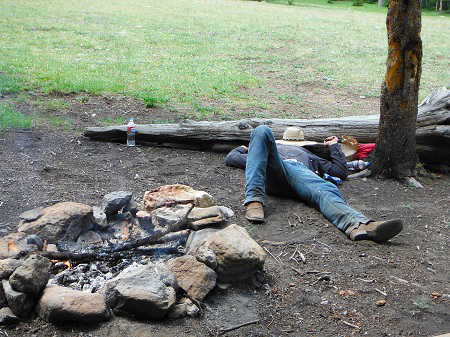 After an hour or so, I thought we'd best be making our way down, so I roused Sleeping Beauty (with a kick to his boot lest you get other thoughts) and we broke our lunch time camp. To get back, we opted to ride further north through the timber and down over Boedeker back to the ranch. Jake pointed to a variety of wildlife track along the way, and there were wildflowers in such beatific array that it was a perfectly wonderful ride back! Just another day in paradise on the T Cross Ranch.

How you can go: T Cross Ranch is located outside the Western town of Dubois, a two-hour drive from either Jackson Hole or Riverton. Learn more about visiting T Cross Ranch on their website. Check out T Cross in the Equitrekking Vacation Guide and learn why T Cross is a Top 20 Ranch pick.
About the Author: Cindy is a NDY (Not Dead Yet) native of Western Colorado. She is a regular at the T Cross where she undergoes an annual on-the-job interview to become a wrangler-ette during her retirement! For now she resides in Social Circle, GA with her 2 dogs, 4 cats and 3 horses.