Horseback Riding Through Maine's Acadia National Park
Trail riding enthusiast Susan St. Amand shares her experience horseback riding through Maine's scenic Acadia National Park.
Text and photos by Susan St. Amand.
Acadia National Park is known to be the "crown jewel" of the Northeast and considered one of the top ten national parks to visit. Covering over 60 miles of rugged coastline areas and 38,000 acres (with another 12,500 acres in conservation easements), it is definitely a unique place to ride and visit. With stunning and picturesque views, the park contains biodiverse natural habitats, sparkling clean air and water, and a cultural heritage dating back to the early 1900's.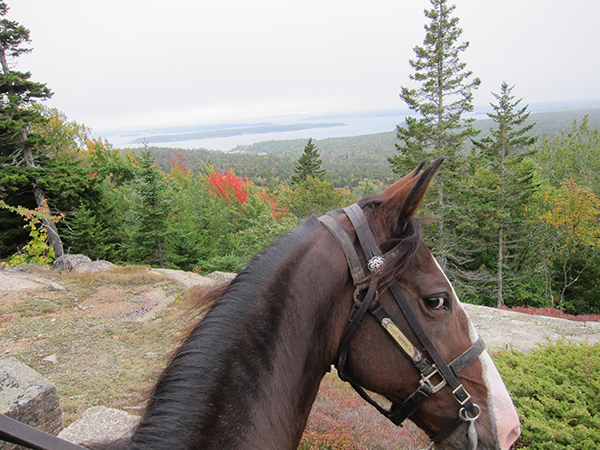 For the equestrian rider, 45 miles of carriage roads were constructed and funded by John D. Rockefeller Jr., who was also a skilled horseman in his time. Today, Wildwood Stables, located within Acadia National Park, operates a stable which also provides carriage rides throughout the park. Their draft horse teams remain ever ready in their stalls to accommodate the constant flow of tourists who engage in a lovely carriage jaunt through the park.
For equestrians bringing their own horses to ride in the park, they provide trailer camping sites for horse trailers. Owners can also rent stalls for their equines overnight. Trailer sites include water and electric hookups.
My horse and I enjoyed the overnight accommodations at Wildwood Stables. During the day, we took great pleasure in riding on the carriage trails with their majestic views and scenery greeting us at every turn. Hikers and bikers also use the carriage trails, so horses must be acclimated to meeting up with other trail users, as well as horse driven carriages.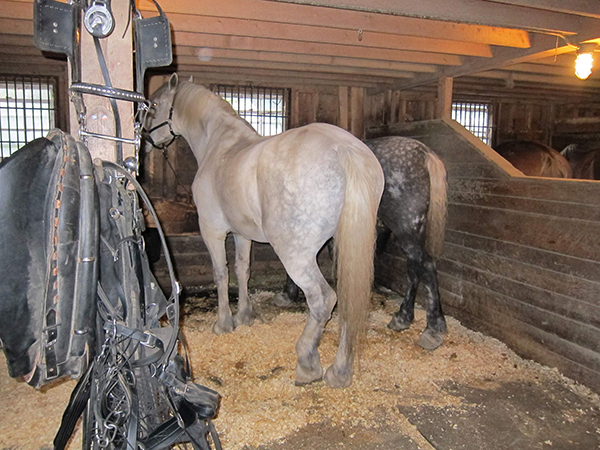 On a good note, it was a quiet atmosphere riding on the carriage trails, whereas other areas of the park were frequented by many tourists and tour buses--especially during the fall season when leaves are bright reds, yellows, and oranges. The trails took us by Bubble Pond and the Jordan Pond Gate House. Gatehouses were originally built to restrict automobiles from entering certain areas of the park so it could be enjoyed without the use of motor traffic. We also rode on the carriage trails to another one of the several highest peaks in the park, which is Day Mountain.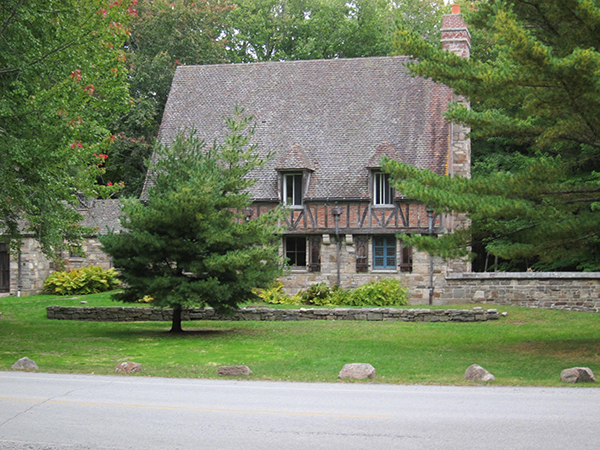 Carriage trails do not go up to the famed Cadillac Mountain, the highest point in Acadia National Park at 1,530 feet high, as well as the highest point on the East Coast. However, it is worth driving or hiking to its summit for views of Bar Harbor and the cruise ships docked along the shores. Because of its high altitude near the ocean currents, be prepared for the winds that can blow. Sunrise and sunset attract many people during those times, especially photographers, for the amazing views that unfold, as this is where the first glimpse of sunrise is to be seen in the United States.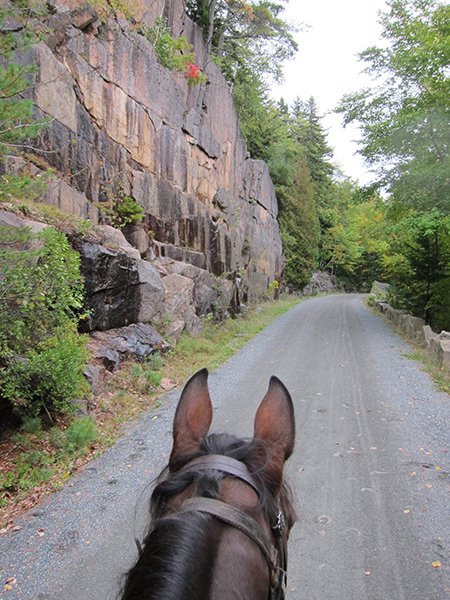 Cadillac Mountain granite is found in the park. The granite, which began as magma that mixed into older rocks. It then cooled, hardened, and crystallized. The granite is flecked with black hornblende and quartz crystal along with pink feldspar, which gives it a pinkish red color.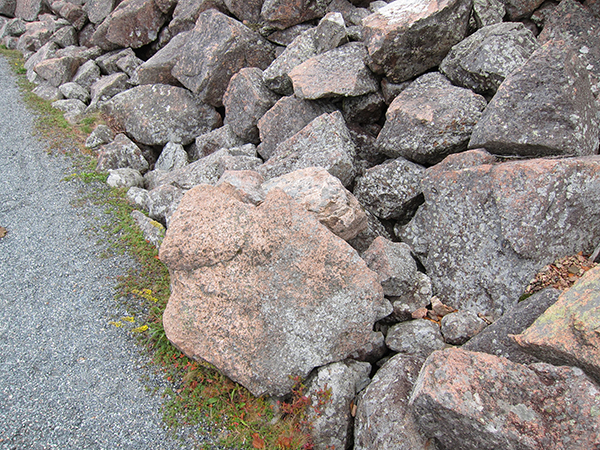 When not horseback riding or exploring Acadia National Park, it is worth a trip into town to Bar Harbor, which is tucked between the park and the Atlantic Ocean. There are many quaint shops to peruse offering unique gifts. In addition, many tempting restaurant menus offer delicious Maine lobster in a variety of forms. Yum!
In summary, riding in Acadia National Park was a great experience exploring the majestic Atlantic coastline, especially during the fall season with its bright colorful hues splattered throughout the forests.
About the Author: Susan St. Amand is a Board Member of the Shenandoah Trail Riding and Horseman's Association in Shenandoah County, Virginia. She grew up in Northern Maine with horses on a farm and has been a transplant to Virginia for the past 26 years. A retired Youth Education Technician, she enjoys planning horse vacations with friends and has currently completed many rides in Maine, New Hampshire, Pennsylvania, New York, West Virginia, Tennessee, North Carolina, as well as Virginia, trailering her own horse.