Horseback Riding The State Arboretum of Virginia – Blandy Experimental Farm
Learn about a beautiful arboretum with miles of trails to ride not far from Washington, DC and Winchester, Virginia, part of the 50 State Trail Riding Project.
by Susan St. Amand
Known as the "Commonwealth's Public Gardens", Blandy Experimental Farm is a 700-acre research center for the University of Virginia. Bequeathed in 1926 by Graham Blandy, Philanthropist to educate boys in the various branches of farming, it is situated in the northern area of the Shenandoah Valley off Route 50, ten miles east of Winchester, VA and 60 miles west of Washington, DC. Open year-round to the public, it offers an escape to seek tranquility for walking, biking, birdwatching, horseback riding and nature lovers.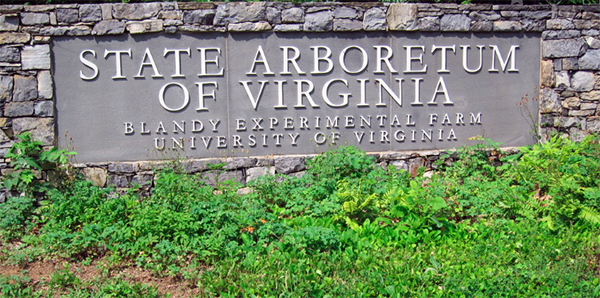 Entrance sign.
It offers 7 ½ miles of comfortable flat trail riding to equestrians through a variety of gravel roads, fields, and forested areas. Enjoy the natural beauty of native grasses, wildflowers, oak and maple trees, as well as mangroves. The farm contains the most diverse collection of trees and shrubs on the East Coast. A natural wetland area can also be found on the premises. Listen to the variety of native songbirds seen flying in and around their birdhouses. The Farm is popular for bird watching and observing wildlife. Flower and herb gardens surround the Quarters Building and research station. Summer youth camps are held here to introduce children to natural environmental sciences. The farm is still actively utilized by the University of Virginia for research and education.
Equestrians are required to wear helmets, stay on marked trails, carry a current Coggins Test paperwork, and sign a liability waiver upon arrival to the bridle paddock. A suggested donation of a mere $5 is asked to assist in trail maintenance, trail signs and brochures.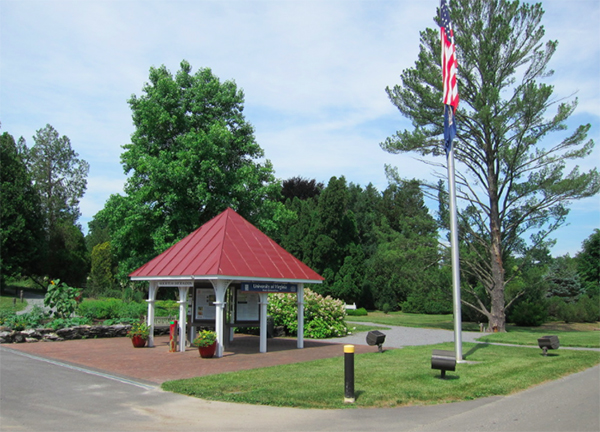 Visitors Informational Center.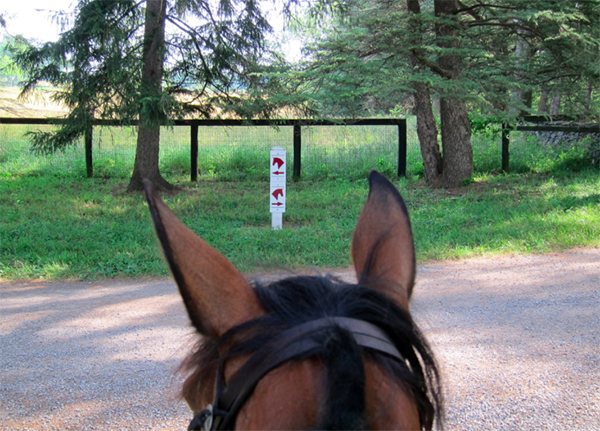 Bridle Trails are well marked – Here "Sunday" is inclined to veer left.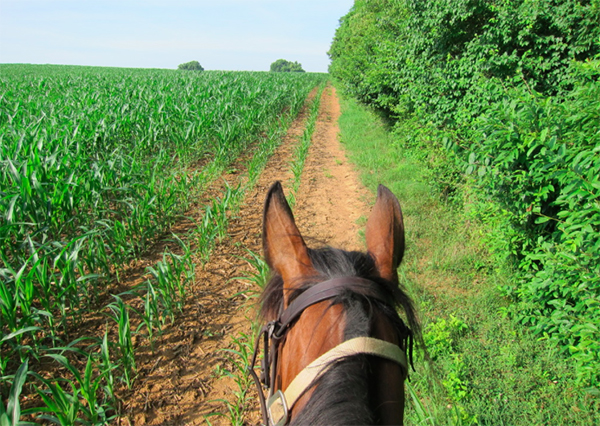 Following the trail along the corn field, it is reminscent of "Sunday's" breed, the Tennessee Walking Horse, as they were historically bred for their well-known running walk and fast gaits to cover ground quickly while plantation owners surveyed their crops over the course of a day's field work.
While riding alongside a field of wheat, we startled a deer. Many public lands and parks in our area lease some of the park acreage to local farmers to assist in raising funds to maintain the parks.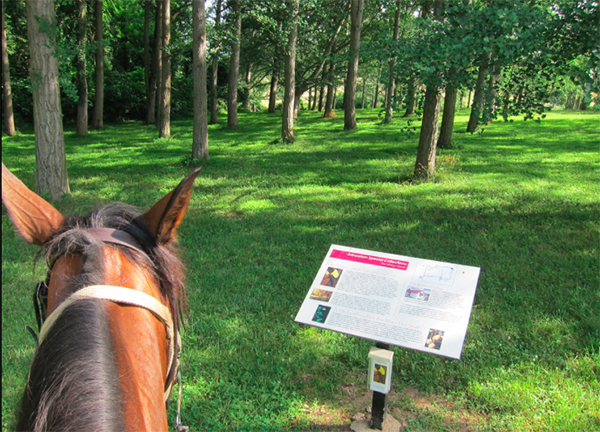 While much of the farm contains natural habitats, many areas located closer to the public buildings and parking areas are well manicured. In addition, educational signage are located in abundance all over the park to inform visitors about the various native trees and plants grown in the area. This grove consists of Gingko trees.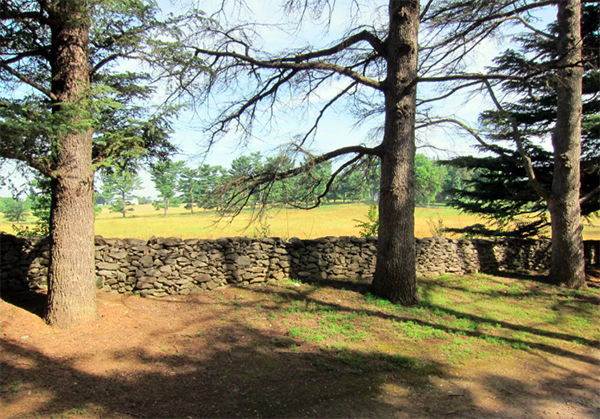 Rock walls line the border of the farm, separating the public park from the private Tuleyries estate still currently owned by descendents of Graham Blandy.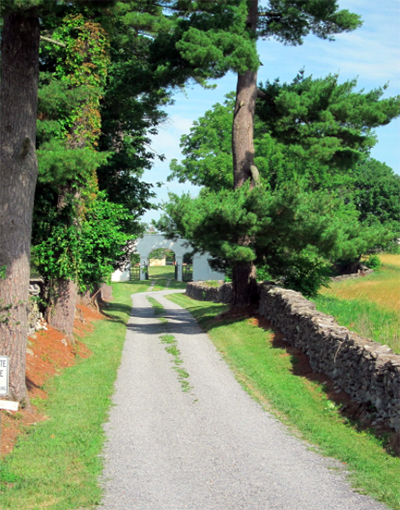 The private drive and gate leading to the Tuleyrie estate.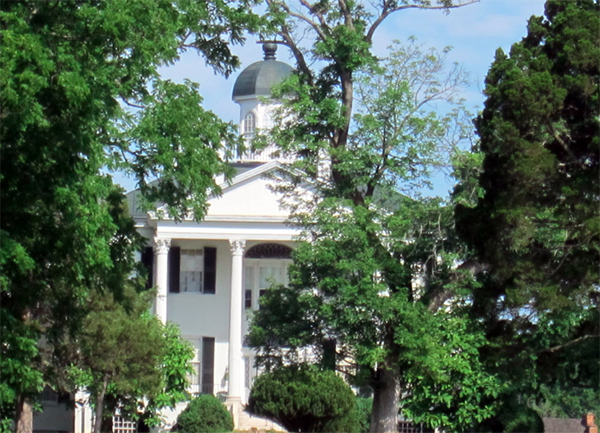 The Tuleyrie plantation house.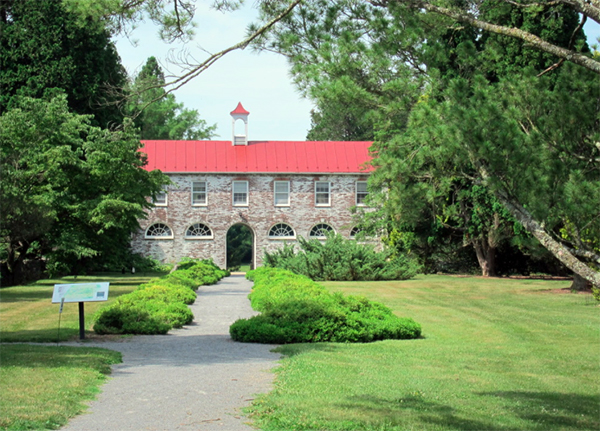 The Quarters Building surrounded by perennial and herb gardens. Educational workshops are held in the building.
About the Author: Susan St. Amand is a Board Member of the Shenandoah Trail Riding and Horseman's Association and employed with the Virginia Cooperative Extension as a 4-H Youth Program Assistant. She grew up in Northern Maine with horses on a farm and has been a transplant to Virginia for the past 25 years. She enjoys planning horse vacations with friends and has currently completed many rides in Maine, Pennsylvania, New York, West Virginia, Tennessee, North Carolina, as well as Virginia, trailering her own horse.