Horseback Riding The Pacific Crest Trail… Twice!
Why one thru-ride on the Pacific Crest Trail wasn't enough for Gillian Larson
"Are you crazy? Didn't you just ride the whole trail? Why in the world would you do that again?"
This was the typical reaction when I told people I was going to attempt a second solo horseback ride from Mexico to Canada on the PCT. How could I explain what drove me, at age 24, to do the long ride again in 2016, only two years after my first trip? All I knew was that I had to do it, not only for myself but for my horses and for any other riders who dreamed of making the journey.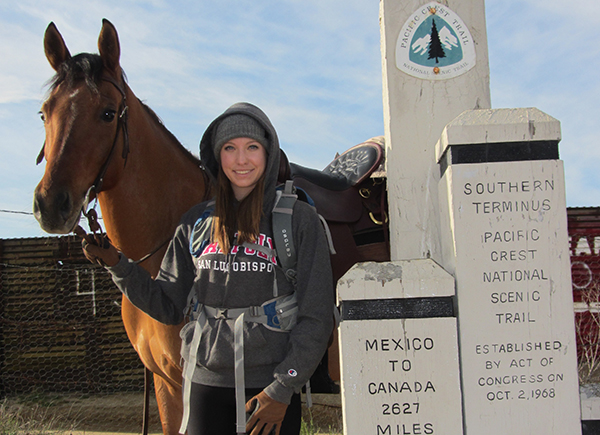 The southern monument on the day we began the first ride at the Mexican border near Campo, CA.
The Pacific Crest Trail is a National Scenic Trail open to hikers and riders that travels from the U.S.-Mexico border to Manning Park in British Columbia, covering 2650 miles along the highest portions of the Sierra Nevada and Cascade mountain ranges. On the way, it passes through twenty-five national forests and seven national parks in three states, ranging from expansive desert vistas to rugged granite peaks and dense forests. I originally heard about it almost by accident, while backpacking with my mother, and when I realized it was open to horses, I was immediately hooked on the idea. I had been trail riding my whole life, but I had never camped out overnight with my horse, let alone packed for weeks on end. But I was determined to tackle it. I bought gear and supplies, trained one of my horses to pack, and headed out for the great unknown.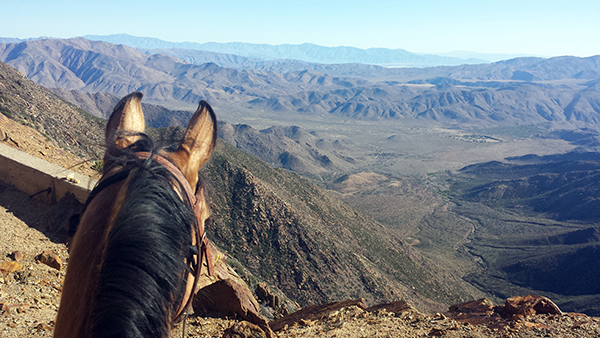 Anza-Borrego is one of the first desert sections in southern California.
My first trip in 2014 was an amazing but often perilous adventure. The difficulties were made worse by the lack of information for PCT horseback riders. There are many resources for hikers, but riders face unique challenges. I learned a lot during my first thru-ride about the lack of water and graze; the scarcity of suitable camp sites; how to find farriers and feed stores; and the dangers of snow, the innumerable blowdowns and other obstacles. We made it safely from border to border, and really, who could wish for more than that?
But I was convinced that if I had known before what I knew afterwards, it could have been a different experience, with less of a mental and physical toll, both for my horses and me. I wish there had been someone to tell me what I was facing, who might have helped me avoid the many mistakes as I struggled to figure it out on my own. In 2016, I wanted to put that hard-won knowledge to the test and perhaps help someone else make the journey without the same problems. I had something to prove, if only to myself.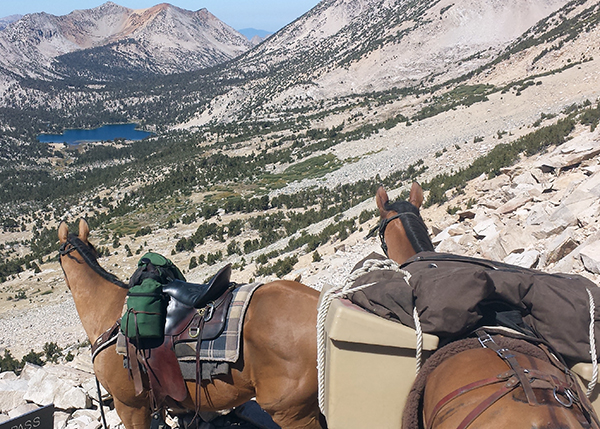 Kearsarge Pass is in the Sierra; this shows Takoda and Shyla as we were packing through the last remaining section of trail after we already got to Canada but had to complete some areas that we skipped earlier due to snow.
My first mistake in 2014 was simple: I had a deadline. I graduated from Cal Poly San Luis Obispo in December 2013 and would start grad school the following August. Surely I could ride the PCT in that time, I thought. If I averaged 25 to 30 miles a day with one or two "zero" days a week, I could cover the distance in about four months.
I planned to ride my mare, Shyla, and use her grown colt, Takoda, as a pack horse. I knew Southern California presented difficulties with water, but we would be close to my home near Los Angeles. My mother volunteered to meet us with water and food as needed. Once we got past Kennedy Meadows, my water problems would be over, and having the pack horse meant that we would only need to resupply every week or so during scheduled rest days. I would park a truck and trailer loaded with feed at trailheads—driving ahead and hitchhiking back, or trying to find someone to move the truck or give me a ride.
I thought I had it all figured out, but the PCT had other things in store for me. The first surprise was how quickly the horses wore through shoes—three weeks in most cases. Finding a competent farrier on short notice wasn't easy, and frequent shoeings weakened the horses' hooves. I also underestimated how much food the horses would need when they were working so hard every day. Both lost weight, and I experimented with different combinations of pellets, hay and supplements for proper nutrition.
Then there was the snow. I was completely unprepared as the California drought lulled me into a false sense of security while I rode easily through the higher elevations in the south—San Jacinto, Big Bear, and Baden-Powell—a month before they are usually passable. By early May, I reached Kennedy Meadows and camped there with some of the first hikers about to venture into the Sierra. If they can do it, I can do it, I told myself. Although a spring storm was forecast, we all set off the next morning, the first of the season's PCT travelers to head north into the mountains.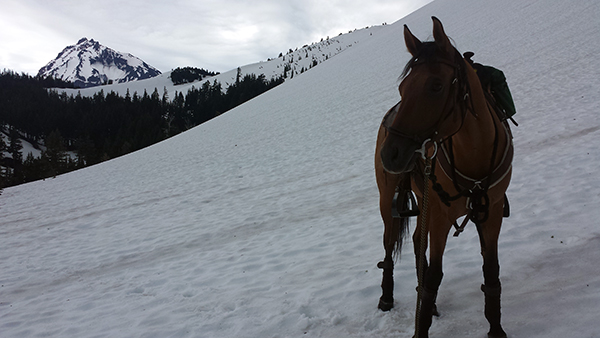 Takoda on July 2nd, 2014, in the Three Sisters area of Oregon.
That was my wake-up call, when I discovered that only Mother Nature sets the timeline. Despite the overall low snowfall, the drifts were deep as I headed ever higher. Then the storm hit. I rode long after dark the second night as snow swirled around my headlamp beam and the landscape disappeared behind a white curtain. I had difficulty finding the creek where I planned to camp. When I woke the next morning, everything was buried in a foot of new snow. I packed the horses and tried to continue, but as I climbed toward Cottonwood Pass, the snow got deeper and more treacherous, and I realized I was a fool to go on. I backtracked and took shelter at the pack station at Horseshoe Meadow (it was still closed for winter, but had water available for the horses) and waited for my mother to come get us with the trailer.
The reality of what I was attempting hit hard. That was also when I realized that what works for hikers—going straight north on the trail from Campo to Manning Park—was not going to work for me and my horses, not if I was going to finish by mid-August. I couldn't wait for the snow to melt; if I did, I'd never have time to get to Canada. But I couldn't ride on snow, either. The small size of the horses' hooves relative to their weight makes them susceptible to post-holing, which is dangerous because one never knows what lies beneath the surface. It was a humbling revelation of how unprepared I was.
When I tried to skip north to Tahoe to avoid the snow, planning to return to the Sierra later, I discovered that the further north I went, the lower the snowline. I contacted the PCTA for advice about sections that might be clear of snow, but found that no one could tell me with certainty. I rode out of the trailhead at Castle Peak off Interstate 80 and got less than a mile before I had to turn around; I tried again from Sierra City, but one of the horses fell in the trailer on the way there and we had to rest and recover. Eventually, we walked a road part of the way to Belden before I could rejoin the trail. I was overwhelmed and out of my depth.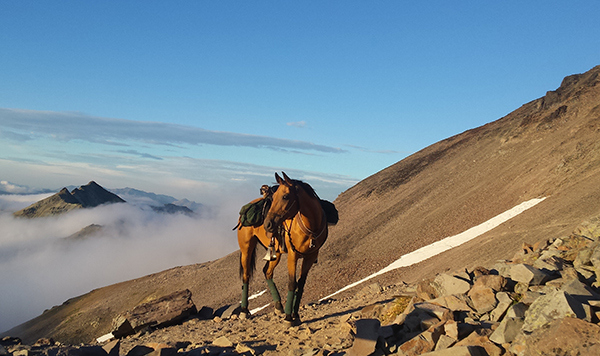 The Knife's Edge is a famous section of trail in central Washington; Shyla and I rode above the clouds and got a great view that day.
But this was also when I found the first of many friendships, with complete strangers reaching out to help. People rushed to assist us in Sierra City after the accident, trailering us back to Truckee and offering the horses and me a place to stay. A family friend drove all the way to Reno for hay. When we got to Seiad Valley, a seasoned packer showed me a better hitch for my panniers, and a local family welcomed the horses in their pasture. During the 2016 trip, a friend in Redding let us stay with her several times, and even transported us to different trailheads. Another heroic couple changed two flat tires on my trailer on a dirt road outside Cascade Locks, then hosted the horses and me overnight. In the end, perhaps the most powerful lesson the trail has offered is one about the human heart—the incredible kindness of people without whom I could not have made the journey at all.
Slowly, I gained new strategies. After trying various horseshoes, I found a borium coating extended the wear; eventually I added borium-headed nails and carried extra sets in my truck. I solved the feed issue with a brand of high-fat pellets, and I supplemented whenever possible with compact hydration bales; before my 2016 ride I had a ton of that feed, sold only in Oregon, shipped to my house. I also learned to cache food at secure locations, to reduce the weight the horses carried and maximize nutrition. One by one, I fended off the punches that the PCT was throwing.
But snow remained my nemesis, along with downed trees. I carried a handsaw and axe in my saddlebags but couldn't cut through most trees on my own, so I found a way around them. That didn't always work with snow, as there could be drifts blocking the way, or a crust of ice hiding crevasses. I spent a freezing night without food or water when snow stopped me in June south of Crater Lake. A snowbank gave way in the Three Sisters Wilderness in early July, sending my horse and me glissading down a hillside; I had to navigate through dense forest and jagged lava until I at last reached a road and a trailer, while the horse lost two shoes and we were both battered and bruised. In northern Washington, washouts and snow on the last 60 miles forced me to take an alternate route because of my grad school deadline. Even then, when I returned to California to start the semester, I still had 200 miles of Sierra backcountry left. I completed those over a couple of long weekends. When I finished the remaining miles by riding into Vermilion Valley Resort over Labor Day weekend, I felt a curious sensation—pride, of course, but also disappointment. It wasn't what I had expected, in so many ways, and I wanted a chance to do it again—to put what I had learned to the test and hopefully get it right.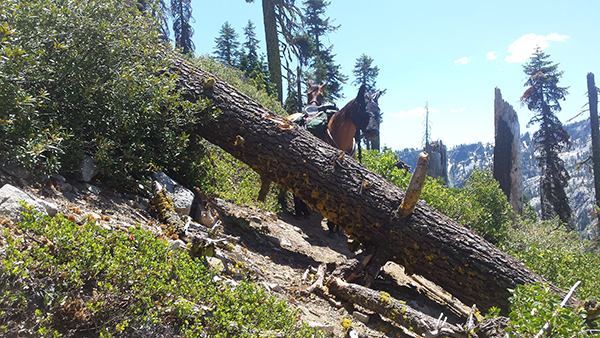 The downed tree photo is of a trail obstacle in northern California; this is what we encounter all the time when we are riding on unclear trail sections--and usually I get out there long before the trail crews!
That was when the dream of a second journey began. And I knew I couldn't delay; Shyla was already 16 on our first trip, and every year increased the risk of her getting too old to withstand another long ride. I knew it was the tremendous heart of this horse that made the first trip possible. She and I had bonded in a way that I never imagined before we made that trek. Although I travelled alone on the trail, I never felt alone. We relied on each other—took care of each other—and became an unbreakable team.
I also was eager to give others what I wish I had in 2014—a guidebook for equestrians on the PCT, with information such as suitable places to camp, possible graze, the location of horse corrals and trailheads with trailer access—all the things I wish I had known, but which only hard-won experience provided. Everyone will make mistakes on a journey as long and difficult as this, but there's no reason to repeat the same ones. Even those who only want a shorter section ride could benefit from clear information about the PCT. A second trip would be a chance to gather more material to write that guidebook.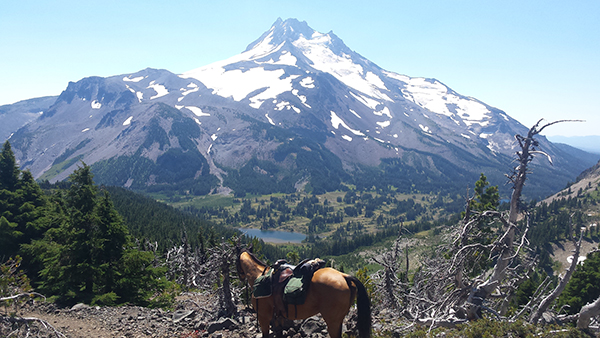 Shyla in Oregon at Mt. Jefferson.
On a thru-ride you constantly meet people who tell you how lucky you are. I understand that when they see you sitting on a horse carrying you up a hill while they sweat under their backpack, it does look easy. But trust me, it is not; it's like having a 1,000-pound toddler that you have to take care of, hauling water, providing food, grooming before and after each day's work. Hikers wake up and hit the trail quickly; they stop when and where they want to, take a break in a town if needed, can carry enough water to get through dry sections of trail. I have hours of work before I start in the morning and after I stop for the night; I can only camp where there is enough room and water; I have the constant responsibility of the horses' health and safety on my shoulders.
The knowledge I gained in 2014 proved invaluable in 2016. Despite record snowfall in northern California, I plotted a course that avoided snow issues. I never entered an area without knowing whether Shyla and I were up to conquering it. One of my most important lessons involved humility and flexibility and accurately gauging what is possible. I used a system of two trucks and horse trailers to be self-reliant, without needing to hitchhike or find someone to move a rig to the next trailhead. I also knew where a packhorse is an advantage, mainly in the Sierra, and where a second animal merely adds to the risks; most of the time, it is best to travel as light as possible. And this time there was no deadline other than the coming of winter.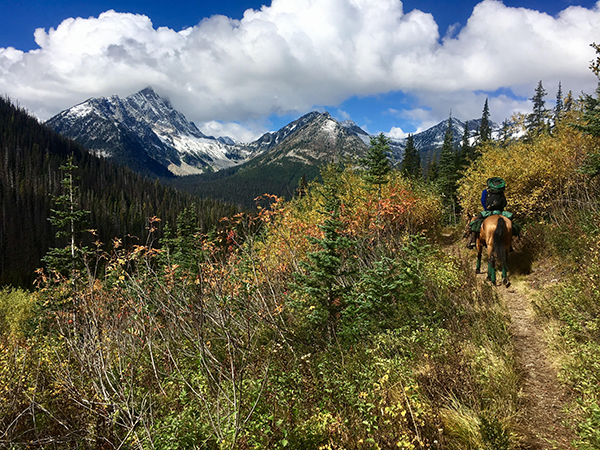 Shyla and I heading into Manning Park, in British Columbia, on the last day of our second thru-ride.
In the final days of September 2016, as Shyla and I rode north from Stevens Pass over the last 200 miles to the Canadian border, we encountered the hardest conditions of the trip. Hundreds of fallen trees blocked us and the weather turned cold and wet. By Sept. 19, I was waking up to a suddenly white-washed landscape. More than a foot of snow obscured the trail during the last eight miles as we neared the monument on Sept. 21. But along with other hikers I had befriended, I rode the last steps to the northern terminus. We took photos, hugged, congratulated each other, laughed and smiled. There were even a few tears—of relief, or maybe disbelief, at having come so far, but also a kind of bittersweet sadness at saying goodbye: to friends, to the shared agonies of sweat and dirt and cold and pain, and yes, to the trail itself. Our dream had become a reality that would be a part of us for the rest of our lives.
And this time, there was a satisfying sense of completion. Everything I set out to do, I had achieved. The most valuable gift I carried home from two years of travel on the PCT is the sense of true partnership with my horse, a level of trust that successfully sustained us over more than 5,300 miles. It has been the journey of a lifetime—not just once, but twice—and will live with me forever.
For more information or to read Gillian's blog of her two PCT rides, plus her additional long-distance equestrian adventures since then, visit her website at www.PacificCrestQuest.org.