Horseback Riding on the Beach in North Carolina
The McCools hit the beach on horseback and discover that being in the saddle is a great way to experience the Outer Banks of North Carolina! Enjoy the ride!
After far too many years without riding, my husband and I enjoyed two horseback rides in Ireland—a walk in the woods of Leslie Estate, and a beach ride in County Donegal. Both were a lot of fun, but both were walk/ trot experiences. We were so excited to return to a beach on horseback, this time for a full out canter.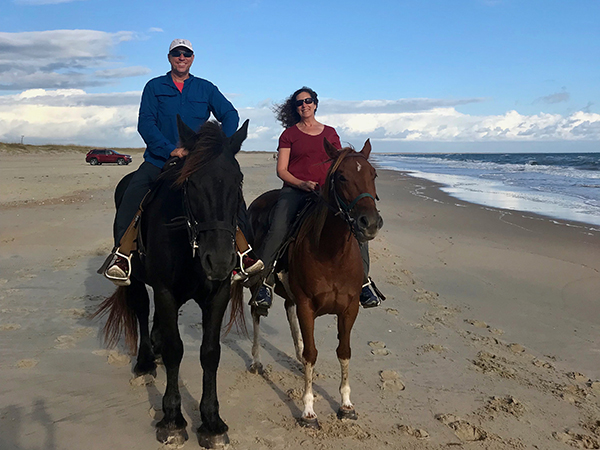 Equine Adventures leads horseback rides to the beach on the Outer Banks in Frisco, North Carolina.
Here are five things we loved about our OBX beach ride with Equine Adventures:
- The leisurely ride to the beach follows a narrow dirt trail through the woods. It's a peaceful path and a nice break from the sun in summer months. Follow the leader's advice and use plenty of bug spray (provided) before you head out.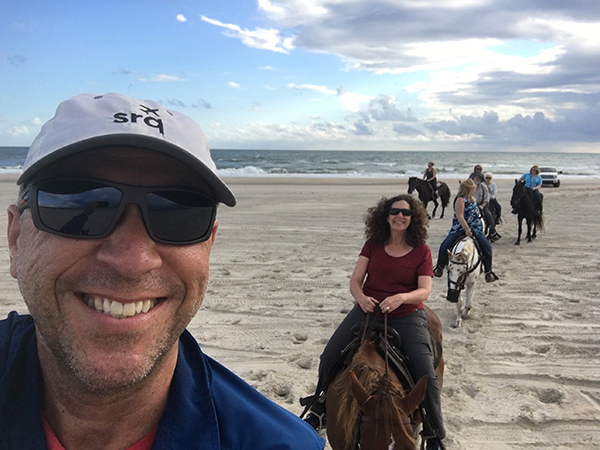 - Horses were well matched to riders. The husband rode a large, easy-going Percheron named Tonka, while I rode his "friend" Chrome. Because the horses got along well it was easy for us to ride together.
- Equine Adventures accommodates every experience level and age. Most of our group were novices, and ages ranged from teens to a woman in her 80s.
- Instructions were clear and helpful. Before we reached the beach our guide described how people could choose how fast they wanted to go. Girths and stirrups were checked again to ensure everyone who wanted to could have a safe canter.
- Cantering on the beach! This was a true highlight of the ride, especially since we were not allowed to canter on previous group trail rides. The image we've had of a smooth canter along a beautiful beach finally came true.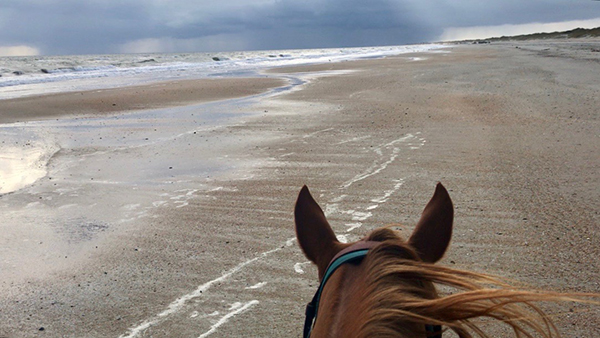 Article and photos by Julie McCool of Fun in Fairfax VA and Charles McCool of McCool Travel. Follow them on social @CharlesMcCool and @FunInFairfax.