Horseback Riding in West Virginia's Camp Creek State Park and Forest
Trail riding enthusiast Susan St. Amand revisits Camp Creek State Park and Forest in wild, wonderful West Virginia as part of Equitrekking's 50 State Trail Riding Project.
Located in Camp Creek, West Virginia is a beautiful horse camping facility named Double C Horse and Rider Campground situated within the Camp Creek State Park and State Forest. Reservations are required for this secluded, and gated horse camping area separated from the rest of the park. Thirteen horse camping sites are available with open horse stalls and pens in a cul-de-sac surrounded by trees and bordered by a creek. Restrooms are also available.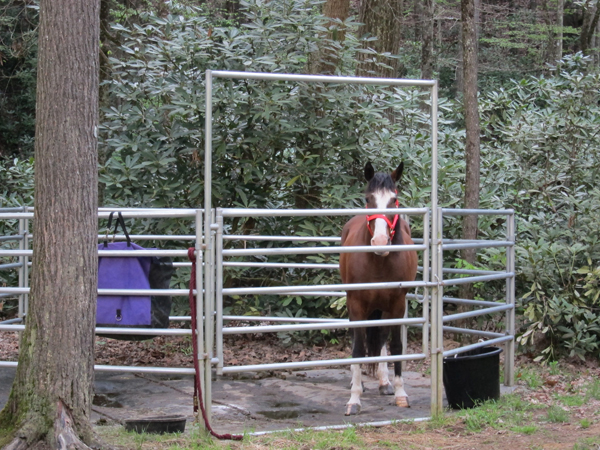 Horse pens are available for visitors to Camp Creek State Park and Forest.
The park contains other family amenities and camping areas as well as a small camp store, playgrounds, picnic areas and outdoor amphitheater. With the nearby creeks, fishing is also an option. The park is well maintained and the park staff is very friendly. Trails are well marked with trail maps also available.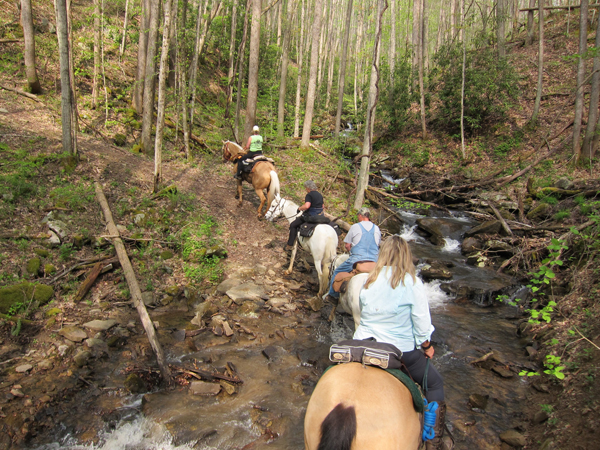 Horses should be comfortable with rocky terrain and crossing water.
As the park's namesake suggests, there were many opportunities to view the creek and the lovely small waterfalls, as well as crossing them on horseback. The creek waters were flowing energetically right after the winter thaw and spring rains. Because of all the creek crossings, horses should not be shy in crossing water. Our horses welcomed the frequent opportunities to quench their thirst. With the creek running beside our camping area, we were able to sponge off our horses and take a cool dip ourselves.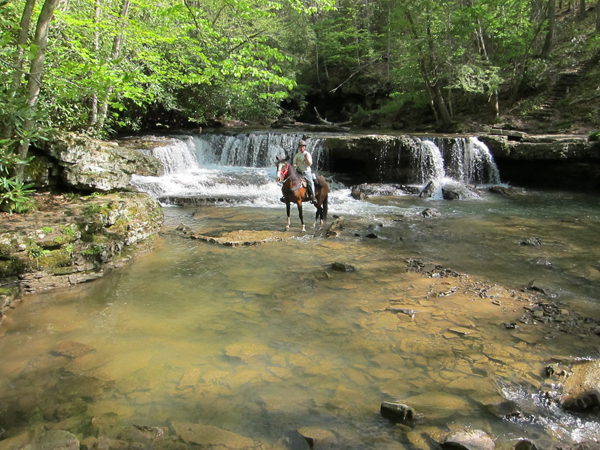 At another creek crossing area, riders took advantage of the Mash Fork waterfalls for a pretty photo opportunity.
The trails are mostly flat and easy going. The majority of the trails meander under the canopy of the forest trees, keeping both horse and rider cool. There are also plenty of trails running through open wildlife areas. This year, bears seemed to be plentiful, as we saw many fresh bear paw prints (both large and small), indicating that cubs were roaming the forests with their mothers. Park rangers suggested that the bear population was increasing in the area and running off other wildlife, such as deer, from the park.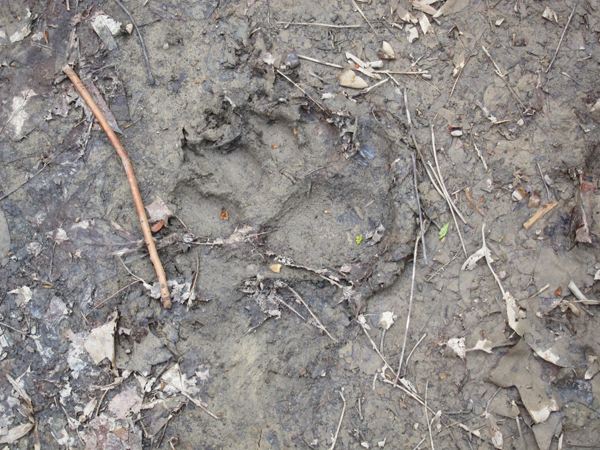 Bear tracks on the trail.
Other sites along the trails included a rustic outhouse at a picnic shelter located in a section of the park trails, appropriately named Almost Heaven Trail. The outhouse featured a Microflush toilet, commonly used in developing countries to eliminate disease and improve water quality by utilizing red-wiggler worms that convert human waste to compost. This one happened to be the first Microflush toilet built for public use in the United States.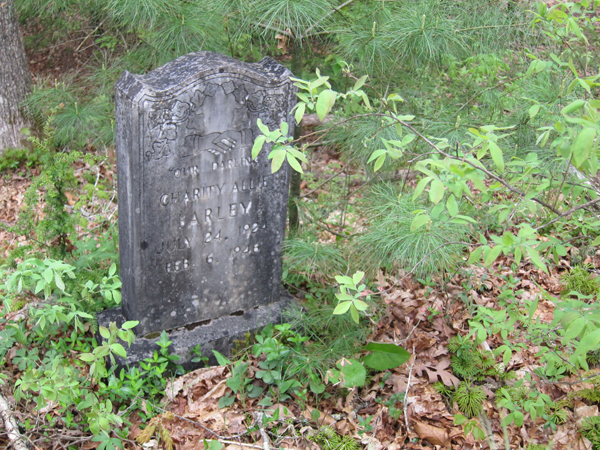 Scattered across the park are four historical family cemeteries that give tribute to some of the first settlers in the area.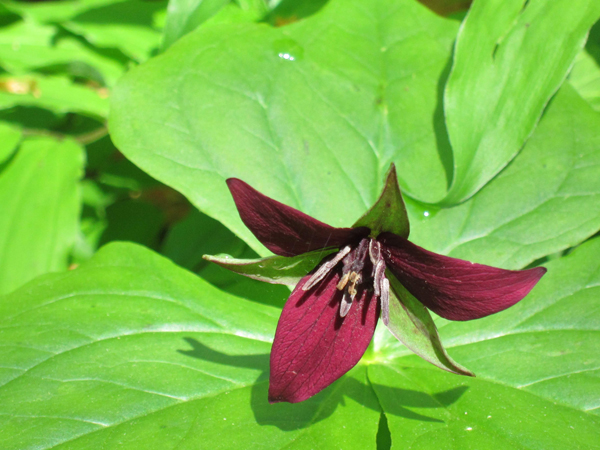 A purple trillium flower spotted on our ride.
On this second equestrian camping trip to Camp Creek, we took time to observe and identify the local flora and fauna. The purple trillium flowers were in bloom along the trails. Rhododendron plants were in abundance along the creek trails but were not yet in full bloom. Wild magnolia trees were found at the upper flat elevations. Mistletoe was also sighted growing overhead in the treetops. Indigo buntings and my first-ever sighting of a scarlet tanager chirped in the background with other birds providing a melody to the forest.
About the Author: Susan St. Amand is a Board Member of the Shenandoah Trail Riding and Horseman's Association in Shenandoah County, Virginia. She grew up in Northern Maine with horses on a farm and has been a transplant to Virginia for the past 26 years. A retired youth education technician, she enjoys planning horseback riding vacations with friends and has currently completed many rides in Maine, Pennsylvania, New York, West Virginia, Tennessee, North Carolina, and Virginia. Learn more about the Shenandoah Trail Riders & Horseman's Association on their website and on Facebook.