Horseback Riding in West Virginia from Shalimar Farm
Mary Everhart shares her adventures bringing her horse to ride Greenbrier River Trail from Shalimar Farm in West Virginia, as part of Equitrekking's 50 State Trail Riding Project.
by Mary Everhart
It has long been an ambition of mine to ride the Greenbrier Trail in West Virginia. After visiting a link on horseandmuletrails.com, I fell in love with the images put up by a gentleman who was leading horse camping trips along the over 70 mile maintained trail. By the time I called him, he was going out of business because of the excessive cost of his liability insurance.
My long-time riding and traveling friend, Nancy, saw a small ad in a horse magazine for Shalimar Farm in West Virginia and shared it with me. I checked it out. I shared it with the women who frequently join me on horse trekking vacations. In our group, the first and foremost item is a safe place for the horses. We prefer turnout with run-in sheds. We will do barn stalls if that is all that is available. Less important are the human accommodations. We have stayed in tents or slept in our horse trailers. We absolutely have to have showers – even if we have to put quarters in to get four minutes worth of hot water!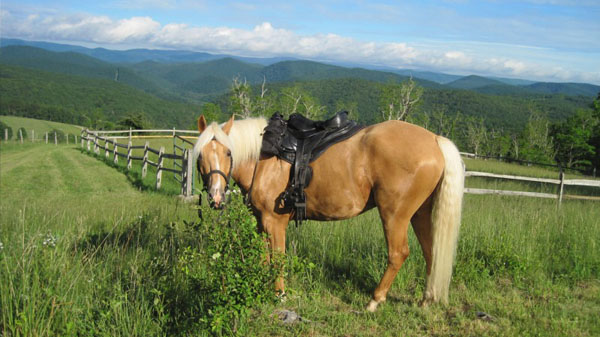 Horses on lunch break at Shalimar Farm, which for more than three decades has been home to many horses, in West Virginia.
Shalimar Farm was perfect! There were three cabins. Our group of seven rented them all. Each cabin had two turnout pastures with run-in sheds. Each rider makes a meal to share one night. Before we go, we share our menu so we don't end up with the same thing over and over. Food for breakfast and lunch, along with drinks is handled by that individual. Since we were seven for six nights this trip, one rider was in charge of all coffee and hors d'oeuvres. We generally enjoy wine and cheese before dinner.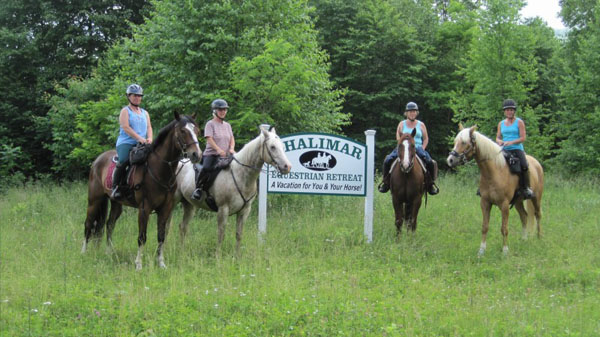 Mary's trail riding group poses for a photo by the sign for Shalimar Farm.
Aside from the scenery, what made Shalimar different is George and Mickey Deike, owners of Shalimar Farm. They promote Shalimar as an equestrian retreat. They own 900 acres and lease another 200. They have created 22 miles of beautiful trails on this land.
When I originally read their website, I thought, "Great! One typical day of riding for the Distance Dames." I explained in a phone conversation with Mickey that we wanted to explore the Greenbrier River Trail and the Monongahela National Forest. Mickey was skeptical. She thought we would get lost. I tried to convey to her the talents of some of our riders. Bev has climbed mountains in Nepal and Pakistan. Nancy has hiked and/or ridden in "leave no trace" areas of Wyoming and Banff. Kim has competed at Old Dominion twice and done multiple riding vacations in the west. Frances has been on numerous camping rides. Faloos has been to Mount Rogers and Brookfield to ride with us. Jackie was our rookie, but she came through with flying colors. We are a talented group of women!
Leatherbark Run, a beautiful alpine stream, crosses Shalimar Farm.
We could not have done this trip without the help and support of George and Mickey. In this area, no one maintains the trails after you leave their property. They paid their handyman to clear the trail to Cass so that we could pick up the northern terminus of the Greenbrier River Trail.
They found a woman who certified with the US Forest Service so she could guide us in the Monongahela. They lent her Keeper, an amazing Walkaloosa horse tough enough to lead our trek. Kelly carried a gasoline-powered chain saw on the back of Keeper's saddle. We did pay Kelly for her services. What an adventure we had!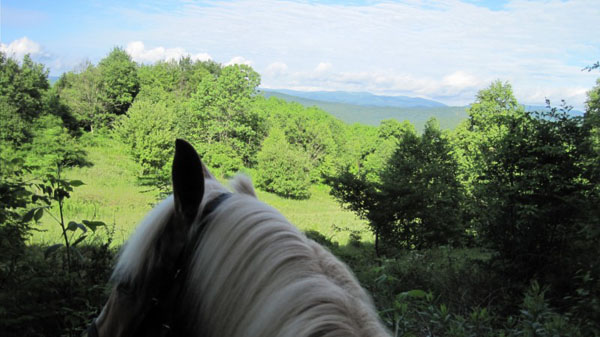 The Monongahela National Forest surrounds Shalimar Farm. Riders can trek for miles on former logging roads.
Let me tell you about the wonderful cabins at Shalimar Farm. Mickey is a nest builder. Most newlyweds don't have quarters as well furnished as Abbey House. Trackside doesn't have a stove, but you can manage meals with a hot plate, microwave, coffee maker, etc. Blake would be a perfect romantic getaway destination. It has a full kitchen, canopied bed with beautiful hangings and bedspread. I wonder if Mickey sewed them? The two-person shower in Blake is natural stone!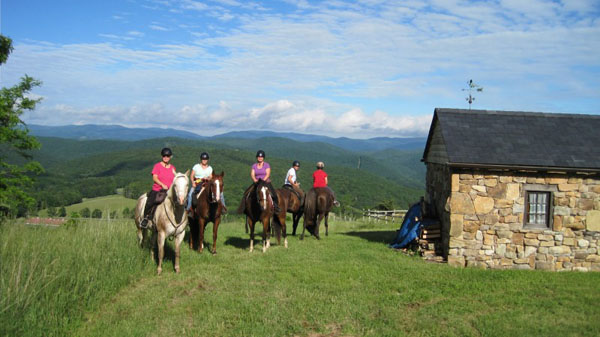 Pretty views from the Welsh cottage on Hickory Hill on the farm.
Is the rat race getting to you? Go to Shalimar to recharge your batteries. You can easily spend the better part of a week exploring the delightful West Virginia trails at this farm. Go to be with your horse and loved ones in a special way.
Your cell phone won't work, but Abbey House has a phone and you are free to use it to be in touch with those you've left behind. Don't bother to take any books. Each cabin has plenty of reading material.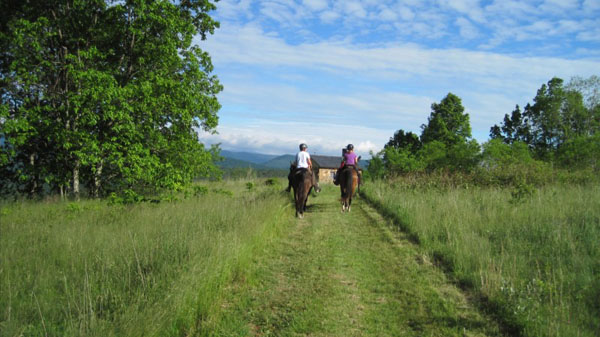 Shalimar Farm is located in the highest county in West Virginia, Pocahontas County.
Shalimar's terrain is challenging enough for the "average" rider to have day after day of three-hour rides! The Cass Scenic Railroad State Park runs through Shalimar. The National Radio Astronomy Observatory is a short drive and has a visitor center to tour. Snowshoe Mountain Resort has year round programs with fine dining, golf, swimming, and more.
Who should go to Shalimar and ride this part of West Virginia? It is designed to serve people with horses. Birdwatchers would also love it. Hikers would be in heaven. It would be a great place to share a reunion with siblings or college roommates. It is a great place. Go!

How you can go: Learn more about bringing your horse to ride in West Virginia at Shalimar Farm, located approximately 225 miles from Pittsburgh, 230 miles from Washington, DC, 170 miles from Charleston, West Virginia and 200 miles from Richmond, Virginia.
Learn more about horseback riding the Greenbrier River Trail, a 78-mile long rail trail operated by West Virginia State Park system which is closed to motorized traffic.
Learn more about riding the Monongahela National Forest, where stock users are encouraged to practice "Leave No Trace" backcountry techniques.
About the author: Mary Everhart is Chairman of the Delaware Equine Council Trails Committee and sits on other councils as an open space and horseback riding advocate. She grew up in Pennsylvania near the Brandywine Valley. She enjoys planning horse vacations with friends. She has completed rides in Maine, New Hampshire, New York, Pennsylvania, Ohio, Virginia, West Virginia, and North and South Carolina trailering her own horses. Email Mary for advice about riding in Delaware.