Horseback Riding in the Pacific Northwest: Adventures from Trees to the Sea
Equitrekking contributor and author of Alta Mira Horsemanship shares some of her favorite spots to go horseback riding in the Pacific Northwest.
Usually, when I tell people that I moved from sunny San Diego, California to the melancholy vibes of Seattle, Washington, they don an expression of complete shock. "Why would you want to move from such an amazing place as San Diego?," they ask.
Well, I could say there were too many people in Southern California, but Seattle has a lot of people, too. My purpose in coming here was to go to college, but my choice of locale came from a desire for change. I wanted something that still seemed a bit undiscovered and adventure-worthy. The Pacific Northwest came with no disappointment.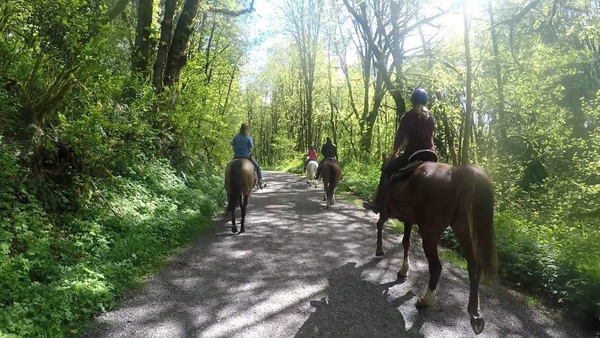 O'Grady Trails, Enumclaw, WA, USA. Photo by Lilah Dobrowolski.
Seeing the ecosystem inhale and exhale with every passing season, from the dew of dawn to the contented sigh of the evening, is confirmation that this is the adventurer's home. The drizzle that serves as our common backdrop merely highlights the prism of dazzling pink and purple tulips in the spring, the burnt orange and ashy red of the fall, and the bright, varied green foliage of the summer rainforest.
The Pacific Northwest is known for its countless hiking trails, but us equestrians know that nothing beats exploring to the rhythm of hoofbeats. My favorite trail, O'Grady, is a mere few blocks away from the barn in Enumclaw, WA. To get to the trailhead, you have to pass a perfect view of Mount Rainier. O'Grady has a handful of trails winding down through the forest to a meadow on the edge of the Green River.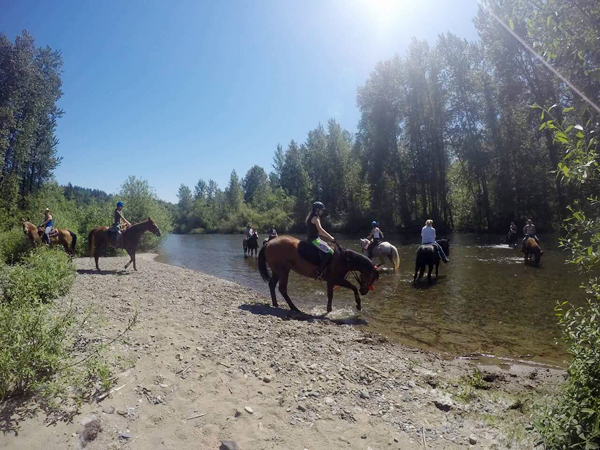 Green River, Auburn, WA, USA. Photo by Eloy Diaz de Leon.
The Green River stretches 65 miles through Kent, Auburn, Enumclaw, and beyond. Surrounding the banks of the Green River are pine & fir trees--along with expansive meadows and gently ascending hillsides. During spawning season in the fall, you can witness thousands of full-grown salmon coursing through shallow waters. The heat of the summertime is pleasant but never unbearable--and yields an array of strawberries, blackberries, raspberries, and salmonberries.
Of course, I'd be remiss not to mention the commonly-overlooked Washington attraction: The Pacific Coast. Because California holds the reputation for sunny beaches, most people wouldn't trek to Washington just for its coastline. What that means for the rider is ample uncrowded, beautiful, sandy oceanfront that still allows horses.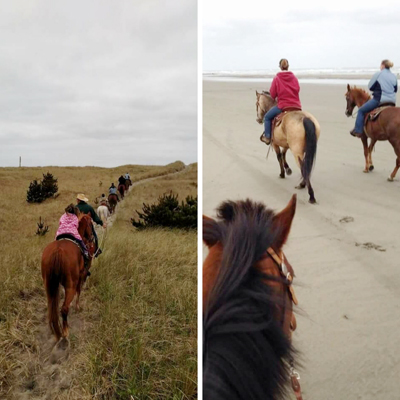 Long Beach, WA, USA. Photo by Courtney Lewis.
Perhaps the best trekking experience I've had to date was a weekend getaway with a dozen horses and riders from the barn to Long Beach, Washington. We rented out a weekend home that came complete with a barn and a backyard that bordered grassy dunes. After tacking up, just a quick ride through the yard led us to the beach. Without restrictions for horses in Long Beach, the more adventurous can open their horses up to a full gallop along the shore. When not riding, the sweet little town offers hours of shopping, dining, coffee, and parlor-style ice cream cones. And of course, evening campfires are a must.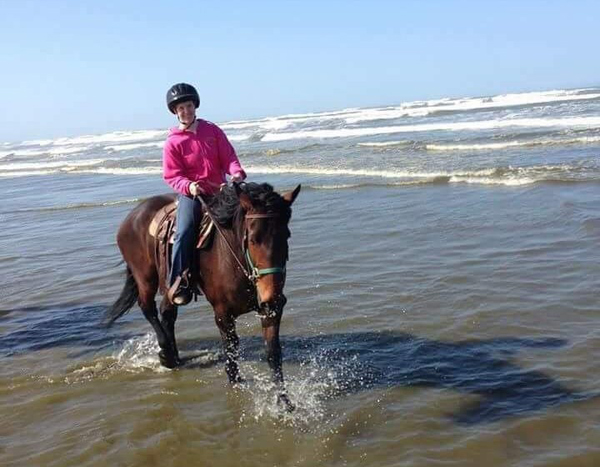 Long Beach, WA, USA. Photo by Courtney Lewis.
Our reputation for constant rain kept the Pacific Northwest one of the USA's best-kept secrets, but not for much longer. So whether you and your horse want to crunch some autumn leaves in the Washington rainforest, or cruise across the sand of the Pacific Coast, there is something here for every equestrian adventurer.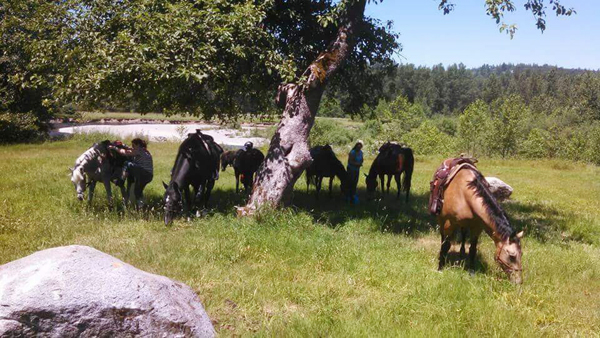 O'Grady Trails/Green River, Auburn, WA, USA. Photo by Courtney Lewis.
About the author: Lindsey Rains is an equestrian blogger and creator of Alta Mira Horsemanship. She focuses on communication between horses and handlers, with an emphasis in kind training tactics. She resides in Auburn, WA, USA, with her husband, and daylights as a non-profit administrator. Visit my blog. You can also follow me on Pinterest, Facebook or Twitter.