Horseback Riding in Oklahoma at Lake Stanley Draper
Oklahoma is a great place to ride! Sandra Purvis share one of her favorite places to trail ride for the Equitrekking 50 State Trail Riding Project.
by Sandra Purvis

Oklahoma is not one of the exotic locales most of us dream of, but there are extensive trails here. My favorite is Lake Stanley Draper; it is in central Oklahoma located in Southeast Oklahoma City. There is over a 100 miles of trails on about 1000 acres of state land.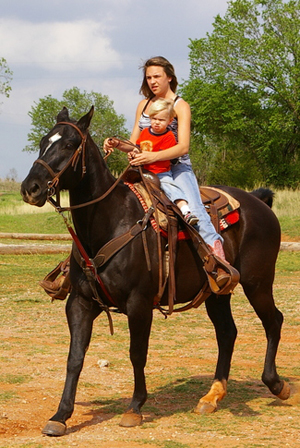 Horseback riding at Lake Stanley Draper. Photo by Ted Streuli and courtesy of Oklahoma Tourism.
There are actually two sides to the lake that horseback riders are allowed on and you can pick depending upon your riding level and your horses' skill level. The northern side of the lake used to be dirt bike trails, so these are quite interesting trails with lots of hills and interesting twists and turns. The trails have some rock, but I am able to ride even my most tender footed horse out there with little problem. Deer, armadillos, skunks and opossums can be seen on the north side more often. The trails are not marked and are not kept up, but they are truly interesting to ride.
On the other hand, if you need a little bit flatter and more open riding, the southern trails are more for beginners, this is also where The Riding Stables leads their paying customers to ride by the hour. The trails are mostly dirt with very little rock so even the most tender footed can make it through without shoes. The only trails that have upkeep done on this side are the trails used by the riding stables.
There is also plenty of room on both sides of the lake for a good run if you feel so inclined out on the dirt road that goes around the lake or you can get out in the open meadows.
Both sides of the lake have good trailer parking and are easy to get in and out of. The only downfall is there are no public restrooms. There used to be a port-a-potty on the north side, but it was removed for the winter.
The parking lot on the south side is paved and gravel in places and on the north side the parking is dirt with a little bit of gravel. If your horse is tender footed stay closer to the edge of the parking lot so he can stand on the grass that surrounds the parking lot.
There is also fishing and boating so you can bring your non riding family members along too. Sometimes you will come across people down by the water fishing or bird watching, also. Dogs are welcome and I almost always bring mine along, but they need to be able to handle other people's horses and dogs and mind well off leash.
This is a fantastic place to come ride that has easy access from I-35 and I-240 and will give you some fantastic views of the lake. The extensive trail system is definitely worth coming and riding!