Horseback Riding in Minnesota- Great Places for Trail Riding
Great places to saddle up in Minnesota, where horse trails in state parks abound!
Some of the best places for horseback riding in Minnesota are the many miles of trails in our Minnesota State Parks. You can ride for over 1,000 miles on horse trails in our state parks and explore our diverse terrain from prairie to forest to lakeside and hill country. On each of our state park pages we offer information about horse trails and horse camps available. We have a list below of specific state parks that have horse trails and camps.
Not every state park has horse riding availability however you will find that many do. You will need a horse pass to ride the state park trails. You can get a pass from the Minnesota Department of Natural Resources.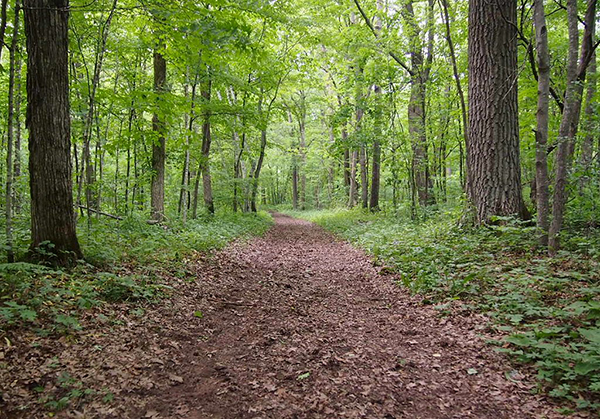 Park trail following the route of the Point Douglas to Superior Military Road in Wild River State Park. "Deer Creek Loop" by McGhiever.
Minnesota State Parks for Horseback Riding
If horseback riding is part of your vacation plan in Minnesota, consider reserving a spot in a horse camp in one of these state parks:
Camden State Park- 10 miles of equine trails with picnic areas and campgrounds. Fauna includes woodlands, maple trees, basswoods, oaks, and cottonwoods throughout prairies, grasslands, and marshes.

Forestville/Mystery Cave State Park- 17 Miles of horse trails surfaced with crushed rock with some fording required. Trails change in elevation from stream valley floors to hilltops and are normally open early May to late October. Look out for wildflowers in the spring!

Fort Ridgely State Park- 10 Miles of horse trails with varying conditions, depending on the weather. This park is the site of the U.S.-Dakota Conflict of 1862 and has a museum and cemetery you can visit.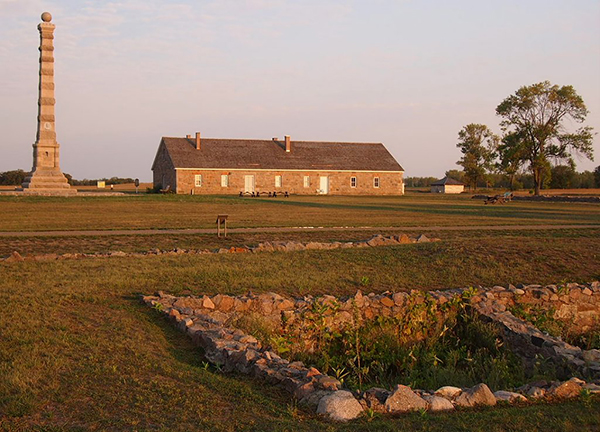 Fort Ridgely State Park photo "58FortRidgely" by McGhiever.
Glacial Lakes State Park- 11 miles of horse trails lead riders through pretty wildflowers and prairie grasses in the spring through fall.

Lake Carlos State Park- 9 miles of equestrian trails through diverse marshes, boglands, woodland ponds, and lakes. Take note that it can sometimes be wet and muddy here, so call ahead before making a visit.

Lake Louise State Park- 9.7 miles of horse trails through open landscapes and lush hardwoods with a beach by the Little Iowa and Upper Iowa Rivers make this park popular with trail riders.

Maplewood State Park- This park boasts eight major lakes and many ponds, 20 miles of horse trails and a myriad of animals and birds amid a stunning colorful maple forest, especially bright in the autumn.

Mille Lacs Kathio State Park- 27 miles of wooded equine trails run through this National Historic Landmark with an interpretive center and 10 sites in horseback camp areas. September and October are the most popular times to visit this park to see the changing leaves and to avoid too many bugs.

Minnesota Valley State Park- 30 miles of horse trails tackle varied terrain including wetlands, blufftop oak savanna and floodplain forest. This park is close to the Twin Cities.

Sibley State Park- This park has only 7 miles of equine trails, but 9 horse campsites. Forest, farmland, lakes and prairie knolls comprise the landscapes in this west-central Minnesota park.

Saint Croix State Park- The largest Minnesota State Park, this park has 75 miles of horse trails through pine and maple forests along the Saint Croix and Kettle Rivers on the eastern edge of the Mille Lacs Uplands.

Upper Sioux Agency State Park- 16 miles of multi-use horse trails and the historic site of the Upper Sioux or Yellow Medicine Agency make this park a popular place to trek. The scenery includes open prairies, bluffs, and wooded slopes.

Wild River State Park- This park contains 18 miles of diverse equine trails along the St. Croix River, the Point Douglas to Superior Military Road: Deer Creek Section, a surviving section of the Point Douglas to Superior Military Road from 1853, listed on the National Register of Historic Places, and a variety of naturalist programs and activities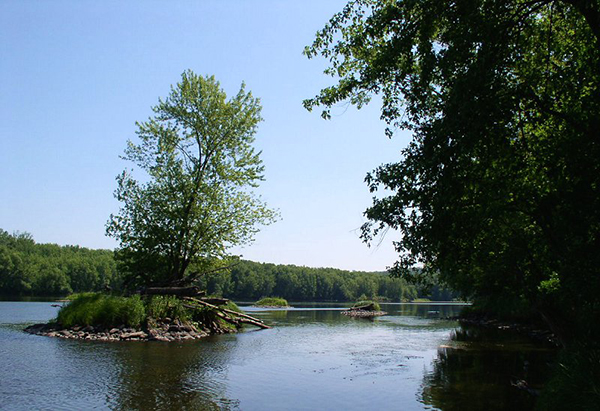 Wild River State Park shoreline along the St. Croix, a National Wild and Scenic River. "WildRiverStatePark" by McGhiever.
Minnesota State Parks Reservations

Minnesota Riding Stables
Below are some Minnesota riding stables and their locations and phone numbers. These can change or close so please call ahead to make sure they are still in operation, what they offer, and their prices.
Some riding stables in Minnesota are within popular resort complexes. You will find one of these at Arrowwood Resort in Alexandria.
Arrowwood Resort Golf, Marina, Riding Stables, 2100 Arrowwood Lane NW, Alexandria, (866) 386-5263
Outback Trail Rides, Inc., 12210 Pillsbury Forest Rd SW, Pillager, 218-746-3990
Bunker Park Stable, 550 Bunker Lake Blvd NW, Andover, 763-757-9445
Rose Lawn Stables, 24069 Rum River Blvd, St Francis, 763-753-5517
El Rancho Manana Riding Stable, 27302 Ranch Road, Richmond, 320-597-2740
River Valley Horse Ranch, 16480 Jonathan Carver Parkway, Carver, 952-361-3361
Lazy 'D' Campground & Trail Rides, 18748 County Rd 39, Altura, 507-932-3098
HHH Ranch, 16032 180th Street East, Hastings, (651) 338-2792

Horseback Riding Lessons in Minnesota
If you are looking for a place to board your horse, take riding lessons and learn more about horses, these are just a few of the places in Minnesota where you can do that. As always, call ahead to see what is offered,
Seventh Farm Riding School, St Paul, MN, (651) 458-1007
Windy Ridge Ranch, 2700 Manning Ave S, St Paul, MN, (651) 436-6557
Horseplay Ranch, 21201 Larkin Rd, Hamel, MN, (763) 478-9106

About the author: Judith Ramsey is a lifelong resident of Minnesota. She spends much of her time exploring and photographing the attractions of her state and sharing Minnesota travel ideas with her subscribers for her website minnesota-visitor.com.