Horseback Riding in Maryland's Spectacular Rocky Gorge Trail


Barbara Sollner-Webb of the Maryland Horse Council describes her favorite 18-mile ride in Maryland and encourages equestrians to play an active role in keeping trails open as part of Equitrekking's 50 State Trail Riding Project.
by Barbara Sollner-Webb
While equine excursions earlier showcased on Equitrekking.com generally were extended dream vacations at exotic locations, the "Equitrekking 50 State Trail Riding Project" highlights rides closer to home. Maryland has numerous great trail riding venues, but my favorite is a magnificent 18-mile route through the woods that border the Rocky Gorge Reservoir on the Patuxent River.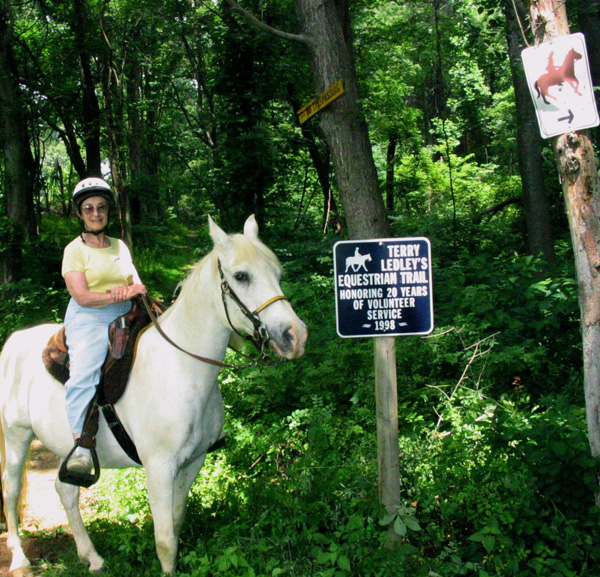 Years ago, WSSC dedicated this trail to Terry Ledley, a founding member of our local riding organization (Trail Riders of Today, or TROT), who at 87 is still an avid rider and worker on this trail.
It is a pristine, hidden treasure half way between the metropolises of Baltimore and Washington DC, on land owned by the Washington Suburban Sanitary Commission (WSSC) which provides water to the surrounding counties and has kindly permitted riding there in an environmentally respectful manner. 


Riding the Rocky Gorge Trail
Most of the trail diagonally traverses rolling hillsides but it also has some flat sections, generally through lovely woods but with a few open areas, all on solid and non-rocky footing. There are ample stream crossings to water the horses and almost continuous views of the pretty reservoir. One frequently sees heron and deer, and occasionally eagles, foxes and other exhilarating wildlife. Enhancing the riding experience in the warm weather, the trail is largely shaded, impressively bug-free, and has pretty flowering plants.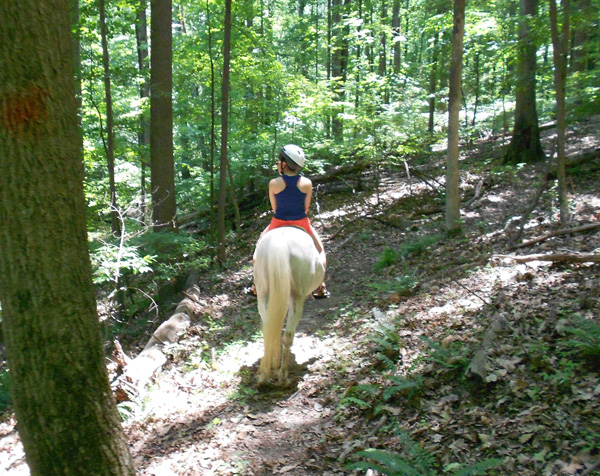 This environmentally sound trail diagonally negotiates hills and has ample shade in the summer, making it relatively cool.
There is ample excellent parking at their Supplee Lane lot (eastern entrance of the trail, in West Laurel, only 5 minutes off I-95) and fine parking for a few trailers in the middle of the trail at the Brogden Road lot (in Spencerville) and further west at their Ednor Road lot (in north Silver Spring), plus adequate parking on Tucker Road (western entrance of the trail, in Ashton).
Importantly, this year for the first time, the trail is also opened for hiking and bird watching, and the reservoir remains open for boating and fishing, so when you come to ride, you can bring along your non-equestrian family members.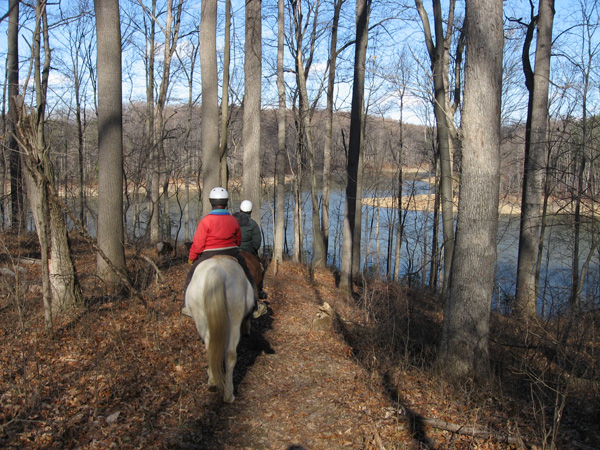 The trail offers countless spectacular views of the Rocky Gorge Reservoir (that despite its name is a virtually rock-free ride).
However, to enjoy this venue, one needs a trail pass (free for over 64 and under 16; $6/day or $70/season for others). You can also get more information on obtaining these trail passes, WSSC's use regulations, and their daily open-closed status by calling 301-206-4FUN. Of course, ride here only when the ground is dry.


Equestrians Re-open the Rocky Gorge Trail
This WSSC-Rocky Gorge trail is a great tribute to equestrian tenacity and persuasion, because just this past spring our extensive efforts got the trail re-opened. For many decades, WSSC had let riders use the trail, which exhibited negligible erosion, but three years ago they closed the trail, asserting it was the reservoir's worse source of sediment.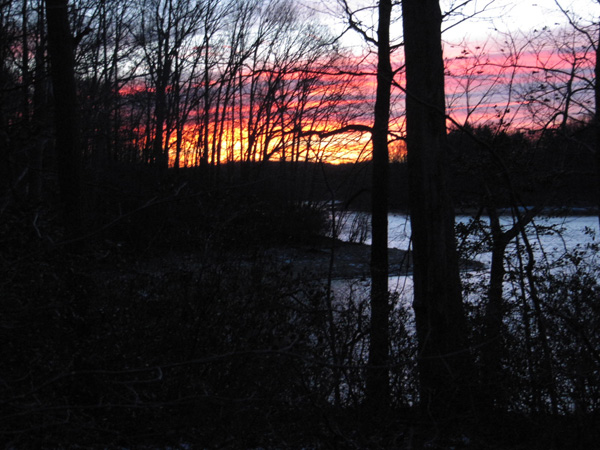 One of many great views on this 18-mile ride.
This elicited a great public outcry, from hundreds of caring equestrians and other sympathetic citizens as well as from numerous elected officials and newspaper columnists whom we had taken out to see this high-quality trail. Evidence presented included that the trail generated less than 1/10,000 of the reservoir's sediment and that its use has helped WSSC in numerous ways.
WSSC subsequently contracted a quarter million dollar outside study, which after surveying the reservoir lands reported the trail posed no environmental problem for this reservoir. WSSC then announced re-opening the trail contingent on riders collecting and carrying out all horse droppings from everywhere on the trail. This elicited another vast public outcry, including evidence that no other woods trail-riding venue nation-wide has such a requirement and that it would serve no health benefit.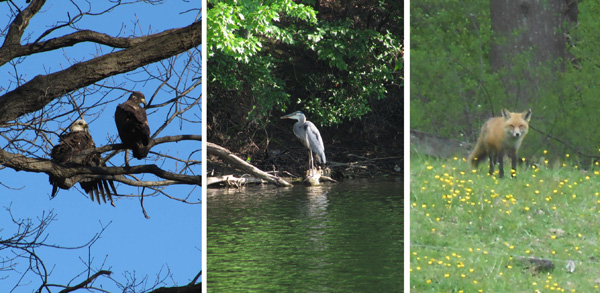 One frequently sees heron and deer, and occasionally eagles, foxes, and other exhilarating wildlife on this trail ride.
Happily, this additional public input convinced new members of the WSSC staff, and they nicely re-opened the trail to normal riding use. Additionally, WSSC has undertaken a massive effort to remove the enormous number of trees that had come down blocking various trail sections, during their decade of little or no maintenance. The equestrians now have great rapport with WSSC's watershed staff, including working with them to better blaze and GPS map the trail.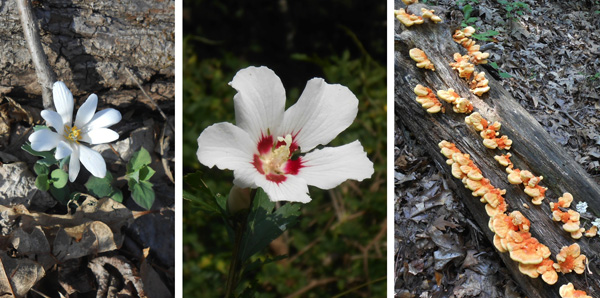 The trail is largely shaded, impressively bug-free, and has pretty flowering plants.
Hopefully this trail history may serve as an inspiration for others whose nondestructive trail riding venues get shut down for "progress". The strength from logic and public pressure by large numbers, especially when they include influential individuals, cannot be over-stated.
So do come out and enjoy riding this gorgeous WSSC/Rocky Gorge trail, a celebration of the equestrian spirit.




About the Author: Barbara Sollner-Webb is a board member of Trail Riders of Today, member of the Maryland Horse Council, and a professor at the Johns Hopkins University School of Medicine.