Horseback Riding in Maine- Kennebunkport, Popham Beach and Beyond
A former native of Maine shares her comprehensive month-long horseback riding vacation throughout the state, including riding on Parsons Beach in Kennebunkport, Popham Beach State Park, Trimble Mountain, Van Buren in Northern Maine and beyond for the Equitrekking 50 State Trail Riding Project.
by Susan St. Amand
I recently completed a month-long 2013 fall horseback riding trip to Maine from Virginia. I grew up in Northern Maine on a farm so my familiarity with the area was an asset to my recent horseback riding vacation. I relied on relatives for most of my accommodations. As this would be my first trek alone, I planned and prepared both my itinerary and belongings in advance as much as possible. I researched and contacted overnight stabling facilities prior to departure.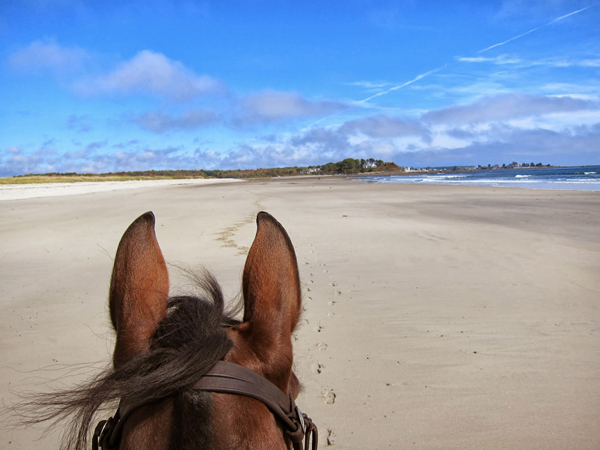 Looking between "Sunday's" ears on another unusually warm day for a Maine (63 degrees) fall day enjoying a 1/2 mile of Parson's Beach all to ourselves.
Since I also wanted to ride on some of the coastal beaches in Maine, I also had to research which beaches and when they were open to horseback riding as well as the tide charts for the days I would be riding on the beaches. This was the primary reason I decided to do my trip to Maine in the fall, as the beaches are only open for equestrians during the fall through early spring seasons. I also kept a list of back up stabling facilities, farriers, and vets in case of emergency.
Fall is a great season to visit Maine as the fall foliage scenery can be fantastic, however, the weather can also be unpredictable so proper cold weather gear is necessary. As for the horse and trailer, every imaginable item needed for an emergency and precautionary measures are necessary, since the Northern portion of the Maine backwoods area can be very remote and frontier-like.
Since I knew I would be riding by myself on remote trails, I also downloaded the "Real Time GPS" tracking program on my smartphone so that I could give others access to the account. They could track where I was and also communicate through its text messaging program in case of an emergency. I highly recommend this tracking system application and best of all its free. Another item to keep in mind is that depending on your cellphone and Internet system setups; cell phone and Internet accessibility can be sporadic and limited.
I also set up a blog in order to communicate in one easy simple step to all my friends back home how I was doing and what areas I had ridden, as well as keeping an electronic diary or scrapbook of my journey. You may visit the blog at hoofingitinmaine.blogspot.com.
Kennebunkport Horseback Riding on Parsons Beach
The first day I drove well over 600 miles to my first stop in Kennebunkport, Maine and stabled overnight at Riverhurst Farm. Riverhurst Farm has close accessibility to a small private beach called Parsons Beach and when I rode on the beach, I had it all to myself since it was a weekday. Accessibility to this private beach begins after September 1st.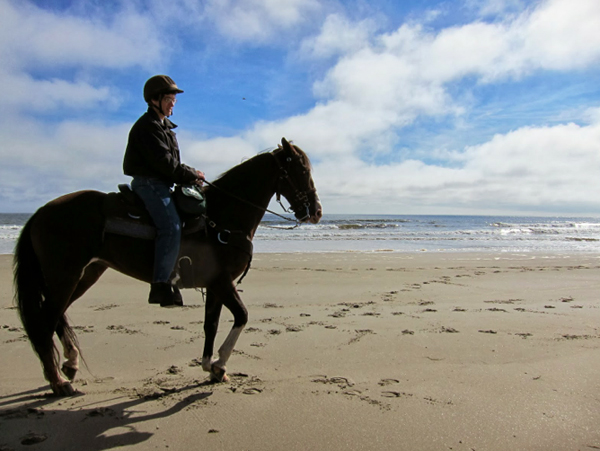 We walked, gaited and galloped across the beach for an hour, then spend 1/2 hour riding along the fields leading from the beach to Riverhurst Farm.
Popham Beach State Park
The following day I drove further up the coast to Popham Beach, which is a Maine State Park located outside of Phippsburg, ME. The equestrian accessibility to this approximate two-mile stretch of beach begins on October 1st. I enjoyed this beach ride very much as it was a longer stretch than Parsons Beach and again, the crowd on the beach was minimal. Horses may be skeptical at first when approaching the water's edge as the incoming waves on this part of the Atlantic coast are larger and noisier than other Atlantic beaches located further south along the U.S. Coastline.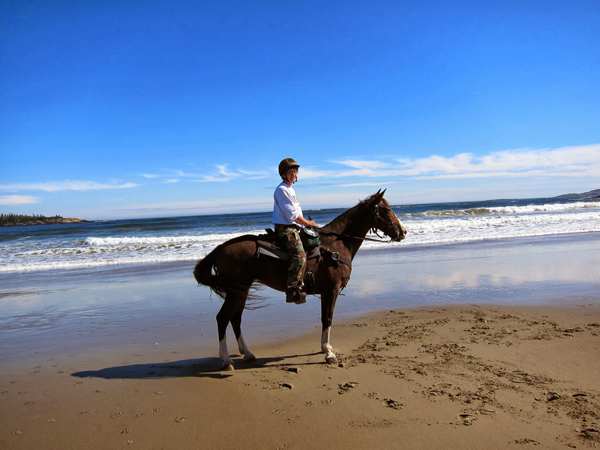 I met another rider, Maria, who has been riding on Popham Beach for many years and was gracious to have me accompany her riding on the beach. It was like having my own personal tour guide.
From the Lazy W in Calais to Nash Lake and Trimble Mountain
My next stop on the itinerary was scheduled to be Acadia National Park outside of Bar Harbor, Maine however, due to the government shutdown enacted during my trip I had to forego it. However, if you ever have the chance to ride there, I hear it is fantastic riding with the views and there are approximately 45 miles of carriage trails to ride on in the park. Also located in the park is Wildwood Stables. You need to make reservations way in advance as this facility in Seal Harbor fills up fast. Camping sites are located across from the stables in the park. Call 1-877-276-3622 for availability and reservations. This facility is only open until the third week of October. You may visit their website at www.acadiamagic.com/wildwood-stables.html
Journeying on to Calais, Maine, the last easternmost coastal area of Maine prior to reaching the Canadian border, I stabled at the Lazy W, owned by Carroll and Charlene Wallace off coastal Route 1. (tel. 207-266-0277 or email Lazy W) Here I rode a few days on a few of the ATV trails in the area around Nash Lake and Shattuck Lake and up to Trimble Mountain. It was definitely worth the short trek up to Trimble Mountain to see the awesome panoramic views of the St. Croix Bay area separating Calais, Maine from St. Stephens, Canada. It especially seemed magnificent considering the fall foliage was in its peak viewing. There was a viewing platform and picnic area here also.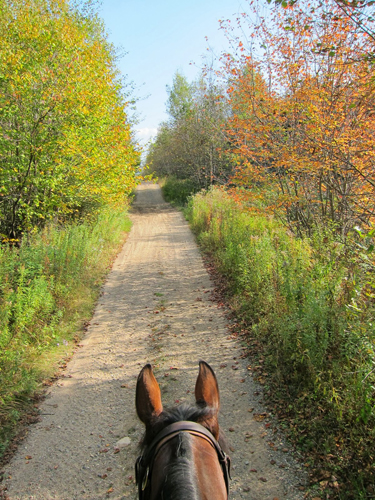 I followed the ATV Holly Trail #19 and then veered off and headed up the Trimble Mountain trail.
The trail ended on top of Trimble Mountain, and boy, it was worth the effort. What a beautiful view from there - I could see for miles and see the St. Croix Bay.
My next item on the itinerary was to ride the Moosehorn Refuge area, but again, it was off limits due to the federal government shutdown. This area is a refuge for a variety of wildlife such as Canadian Geese, eagles, moose, deer and other native Maine wildlife, so given the opportunity, I am sure it would have been worth catching a glimpse of some of the native Maine wildlife.
Van Buren in Northern Maine
Next, my travels took me on a four-hour drive to the Northern section of Maine, my final destination. Part of this drive involves about an 85-mile stretch of remote highway. Drivers must be vigilant on keeping an eye out for moose crossing the roadways in all areas of Northern Maine. Once arriving in Van Buren, I was able to set up my portable electric corral in a relative's field and stable my horse overnight in an old family friend's barn when the weather was rainy.
From my family's farm, I was able to ride out to an extensive network of ATV/ Snowmobile trails throughout the Northern part of Maine. These trails were developed over the years from abandoned logging trails. Most of these trails are well groomed, wide and flat. Some of the trails connect to old rail beds (rails to trails). These are some of the best and nicest trails on which I have ever ridden. If you like quiet solitude and out to observe wildlife in their natural environments, this is the area for you to trail ride. For the most part the trails are well marked, and the ATV'ers are respectful of horse riders. Free maps of the local trails can be obtained from the Van Buren, Maine town office.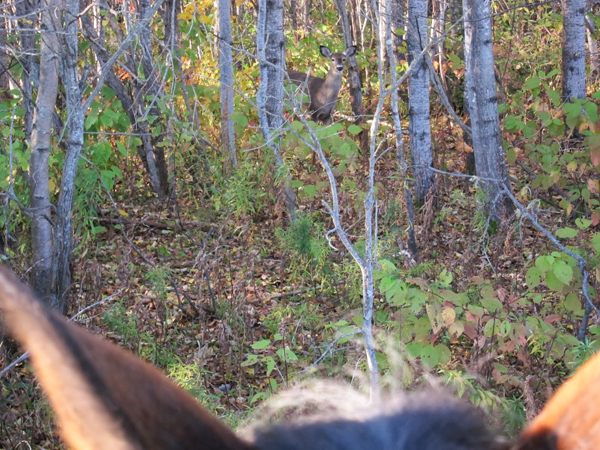 Further into our ride, we saw "Bambi!"
I spent close to three weeks riding in the area on the trails and rarely did I ride the same route twice, as the trails are like an extensive web stretching out in every direction across the Northern area into nearby towns and further up the St. John Valley. If your horse is bombproof and doesn't mind riding in a bit of traffic or residential area, you can ride to town for lunch and find a place to tie your horse.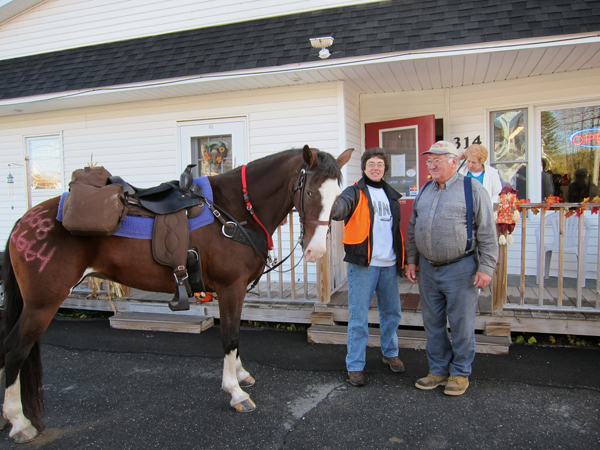 Rode 5 miles to town in the morning to meet my dad and his buddies at "Bubba's", a small local diner for coffee and donuts.
I thoroughly enjoyed riding on the trails in this area, especially with the fall scenery. Potato harvest was also in full swing during this time of the year, and it was interesting to see how the harvesting process has gone hi-tech since the days of picking potatoes by hand as I did in my younger years.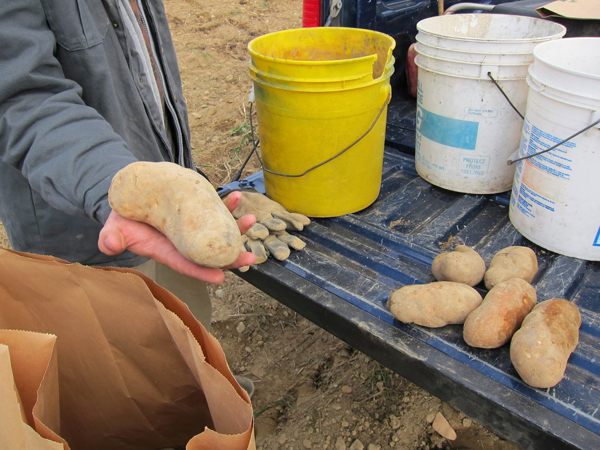 We had to harvest the potatoes by hand and it took forever to harvest just one field. Now with the larger more hi-tech equipment, these farmers can harvest over 50 acres in one day easily and use less manpower.
Caution must also be observed as you will need to find out when and what type of hunting is in session if trail riding in this area during the fall season. One of the weeks I was horseback riding, it was moose hunting season so I remained on main trails with higher traffic and closer to residential areas for visibility. I wore the bright orange hat and vest all the time I was riding to make myself visible at all times and had a red collar with bells attached around my horse's neck. I also used a special bright livestock marker to write my family's phone number on my horse's rump in case she escaped from her corral from fear of the night roaming wildlife or in case we would ever get separated along the trail, again because of the remoteness of the area and minimal horse riding activity seen around there.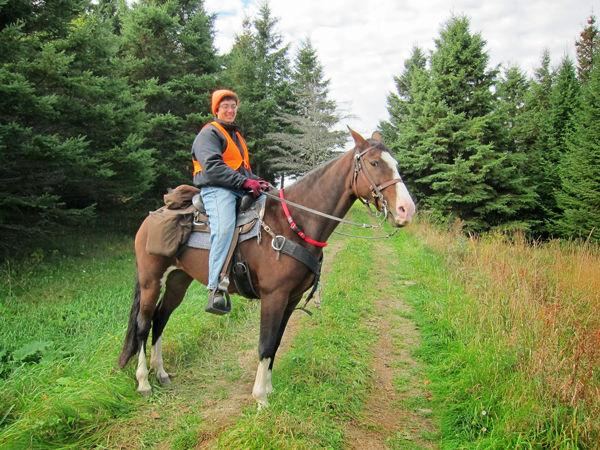 Being that it is fall and hunting season, I wore orange and "Sunday" had a red "necklace" with bells on it.
Seacoast Farm & My Saddle Brook Farm
After my stay in Northern Maine I headed back south and stabled overnight for a few days while visiting with relatives at Seacoast Farm, which is located at 26 Leeds Junction Road, Wales, Maine and owned by Jenny and KC Wells. (tel. 207-933-1038 email Seacoast Farm) This facility has an inside riding arena as well as several miles of private trails on the property.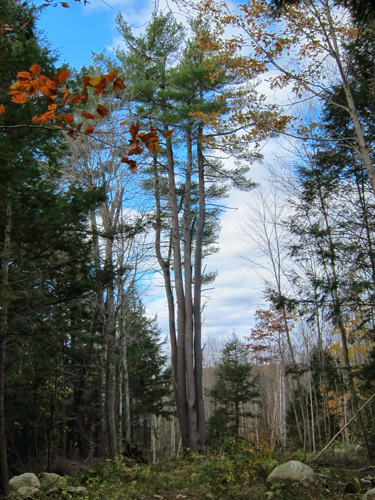 I went on a short 1 hour trail ride on the Seacoast Farm property with its tall pine trees.
Next, I continued south back home towards Virginia and stabled overnight at My Saddle Brook Farm, which is located at 163 Berea Road, Walden, New York. (tel. 845-778-3420)
This 30-day trail riding trek to Maine was very exciting and exhilarating to say the least. I felt a boost of confidence in myself in this solo undertaking with my horse, as well as an increased bonding with my horse. I am very fortunate that all went well with no mishaps and my planning, precautions and preparations were well worth the effort.
For further information on parks and trails in Maine, please visit Maine Bureau of Parks and Lands and also Rails to Trails and search for the trails located in Maine.

About the Author: Susan St. Amand is a former native of Maine and currently living in Virginia. She frequently travels back home to Maine. She is involved in equine activities in Virginia and enjoys planning horse vacations with friends and has completed rides in Maine, Pennsylvania, Tennessee as well as Virginia trailering her own horse.