Horseback Riding in Camargue, France
When childhood dreams about white horses come true.
As a little girl in a remote region of New Zealand, I read the classic, White Mane, and fell in love with the dream of the wild Camargue horses. Based on the iconic 1953 black and white movie, Crin Blanc by Albert Lamorisse, the story is of Falco, a small boy who gentles and saves a glorious white stallion in the Camargue. This beautiful coming of age story embodies the classic theme of childhood innocence and the love of horses and vividly evokes the beauty and wildness of the Camargue.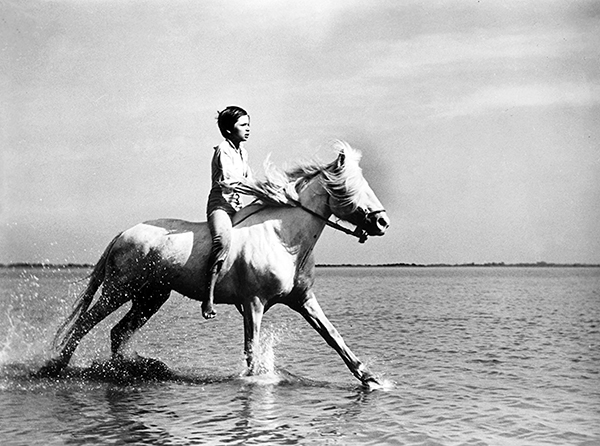 Movie still from the 1953 film, Crin Blanc.
So, when I explored France, there was something completely ethereal about driving in the early morning light through the Camargue. My breath caught in my throat at my first sight of the famous white horses grazing calmly in the marshes, streaming manes drifting in a gentle breeze, while lavender hued herons stalked amongst the sage green grasses. The road to Saintes-Maries-de-la-Mer is a romantic trail of glimmering sea, lush greenery, adobe houses - and horses; so many beautiful white Camargue horses dotted through the scenery. To me, it felt like a slip in time to be present amongst the creatures of legend.
I had booked online and arrived at the riding stables to find an empty courtyard. I rang the bell and heard, "Un moment madame," and a toilet flush. Oh oh. Ten minutes later, a bleary-eyed, unshaven man faced me, stating that no ride was booked and that no staff would arrive for hours. I bumped back to earth. I only had this one morning where a ride was possible. It was not an option to be here and not go horse riding! I raced a short way to the next riding stable, Tamaris. The girls were feeding and saddling horses and said yes, you can ride in one hour. Merci!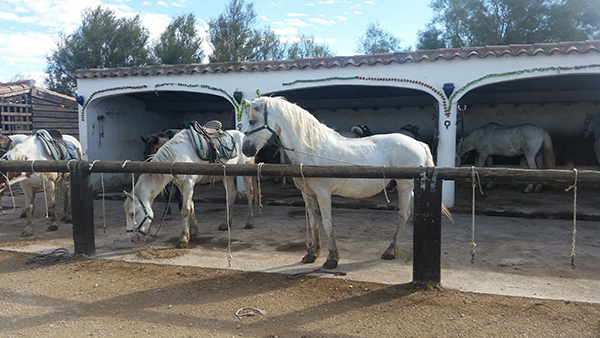 Camargue horses being saddled for a trail ride. Photo by Huia Aotearoa
I popped into Saintes-Maries-de-la-Mer for an espresso and unexpectedly spotted Aladdin's Cave--a leather shop literally bursting with saddles, bridles, braided ropes, and riding boots-- was just opening for the day. I found a pair of Spanish riding boots and bought them immediately. Coffee, boots - now, nothing could go wrong!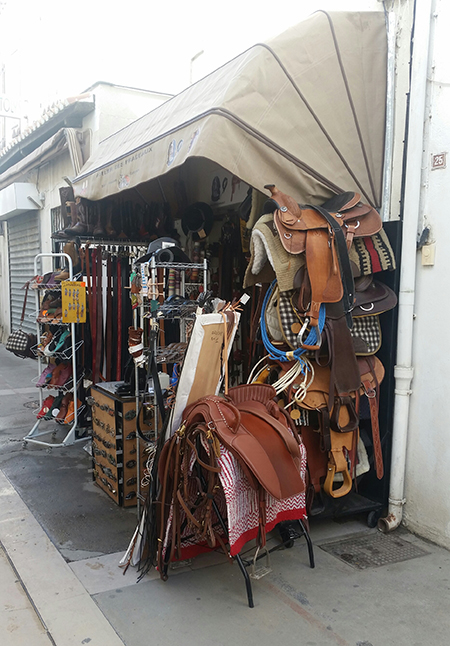 Aladdin's Cave in Camargue, France. Photo by Huia Aotearoa
Returning to Amaris, people were being assigned to the right horse for their build and experience. Riders ranged from perky 4 year olds in jodphurs to dads with stoic expressions. As one of the last in line, the owner looked at me and paused for thought, obviously sifting through his remaining options for tall riders. Speaking in a mixture of German, Spanish, and French he asked me if I rode a lot. Yes, I said. Was I any good? Yes, well--okay, I said, beginning to worry just how wild my mount might be.
"The vaquero looked me in the eye and said "Un premier cheval, moy furioso, un debutante." He mimed holding the reins firmly, kicked up a heel and held up four fingers.
Oui, Monsieur – I would love to ride your best horse, even though he is very strong, may buck, and is a green 4 year old!"
I was guided to Frusio, a gorgeous 16hh paint gelding, and the ride began. Honestly, it was heaven. Frusio was gentle and sweet with a soft mouth and simply needed a little reassurance. As we rode, his trusting, pretty face and loping stride reminded me very much of my green quarterhorse, Juno.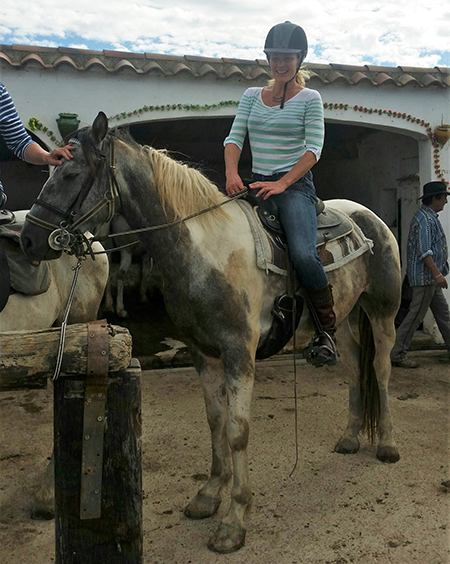 The author and her mount for the day, Frusio. Photo by Huia Aotearoa
We rode alongside canals, across sand flats, and finally to the long sunny beach where waves from the Mediterranean crashed on the shelly sand under a bright azure sky. The group was split into two and our group went for a good long canter along the beach. My boy took a moment to drop in a wee, frolicsome buck (to show a second trail-riding group how fabulous he was), but it was only light-hearted fun. It left me laughing as we raced across the sand, his mane whipping back, the wind in my face.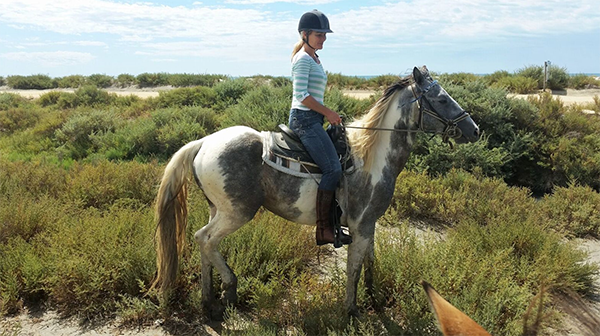 Huia and Frusio ride the beaches of Camargue, France. Photo by Huia Aotearoa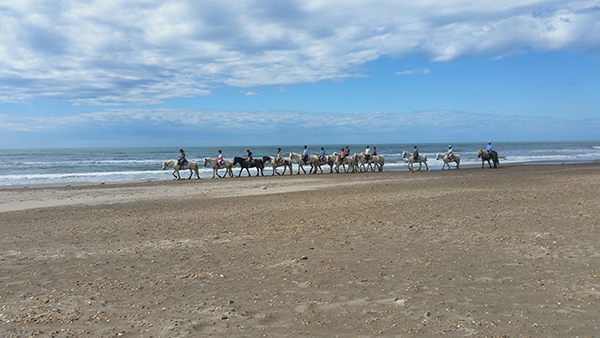 Group trail ride on the beaches of Camargue, France. Photo by Huia Aotearoa

A vaquero leads a group of trail riders through the wetlands of Camargue, France. Photo by Tamaris.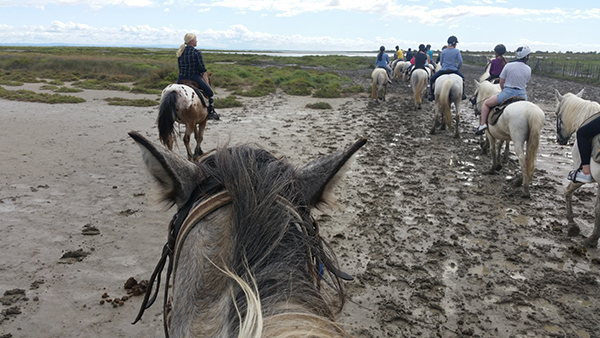 Between the ears view of the beaches of Camargue ( from the back of Frusio). Photo by Huia Aotearoa
As we rode home, spotting white egrets, flamingos and herons, I quizzed a friendly woman on how to praise my lovely steed, so when we arrived home and the owner asked, I replied "très brava, très mature!" Once again, the mutual love of horses transcended the need for a shared language. His face lit up and he began talking rapidly and leading me about showing me the various horses, explaining which ones were pure Camargue, and that mine was half Spanish bred and half quarter horse. I burst out laughing and pulled out my phone to show him photos of Juno, explaining that she too was a 4 year old Quarter Horse. I went all the way to the far side of the globe to ride another green Quarter Horse! I asked for a photo and he proudly took Frusio's head and gently turned him to face the camera, before kissing me on both cheeks, saying, "Tres belle," and wishing me a great journey.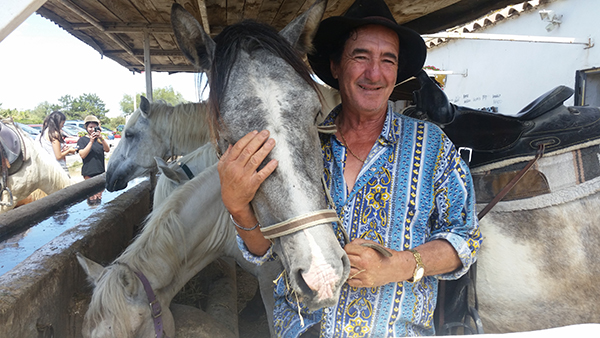 Frusio's owner was delighted at his good report. Photo by Huia Aotearoa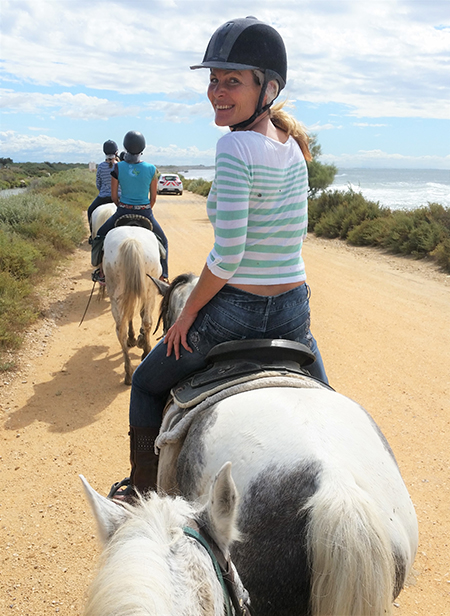 Riding white horses on the beaches of Camargue, France. Photo by Huia Aotearoa
I will never forget my own Crin Blanc, sweet Frusio, and my magical ride amongst the marshes of the Camargue. Sometimes, our childhood dreams do come true.
About the Author: Huia shares her small farm with three mares – Summer (Thoroughbred), Juno (Quarter Horse), and Trijntje (Friesian Sporthorse). She taught herself to ride at 11 and has come full circle - through pony club, eventing, motherhood, and natural horsemanship, she has come to see that the techniques she used as a child still hold true – that trust is central to everything with horses, and for them to trust you, you first need to trust yourself. Read more on her website, Three Mares.