Horseback Riding in Aiken's Hitchcock Woods
Rich in history, the Hitchcock Woods offers 70 miles of pine forest trails guaranteed to please any equestrian.
When my friend asked if I would be interested in helping her drive her mare back to Massachusetts after a month of training in Aiken, I jumped at the chance. Three days in South Carolina? Yes, please. I would have agreed to just about anything to escape New England's 8-foot snow banks and artic blast.
While in Aiken, I hung out and talked horses with fellow riders, watched some of the top eventers in the country pilot stadium rounds, and even got to do a little riding myself. The highlight was riding in the historic Hitchcock Woods, one of the largest urban forests in the country.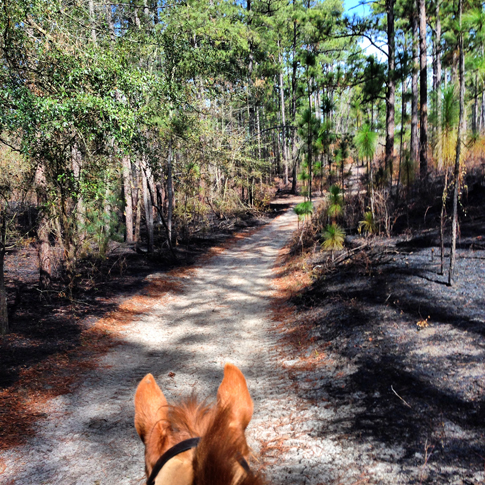 Hitchcock Woods is a 2100-acre pine forest with roughly 70 miles of trails for equestrians to explore. The trustees of the Hitchcock Foundation maintain trails, jumps, bridges, signs, map boxes, as well as the protection and management of Hitchcock Woods.
A very kind and generous fellow eventer loaned out her handsome and gentlemanly chestnut Thoroughbred, Kitt, to me. MMy friend and I loaded the horses in the trailer, and we were off to Hitchcock Woods for the morning. There were no horse trailers for sale locally, so we weren't able to get a new one, and used my friend's instead. We started our ride from Dibble Road, a common access point. From there, we meandered down Cathedral Aisle, which was built in 1833 by the S.C Canal & Railroad Company. The rail bed was abandoned in the 1850s, leaving a wide, and well-groomed sandy trail.
Throughout Hitchcock Woods, the trails are well marked and have great names like Rabbit Valley, Tea Cottage Path, and Doll Lane. We took Cathedral Aisle up to Peek-A-Boo Lane to check out the horse show ring where the annual Aiken Horse Show is held. A historic event, the Aiken Horse Show was established in 1916, and continues to be a popular attraction as well as a prestigious social gathering.
The Aiken Horse Show isn't the only tradition to come the Hitchcock Woods. The Aiken Hounds is a historic drag hunt that was established in 1914 and still takes place every Tuesday and Saturday from October though March.
We rode on parts of the Ridge Mile Track, which has cross-country fences thrown in here and there with some small fences for schooling inside the track. The Ridge Mile Track was built by founder Thomas Hitchcock and was used for training his steeplechasers in the 1920s and 1930s.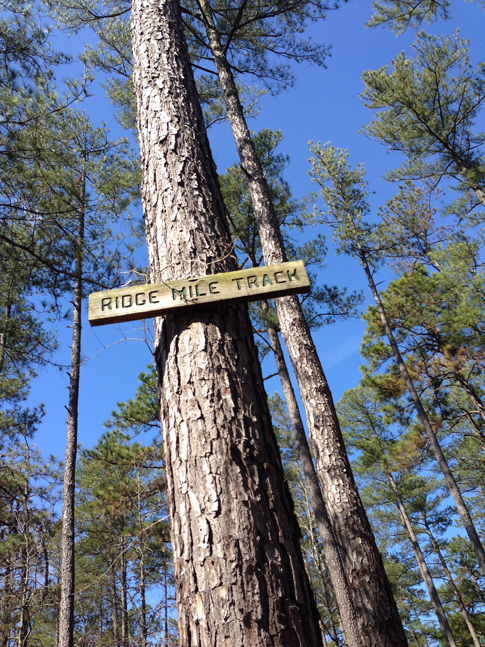 After several hours of riding in the sunshine, we felt like we had barely tapped the surface to all that Hitchcock Woods has to offer. The forest was peaceful and even though it was a picture perfect day of 70 degrees and sunny, we only came across a handful of other riders, making us feel like we had the whole 2100 acres to ourselves.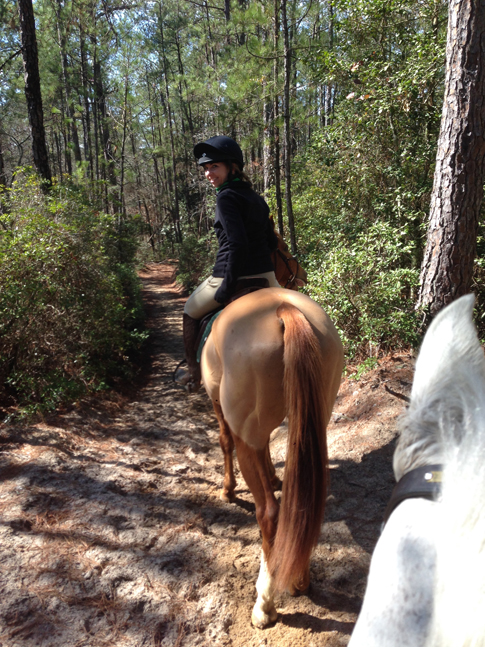 How you can go:
Hitchcock Woods has seven formal entrances. Three entrances are on Dibble Road: near the railroad crossing, across from Rhone Street, and at the Stable on the Woods. We parked at the lot on Dibble Road by the Cathedral Aisle Trail. The other four entrances are located at the ends of South Boundary Avenue SW, Coker Spring Road, Berrie Road, and Clark Road.
For more equestrian related things to do in Aiken, click here.
About the Author: Jocelyn Pierce is an avid equestrian and lover of travel and photography. Her passion for adventure has led her on numerous excursions throughout North America and Europe. When she's not riding and competing her homebred mare, she enjoys hiking, camping, and snapping photographs.