Horseback Riding Dome Rock State Wildlife Area, Colorado
Avid trail rider, Debbie Bibb, on the Board of Directors for the Trails and Open Space Coalition and a trail advocate for equestrians, shares her favorite trail near Colorado Springs for the Equitrekking 50 State Trail Riding Project.
by Debbie Bibb
I've been trail riding in Colorado for well over 10 years now and Dome Rock Trail is still my favorite trail ride. Located in Dome Rock State Wildlife Area near Colorado Springs, it provides great wildlife viewing opportunities, spectacular scenery and a great variety of terrain for riding. You'll ride through a canyon, past rock outcroppings, through meadows and cross Four Mile Creek several times. It is especially popular in the fall for seeing the golden aspen leaves or in the summer (July and early August) for riding among the wildflowers.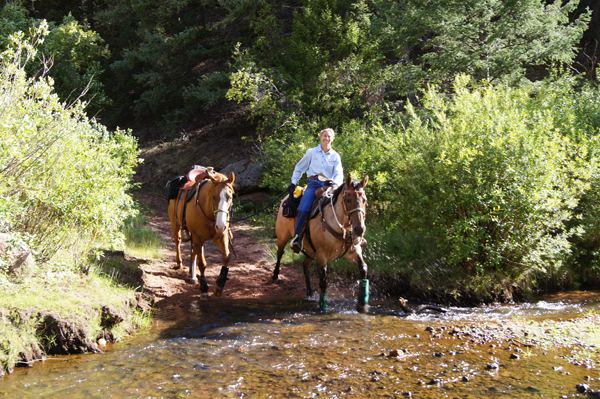 Just one of the many beautiful water crossings of 4 Mile Creek. Photo by Mark Bibb.
One of the main features for trail riders is a multitude of water crossings ranging from a few feet wide and shallow to a few feet deep, traversing a section of stream that has been widened into some beaver ponds. Much of the trail is rocky so, at minimum, front shoes or hoof boots are recommended for this 9.2-mile ride. As a nice break from most of the area's multi-use trails, these trails are restricted to hikers and horseback riders. Although you also may see some trail runners, no dogs are allowed.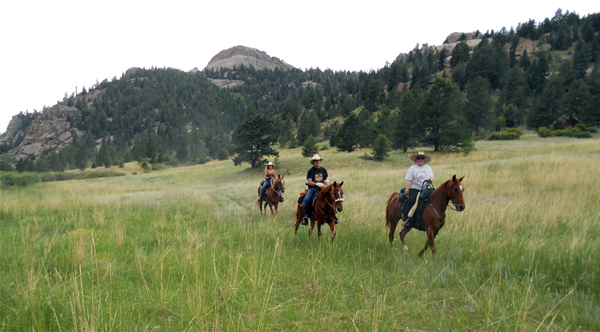 Riders enjoying the wide open meadow with Dome Rock towering in the background. Photo by Mark Bibb.
This is an out-and-back ride, but you can also ride it as a loop. If you choose the loop, the Spring Creek and Willow Creek Trails that form the southern portion of the loop are fairly steep and more technical in places. If your horse isn't used to the high altitude (the area ranges from 8,788 to 9,742 feet) or strenuous terrain, I'd recommend the out and back route. This is my favorite as I'm a big fan of water crossings – my horses are too.

As you travel the trail, keep a sharp eye out for bighorn sheep as this wildlife area is a prime area for them. In fact, once you pass into the area past Jack Rabbit Lodge, the area is only open from July 16 to November 30 every year to protect the bighorn sheep during their lambing period.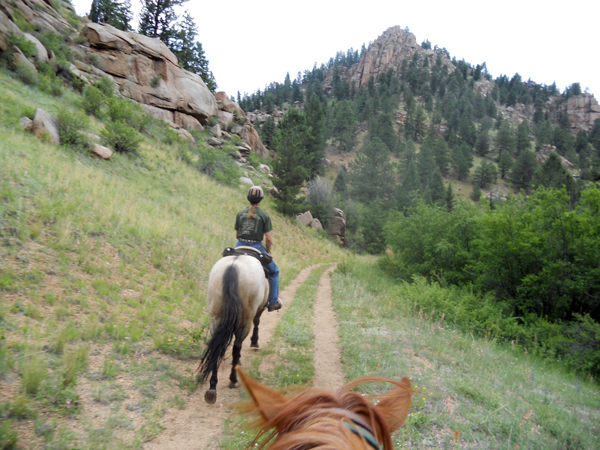 You'll find many amazing rock outcroppings along the way. Photo by Mark Bibb.
Your first water crossing is visible at the trail head. Although there is a bridge there, it is designed for hikers. The ride starts by descending a narrow canyon with views of the stream. Once you exit the canyon, you enter a large meadow where the stream crossings become more plentiful.

A little over 1 mile down the trail, you'll find a wider creek crossing. In this area, the beavers have dammed up parts of the creek to form some beaver ponds. Be sure to look ahead in this area for flagging tape in the bushes that will guide you through the water to continue on the trail. The route through the water will have you weaving between some bushes. It's easy to miss a turn through here and end up further to the west where the water gets deeper and you'll find more branches and roots in the stream bed.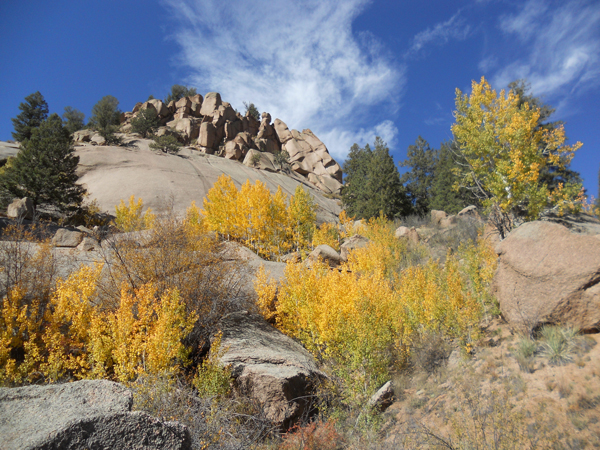 Fall is a beautiful time to ride Dome Rock with the aspens in full color among the amazing rocks. Photo by Mark Bibb.
About 2.3 miles down the trail, you'll reach the ruins of Jack Rabbit Lodge. The lodge burned to the ground in the 1940s, leaving a stone chimney and part of the foundation standing. Teddy Roosevelt is rumored to have stayed here during a hunting trip to the area. Here, you'll see a trail heading north into the adjoining Mueller State Park. Continue west past the lodge to make your way to Dome Rock.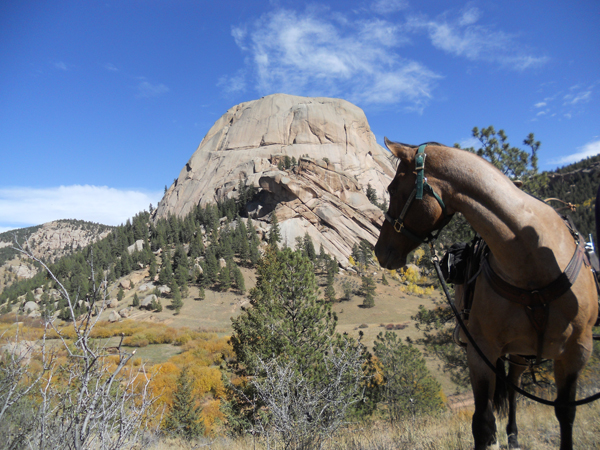 My faithful trail horse on the Dome Rock overlook. Photo by Mark Bibb.
From Jack Rabbit Lodge, you'll travel through more of the meadow with great views of the rock outcroppings where you may see the sheep. You'll cross the creek several more times as well. This trail ends at an overlook for Dome Rock. It makes for a great picnic spot with your horses before turning around and heading back up the trail.

If you'd like to ride the loop trail, continue on from this overlook on Spring Creek Trail that turns into Willow Creek Trail. Riding in this direction, you'll do a lot of climbing in some more technical terrain, followed by a long descent through the trees back down to the parking lot. Many riders will ride the loop clockwise for a more gradual climb and to cover the more difficult part of the loop in the beginning.
Map of the Dome Rock Trail. Map courtesy of Joshua Friesema – www.localhikes.com
Directions from Colorado Springs
U.S. Highway 24 west to Divide. Turn south on State Highway 67 in Divide. Drive 6.5 miles (and past Mueller State Park), then turn right on 4 Mile Road. Follow 4 Mile Road for 2 miles and look for the green Dome Rock Wildlife Area sign on the right. The entrance drops down to two parking areas. Horse trailer parking is on the left with plenty of room for big trailers.
Other Trail Riding Opportunities in Colorado Springs Area
There are plenty of riding trails in the Colorado Springs area, including trails in the city of Colorado Springs and El Paso County. If you're visiting the area, a great place to start is at Bear Creek Park on the west side of town with spectacular views of 14,110-feet Pikes Peak. The multi-use trails in Bear Creek Park tie in to Red Rocks Open Space for even more great scenery. Garden of the Gods and the Air Force Academy also provide some great trails and majestic mountain views. An equestrian group in Colorado Springs is currently working with El Paso County parks to build an Equestrian Skills Park in Bear Creek Park that would feature natural obstacles of various skill levels to help trail riders and their horses develop their skills and prepare for the trail.


About the author: Debbie Bibb is an avid trail rider. She is on the Board of Directors for the Trails and Open Space Coalition and a trail advocate for equestrians. She is working with the Friends of the Equestrian Skills Park and El Paso County Parks to develop the skills park as a family-friendly training area for all riders. Debbie is also a clinician specializing in training for the trail (www.debbiebibb.com). She and her husband and close friend recently took their dream vacation with their horses on a self-guided 7-day Yellowstone pack trip.