Horseback Riding at Shel Clair Farms in Vincent, Alabama
Life is good on the farm. Equine photographer Mary Katherine Morris recounts a visit to Shel Clair Farms, a historic dairy farm in Vincent, AL, as part of Equitrekking's 50 State Trail Riding Project.
Nestled in the heart of Central Alabama, Shel Clair Farms lies between Shelby County and St. Clair Count in Vincent, AL. Established in 1929 as a dairy farm by the Bearden family, this little slice of heaven is now a row crop and beef cattle operation which also opens its doors to equestrians year round. A mere 30-minute drive from the bustle of downtown Birmingham, the farm features 12 miles of trails and over 1000 acres of rolling hills, pasture land, and woodlands.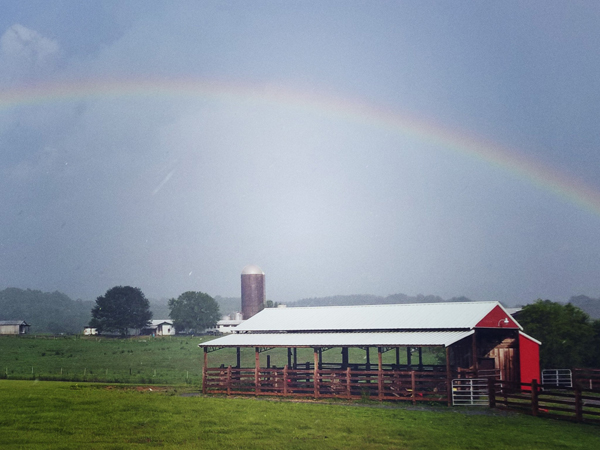 The barn and silo at Shel Clair Ranch. Photo courtesy of Shel Clair Farms.
Shel Clair Farms showed itself to be the perfect place for a leisurely group ride. We packed up all of the horses and made the quick drive to the farm. The first thing you will see as you enter the property is the old dairy barn and silos, which is what the farm is known for. The owner, Randy Bearden, was there to greet us and wish us a safe ride. After socializing for a moment, we all tacked up and headed off onto the property through the cow pasture, which was packed full of talkative mama cows and their little ones.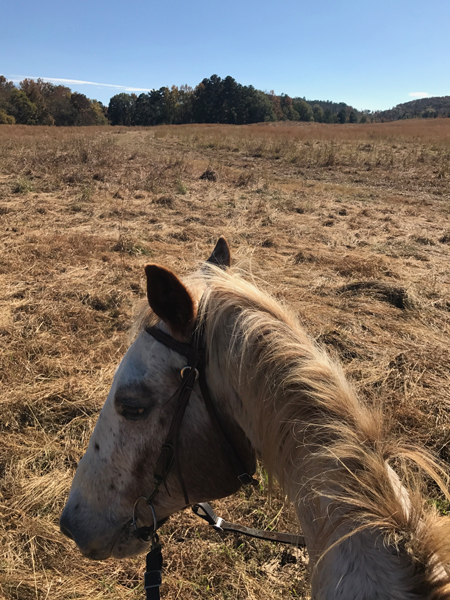 My ride, Chief--a friend's surefooted Appaloosa. Photo by Mary Katherine Morris.
Riders have their choice of several trails, including the Hurricane Mountain Trail, the Open Range Trail, and the Ridge Mountain Trail. We chose the Open Range Trail, which initially took us through the flatter landscape of fields where they grow cotton and corn. As a courtesy, riders are asked to stay on the outside perimeter, which is wide and has plenty of room for several riders. The trail eventually winds through to open cow pastures with gently rolling hills. The fall color was just starting to show itself in the landscape, so we had plenty of beautiful scenery to take in as we meandered around the property.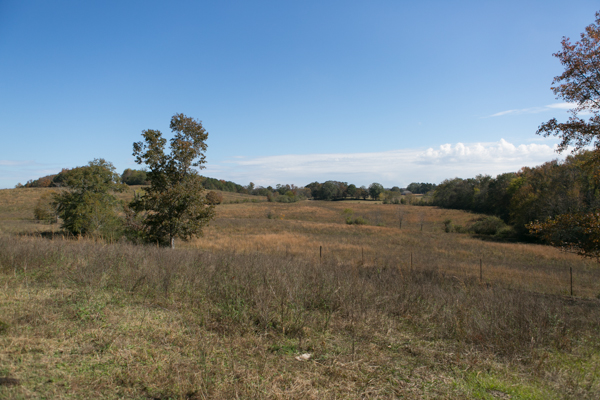 Miles and miles of open pasture to enjoy at Shel Clair Farms. Photo by Mary Katherine Morris.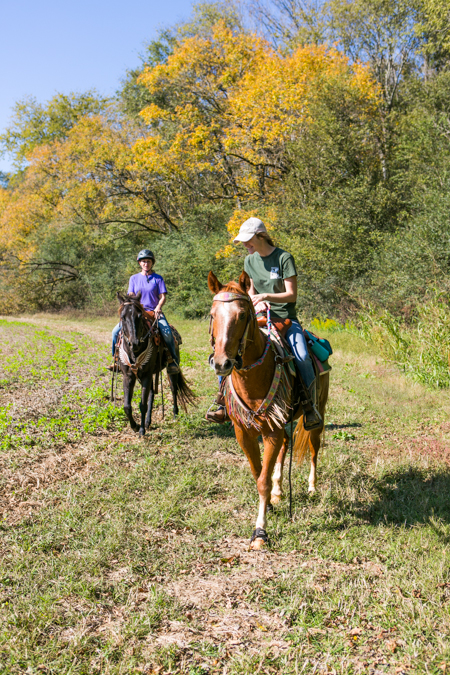 A couple of friends trotting through the cut fields and golden trees. Photo by Mary Katherine Morris.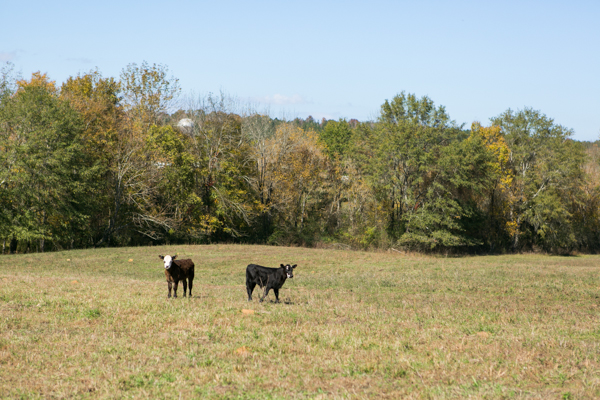 Our curious little friends. Photo by Mary Katherine Morris.
We traveled along in our group, leisurely wandering through the corn and cotton fields. The scenery went on forever with pasture after pasture of golden hills, tall grass, and happy cows off in the distance. One thing is certain: if you come ride here, you will have an encounter of the bovine kind. We rode up on quite a few napping cows and were even followed briefly by a curious pair of calves that wanted to see what we were up to. They all kept their distance, but it's probably worth noting in case your horse is not a fan of cattle.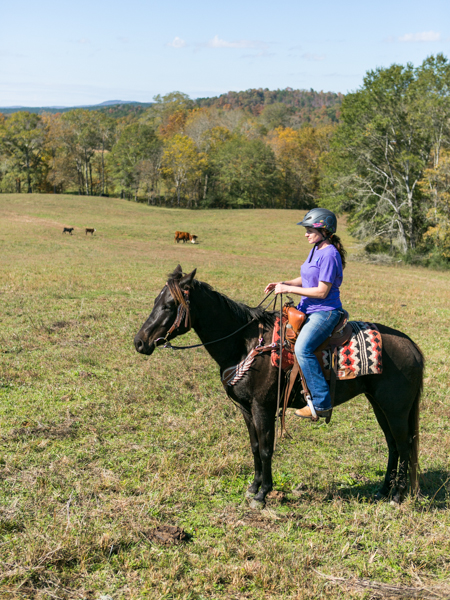 Jackie and her new mare in the open cow pasture. Photo by Mary Katherine Morris.
In addition to the cows, you have a good chance of bumping into the rest of the local wildlife that calls Shel Clair Farms home. Deer, rabbits, and ducks are frequently spotted on the property. There are even a few wild turkeys that have been known to make an appearance.
Another highlight of Shel Clair Farms is the seemingly endless amount of open space to ride. While it's always fun to explore the more arduous terrain available at other Alabama equestrian destinations, it was nice being able to have a short run through the pasture without worrying about running into trees. But definitely make sure to familiarize yourself with the ground before you do--it's a huge farm and there's bound to be hidden holes. I only saw one while we rode, but it was a big one so it's always good to be on the lookout.
The Open Range Trail at Shel Clair Farms. Photo by Mary Katherine Morris.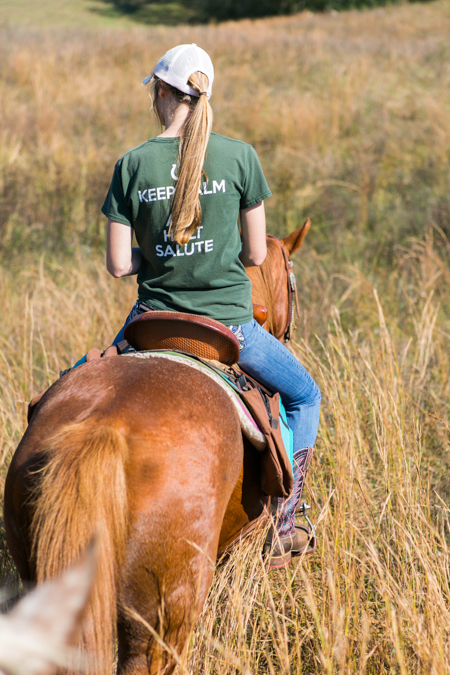 Kelly rides Sweet Pea through the tall grass. Photo by Mary Katherine Morris.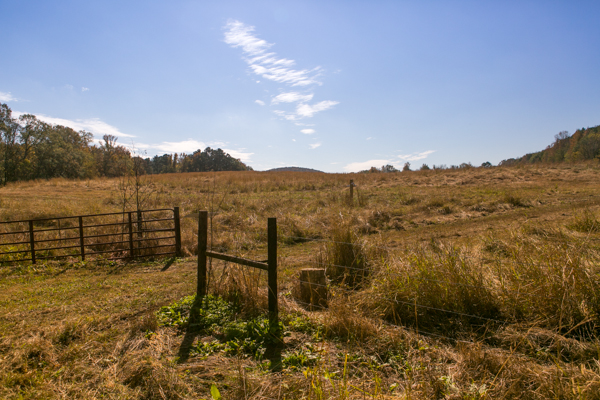 Remember to close the gate behind you so the cows don't get out. Photo by Mary Katherine Morris.
We also rode through several wooded areas with fairly mild terrain. The paths were wide, clear, and lined with greenery just beginning to give way to gold. We stumbled upon a section of trail humorously referred to as "The Haunted Swamp," which was marked with cow skulls and signage. Unfortunately, recent rains left that area a bit too muddy so we decided to save that for another day. No one seemed to mind, as we were all enamored with exploring the open pastures of the farm. It was too beautiful a day to hide in the shade, and so instead we all tried to cover as much of the Open Range Trail as we could.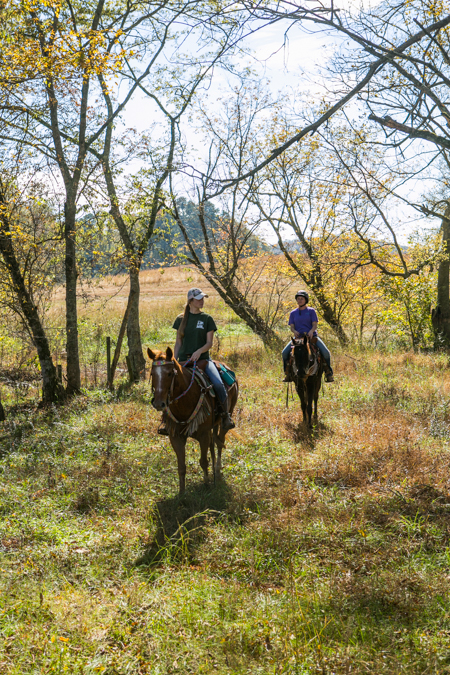 Riding through the trees. Photo by Mary Katherine Morris.
There are plenty of wooded trails with wide, comfortable paths. Photo by Mary Katherine Morris.
At Shel Clair Farms, there is a little something for everyone. The trails are easy enough for a beginner, but there is plenty to keep the more experienced rider entertained. The property also has several bodies of water, including a creek stocked with rainbow trout and a lake filled with bass and bream. Visitors are welcomed to enjoy both at their leisure. And that's not the end to the warm hospitality that the farm offers. In addition to the charming hand-painted signs that mark all of the trails, we even stumbled upon a portable restroom in one of the faraway pastures. The fact that someone thought to put one out there for the riders made us all laugh, but that's just Southern hospitality for you.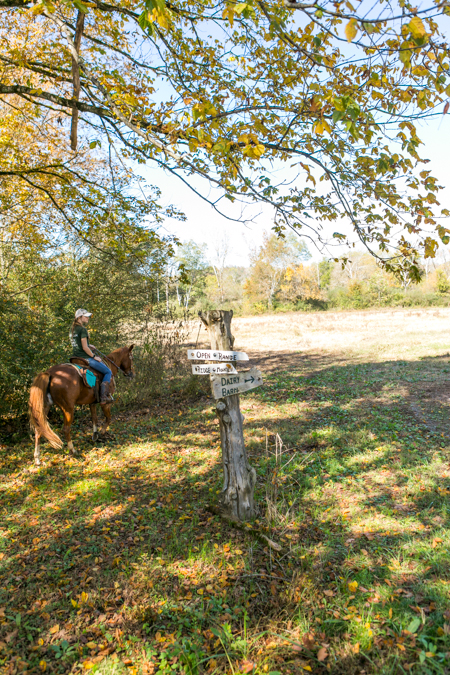 Hand-painted signs at Shel Clair Ranch. Photo by Mary Katherine Morris.
We could have ridden for the rest of the weekend but after a few hours of exploring we had to turn back to head home. We made a few different turns and came across a beautiful creek surrounded by trees full of changing leaves. We decided to cross it to let our horses splash around for a bit and cool off. After a quick swim, we made our way back to the silos the same way we came and headed home. If only we'd had more time, we could have stayed and explored the Ridge Mountain Trail, but that will just have to wait for next time. We'll definitely be heading back very soon. See you on the trails.
Crossing the creek at Shel Clair Farms. I'm bringing my fishing pole next time. Photo by Mary Katherine Morris.
If you're interested in learning more about Shel Clair Farms and the history of the property, or if you'd like to schedule a visit then make sure to visit their website and Facebook page. Follow them on Instagram @shelclairfarms.
About the Author: Mary Katherine is an equine photographer and visual artist living in Birmingham, Alabama. Follow her on social media: Instagram: @marykatherinemorris Facebook: Mary Katherine Morris Photography. Visit her website at marykatherinemorris.com.