Horseback Riding Arizona's Tonto National Forest
Trading in Chicago winters for Arizona sunshine was a no-brainer. Instead of slogging through slush in downtown Chicago, I explored the canyons, washes and rugged trails of the Tonto National Forest on horseback. The fifth-largest national forest in the United States, Tonto boasts nearly 900 miles of trails.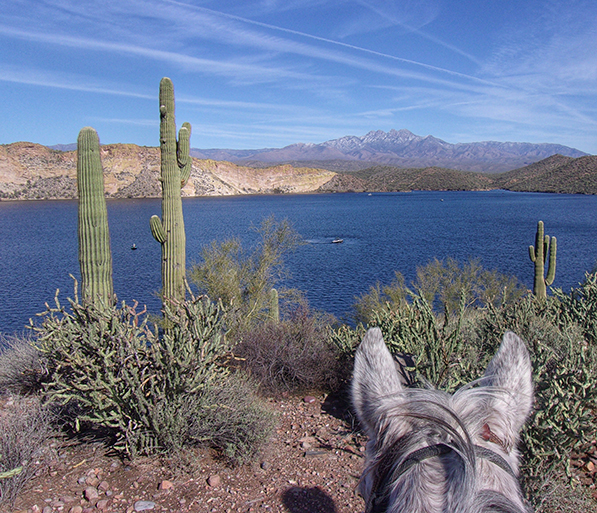 For several months, I had the Superstition Wilderness — one of eight wilderness areas within the Tonto National Forest — as my back yard. Located east of Phoenix, the Superstition Wilderness has 180 miles of trails spread out over 160,000-plus acres. This "forest" is populated with saguaro, cholla, prickly pear, mesquite, palo verde, ocotillo and many other cactus, trees and shrubs I still need to learn to identify.
Exploring by horseback is the best way to access this sprawling national forest. From the steep, primitive trails around the Superstitions to the colorful Old West canyons of the Goldfield Mountains and the winding trails around Saguaro Lake and the Salt River, there are no bad rides, only scenic (and sometimes challenging) ones.
We set up home base just outside Apache Junction, an easy horseback ride into the Superstitions and the Goldfield Mountains. We were also a short trailer ride to locations like the Salt River, Roosevelt Dam and the Peralta Trail, all within the national forest. There are many winter horse camps available in Apache Junction; reserve well in advance to guarantee a spot.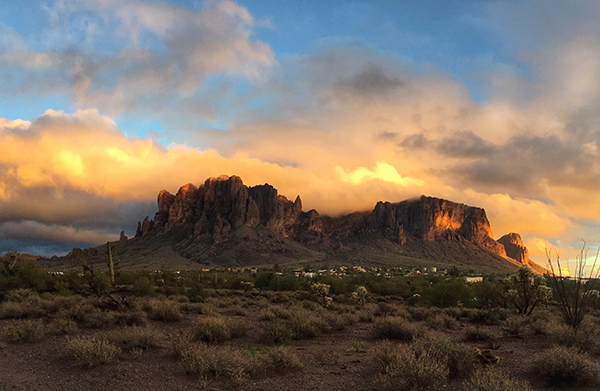 The area around Superstition Mountain is a favorite of equine-minded travelers because of its easy access to trails, variety of terrain and scenery, and sunny winters. It's not unusual to see horses tied up to hitching posts outside restaurants and watering holes or trail riders crossing the highway.
The Apache Trail (Arizona Highway 88) bisects the Goldfield Mountains and the Superstition Wilderness. When driving east from Phoenix on 88, the Goldfield Mountains are on the left, while Superstition Mountain looms on the right. Day visitors can park at Goldfield Ghost Town, First Water trailhead in the Lost Dutchman State Park, or at what locals refer to as the gravel pit. Camping with horse corrals is available at the ghost town, and short-term primitive camping is allowed at the gravel pit.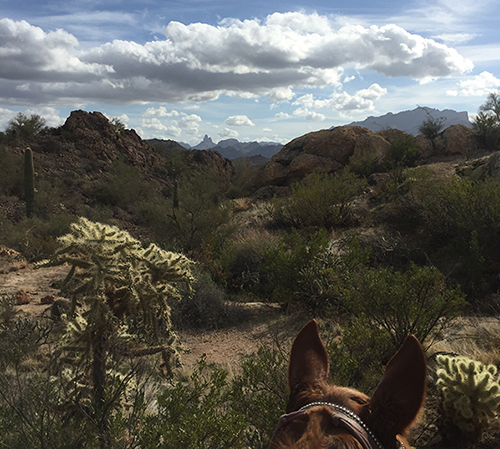 It's hard to pick one favorite trail. My top three include a high-elevation ride to Weavers Needle in the Superstitions and the Goldfield Mountains' Bulldog Canyon and what we dubbed the Gene Autry Canyon.
Except for sections in Lost Dutchman State Park, Superstition Wilderness trails are not marked and often not even named — although many trails, such as the one mentioned earlier, have been nicknamed by longtime riders. Trails wind around the foothills, into canyons and washes, and even crisscross with others. However, it's difficult to get lost with the Superstition Mountain, Weaver's Needle or Goldfield Ghost Town usually in view. The Four Peaks, which are part of the Mazatzal Mountains north of the Superstitions, are another landmark that is a handy reference point.
I was fortunate enough to have friends willing to lend me horses during my stay in Arizona: Silas and Eli, both Missouri Fox Trotters. Used to quarter horses, riding gaited horses was a new and enjoyable experience for me. Both geldings were sure-footed — a must on the technical trails in the Superstitions. We climbed and descended many rocky inclines and switchbacks, and, for the most part, avoided encounters with cactus. And both horses always waited patiently when I stopped to take a photo, which was often.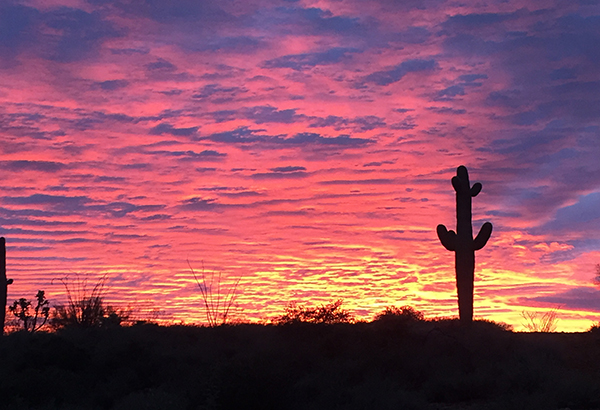 Superstition Wilderness trails are shared with hikers (bicycles are not allowed in this section) and a variety of wildlife — we saw deer, red tailed hawks, jackrabbits, coyotes and foxes. Other riders reported seeing mountain goats, gila monsters, javelinas and even a tortoise! I was lucky enough to see a small herd of mountain goats on a hike on the Lost Goldmine Trail on the southern edge of the Superstitions. There are also wild horses roaming the lower Salt River area of the Tonto National Forest, but I haven't yet spotted them.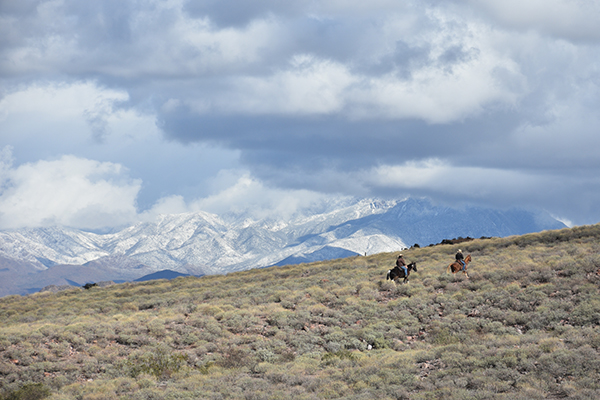 Trail essentials include plenty of water, sunscreen, a compass or GPS, and a wide tooth comb or pliers to remove the cholla cactus your horse is guaranteed to pick up somewhere along the trail. All horses react differently when the cholla lives up to its name of "jumping cactus;" some get annoyed by the painful barbs, others panic and buck, spin or run. I was lucky enough that both of my mounts did not react at all — fellow riders had to point out the cactus on a leg or shoulder! On nearly every ride I went on, we had to stop at least once so a rider could carefully remove a piece (or three!) of cholla from their horse.
Cell phone service is spotty within the wilderness area, so a GPS or compass is recommended for unmarked trail rides. It was nice to unplug and enjoy the ride and spectacular views. The only things I took home with me were memories and photos — although I would have liked to take Silas the fox trotter home with me.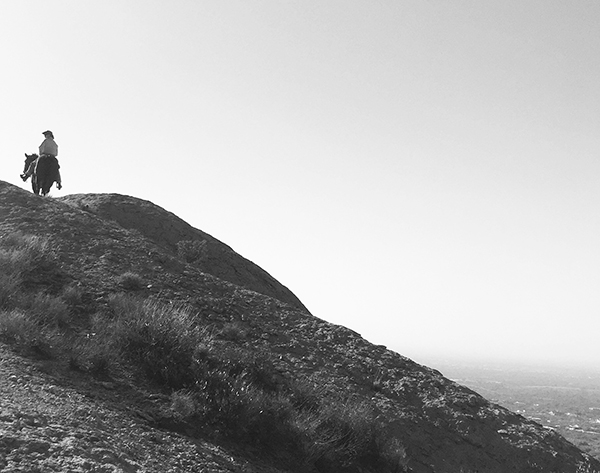 About the author: Lisa Florey's love for horses began with a pony that helped her regain her balance when she lost her hearing at age five. Her lifelong horse habit has taken her around the United States as an equine sports massage therapist, American Quarter Horse Association exhibitor and trail rider. Recent adventures include riding a mule into the Grand Canyon and tölting on an Icelandic horse in Iceland.