Horseback Riding and Camping in Utah's Canyonlands
Equitrekking Travel's Julie Snyder takes a riding vacation in Utah's Canyonlands and camps out under the stars at a deluxe basecamp.
Looking for a great riding vacation in the U.S.? The Utah Canyonlands Riding Vacation may be the answer. The ride is in a breathtaking part of Utah, and it is one of the most tightly run riding outfits I have ever experienced, headed by the amazing Pat Kearney, and her energetic, dedicated hands.
Julie and Sawdust in Utah!
I ride regularly in an arena, and don't get the opportunity to trail ride often. I was a little apprehensive when I saw the canyons, gullies and cliffs we would traverse, as our truck approached the horses tacked up, ready to carry us "cowgirls for a week." But my fear was for naught; Pat put me on Sawdust, a smart, surefooted and comfy mare, and even when we rode in the most precarious areas, I trusted her completely. We rode over beautiful red rocks, on top of mesas, in canyon bottoms and beside multicolored walls as we approached camp. The first sight of camp was stunning: the way the tents were arranged, nestled in the canyon of the high-desert, each tent very far apart from each other, gave me a delirious, happy, enchanted feeling. What a treat it was to ride into that!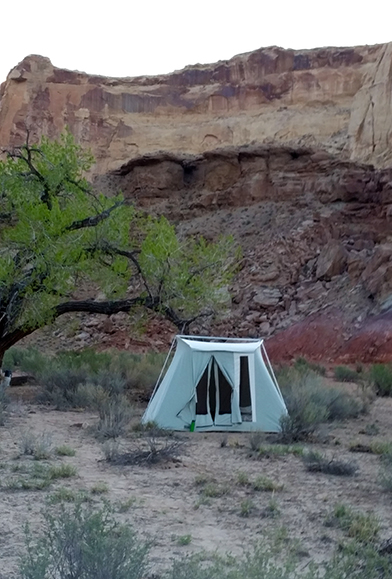 Home for a week.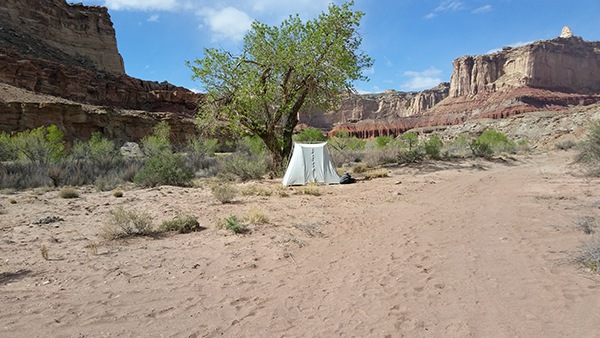 The camp wagons brings what is needed for cooking, eating, a shower tent, chairs and commode, as well as feed for the horses.
Dinner, made each evening by number one hand Rachel, was hearty and delicious with a lovely dessert. Even though we were ravenous from the riding, the meal satiated us completely. The camaraderie around the fire, where we ate dinner each evening, had a jolly tone, and it was fun to hear the stories of living in rural Utah, and tidbits about the Mormon faith, which is a big part of Utah history. The other guests on the trip were charming, interesting, and as thrilled to be there as I was.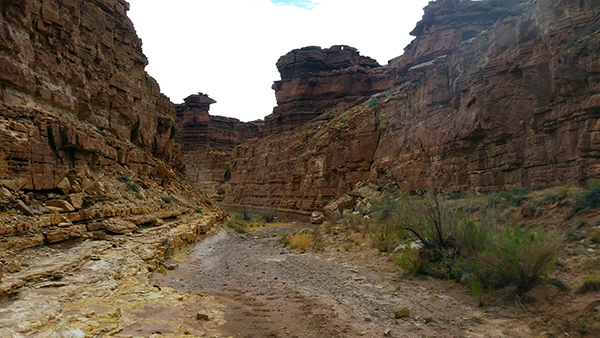 A typical canyon you may ride through on these Utah vacations.
Rachel had just purchased a four year- old mustang gelding, Rooster, from a state auction, and he kept us amused. Those of you who know what 4 year- old geldings are typically like can picture Rooster getting tangled up in a tree, Rooster spooking at a rock, Rooster nosing mare in front, dodging her irritated kick. It was inspiring to watch Rachel expertly handle him, and we all fell in love with him.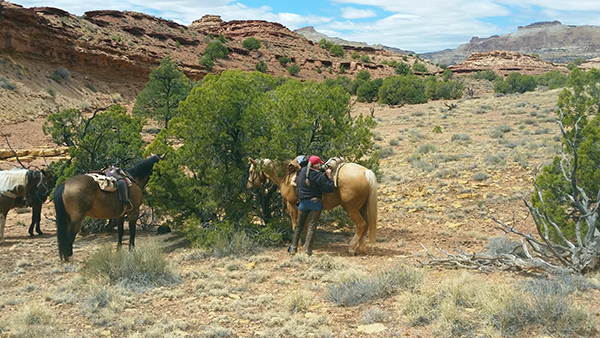 Stopping for a lunch break.
Pat offers camping and inn to inn riding trips, and I normally would have picked inn to inn, as I hadn't camped in a long time, but Pat encouraged me to try camping. For the ride I took in particular, it is the best way to get deep into the wilderness. I now understand that it is a long drive into the canyons, and once you are there, it's a long drive back to the inn for the overnight. Besides, the camping was as comfortable as it could possibly be; Pat's company has it all figured out! Camp was in a rare setting, and to be under the big moon and blanket of stars in the clear high desert air at night is truly indescribable! The inn trips are run in an area closer to civilization, so if you don't relish camping, the inn trips Pat has developed offer fantastic riding and scenery, also.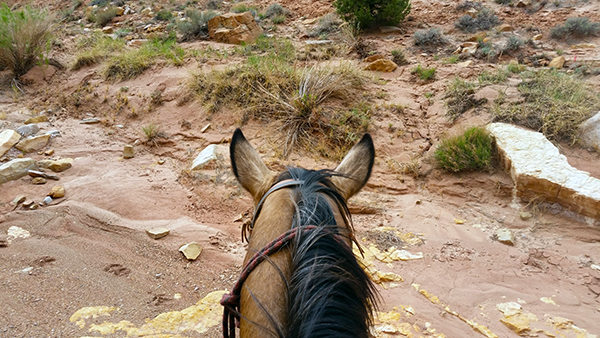 Between the ears on trusty Sawdust on the trails.
Each trip Pat offers focuses on a seasonal attraction. My trip featured Wild Horses at Muddy River Gorge & Red Canyon. Pat was constantly searching for signs of wild horses, and for our last ride, she was determined that we see them up close.
Guide Pat Kearney ponying one of her horses.
So the ride that Pat chose (from her unlimited arsenal) was "Merry-go-Round." It was named this because the ride encircles a huge canyon, around which a river meanders, and this attracts the wild horses. The way the river runs against the canyon walls required us to cross the river often, and the riverbanks were high up, and patches of quicksand dotted the river bed. This was the most challenging riding of the trip; not that it was hard, but it was scary to an arena rider. Rachel announced "Cowgirl Up!" and that is exactly what we had to do: just trust your horse, give her a loose rein, and she knows what to do. At first it was unnerving, but by the end of the day, we were pros. It was all worth it, as we saw a band of wild horses, complete with a foal and a yearling, very close up. Seeing them was the cherry on top of a completely fabulous riding trip.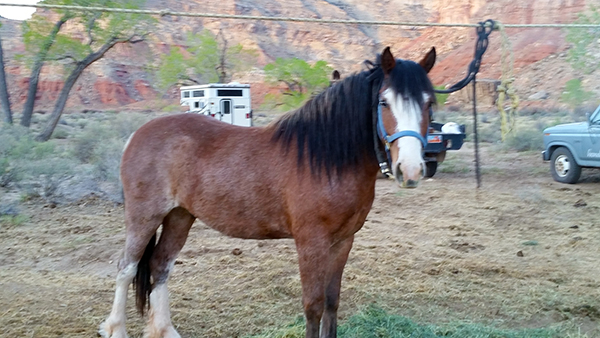 Rooster, another one of Pat's horses.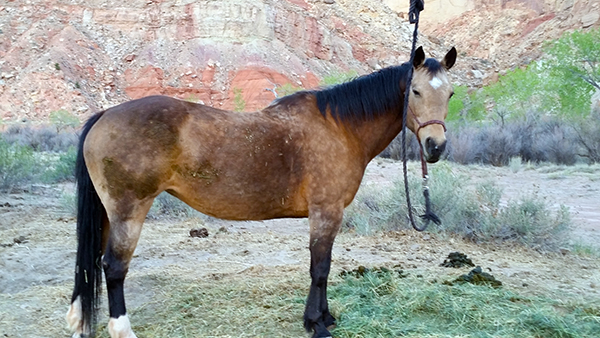 Fun Fact: You may recognize Sawdust, as this horse was also featured on the Equitrekking Utah episode, when Darley Newman rode through Capital Reef National Park with Pat Kearney.
Learn more about the Utah Canyonlands & National Parks Camping and Inn-to-Inn riding vacations on EquitrekkingTravel.com, which offers horseback riding vacations around the world and a dedicated Virtuoso travel agent to help you book the trip.

About the author: Julie Snyder is an active equestrian and Virtuoso Travel Agent. From her home base in Wisconsin, she helps other riders and travelers get matched with horseback riding vacations as close to home as Utah and as far afield as Ireland and Botswana through EquitrekkingTravel.com. She competes locally in hunter/jumper shows and spends most of her spare time living, sleeping, and breathing horses!