Horse Ride Under the Hollywood Sign
Take a ride through Griffith Park, home of the famous Hollywood Sign, setting for many TV productions, and land of celebrity sightings.

by Karen Braschayko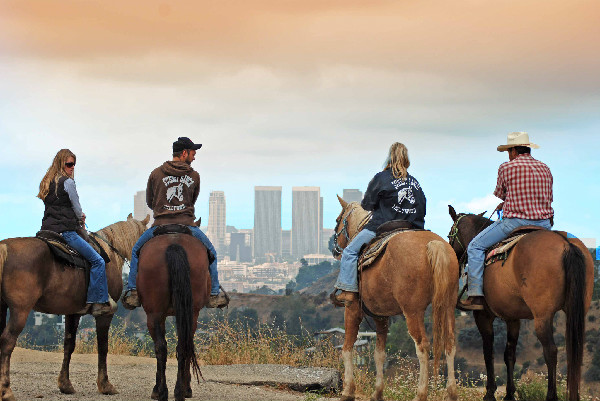 On a clear day, downtown Los Angeles is visible from the park's trails. Photo courtesy Sunset Ranch Hollywood.
The Hollywood Hills surprised me. Maybe it was the misnomer "hills," because in Michigan anything that high gets labeled a mountain, but none of the many movies or photos I'd seen over the decades had prepared me for the snaking curves, abundant deadly cliffs, harrowing climbs and houses stuck into every possible cranny. A screaming engine and burning brakes made me grateful I was driving a rental and not my own vehicle.

So when I learned that I could let a hardy, acclimated horse carry me up to some amazing Hollywood views, rather than huffing up there myself, I was in.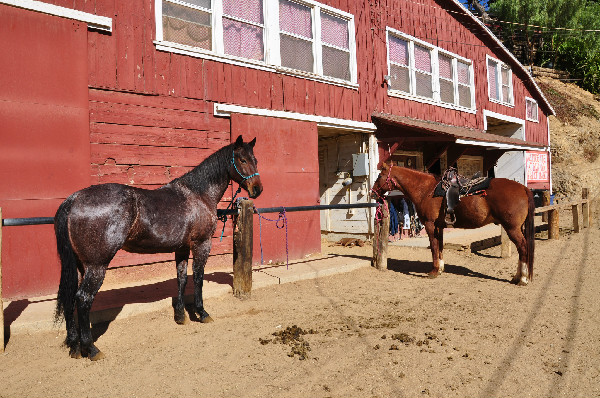 Some very handsome horses were being bathed and groomed as I arrived.
As I drove up to Sunset Ranch Hollywood – and getting there was an adventure in itself, since I let my device guide me the very steep and winding way (hint: the straight roads on the map tend to be flatter) – I knew it was the kind of place I'd like. Wranglers were grooming, bathing and petting a long line of horses at the hitching post, and many more horses were mouthing hay and standing in shade from the legendary California sun. Perhaps particularly in contrast to turgid rivers of L.A. traffic, blazingly-lit studio attractions, infinite shopping venues, my hotel's sharply modern décor, and the complex vegan meat-like creations I'd been eating, the simplicity of a barn, horses and dirt was a tier of heaven. I borrowed a helmet, and after the thorough safety talk, we were off.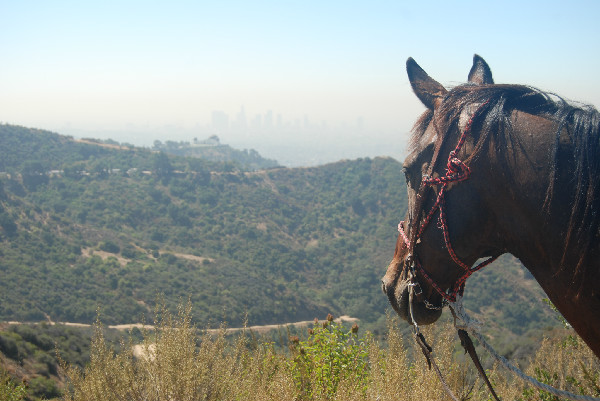 Griffith Park has miles of trails for horseback riding. Photo courtesy Sunset Ranch Hollywood.
Sunset Ranch is adjacent to the famous Griffith Park, and the horseback rides use the public park's well-maintained trails. The rides are walk only, but walking is plenty fast on the switchbacks and perilous cliffs. A sandy ramp leads right up into the park. My guide Becca warned me that the horses prefer the outside edge of the trail because it provides them more defense against predators coming downhill. She said not to worry, since the horses value their lives. So, I kept my eyes facing front and let my mount be concerned about the route.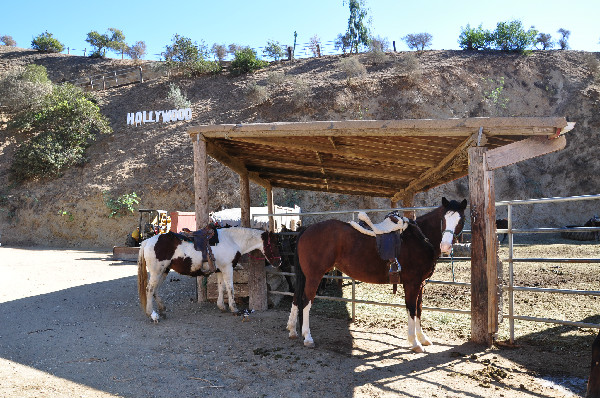 My guide Becca's horse took a break in the shade near the ranch's miniature Hollywood sign. I envied her modified Australian saddle!
Griffith Park is home to the iconic Hollywood Sign, and at more than 4,000 acres, it's one of the most spacious urban parks in North America. Placed at the far eastern side of the Santa Monica Mountains, it contains an arid landscape that rises high above the valley below. This recreation area was born in 1896 when Colonel Griffith J. Griffith, who had purchased the land after making a fortune with gold mines, donated over 3,000 acres to the people of Los Angeles with the caveat that it always remain a public park for anyone to enjoy.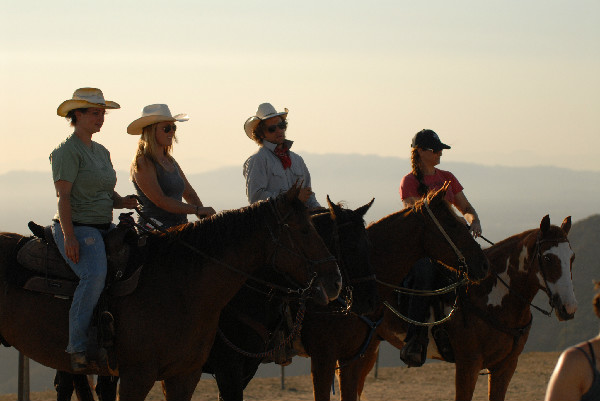 The horses are trained to stop and let you enjoy the view. Photo courtesy Sunset Ranch Hollywood.
Locals had alerted me to look out for celebrities, since it's a popular hiking destination and convenient filming locale. According to Internet Movie Database, Griffith Park has hosted filming over 500 times for movies and television shows. Countless photo shoots, music videos and other productions have creatively employed the park's varied terrain. The area of Bronson Canyon, also called Bronson Caves, was used as the Batcave for the 1960s television show Batman.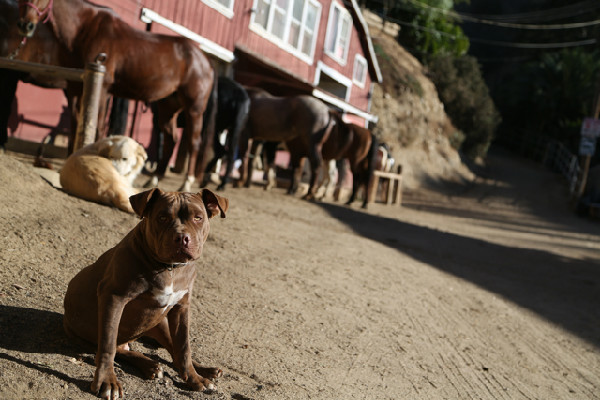 The ranch houses many canine friends as well. Photo courtesy Sunset Ranch Hollywood.
Becca was full of facts about the park and the world-recognized sign as our horses sauntered along the trail. The Hollywood Sign has graced nearby Mount Lee since 1923, when it was erected to temporarily advertise a housing development. Mules carried up the original support poles. American cinema began its Tinseltown boom, and the sign became an international emblem. So it stayed up, and it became the symbol we know today. Decades of weather, alterations, pranks and vandalism have been countered with restoration by the Hollywood Sign Trust, and the newly repainted 45-foot letters look splendid.


Many of the wranglers work there on the weekends as a respite from city life. Photo courtesy Sunset Ranch Hollywood.
Guide Becca told me a bit about Sunset Ranch as well. They have many horses, and they care about the happiness of each one. Mounts are carefully fitted with their own saddle when they join the team. The program has adopted several American Mustangs, since they are so sturdy and well-suited to the desert conditions. Many chickens and dogs call the ranch home too. Sometimes celebrities come up for rides, and occasionally the ranch provides horses for photo shoots. The ranch is open year-round, and Becca said she likes the winter season best because the grasses grow tall and vegetation completely changes the look of Griffith Park.
We snuck into the barn and snapped some photos of the farm's miniature horse and her new foal.
Becca was riding her own horse. Years ago, she'd started riding at Sunset Ranch. Soon she was taking a two-hour ride every day she possibly could, so the staff suggested she join them. Before long, she wanted her own horse. She shared a lot of interesting equine knowledge with me. Living in the Midwest, I hadn't ever encountered some of the challenges of horsekeeping in the desert she described. How to get horses to drink water that's too warm, local varmints and trail dangers – this chance to connect with a kindred horseperson made me feel at home.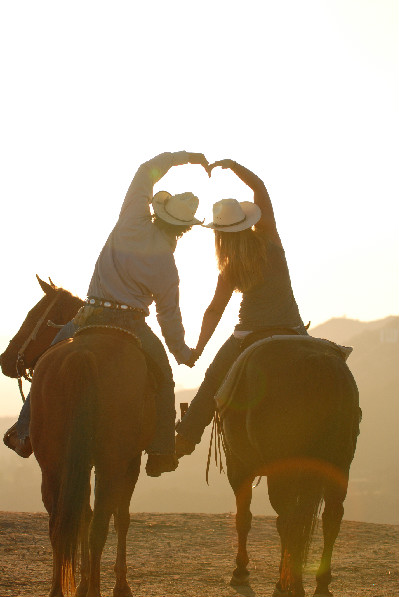 Griffith Park is a popular and romantic spot. Photo courtesy Sunset Ranch Hollywood.
I'd only had time for the one-hour ride, but I was glad I'd packed my cowboy boots and made it up the Hollywood Hills. My Quarter Horse friend carried me up to a panoramic view of the mountains and valley. The distinction of being on horseback above a land of legendary technology, the simple feeling of wildness and solitude within view of so much population and noise – this was a unique opportunity and a peaceful hour I won't soon forget.

Sunset Ranch has several options for trail riding, including sunset photo opportunities and dinner rides with a stop at a local restaurant. Learn more their website, www.sunsetranchhollywood.com or call (323) 469-5450.

Karen Braschayko is a freelance writer and horse lover who lives in Michigan.