Horse Ride through Paramount Ranch
Experience the setting of Gunsmoke, Dr. Quinn, many classic westerns and modern TV shows just as many stars have – on horseback.
by Karen Braschayko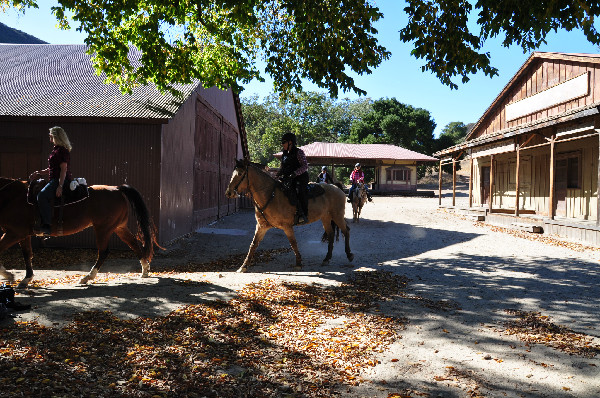 Riders are welcome to explore historic Paramount Ranch.
I'll admit it – I was an extremely zealous fan of the show Dr. Quinn, Medicine Woman. I was a teenager when the show first aired, and my family and friends knew exactly where I'd be on Saturday nights. Of course I wanted to have the medical smarts, beautiful dresses and socially-just convictions of Dr. Mike, a capable mountain man friend like Sully, and a cozy log homestead filled with beautiful quilts. But especially appealing were the equines at every turn. Horses were the main transportation, trusted partners on adventures, and sometimes even valid characters themselves. As a horse-crazy girl, I'd have given much to jump into that equestrian world for even a few minutes. I couldn't drive yet, and I lived in the country, so the thought of hopping on a horse to visit patients, riding over to Mr. Bray's store for new fabric, or galloping through the wilderness offered a freedom I could only dream about.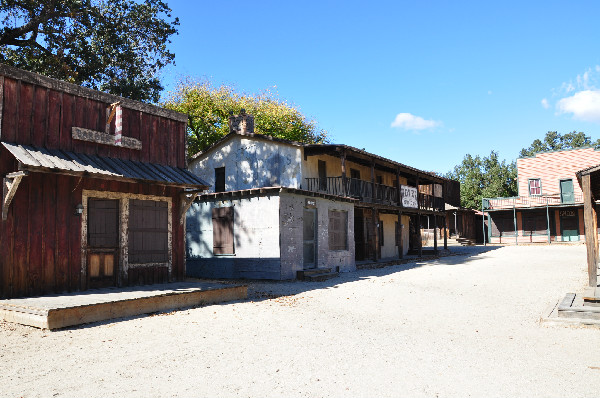 From left, these buildings were the telegraph office, Dr. Mike's clinic and Mr. Bray's store during the Dr. Quinn era. The town was transformed with utility poles and 1930s facades for the HBO series Carnivale.
When I watched the show originally, before pervasive internet and fan websites, I had no idea that I could visit the fictional town of early Colorado Springs for myself, and more importantly – on horseback. Paramount Ranch is the home of this Western town, and it is located within the Santa Monica Mountains National Recreation Area of Agoura Hills, California, just north of Malibu. Free of charge, visitors are welcome to explore the set and surrounding trails year round. When I knew I'd be driving from Los Angeles to San Francisco on a recent business trip, stopping to experience Dr. Quinn's adopted town became a supreme priority.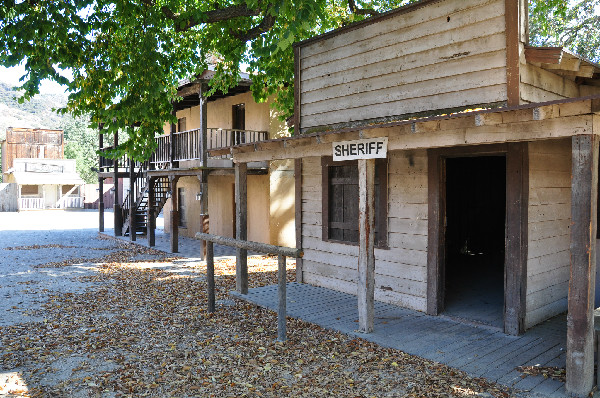 With visually interesting and historical backgrounds, Paramount Ranch is a popular location for photo shoots.
Since before films had sound, this "movie ranch" has provided the setting for hundreds of productions. In the 1920s, as westerns became popular, movie studios needed more authenticity than a sound stage could provide and larger outdoor spaces than a studio back lot. However, they needed to keep the location within 30 miles of the studio or they'd have to pay the union workers an out-of-town fee. So, several movie ranches were developed in the greater Los Angeles area.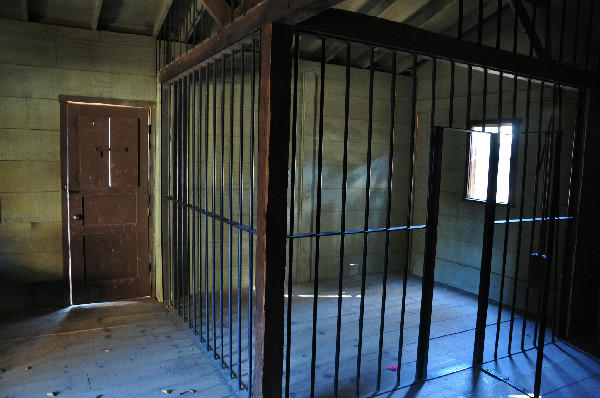 Most of the buildings are boarded up and locked, but the jail was open for visitors.
Paramount Ranch was born in 1927 when Paramount bought more than 2,000 acres along Medea Creek in the Santa Monica Mountains. Over the decades, productions have developed many venues there, such as a historical race track, a hacienda, and a replica of early San Francisco. These sites have partially or fully disappeared, but the famous Western town still stands, and visitors can walk and ride through it today. According to the Internet Movie Database, 234 productions of many genres, from classic westerns to modern television shows, have filmed at this movie ranch. Legendary actors like Bob Hope, Gary Cooper and Claudette Colbert worked at the ranch during the early decades, and many of the productions have involved countless horses.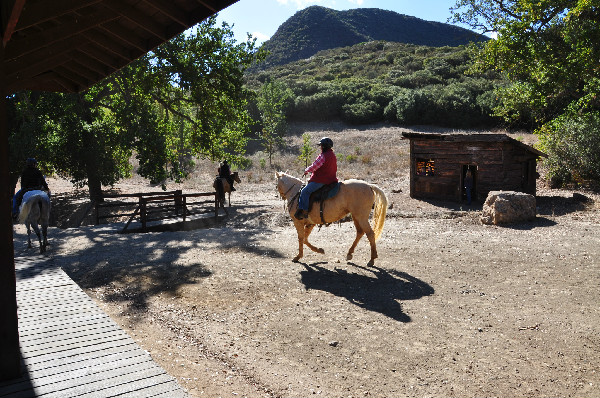 The cabin to the right is one of the oldest structures at Paramount Ranch, and it has appeared in numerous movies and television scenes.
Comprised of diverse terrain, including mountains, valleys and grasslands, Paramount Ranch has represented a variety of lands and eras. By dressing the areas a little differently for each production, crews have transformed the space for an incredible variety of looks. Besides many different Western locations, Paramount Ranch has become Missouri for The Adventures of Tom Sawyer, ancient China in The Adventures of Marco Polo, the grasslands of Africa for Bwana Devil, rural Wisconsin for Caddie Woodlawn, Transylvania for Van Helsing, colonial Massachusetts for Maid of Salem, and Wales for How Green Was My Valley. It was also the home of the original Renaissance festival, called the Renaissance Pleasure Faire, during the 1970s and 1980s. Classic television series such as CHiPs, The Dukes of Hazzard, The A-Team, Gunsmoke, MacGyver and The Cisco Kid all employed the ranch for various scenes.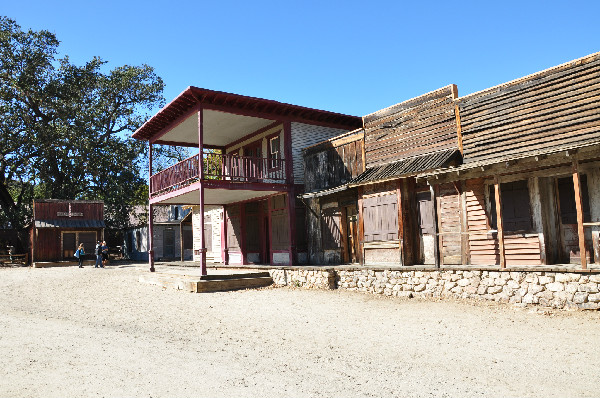 Over 200 productions have filmed at Paramount Ranch, and countless photographers have used the site.
Paramount Ranch changed hands several times until the National Park Service bought a portion of the ranch, including the Western town, in 1980. Productions continued, and the ranch was home to Dr. Quinn, Medicine Woman from 1992 to 1997. Modern television shows, such as CSI: Crime Scene Investigation and Weeds, and movies such as Norbit and The Lake House have also used the ranch to film scenes. Visitors may encounter filming in progress there today.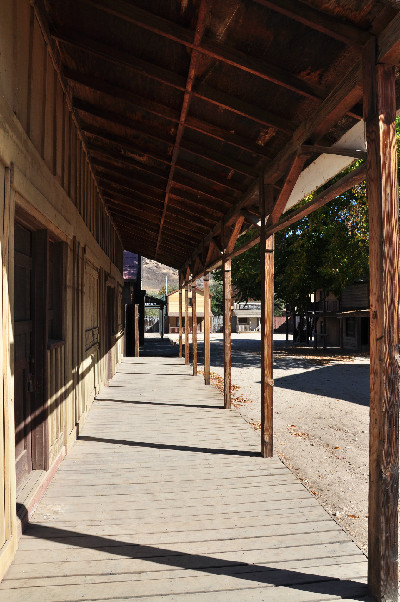 You can walk the same boards and trails as many celebrities at Paramount Ranch.
Just a few miles south of the 101 and north of Mulholland Highway, you can step over the steel bridge crossing Medea Creek and amble right into this historic movie town. Tread the board sidewalks like Kenny Rogers and Johnny Cash, or ride through town like Jane Seymour. With such a rich history and interesting background textures, it's also a popular spot for personal and commercial photo shoots. Hitching posts, weathered wooden buildings, distinctive trees and robust sunshine make it a visually interesting place to be.
These trees near the lawn are a recognizable backdrop from many productions.
Since Dr. Quinn's time, some of the buildings are gone, and paint colors and signs have changed with passing productions. The church, the livery and the school were removed, and of course there are no extras, accessories or equines that made the town look like a young, busy Colorado Springs. It took a moment to orient myself, but soon I could picture Grace cooking at her outdoor café, Horace standing at the telegraph office, and horses drinking from the trough at Hank's saloon.
I kept hearing, "Let's get him to the clinic!," a frequent line from Dr. Quinn, in my head as I walked through town.
The town also looks larger and more spacious on camera than it does in person. I developed a new respect for the creativity and hard work that goes into making a film set look realistic and vibrant. Designing camera angles to miss utility poles in the surrounding hills, covering the concrete bases of the bridges, and occasionally timing scenes to miss large jets passing overhead must have challenged the crew. My visit was on a warm day in November, and I couldn't imagine wearing a period costume in the California summer heat.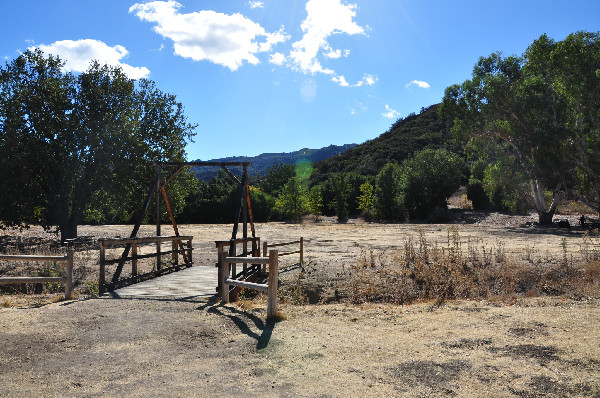 The lawn area across this bridge held the church, school and many activities during the Dr. Quinn years.
Several riders passed through as I took photos, which added to the authenticity of being at a set where so many stars had ridden. Paramount Ranch allows riders on many of the park's trails and through the Western town. Some trails have been named for the productions that used them. Local outfitters offer guided rides through the park, or bring your own mount. There is a large parking lot with space for trailers.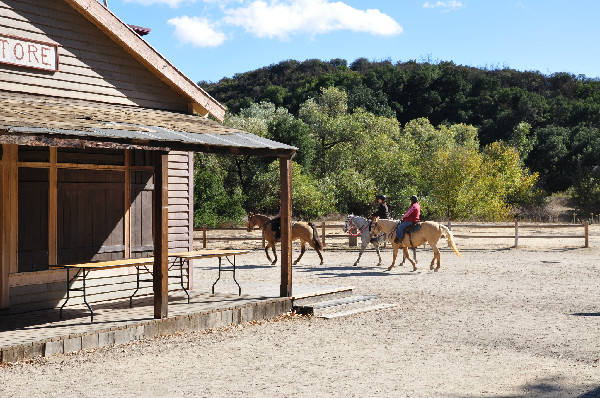 The equestrians passed the building that once acted as Hank's saloon on their way out of the Western town.
Whether you'd like to learn more about the history of the ranch that provided the setting for Streets of Laredo and Gunfight at O.K. Corral, race down the trail like Dr. Mike and Sully, or have a picnic on the lawn just like fictional families did after church on Sundays, Paramount Ranch is a worthwhile park to explore. Next time, I hope to visit on horseback, so I can canter to the site where Sully's homestead once stood and ride across the valleys for myself.

How you can go: Paramount Ranch is located at 2903 Cornell Road, Agoura Hills, CA 91301. Learn more and find maps at www.nps.gov/samo/planyourvisit/paramountranch.htm.

Karen Braschayko is a freelance writer and horse lover who lives in Michigan.