Horse Adoption Story: Megan Cavan and her ex-racehorse Cam
Equitrekking is featuring a new series called, "Horse Adoption Stories." This month we profile Megan Cavan and her OTTB (off-the-track-Thoroughbred) Cam. Megan shares her story about why she adopted Cam, who is the official Royal Champion TROTT horse.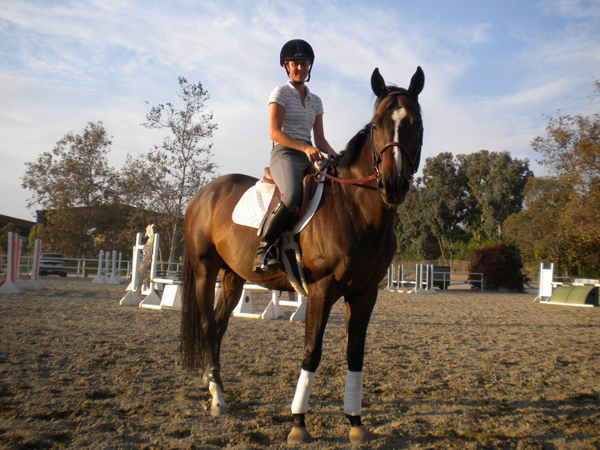 Megan Cavan and her OTTB, Cam
Raina Paucar for Equitrekking: What is your background with horses?
Megan Cavan: I have been riding horses since I was 6 years old. I grew up in Buffalo, New York showing hunter/jumpers on the East Coast. My first horse was an OTTB named Mr. Bojangles–– he was one of my best friends and taught me almost everything I know about training a Thoroughbred and general horse care.
I continued riding horses in college at West Virginia University, where I was the President of my equestrian team. I wouldn't trade the IHSA experience for anything. It makes one a stronger and more confident rider on any type of horse.
Equitrekking: How does your current work experience involve horses?
Megan Cavan: I am very fortunate to be working for Royal Champion Supplements; a horse supplement company, which manufactures complete nutritional supplements for horses. I am able to travel to horse shows and trade shows to represent the company, and I board my OTTB, Cam about 5 minutes away from the office.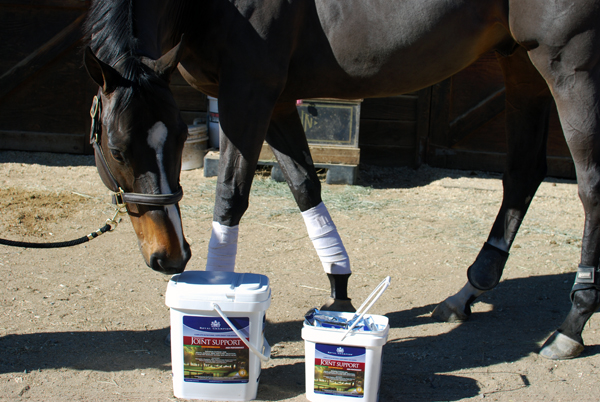 Cam doing some modeling for Royal Champion Supplements
Equitrekking: What made you decide on adopting an OTTB?
Megan Cavan: My background. I have a special place in my heart for OTTB's, and I absolutely love their versatility and personalities. I will always look to adopt a horse in need when I can. Cam is no exception. His personality is hysterical!
Equitrekking: How did you find your OTTB?
Megan Cavan: I found Cam through the TROTT (Training Racehorses Off The Track) Organization. TROTT is a non-profit organization which provides retired racehorses with new opportunities beyond the track. They rehabilitate and retrain these horses with a professional trainer before finding them a new home.
These horses deserve the very best and a happy life after racing. This organization proved to do a wonderful job finding these horses new homes. I have been very happy to get to work with such an organization.
Equitrekking: Why did you choose Cam?
Megan Cavan: Cam has stunning confirmation and is a beautiful mover on the flat. That's what first caught my attention.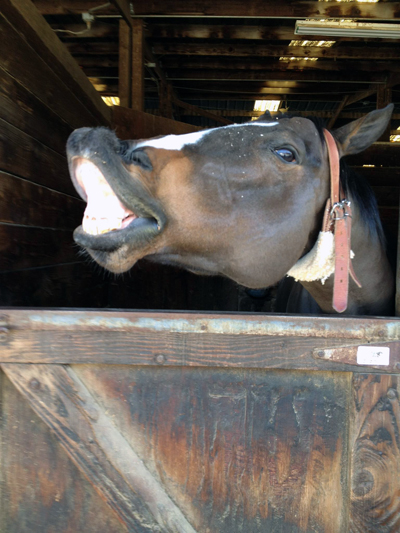 Cam displaying his playful personality
Equitrekking: How was the adjustment period for your OTTB from racetrack to barn?
Megan Cavan: Since Cam came from the TROTT Organization; I did not receive him right off of the track. He was in training for about a year before I adopted him. But for many OTTB's the stress of changing barns and relocation can be taxing on an OTTB. It can be a slow process to make sure that they are completely happy and comfortable in their new surroundings.
Equitrekking: What are you goals with Cam?
Megan Cavan: I would like to see him become a Hunter. We have started him over small fences and he stays quiet and patient before and after the fences. I like to mold horses to the discipline that best suits them, rather than force them into something that they don't want to do. As his training progresses, we will see where it takes him!
Equitrekking: Any regrets?
Megan Cavan: No regrets. I only wish I had more time in a day to spend with him!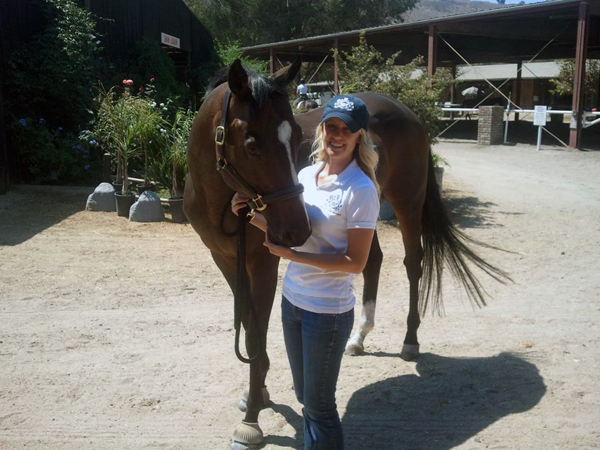 Megan and Cam, a successful adoption story
Equitrekking: Anything you'd like to share with someone considering adopting an OTTB?
Megan Cavan: Take your time determining where your horse will end up living, how you will train them, and what your goals are. OTTB's will teach you a lot along the way, so make sure you give them some slack–– as you may not exactly know their entire background. Don't get frustrated with them. They want to please you, but may not entirely understand what you are asking the first time around. Enjoy the ride!
You can follow Megan and Cam on Twitter at @equestrian_girl

If you have an adoption story you'd like to share, we'd love to hear from you! Please contact us at Equitrekking.

Considering adopting your own ex-racehorse? Here are some great rescue organizations with horses looking for their new home:
---

About the Author: Raina Paucar is an adventure loving equestrian and female jockey. She likes to ride and compete in many disciplines, explore new places, read great books, gadget hoard, play games, take pictures and write. She currently exercises racehorses and works with her own off-the-track-Thoroughbred (OTTB). Her career in media focuses on equestrian lifestyle. You can add her to your Google+ circles, subscribe on Facebook and follow on Twitter.