Horse Riding New Mexico- The Argentina Trail Loop Photo Journey
A New Mexico trail rider showcases a horseback ride on the Argentina Trail Loop near Ruidoso for the Equitrekking 50 State Trail Riding Project.
by "Dusty"
I am a very frequent rider of New Mexico trails––nearly every day. I share my rides with friends via emails I call my "Horse Journals." Those friends forward the emails on and now I get comments from people all over the world, most of whom have never been on a horse, but are able to ride vicariously through my journals.

One thing different about my rides is that I ride one horse and have two others at complete liberty. It allows us to enjoy the rides as a "family" -- and I get to see our ventures through the eyes (and actions) of horses who are able to make their own choices. We have a rare comradery.

Below is one recent trail, the Argentina Trail Loop that you may enjoy.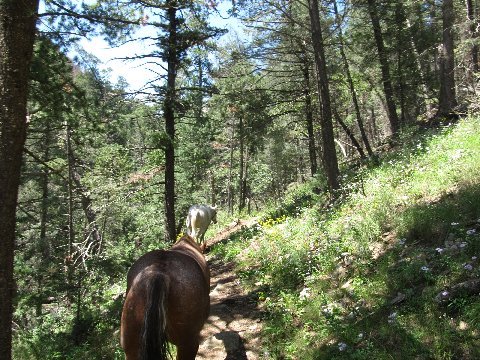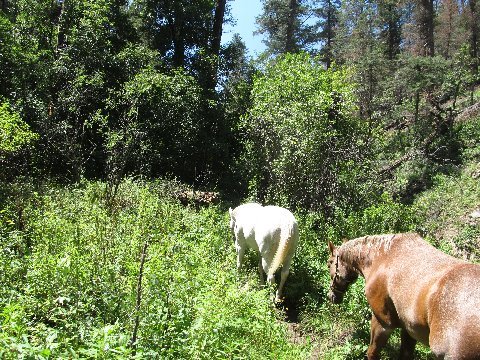 The Argentina Trail begins in the lower forest, and climbs to the high country -- perfect this time of year.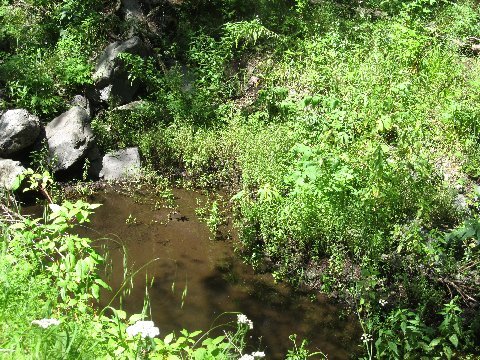 There is water along most of the way.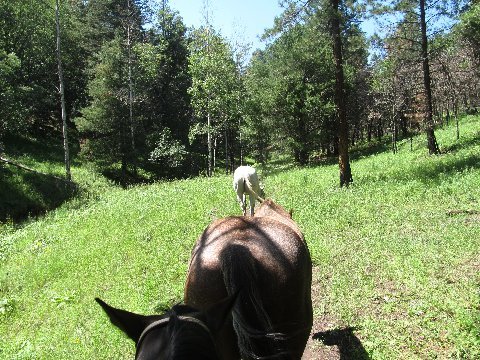 My companions. I figure we covered about 12 miles on this ride.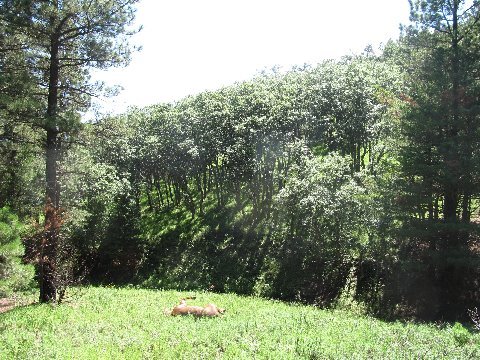 Spanky has a roll in the grass.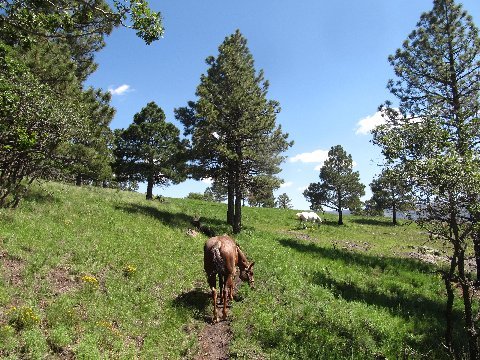 Still climbing; we go up several thousand feet in elevation.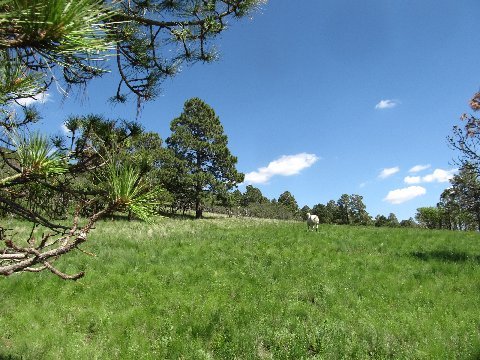 A high meadow.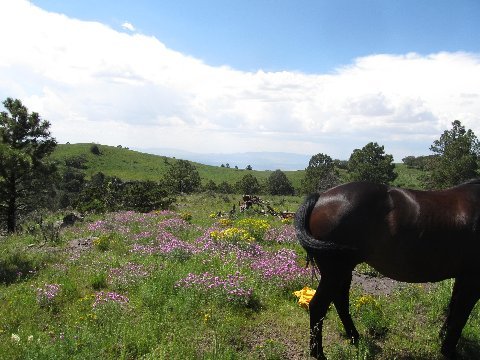 Still lots of flowers up here.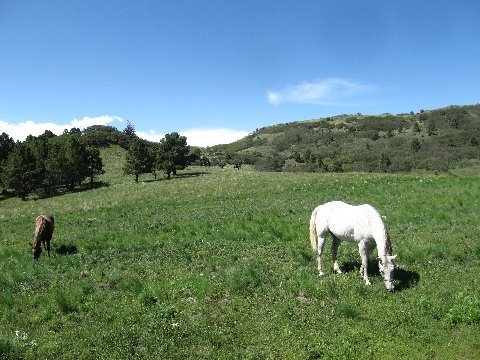 And good grazing.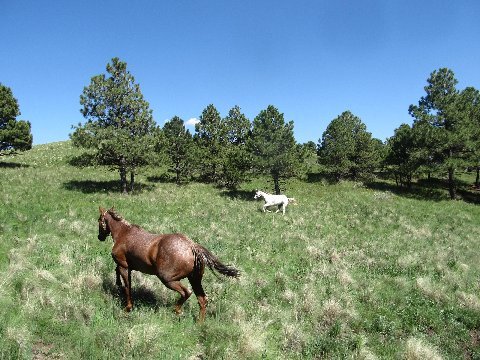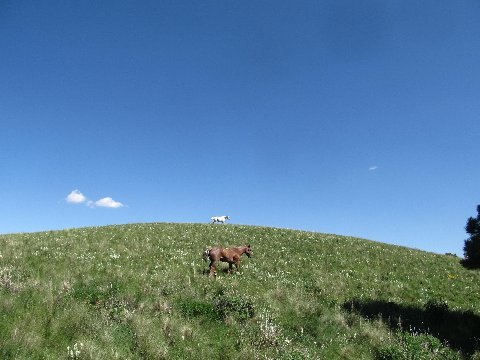 Thunder and Spanky race to the top.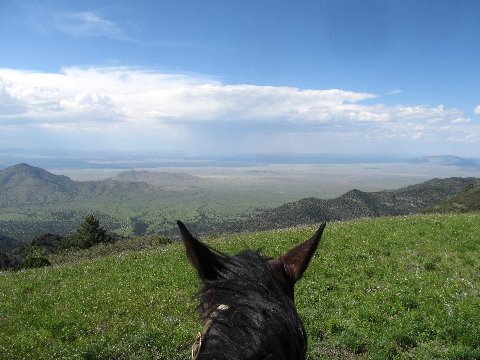 Belle takes in the view.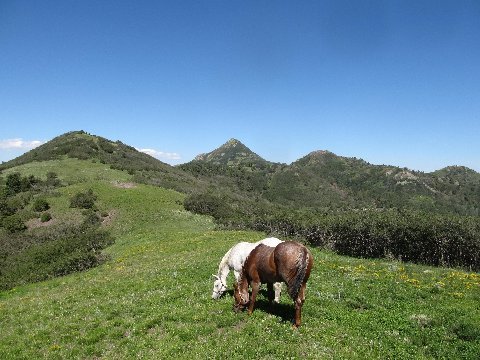 That's Nogal Peak in the distance.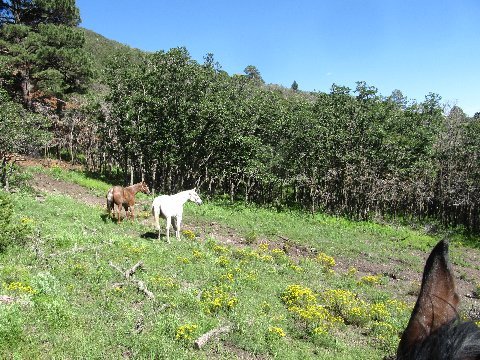 My horses spot a group of riders coming up the trail...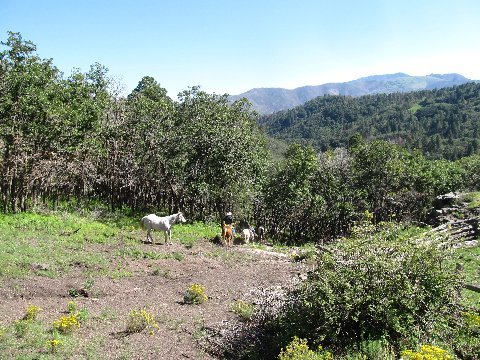 They let them pass, and wait for me to tell them where we are heading next.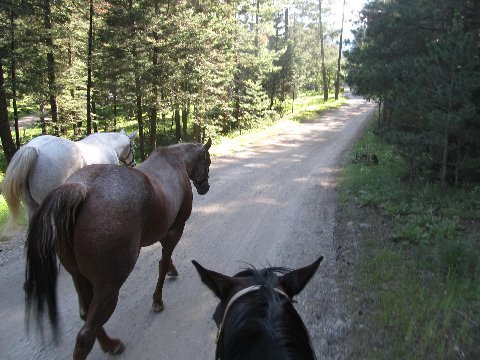 Back to the trailer; end of a great ride ride. Thank you for coming along!

How you can go: The Argentina -Turkey Canyon Trail Loop is approx. 7 miles long and of moderate difficulty. Animals should be in condition. There is seasonal water along the trail. This trail is good any time of year except when ice is present. Call the ranger station at (575) 257-4095 for more information.

From junction of Hwy. 48 (between Capitan and Ruidoso) and Hwy. 37, take Hwy. 37 approx. 2 miles N/W to Bonito Canyon Road (FR 107). Take FR 107 west (only way -- good gravel/paved road) approx. 6 miles (you will pass Bonito Lake); go to the end (you will also pass the trail head for Turkey Canyon Trail 40, which you will be riding back on. Just keep going to the end of the road.) At the end of the road (Argentina/Bonito Horse Campground) you will find a fine parking area for trailers, with pipe corrals and pit restrooms (no running water); easy turn around. There is a well-marked trail head for the Bonito Trail 36 (with an excellent map posted -- get your bearings here). You do not want to go down Trail 36 (well, you will someday, it is a great trail), but look hard right and you will see a short, steep, rocky trail -- this is the unofficial beginning of Argentina Trail 39. Just a few yards up the tough part and it levels out, with an identifying sign for Trail 39 (go left). Follow Trail 39 all the way up until you reach a split-rail fence protecting a (mostly dry) spring. Immediately at the split-rail fence, turn hard right up a short rocky area, to Trail 42 (Clear Water). You will take Trail 42 approx. 2 miles (beautiful plateau top riding) until you reach another split rail enclosure. At that split rail you will go hard right down Turkey Trail 40, back to FR 107, right the short distance to your trailer.

Please note: At the top portion of both Argentina Trail 39, and Turkey Canyon Trail 40, there are short stretches that are quite steep uphill, but most of the trail is gentle.

The Argentina/Bonito horse campground is terrific for overnight stays (four large pipe pens which can easily accommodate 2 horses each); but you must bring water and feed for you and your horses. No reservations.

I strongly suggest that you acquire the White Mountain Wilderness map from the Smokey Bear Ranger District Ruidoso Office (575) 257-4095 (in person or by mail).