Horse Riding Apache Country at Double E Ranch
I rode a Mexican Mustang named Pancho through areas that would have felt downright claustrophobic during the days of Apache reign.
by Darley Newman, originally published in her column in True West magazine
While astride Pancho in southwestern New Mexico beside the Gila National Forest, his hooves noisily splashing through Bear Creek's water, I stared at the lush vegetation along the creek and the canyon walls which rose up, locking in travelers on each side.

Settlers wouldn't have found many places to run to if the tough Chiricahua Apaches had attacked. The Apaches knew this rugged terrain much better than the newcomers who ranched and mined here, suffering through raids during the 18th century.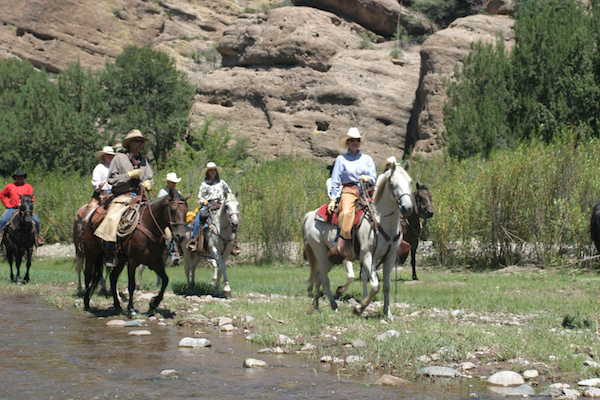 In addition to the Apache and Mogollon Indians, lion hunter Ben Lilly, ecologist Aldo Leopold and Geronimo trod through the Gila, our nation's oldest established wilderness area. I was riding here as a part of the Double E Ranch's Cowgirl Camp, where women get to experience the life of a cowgirl for a week.

We embarked on this trail ride after having moved some cattle through the Double E's tricky terrain, with its rocky footing and dense brush, juniper trees, mesquite and devil's claw. These trail obstructions give the cattle ample the chance to try to lose riders like me, who carefully navigate horses around the prickly plants while the cows barrel right through them.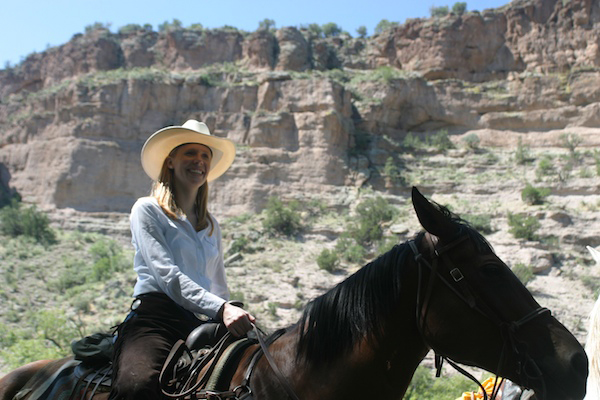 We cowgirls had an advantage in that horses can intimidate the cows. Alan Eggleston, who has owned the ranch with his wife Debbie since 1996, suggested that we each keep our horse's head pointed toward the cows to keep them in line. While riding at an easy pace, we let out some yelps intermixed with tongue trills—my favorite part—to keep the cattle moving along. I don't know how helpful our vocals were, but we sure had fun herding those cows.

The Double E Ranch is a real working ranch located on nearly 30,000 acres about 30 minutes from Silver City. I signed up for the ranch's Cowgirl Camp because trying something new with horses, especially well trained mounts that help you through the exercise, can be a real confidence booster.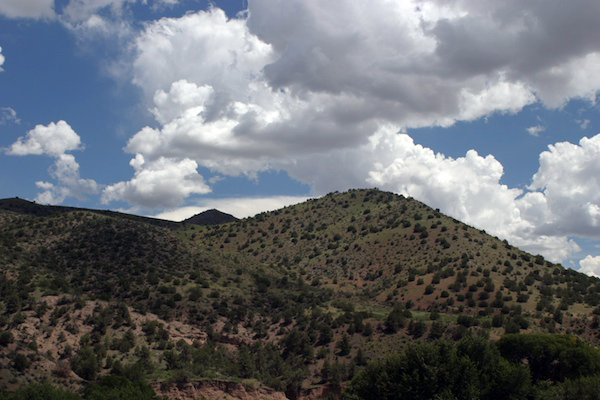 As part of your stay at the ranch, you can take part in the morning chores, including grooming and saddling your own horse. Don't worry if you need help at first, because by the end of the week, you'll be in top form. Some guests before us were helping out with morning chores and got to witness the birth of a calf. Those unexpected joys make staying at a working ranch so exciting.

The pros may make the job look easy, but being a cowgirl is downright tough, especially when it comes to roping. As Preston Johnson, an expert roper and cowboy, explained, one daily risks losing a finger while dallying. That's when you quickly wrap the rope around the saddle horn once a catch is made. You really don't want to catch a finger as you turn the rope!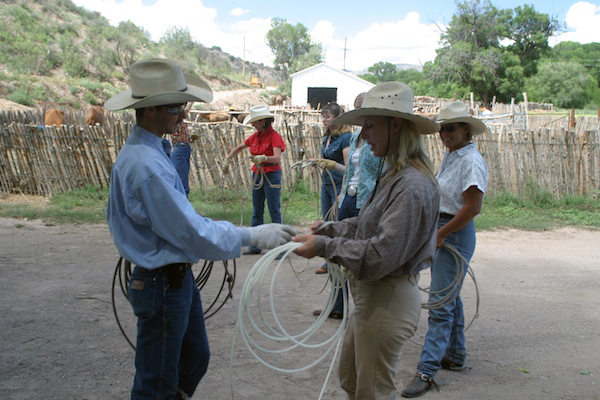 While standing in the shade of an oak tree, we women attempted to learn how to first coil the rope up and then wave our lasso in the air to catch the horns of a plastic steer a mere two feet away. My beginner's luck was on high, as I catapulted my lasso forwards and roped the steer's horns. Reeling it in was the tricky part. I could barely do it on foot and wondered how I would be able to catch a cow while riding a horse, which required holding the reins and steering.

The answer was that I wouldn't. In fact, I'm not sure that any of the ten women in our group actually roped a moving target once we were out in the arena with the cows. We sure did have a good time trying, while we trained as cowgirls in the rugged land of the Apache at the Double E.


This ranch closed to guests as of 2014. Learn more about New Mexico guest ranches in the Equitrekking Vacation Guide, a top guide to great dude ranches, working ranch vacations, cattle drives and worldwide riding holidays.