Horse Lover's Guide to New York City
Equestrian adventures in New York City? For sure they exist and they involve art, shopping, history and nature. Check out some horsey attractions in the Big Apple.
by Darley Newman
On a recent trip to New York City, I went to see an exhibit that I've been wanting to see for quite some time. In one of my favorite neighborhoods, Soho, I stopped by The Wild Horses of Sable Island Gallery. The visit caused me to wonder what other attractions for equestrians exist in New York City. Of late, we all know about the controversy over horse carriages in New York City, but what other equestrian experiences might travelers and New Yorkers enjoy?
Check out these equestrian adventures in the Big Apple and get ready to get horsey in NYC.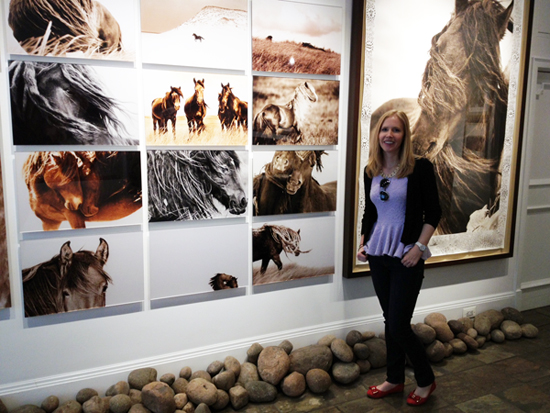 Me taking in a wall full of wild horses at The Wild Horses of Sable Island Gallery in Soho.
Horse Art in NYC
The Wild Horses of Sable Island Gallery
Touted as one of the longest running photography exhibits in New York City, Roberto Dutesco's images of beautiful manes flying and larger than life photos of horses make for a nice break between meetings or shopping in Soho, a trendy and fun NYC neighborhood. Dutesco captures the spirit of the horses on Sable Island, a small island southeast of Halifax, Nova Scotia, home to over 400 free-roaming horses.
64 Grand Street
New York, NY
Tel. (212) 219-9622

If you visit this gallery, I recommend also taking a walk over to Vosges Haut Chocolat (132 Spring St., nr. Greene St.; 212-625-2929) to taste a decadent chocolate truffle. It's one of my favorite chocolate shops!
New York City Fire Museum
This cool museum is housed in a renovated 1904 Beaux-Arts firehouse built for Engine Company 30. I was impressed by its collection of horse-drawn wagons and extensive history of fire fighting before mechanized vehicles. There are interesting historic photos and information about brave fire horses.
278 Spring Street
New York, NY, 10013
Tel. (212) 691-1303
The Metropolitan Museum of Art
In addition to its massive art collection and special exhibits, there are some not-to-miss horsey art and artifacts sprinkled throughout the MET. Look for the Edgar Degas bronze horse sculptures and Kunz Lochner's Armors for Man and Horse.
1000 Fifth Avenue
New York, New York 10028-0198
Tel. (212) 535-7710
Shopping for Equestrian Apparel in the City
Manhattan Saddlery
The only equestrian tack shop on the island of Manhattan, Manhattan Saddlery has been catering to New York equestrians and an increasing number of international horse lovers since the 1912. This pretty shop houses show clothing, saddles and gifts from high-end and well-established equestrian brands including Pikeur, DuBarry, Hunter, GPA, Barbour and Ariat. Close to Union Square, a great place for shopping and coffee, this is a fun place to stop for the English equestrian.
117 East 24th Street
New York, NY 10010
Tel. (212) 673-1400

Equestrian Statues
There are a variety of equestrian statues in New York City and close to Manhattan Saddlery in Union Square Park, one of the most famous is a bronze statue of U.S. President George Washington, modeled by Henry Kirke Brown. The first American equestrian sculpture cast in bronze, it is also the oldest sculpture in the New York City Parks collection. Union Square Park is bounded by 14th Street on the south, Union Square West on the west side, 17th Street on the north, and on the east Union Square East. There's a subway stop right at the park.

For a greater list of equestrian statues in New York City, check out this article on wikipedia.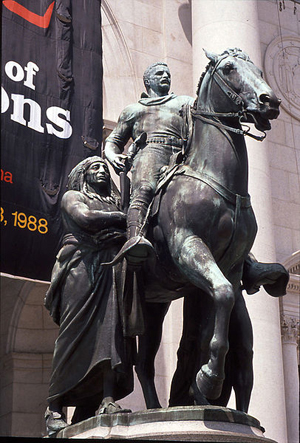 Equestrian Statue of Theodore Roosevelt by James Earle Fraser at the American Museum of Natural History, New York City.
Saddling Up in NYC
If you do want to saddle up in New York City, there are a few choices. At this point in time, you can no longer rent a horse to ride in Central Park. Claremont Stables, which used to allow riders to take a horse and take a spin on the bridle trails, closed several years ago. For other NYC riding venues, check out this list of New York City stables.

Have recommendations for more things to do for horse lovers in New York City, please let us know about them so we can enhance this blog post by connecting with @equitrekking on Facebook or Twitter and me @darleynewman.