Horse Camping Weekend at Camp Creek State Park in West Virginia
An Extended Horse Camping Weekend in Wild, Wonderful West Virginia at Camp Creek State Park & State Forest.
A beautiful horse camping facility named Double C Horse and Rider Campground is located in Camp Creek, West Virginia, situated within the Camp Creek State Park and State Forest. Reservations are required for this secluded and gated horse camping area separated from the rest of the park. Thirteen horse camping sites are available with open horse stalls and pens in a cul-de-dac surrounded by trees and bordered by a creek. Restrooms are also available.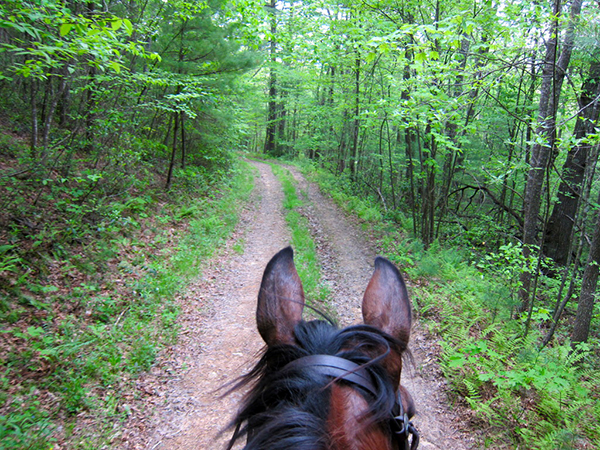 Between the ears and on the trails in West Virgina!
The park contains other family amenities and camping areas as well as a small camp store, playgrounds, picnic areas and outdoor ampitheatre. With the nearby creeks, fishing is also an option. The park is very well maintained and the park staff were very friendly. Trails were well marked with trail maps also available.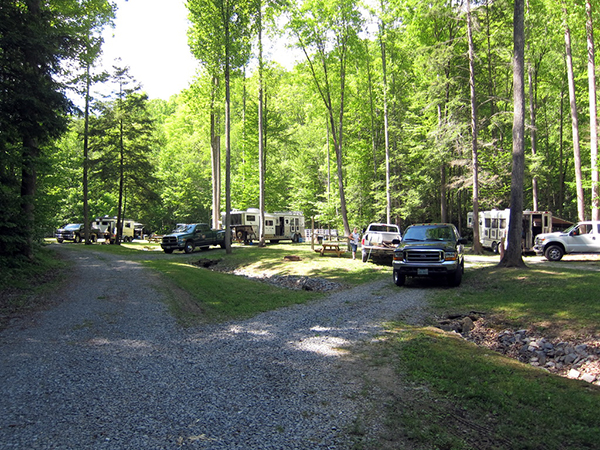 "Double C" Campground features access to around 25 miles of horse trails.
As the park's namesake suggests, there were many opportunities to view the creek and the lovely small waterfalls.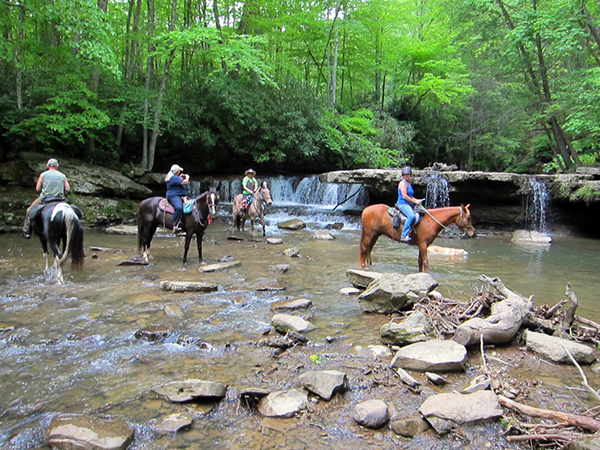 An oasis of waterfalls. Camp Creek State Park is located just 2 ½ miles off Interstate 77 at exit 20.
Because of all the creek crossings, horses should not be shy in crossing water. Our horses welcomed the frequent opportunities to quench their thirst.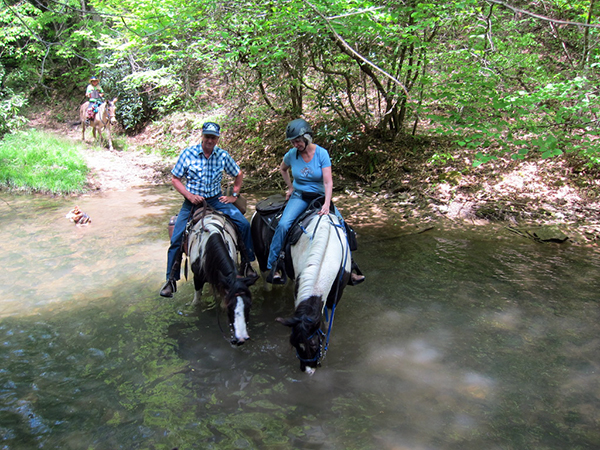 Taking a break at a creek crossing.
At another creek crossing area, riders took advantage of the pretty waterfalls for individual photos taken in front of the falls. The trails were mostly flat and easy going with the majority of the trails meandering under the shaded canopy of the forest trees which kept both horse and rider cool. This made it fun for our gaited horses to be able to move out.
Riders can choose from a variety of trails at Camp Creek State Park.
Other sites along the trails included a rustic outhouse, bright yellow azalea bushes and Lady Slipper flowers.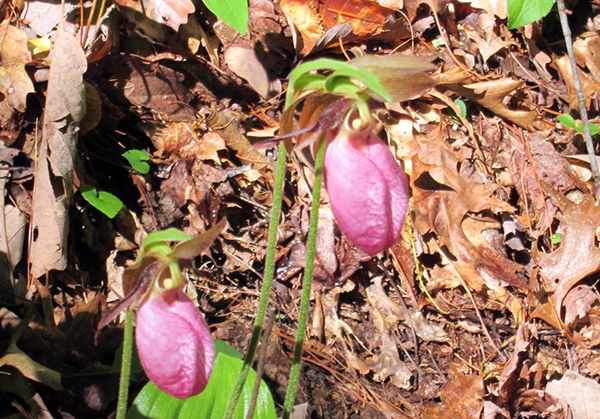 Lady slipper flowers on the trails.
One of the trails led us through a rich field of clovers, purposely planted as part of a Wildlife Management plan.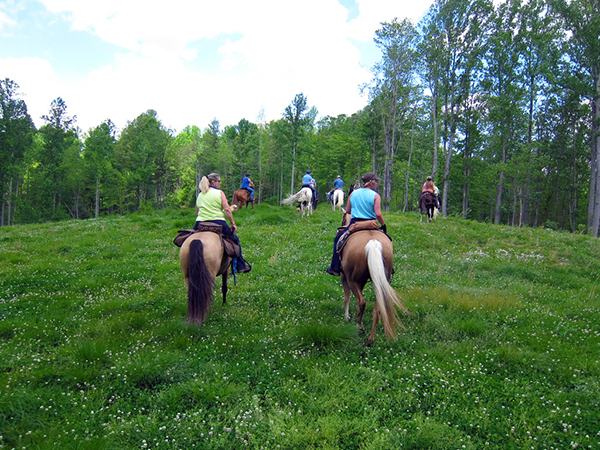 Riding through lush grass dotted with clovers.
Naturally, my horse "Sunday" couldn't resist snatching a mouthful of the fresh, sweet clover.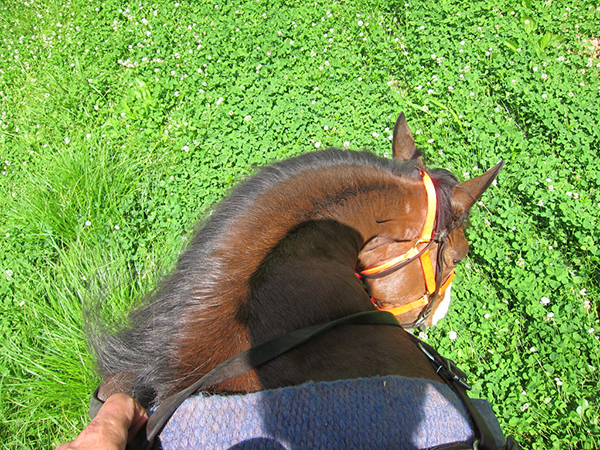 "Sunday" tasting the clover.
Back at the horse campground, we also had some excitement when a five foot black snake decided to cross the campsite. And with the weather being unnaturally cool and wet during our late spring stay in the mountains, we also experienced a small hail storm as seen by the evidence left on our camp mats. Regardless, it was a great horse camping and trail riding experience at Camp Creek and one that I would do again, given the opportunity.
About the Author: Susan St. Amand is a Board Member of the Shenandoah Trail Riding and Horseman's Association and employed with the Virginia Cooperative Extension as a 4-H Youth Program Assistant. She grew up in Northern Maine with horses on a farm and has been a transplant to Virginia for the past 25 years. She enjoys planning horse vacations with friends and has currently completed many rides in Maine, Pennsylvania, New York, West Virginia, Tennessee, North Carolina, as well as Virginia, trailering her own horse.