Homemade Colorado Horse Cookies
Make your own Colorado Horse Cookies for friends and family with horses (or your horse!), and you'll be a hit for the holidays!
We here at Equitrekking recently received a special gift from our friends at the Colorado Dude & Guest Ranch Association––Colorado Horse Cookies! The horses at our stables loved them, so we inquired about the recipe.
Making something for your friends and family for the holidays makes the gift all the more special. And for horse lovers, you get the added benefit of making their four-legged friend happy, too... or your own horse happy! Colorado is a state that's known for it's longtime dude ranches and great places to ride. We love that these homemade horse treats have the shape, color and style of the "C" on Colorado's state flag.
Enjoy this easy dude ranch recipe shared by the Colorado Dude & Guest Ranch Association and share a little Colorado ranch style this Christmas!
The Colorado Dude & Guest Ranch Association had a great idea using mason jars to package their cookies. Make your own label, grab a cute ribbon and you can put your own mark on your gifts this Christmas!
Colorado Horse Cookie Ingredients
2 Cups Whole Wheat Flour
1 Cup Rolled Oats
2 Carrots (processed)
1 Apple (processed)
1/4 cup Sugar (or Molasses)
2 T Corn Oil
Directions
Mix all ingredients. To get the red Colorado "C", mix a bit of red food coloring in part of the batch and Turmeric powder (yellow) in another part of the batch. Bake at 350 for 20 minutes.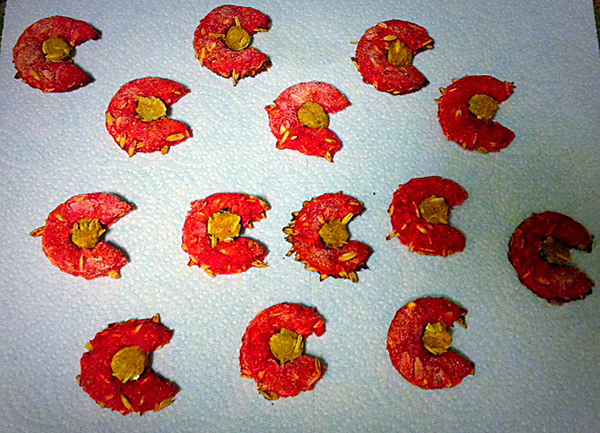 Colorado's state flag has a circular red "C", filled with a golden disk, just like these horse cookies.
Learn more about the Colorado Dude & Guest Ranch Association, which has been connecting families with ranches since 1934. Each of the dude ranches located throughout the mountains and mesas of Colorado must meet strict standards of excellence in order to maintain membership in the Association and are regularly inspected.