Hawaii Horseback Riding Stables on the Big Island
Vacationing on Hawaii's Big Island? Here are your best options for horseback riding adventures on your travels.
by Darley Newman
On Hawaii's Big Island, you can horse ride at working ranches overlooking the bright blue Pacific Ocean or in lush valleys. Saddling up with the locals is a great way to experience an active, family friendly adventure and the Big Island's paniolo–– cowboy culture.
Here are three great places to horse ride on the Big Island.
Kahua Ranch Horse Riding Tours

Ride the hilly landscapes of the Kohala Mountains at historic Kahua Ranch, a 12,000 acre working cattle and sheep ranch. You'll take in panoramic views of the bright blue Pacific Ocean as you ride the grassy, open range. You won't be riding nose to tail and might be allowed to canter, according to your riding ability and the guide's discretion.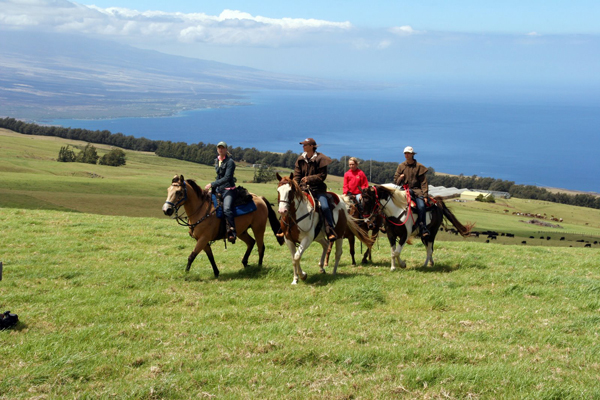 Kahua Ranch, located in the Kohala Mountains, was established in 1850. It is one of the oldest and most diversified ranches in Hawaii. The top of the ranch is a wet native rainforest. Green pastures slope down to rocky dry lands dotted with ancient ruins of agricultural sites. In fact these lower lands were once densely populated up until the 1850's. The introduction of cattle and upheaval in traditional land use patterns put an end to this era.
Kahua's paniolos, Hawaiian cowboys, are from old Hawaiian families that have lived on the ranch for many generations. The paniolo of today has adapted his traditional skill to the 21st century, managing herds of Angus and Hereford cattle, and flocks of sheep in neat rotational grazing patterns across the lush slopes of extinct volcanic cinder cones.


Learn more at Na'alapa Stables website, who leads the horse riding tours at Kahua Ranch.

Ponoholo Ranch Horseback Riding

Take a challenging ride at a ranch on Kohala Mountain. The Ponoholo Ranch is one of the most beautiful ranches on the Big Island. This 11,000 acre cattle ranch covers three climate zones stretching from the rainforest at 4,800 feet to the ocean.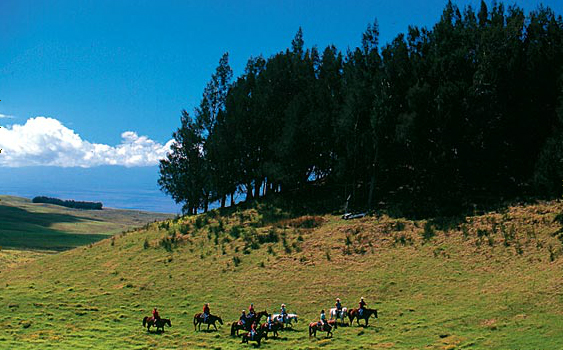 This ranch offers longer rides suitable for intermediate and advanced riders who want to trot and canter, as well as rides for less experienced folks. The ranch also offers picnic rides, sunset horse rides and custom adventures.
Learn more at the Ponoholo Ranch website.
Waipi'o Valley Horse Riding Tours
Be on the lookout the state of Hawaii's only wild horses on this trip through a lush tropical paradise of jungle trails, fresh water streams, taro fields, magnificent waterfalls and incredible vistas in the Valley of the Kings, one of the most historic and spiritual areas of the Big Island.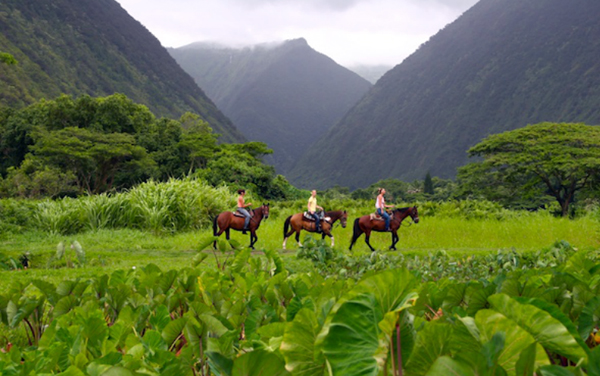 If you sign up for this riding tour with Na'alapa Stables, you'll be driven into this remote valley down a steep road that requires 4WD. Once in the valley, water is everywhere, making hiking and riding are your best methods of transportation. Cross rivers, pick exotic Chinese grapefruit from the trees and hear from a local about life off the grid in Waipi'o Valley, the Valley of the Kings. The total riding time when I took this ride was 1.5 hours and transport in and out of the valley in the 4WD vehicle took about 1 hour.
Waipi'o is the southernmost valley on the Hamakua Coast. It is known as the Valley of the Kings because so many important rulers came into power here. Between the thirteenth and seventeenth centuries, thousands of Hawaiians made this fertile valley their home, living off the land and growing taro, a plant whose roots are crushed to make poi, a Hawaiian staple starch. In the late 1800s, horses were brought into the valley to help cultivate taro and do other work. This quiet farming community was devastated in 1946 when a tsunami swept through the valley, wreaking destruction and driving out most of the valley's residents. Between the tsunami and the displacement of horses by motor vehicles, Waipi'o's local herds were reduced to only a small wild group that locals call Hawaiian horses. Today about fifty residents populate the valley.
Sherri Hannum, a long time resident of Waipi'o, began Na'alapa Stables over twenty years ago. The stables and riding tours spring from her fascination with Waipi'o's history and beauty and her love of horses. Na'alapa is the name of a sheer waterfall on the far side of the valley. Today Waipi'o's Na'alapa Stable is a favorite island activity for those who want to get off the beaten trail on the Big Island.
The horses you'll ride in Waipi'o are all from local Waipi'o stock. The riding guides, including Sherri's daughter Maile, are well versed in Waipi'o's legends and lore.
Learn more at Na'alapa Stables website.

When planning your next horseback riding trip to Hawaii, consider checking out Hawaiian Beach Rentals. Renting a place can often be more personal and offer a more "local" feel than staying in a hotel.
Please check the above websites for the most up to date information. Enjoy your rides on Hawaii's Big Island!