Hawaii- Kauai Horseback Riding Adventures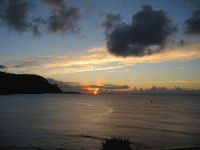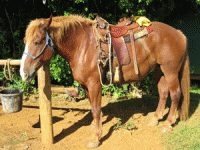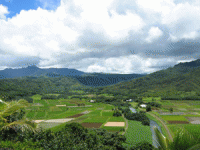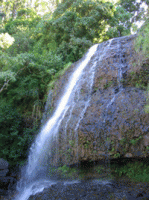 A rider reviews horse riding at Princeville Ranch on Kauai
It doesn't take much to lose yourself and forget time altogether in Hawaii, and for most, that's the idea. Few trips have been more memorable than the ten glorious days I spent there in the summer of 2004. After three days in Oahu, my girlfriend at the time and I island hopped to Kauai where we would spend the remaining week of our trip. Kauai, known as the garden island, is a lush paradise ideal for those looking to get away from it all to embrace natural beauty as well as the slow savory pace of island living. It's also a great place to see from the saddle.

Having made the decision to spoil ourselves, we checked in to the Princeville Hotel on Kauai's north shore. The hotel is the epitome of luxury and decadence and sits on the coastal hillside facing clear aqua blue waters and the majestic Nepali cliffs. Though many of the hotels guests found bliss without ever abandoning the hotel's private beach or its five star amenities, I was determined to see and experience as much as possible.

Since much of Kauai remains undeveloped and privately owned, the thing to do is get off the main roads and explore some of the numerous trails which wind their way inland or along the coast. Though there are a wide variety of hikes that you can take solo or with a guide, I found the idea of touring on horseback to be the most appealing. Having thoroughly interrogated our hotel's concierge, we opted to take a tour offered by Princeville Ranch Stables.

After a short ten-minute drive, we arrived at the stables and were greeted by two amicable guides who showed us the ropes. The guides were professional, efficient and had us outfitted and in our saddles in no time. My horse, Mauca, was enormous. Given that I am a novice rider, I was initially intimidated. However, after a quick brush up with one of the guides, I began to feel more comfortable.

Riding western style, I was entranced by the rolling green hills that crept along and ascended into mountain ridges in the distance. As we gained altitude, the powerful blue ocean could also be seen lapping at the island's shores. Seemingly oblivious to our surroundings, Mauca trudged forward at an even pace and gave in to stopping for pictures and water breaks after a few tugs on the reins. His gentle demeanor and quick responsiveness to my lackluster riding helped to further allay my fears.

After an hour of comfortable riding we found ourselves out of the green pastures and back in the brush. A series of wooden posts in a miniature cul de sac indicated our riding would temporarily come to a halt. We dismounted, tied our horses and began to descend a single track trail that would lead us to a much deserved lunch.

As we hiked down through the switchback trail, the sound of running water intensified. A few short minutes later, we emerged from the woods to face an eighty-foot waterfall, which cascaded down a large gray rock face into a dark pool below. Hot from the mid-day sun, we donned swim trunks and swimsuits and dove in. It was well worth the wait. The cool water was infinitely refreshing and we were able to swim right up to the falls and shower off. The experience was accentuated by an ample supply of sandwiches, fresh fruit and cookies. Clean, refreshed and amply satiated we packed up and resumed our journey.

We took a different route back through the forest on a steeper trail towards the horses. Various ropes, steps and other man made hand and foot holds, lined the route and proved indispensable for a few technical points of ascent. It was not long before we found our way back to our horses. Mauca seemed happy to see us, and eager to finish his long day's work.

The ride back to the ranch was equally pleasant, allowing us revisit the stunning vistas and lush countryside of Kauai we had seen earlier. By the time it was over I was ready to dismount and return to the comfort of the private beach and another mesmerizing sunset. Though we experienced a number of wonderful activities on our trip including snorkeling, a helicopter ride, beach trips, and excursions to various quaint and charming surfer towns, this ride stood out as one of the best. I would recommend it to any novice or intermediate rider.