Haunted Ranches & Castles for Horseback Riding If You Dare
In honor Halloween and those who love "Ghost Hunters," check out these two great places to enjoy a horseback riding vacation... that just may be haunted!
After visiting ranch and riding vacation destinations for over a decade, you can bet that I've come across some haunted dude ranches and riding destinations. While I'm not one to scare easily, there were a few instances at these holiday spots where fright of the paranormal got the best of me and even I might have believed I'd seen or felt a ghost. When dreams of galloping away by night roll into real life dreams come true galloping through the countryside by day, you know you've landed in an unusual equestrian vacation destination.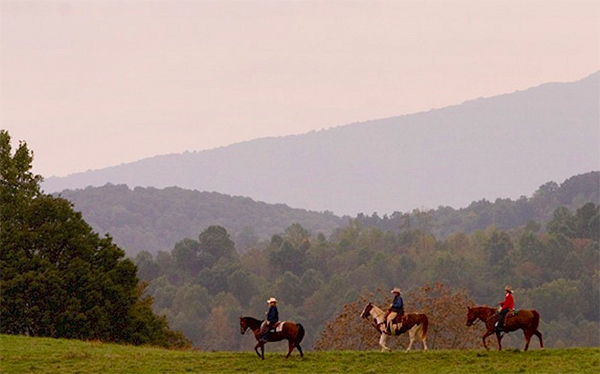 Head to the mountains to ride with Marriott Ranch and with potential ghosts!
Marriott Ranch, Virginia
Riding at an East Coast ranch where Longhorn cattle graze is unusual enough, but add in a ghost named Hester and you're in for quite the riding vacation. Less than sixty miles outside Washington, D.C. in the foothills of the Blue Ridge Mountains, Marriott Ranch welcomes travelers to participate in cattle drives, trail rides and enjoy playing cowboy in a stunning part of Virginia. Known by many as a "haunted dude ranch," the riding here is so good, we recommend that you don't stay away.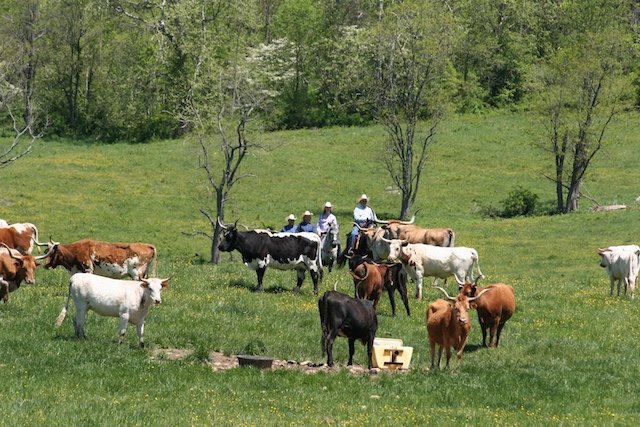 Riding with Longhorns in Virignia.
The ranch is steeped in history, as is the Inn at Fairfield Farm, the B&B where you can stay while riding here. When I first arrived, Joe led me to my room in the main inn. He told me that my room was reputed to be haunted by a ghost named Hester, whose picture happened to be above my bed. Just great, I thought, as I stared at the painting and wondered if Hester might awake me with noises in the night...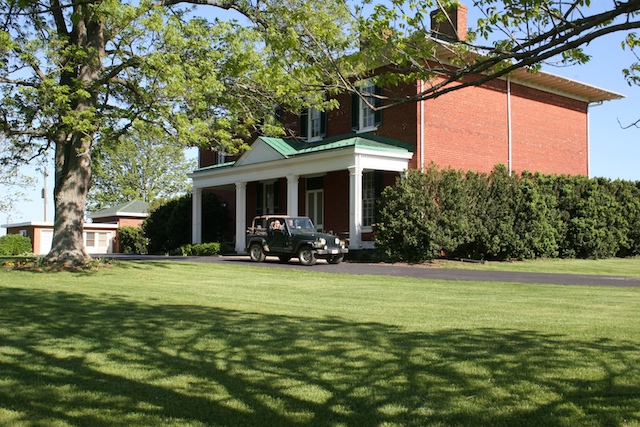 The Inn at Fairfield Farm is the "haunted" inn where guests stay.
The Inn was built in 1814 by James Marshall, brother of the first Chief Justice of the United States. In 1939, a Belgian Baroness escaping the Nazis lived in what's now called the Baroness Cottage, and when Mr. Marriott took over the property, Roy Rogers and Presidents Reagan and Eisenhower, and other world leaders would come to experience life on the range. Lots of diverse history can sometimes mean lots of opportunties for hauntings!
Castle Leslie, Ireland
If you want diversity in your hauntings, head to Castle Leslie in Ireland, where you can meet a Casper-type apparition, a fright-inspiring monk, a crying child, bells ringing on their own or Lady Constance Leslie, depending on your room choice. This castle, still owned and run by its founding family, makes for a dream equestrian holiday. Walking inside the castle with its individually decorated rooms and priceless antiques, you may see why. This is the castle that's welcomed the rich and famous throughout history and where Sir Paul McCartney wed Heather Mills. It is also destinations chosen by the UK show "Ghosthunters" for their filming.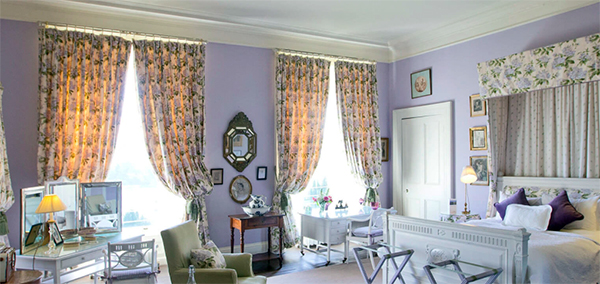 Castle Leslie's Mauve Room, which is reputed to be haunted.
There are twenty rooms inside the castle and reports on haunted rooms range. Guests who dare can stay in the Mauve Room thought to have paranormal activity from its former occupant, Lady Constance Leslie. The Mauve Room, also called The Royal Suite, has welcomed Queen Margaret of Sweden, The Duke and Duchess of Connaught (Queen Victoria's favourite son, and also Desmond Leslie's godfather), Prince Pierre of Monaco and Prince Kessee. I guess they weren't scared off by Lady Constance Leslie!
Those who have slept in the Red Room have reported seeing a ghost named Norman who perished in battle during World War I shuffling paper and telling guests who are making too much noise to quiet down.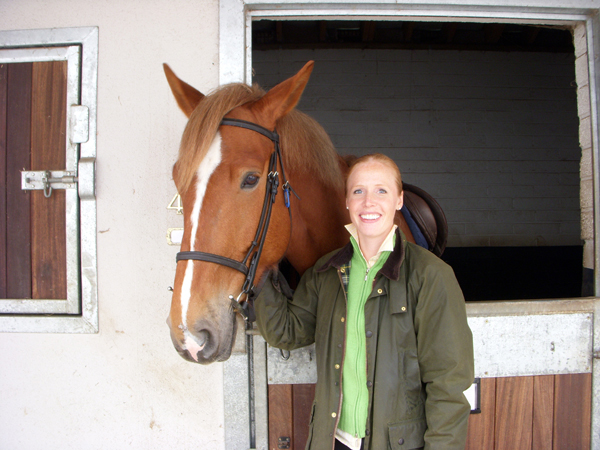 My friendly mount at Castle Leslie must have kept the ghosts away or tired me out, so I slept like a baby.
Now when I stayed there, I didn't have a ghost encounter, but perhaps I was so tired after my full days of galloping around the three lakes, rolling parkland and cross country obstacles on the property.
Learn about more great places to stay and ride in the Equitrekking Vacation Guide, through our Travel Deals page and Top20Ranches.com.