Three Great Wilderness Dude Ranches- #1 T Cross Ranch
Looking to truly get away from it all on your next dude ranch vacation? Unplug and get deep into the great outdoors at these remote dude ranches.
Dude ranches offer the perfect setting to get away from it all. While some dude ranches are located in convenient locations, others are more remote, making for star filled night skies, wildlife viewing and relaxation in nature. At these North American dude ranches, leave your cell phone and computer behind and spend days horseback riding, catching a fish for dinner or relaxing with a book on the front porch of a log cabin.
Check out three great wilderness dude ranches, starting with T Cross Ranch.
#1- T Cross Ranch
T Cross Ranch an authentic dude ranch in the beautiful Shoshone National Forest two hours east of Jackson Hole. While at this historic dude ranch, guests enjoy horseback riding, fly fishing, relaxation in the great outdoors and short pack trips that can be incorporated into your stay or tacked onto the beginning or end of your vacation at the ranch in July and August, giving you a taste of the Wyoming wilderness.
The ranch, a member of the Dude Ranchers' Association and the Wyoming Dude Ranchers Association, has been family owned since it was first opened in 1918, when it was called the Hermitage. It began as a hunting and fishing camp, later evolving into the guest ranch of today. Today the owners maintain the proud heritage of this guest ranch. Both Mark and Gretchen were born into the rich tradition of ranching and outfitting. Together they are raising Kameron Alayna and Ethan Marcus Cardall – the fourth generation.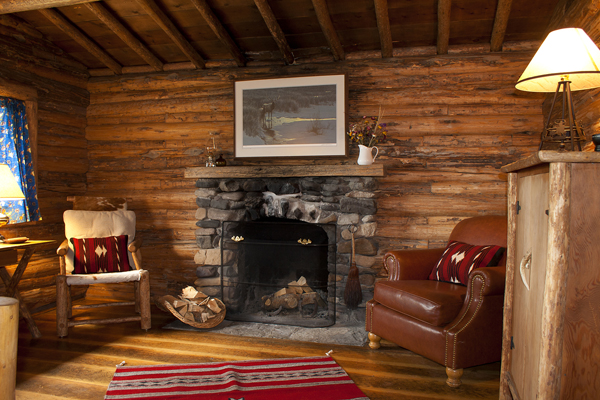 Despite 90 years in operation, the ranch is well preserved and maintains much of its original character, continuing to offer unforgettable experiences and motivating generations of families to return.

Once you cross the main gate, you've left the modern world behind and magically stepped back into the old West with the rugged and beautiful Absaroka Mountains and historic ranch buildings nestled in a quiet, secluded meadow. This is old school, traditional guest ranching at its best.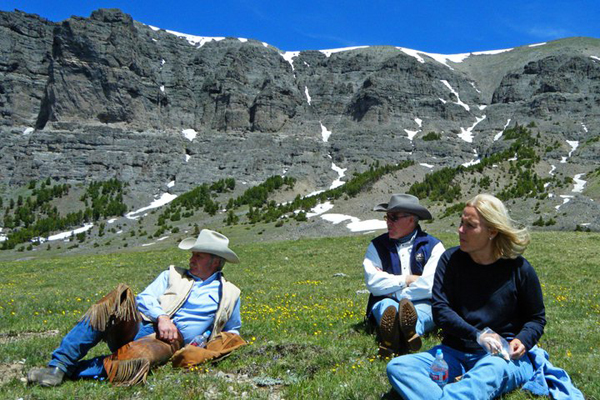 Talk about a pretty rest stop! A day-long horseback ride takes guests to lunch at the feet of the iconic Ramshorn peak in the Absaroka Mountain Range.

The ranch has been on a conservation easement since 1978 to ensure that this beautiful place always stays in its original setting. A vacation spot that is unspoiled and environmentally friendly, you will have the original "green" vacation, either by spending a week at the ranch and trail riding daily and enjoying evening entertainment, or taking off on an authentic pack trip.
Learn about the original dude ranch guests from Ken Neal of T Cross Ranch.
The ranch lies at an elevation of 7,800 feet and very much off the beaten path. Guests enjoy a calm and peaceful way of living, without modern day distractions. There is no TV, phone and no cell phone service here. Ride out in a different direction each day and you'll be rewarded with unforgettable views, abundant wildflowers, and a variety of bird life, as the rugged mountain trails reveal a myriad of wildlife, seen only in the greater Yellowstone area.
Your hosts will help you discover a pristine wilderness and untouched country of pine forests and open meadows, trout-rich streams and small lakes, and endless vistas rising well over 11,000 feet.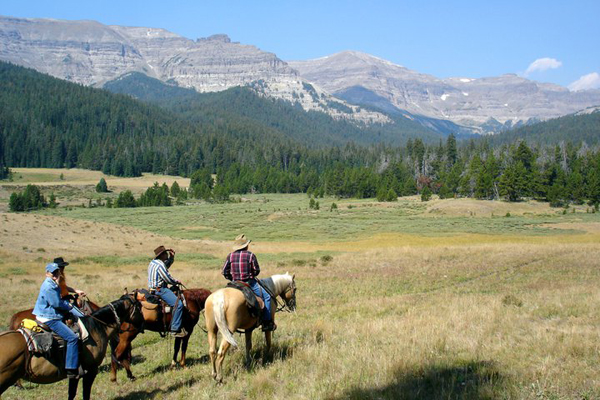 T Cross guests admire the view in lower Ramshorn Basin while looking into the peaks they will be ascending.
The nearest town is Dubois, Wyoming, set in the upper Wind River Valley. Not much has changed in Dubois since frontier times. Butch Cassidy's haunting Dubois Badlands rise to the east, the stark, stunning Absaroka Range to the north, and the majestic Wind River Range to the south. Main Street, still appointed with boardwalks, yielding a taste of Wyoming's Old West flavor. Log buildings, saloons, charming shops, and even tipis welcome the visitors to relax and enjoy the Western flavor. Often called the Gateway to Yellowstone, Dubois is located a short drive from Yellowstone's South entrance, along one of the old trapper routes to the Jackson Hole country. It is in the heart of some of the state's best hunting and fishing country.
T Cross Ranch offers customized short pack trips during the summer months. These may be incorporated into your week at the ranch, but if you don't want to miss out on any ranch activities, you might consider adding this on before or after your week stay.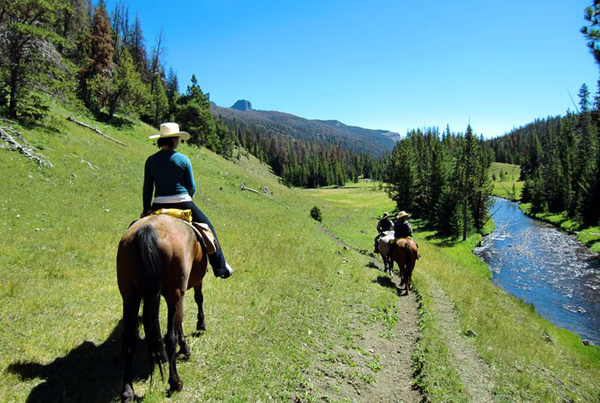 Riding along the banks of Horse Creek, which runs through the ranch property and is a popular spot for fly fishing.
These pack trips allow you to experience the Wyoming wilderness and get away from it all. Ride all day amid high mountain peaks and return to your mountain camp at night to enjoy the crackle of a campfire. Admire a scenic vista by taking in the Tetons, Cody Country, views across to Wind River Valley, mountains and dramatic cliffs. Toss rocks in a clear lake, and relish the morning's frosty sunrise. Whether you are a first timer or a veteran, these pack trips allow you to ride up to 11,600 in elevation and ride according to your schedule.
The ranch supplies all camp gear, including sleeping bags, air mattresses and tents, food, riding and pack horses, wranglers, and guides. You'll sleep in a heavy canvas tent that you can stand up in. You'll sleep on an air mattresses in a sleeping bag provided by the ranch. Each rider should bring a small duffle with personal gear that a pack horse can carry along with a washcloth/small towel, personal toiletries, a flashlight, and fly fishing gear if desired. Overnight camps are at high altitudes, so nights and mornings can be below freezing in the middle of the summer.

How you can go: Visit T Cross Ranch's website to learn more. Learn more and check out great photo galleries on T Cross' page in the Equitrekking Vacation Guide and at Top20Ranches.com.
Learn more about great dude ranches, guest ranches, cattle drives and wilderness pack trips in the Equitrekking Vacation Guide and our top picks for ranches at Top20Ranches.com.