Three Great Wilderness Dude Ranches- #2 Rancho Los Baños
Want a true adventure vacation on horseback? Check out three great wilderness dude ranches, where you can ride free in the great outdoors, including an off-the-grid Mexico adventure guest ranch.
Rancho Los Baños is a 30,000 acre budget-friendly, eco-adventure guest ranch, located in northeast Sonora, Mexico. To get to Rancho Los Banos from Tucson, guests have an approximately three and a half hour drive over 175 miles. Traveling from Douglas, which is 55 miles north, takes about an hour and 45 minutes by car.
This guest ranch offers immersion in pristine wilderness and a true off-the-grid experience (no internet or cell phone reception). The vast and scenic guest ranch has a wide range of adventures from which to choose, including world-class horseback riding and hiking.
If you're looking for rugged desert horse rides, cattle work and an authentic Mexican ranch experience, read on.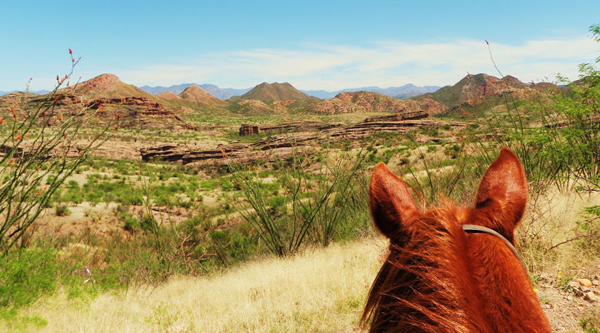 Horseback ride through areas full of desert palm trees, organ pipe cacti, ocotillo forests, and sycamore canopies.
Positioned at the foot of the Sierra Madre, the Mexican Rockies, Tierra Chamahua Eco Adventures at Rancho Los Baños mixes traditional guest ranch activities with sustainable tourism, nature and adventure travel. Located in mountains of the northeastern Sonora state, the ranch ranges in elevation from 7,400 feet above sea level in the northern border to 3,200 feet in the southern canyon country, which includes the stunning El Cajon Canyon.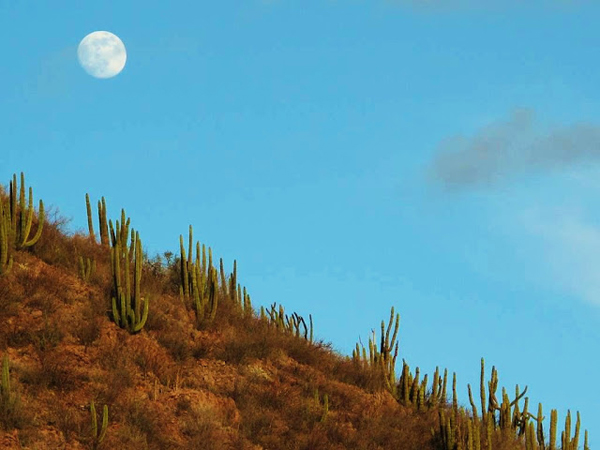 Horse ride inside boxed canyons, river beds, vertical and rocky mountains, high elevation terrains and rolling foothills dressed in golden grass.
While many guests travel to horse ride on this, one of the largest ranches in Northern Mexico, others visit this ranch for wildlife viewing, hiking, kayaking, geocaching, camping, fly fishing, canyoneering, jeep tours or to simply relax amid the high Sonoran and Chihuahuan Desert landscapes.
The backcountry riding terrain is untamed, with whimsical canyons, daring cliffs and rocky river beds. Guests may spot bobcats, foxes, coyotes, ocelot, ring-tail cat, and a small number of black bear in the higher elevations.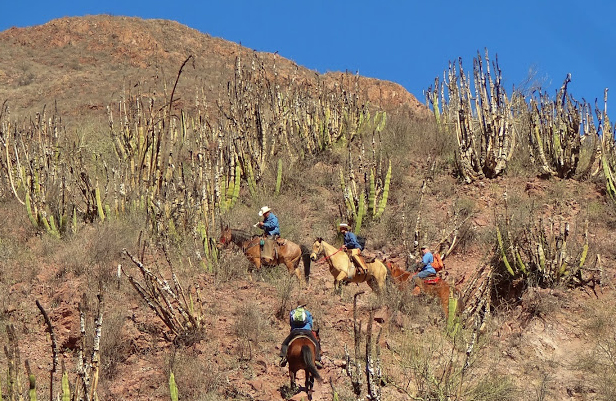 Talk about challenging backcountry horse riding! Horseback riding at this Mexican guest ranch ranges from short rides to five to six hour treks.
Horseback rides are led by vaqueros-- Mexican cowboys. There are many opportunities to explore on horseback on this Mexico ranch vacation with around 80 miles of dirt roads, and hundreds of miles of trails.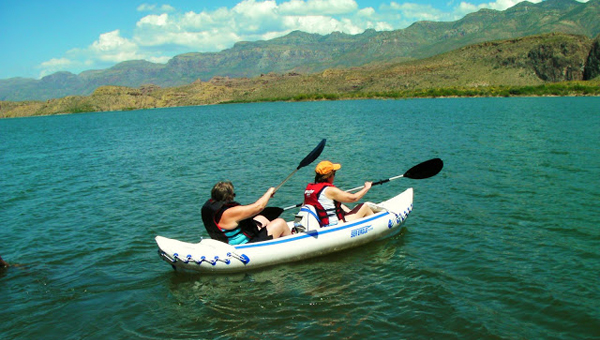 Kayaking on Lake Angostura, hiking, canyoneering, adventure running and more are offered at this adventure ranch.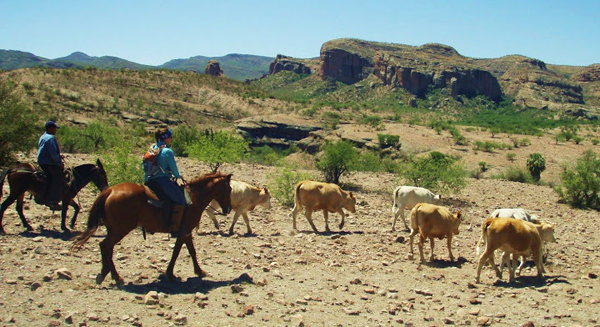 Participate in an authentic Mexican cattle drive at this working ranch through rugged landscapes that go on for miles.

This guest ranch was started by the Valenzuela family, who begin cattle ranching back to the early 20th century. They purchased the land and started Rancho Los Banos in the early 1950's. Today, the third generation of the Valenzuela family still runs Rancho Los Banos and Tierra Chamahua EcoAdventures. They are seeking to create a new-age ranch vacation, where horse riding is still at the core, but other activities abound, perserving their land and a unique way of life.

How you can go: Visit Rancho Los Banos to learn more. Learn more and check out great photo galleries on the Rancho Los Banos page in the Equitrekking Vacation Guide.
Check out our third great wilderness dude ranch- Elk Mountain Ranch.
Learn more about great dude ranches, guest ranches, cattle drives and wilderness pack trips in the Equitrekking Vacation Guide and our top picks for ranches at Top20Ranches.com.