Three Great Wilderness Dude Ranches- #3 Elk Mountain Ranch
Experience a high altitude horseback riding adventure at Colorado's Elk Mountain Ranch, one of three great wilderness dude ranches.
Located in Buena Vista, Colorado in the remote heart of the Rockies in central Colorado, Elk Mountain Ranch is a guest ranch with high wilderness charm. A two hour drive from Denver or Colorado Springs, guests end their trip following a 10-mile dirt road to get to this all-inclusive family ranch vacation destination.
Buena Vista is known for having the largest collection of peaks over 14,000 feet, so you can imagine that the scenery at this remote ranch is spectacular. Plus, it's Colorado's highest guest ranch at 9,600 feet.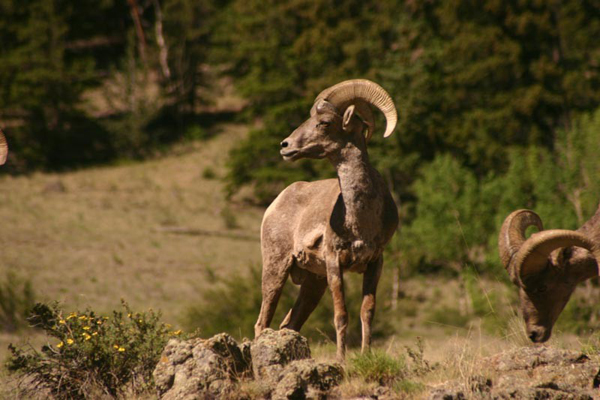 Ranch guests may spot bighorn sheep, a species of sheep in North America named for its large horns.
The ranch is surrounded by the San Isabel National Forest, which holds 19 of the state's 54 fourteeners, peaks over 14,000 feet high. Mount Elbert, the highest point in Colorado, lies here.
Horseback rides walk, trot and canter into the backcountry to view mountain peaks, the wildflower-laden Arkansas Valley, Aspen and Evergreen forests and wildlife. Elk and deer herds, bighorn sheep, mountain goats, and antelope may be seen.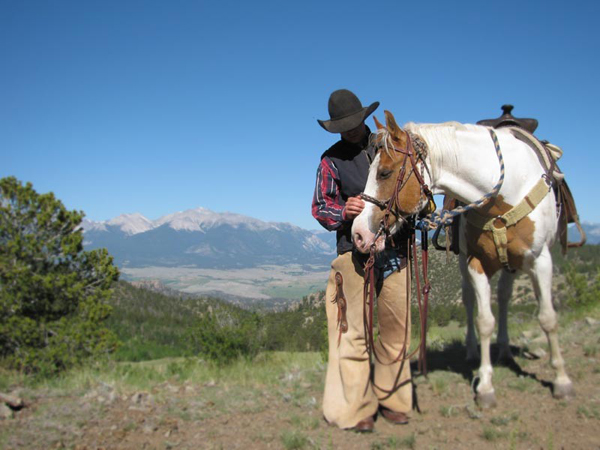 Horses are selected by ranch wranglers to match each guest's size and riding experience.
With only 30 guests, this secluded ranch offers intimate privacy, yet has a wide range of activities, including whitewater rafting trips, trapshooting, marksmanship, archery, fishing, hiking, mountain biking, volleyball, and a comprehensive ranch kids program. There's even a weekly outing by car to Aspen across Continental Divide. Guests enjoy scenic views along the way and shopping in the famous ski town.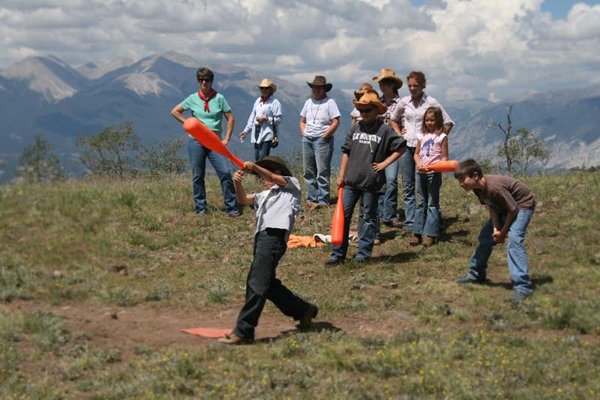 Guests play a group game of "fat bat" softball.
Home-cooked family-style meals allow Elk Mountain Ranch guests to mingle amid the western-themed decor. Singles, families, groups and a number of international travelers make for a diverse clientele.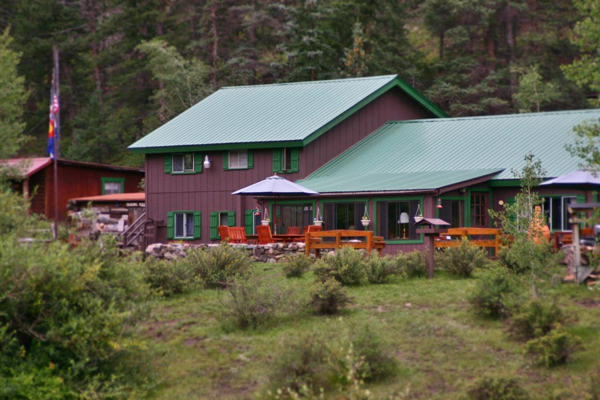 Guests gather in the main lodge for meals. A fireplace, games, puzzles, piano, library, sun deck and more are available for relaxation or fun.
Tom and Sue Murphy, the owners, met as staff members back in the mid-1980s. Today, they run the ranch, working hard to pay attention to the details to make guests feel at home and have a great vacation. It's this Western hospitality that is paramount to a dude ranch vacation, wherever the ranch lies.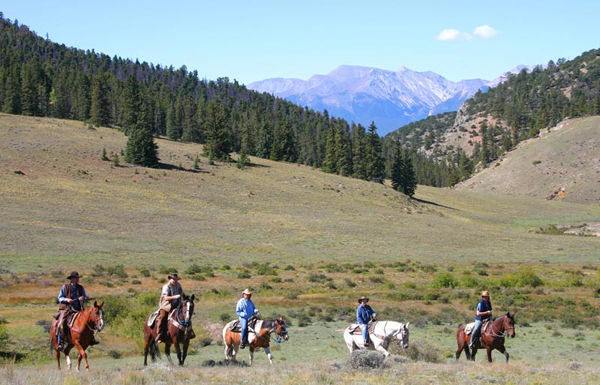 Trail rides of varying duration and difficulty are offered daily.
How you can go: Visit Elk Mountain Ranch's website to learn more. Learn more and check out great photo galleries from Elk Mountain Ranch in the Equitrekking Vacation Guide and at Top20Ranches.com.

Check out another great wilderness dude ranch- Rancho Los Banos.
Learn more about great dude ranches, guest ranches, cattle drives and wilderness pack trips in the Equitrekking Vacation Guide and our top picks for ranches at Top20Ranches.com.