Great New Jersey Horse Trails- Paulinskill Valley Rail Trail
Janice Elsishans, author of the NJ Horse Trails Book and the NJ Horse Council Trails Advocate, highlights horseback riding the Paulinskill Valley Rail Trail, part of the Equitrekking 50 State Trail Riding Project.
We have a secret here in New Jersey. Even though New Jersey is the most densely populated state in the entire country for both people and horses, we actually do have some really nice trail riding available if you know where to look
The southern portion of the state boasts flat and sandy trails in the Pine Barrens. The northern region has a great mix of mountains, farms and is steeped in railroad history. One can even ride their horse on the beach at Long Beach Island in the "off" season.
Northern NJ (Sussex and Warren Counties) once had railroad lines crisscrossing the area carrying dairy products and other farm goods, ore, coal and passengers to New York City and vicinity, as well as vacationers to the countryside. When the trains abandoned the rail beds, hikers, bikers and equestrians worked to promote these rail roads for a multi-use trail.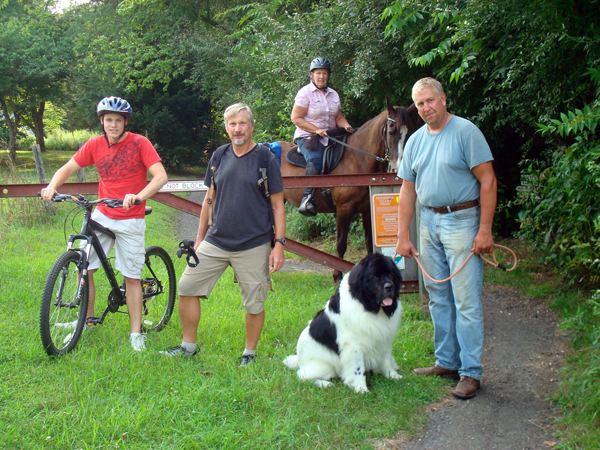 Taken by Janice Elsishans showing multi-trail use by bikers, hikers, horseback riders, and a dog walker.
My favorite and one of the most popular trail systems is in northern NJ's hills. It encompasses three rail beds–– the Paulinskill Valley Rail Trail (PVT) runs east and west for 27.4 miles, the Sussex Branch Rail Trail (SBT) runs north and south for 18.7 miles and the Lehigh-New England Branch (LNEB) connects to PVT and SBT to make a triangle (providing a 13.5mile loop on rail beds). The Sussex County Trail Partnership Committee is working on extending this trail system by adding more abandoned rail beds using grants, local labor and volunteers. Mile markers can be found at intersections.
Typical of a railtrail, the trail winds through mostly woodsy, flat, northern deciduous forests and wetland and features railroad artifacts with scenic changes in beauty with each season. The footing is generally dirt and old cinder base, although there are a couple of short rocky areas. Parking at any of the 21 trail heads will get you connected to the entire trail network. Presently 3 parking areas are large enough to access more than 3 rigs: Warbasse Junction, Footbridge Park and Kittatinny Valley State Park.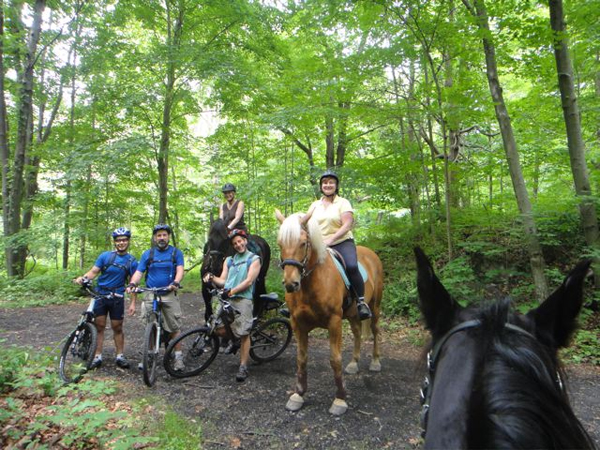 Meeting and greeting mountain bikers make for good networking. Taken by Janice Elsishans riding in Kittatinny Valley State Park.
Come ride with me on the PVT. Today I am starting my trail ride at Footbridge Park in Blairstown, NJ (Warren County). Footbridge Park has a large parking lot adjacent to the Paulins Kill (Kill is Dutch for river). It is heavily used on weekends by hikers, mountain bikers and dog walkers, so we do our best to be good trail partners and keep the lot clear of manure. This parking area is large enough for several rigs and has a port-a-john.
A short ride (7.4 miles one way- Western Terminus) we head west towards the Delaware Water Gap, where the Delaware River carves its way through the hills between Pennsylvania and New Jersey.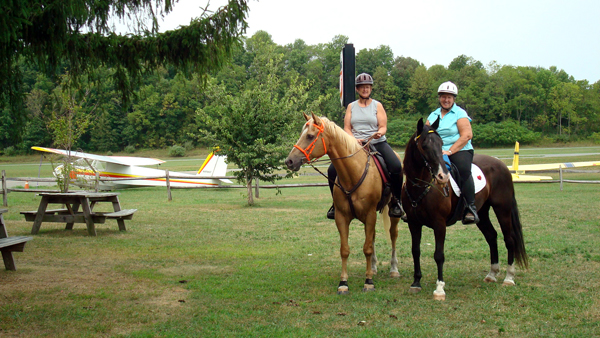 Taken by Janice Elsishans riding on the PVT.
One unusual feature on the trail is a snack or lunch stop at the Blairstown Airport about 2 miles west of Footbridge Park. The café owners are very horse friendly and even provide picnic tables and hitching post (along with a pitchfork to pick up after your horse if needed). The airport is home to gliders and small engine planes. The horses aren't bothered by the occasional hum of planes taking off, landing or flying overhead.
Continuing past the airport approximately four miles, you will see the Hainesburg Viaduct towering 115 feet over the trail. Awesome! This area isn't heavily travelled at present. Perhaps one day the trail will be extended and cross over the Delaware Water Gap into Pennsylvania. But for now, we'll just turn around and head back to the trailer.
A longer ride from the Footbridge Park heads east for nearly 20 miles to the Eastern Terminus. Ride through the large opening under Route 94 and in less than 1 mile you cross one of the nine bridges over the Paulins Kill. Be alert that NJ does have bear and we see them occasionally but confrontation is unlikely.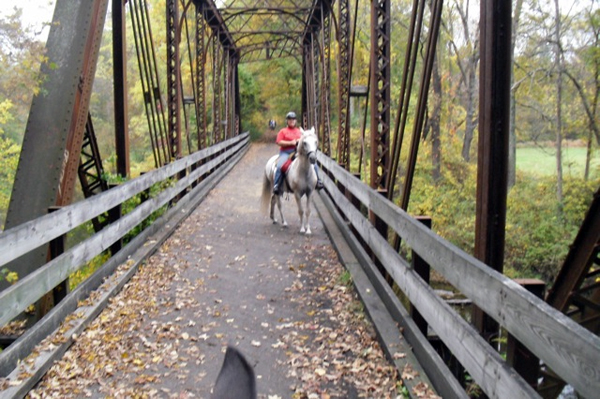 Susan Data Samtak taken by her husband John Samtak on one of the nine bridges on the trail.
We'll be paralleling the Paulins Kill and riding through farmland with view of hay fields, wildflowers, grazing cows and horses along a tree lined trail. We need to keep an eye out to spot the cattle underpasses, whistle markers and historical markers along the way as well as the several cuts where shale and large rock were blasted to make way for a smooth run for the tracks.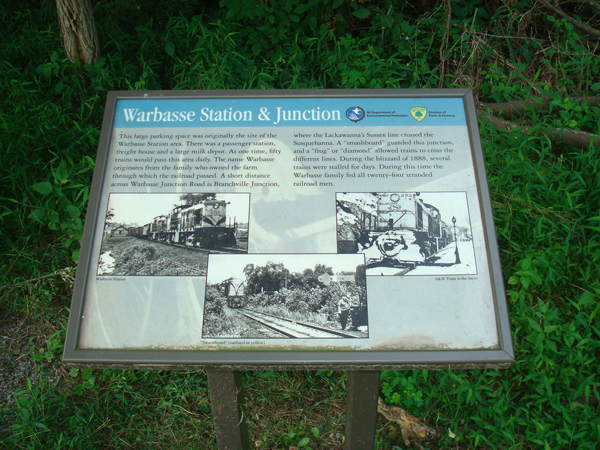 Taken by Janice Elsishans.
While rail trails are linear this trail is not so straight that you can see miles ahead; there are just enough curves to make you want to go just a little further. There are two sections where the bridges that the trains used to cross county roads are gone; you can still ride from one side to the other side of the road and continue your journey.
Continuing east the trail becomes more populated especially around the area known as Warbasse Junction where the PVT and SBT intersect. The SBT skirts swamps, lakes, fields and several small communities. Wayfinder signs have been installed to assist multi-trail users.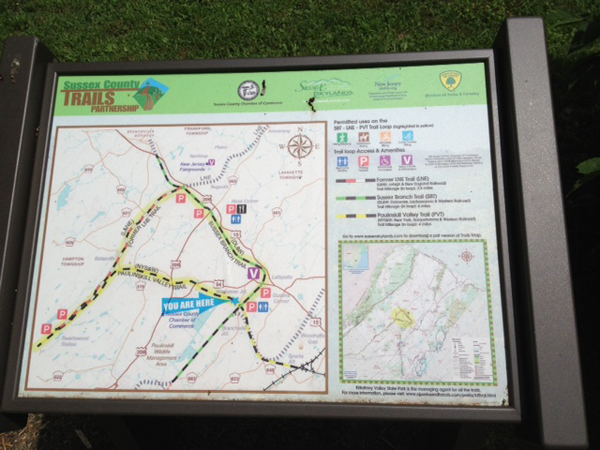 The Wayfinder signs taken by Janice Elsishans.

Four options from Warbasse Junction (route 663, one-half mile south of Route 94 in Lafayette on Warbasse Road) are:
Option One- PVT to continue 2.2 miles to the current Eastern Terminus of PVT (plans and grants have been obtained to continue this trail further into Vernon).
Option Two- SBT would be accessing the SBT north for 7.9 miles (one way) ending in Branchville, NJ, passing behind the Lafayette antique shops and again following the Paulins Kill. Just prior to crossing over Route 206 there is a farmer's dirt road which you may follow to reach the back of The Chatterbox restaurant which welcomes equestrians to use their bathroom. No hitching post but plenty of grass. Continuing on there will be one short area of 2 inch ballast used to repair trail damage.

Option Three- SBT would be accessing SBT south for 6.1 miles one way to Kittatinny Valley State Park upon completion of a 1 mile segment by the Town of Newton in the very near future. Just short of 2 miles is an extremely beautiful area with a large wet area that is home to thousands of white swans during mating season.
Option Four- A combination of PVT, SBT and a Wildlife Management area (WMA): This is about an hour and half circular ride from Warbasse Junction and accessing the Paulinskill Wildlife Management Area (WMA). WMA requires a $27.00 yearly "bridle pass". This area is maintained prior to hunting season; the trail in this area is well used and easy to follow.
Final option: Kittatinny Valley State Park is another wonderful starting point. Kittatinny is Lenape Indian word for "endless hill" or "great mountain". There is a very large and two small equestrian parking areas. A permanent rest facilities and a nature center are close. Maps are also available at the park office. Call ahead to make sure that no large event is being held. Not only are there well marked trails in the park but also access the SBT and head south and ride 6.3 miles in one direction crossing through Allamuchy Mountain State Park. This trail uses a former rail tunnel under the abandoned "Lackawanna Cutoff" which is considered an engineering marvel to the southern terminus of Waterloo Road.
Kittatinny Valley State Park maintains the rail trails. The friends group Paulinskill Valley Trail Committee was formed in 1987. Membership is $10 a year for individual; $20 for families. Maps of the rail trails with trail mileage and parking areas can be obtained from the website.
About the Author: Janice Elsishans, the author wrote the NJ Horse Trails Book as the NJ Horse Council Trails Advocate, formerly Equestrian Chairperson for the Heritage and Agricultural Association (Lusscroft Farms), participant in the Sussex County Trails Partnership and currently President of the Paulinskill Valley Trail Committee. In 2005 and again in 2008, her book, NJ Horse Trails Book, was published by the NJ Horse Council and is available on the NJ Horse Council website. She has also been an activist for the 25 mph "when horses are on roadways" signage which will help keep ALL our trail users safer on these and other trails which cross roads.