Great French Cuisine - A Traveler's Culinary Tour of Northern France
Wonderful Foods from France: Paris, Marly-le-Roi, Normandy and Mont St. Michel
by Caroline Maffry
There are endless reasons to travel to France, from culture to history and horses. Most equestrian and travel enthusiasts like myself would love nothing more than to set out on a horseback riding vacation and travel the world, no matter the destination. For me, however, there's one reason France will always top of my list as being one of the most enjoyable places to ride and travel... food.
The following is a sampling of the varied and delicious regional cuisine that I was lucky to enjoy during my trip through northern France. Please enjoy the recipes I have included for some of the dishes, and let me know if you cook any at home.
Marly-le-Roi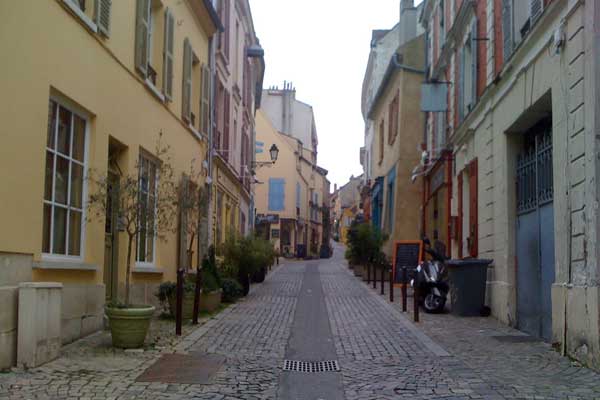 Arriving in Paris, I was greeted by my father and immediately treated to a typical French lunch of tomatoes and vegetable filled quiche, followed by homemade asparagus soup, a seafood and egg in aspic dish called, "couronne de fruits de mer en gelee avec oeuf dur".
After the meal we enjoyed local cheeses and a pear tart for dessert. As I sipped my glass of white wine, I started my two week feast of food in France! After an afternoon excursion to visit Le Pavillion Royal, I returned to dinner in Marly le Roi where I was staying. My first day in France would not be complete without having escargot!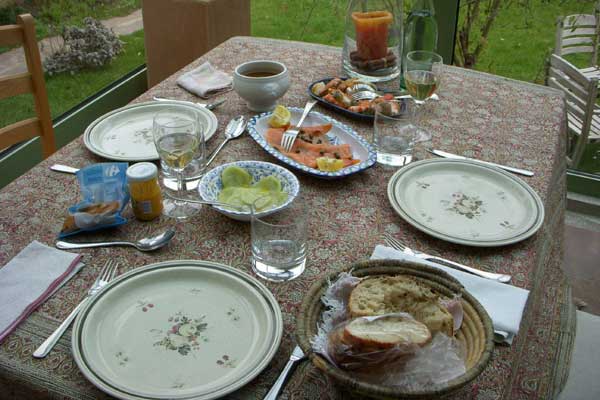 After a restful night's sleep, I awoke to a traditional French breakfast of croissants with jellies and coffee before heading off for my royal ride in the gardens of the Chateau of Versailles. For lunch (pictured above), I had fish soup with croutons, and rouille, a thick sauce used as a garnish with fish or fish based soups, smoked salmon with capers and lemon, prawns, and cucumbers.
Then, it was off to the Academy of Equestrian Arts!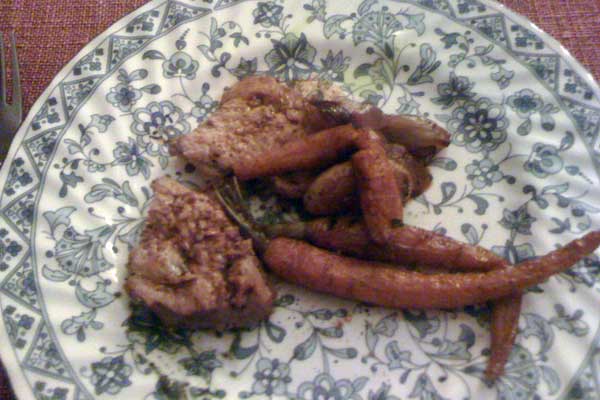 Dinner was family style back at the house with pork, carrots, green beans, potatoes and wine.
Prior to taking the train to Normandy, I met with the Director of the WEG Normandy 2014 games. As Mr. Grobon was in Paris with his family, we decided to lunch together with our children at the Pony Club and Equestrian Center of Paris located in the Bois de Boulogne (Paris' largest park).
As we ate a lunch of omelets and croquet messieurs, we sat above the lesson arena and watched the Saturday equestrian lessons being held below.
Normandy
Dinner at the farm house in Normandy: Pate with eggs, tomatoes and capers, "Porc a la Normandie" pork Normandy-style with apples in a delicious cream sauce, red wine, followed by 4 kinds of cheese, with tart for dessert and coffee.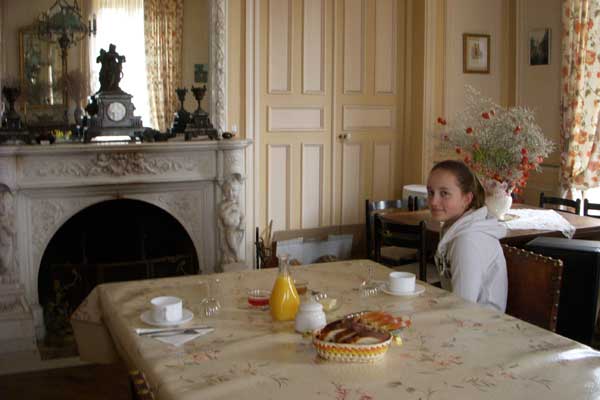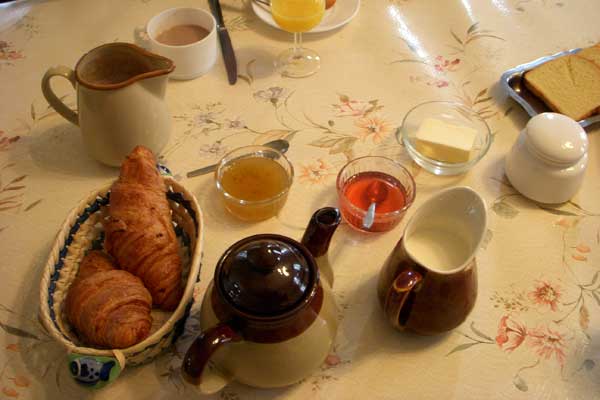 Breakfast at the Chateau in Normandy before our ride to the Bay of Mont St Michel.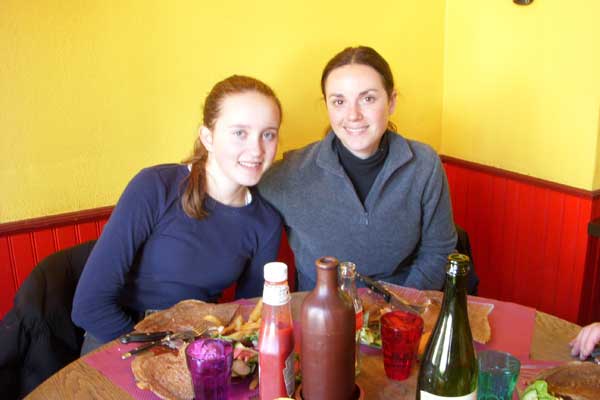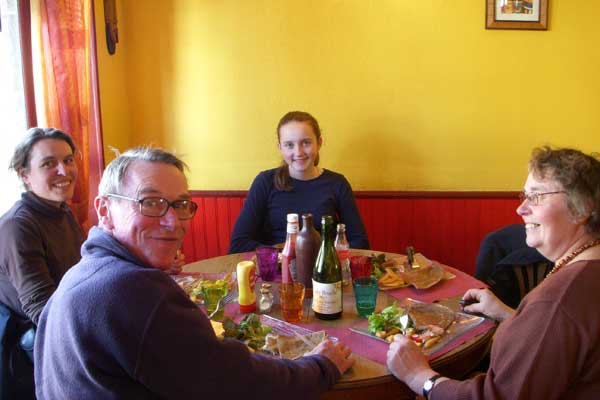 After stopping and hitching our horses, we ate in a little bay-side town and had Norman crepes called "Gallette Complete" with egg, ham, and cheese, and salad complemented with Cider of Normandy, followed by dessert crepes with sugar and raspberry custard.
Mont St Michel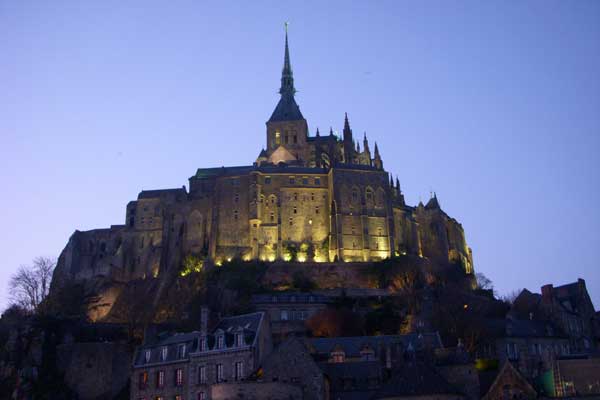 Mont St Michel at sunset.
Dinner was at Auberge Saint-Pierre on Mont St Michel, a lovely restaurant and hotel to which the Jouvins customarily take their guests after a long day's ride.
While drinking Normandy's traditional cider, we dined on an assortment of meats cooked to perfection, including agneau de pre-sale (salt meadow lamb), a local specialty due to the salt marsh diet of the sheep, entrecote with French fries, chicken with a cream sauce, salad with egg, beets, carrots, a tart for dessert and coffee.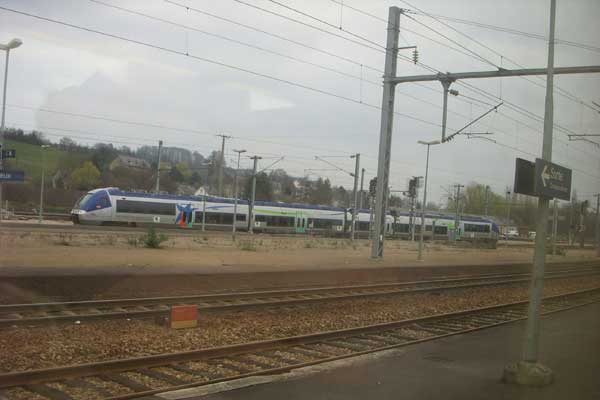 On our way back to Paris, courtesy of Rail Europe!
Lunch on TGV from Rennes to Paris: Baguette with ham and cheese and butter on train, courtesy of Rail Europe
Paris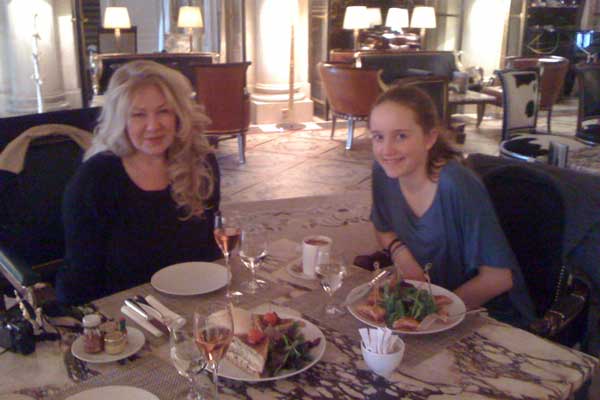 To round off our trip, upon arriving back in Paris, we were treated by friends to high tea at the Maurice Hotel, with club sandwich, salad, champagne, hot chocolate and "Croquet Maurice".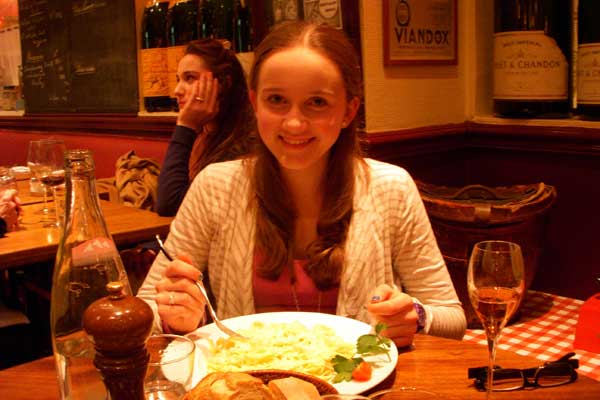 Dinner followed at a Brasserie in Paris where I was served avocado and shrimp salad, followed by Confit de Canard (preserved duck) and roasted potatoes and pasta, with raspberry tart for dessert.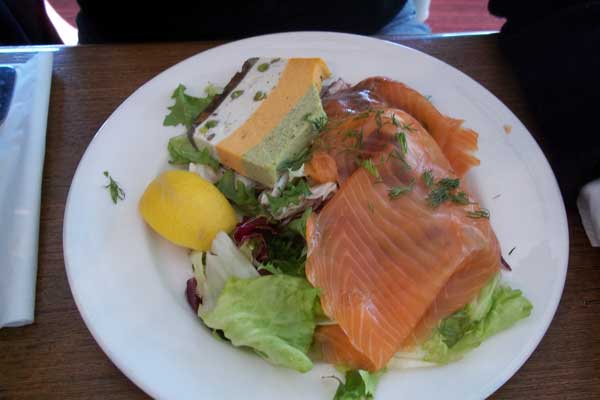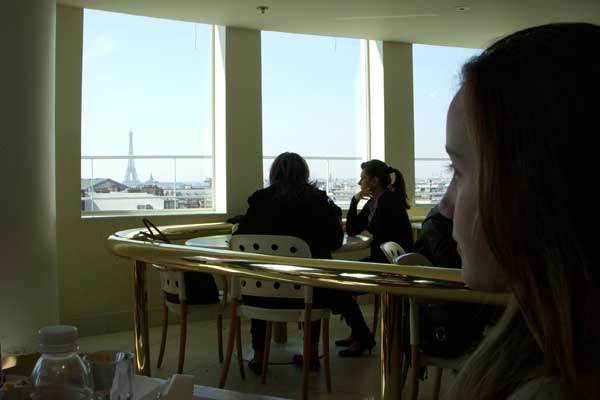 Lunch at the Paris department store Gallerie Lafayette: The roof top cafe has spectacular views of the Paris skyline as you look out towards the Opera Garnier, across the street and the Eiffel Tower and Arc de Triomphe in the distance and to the right.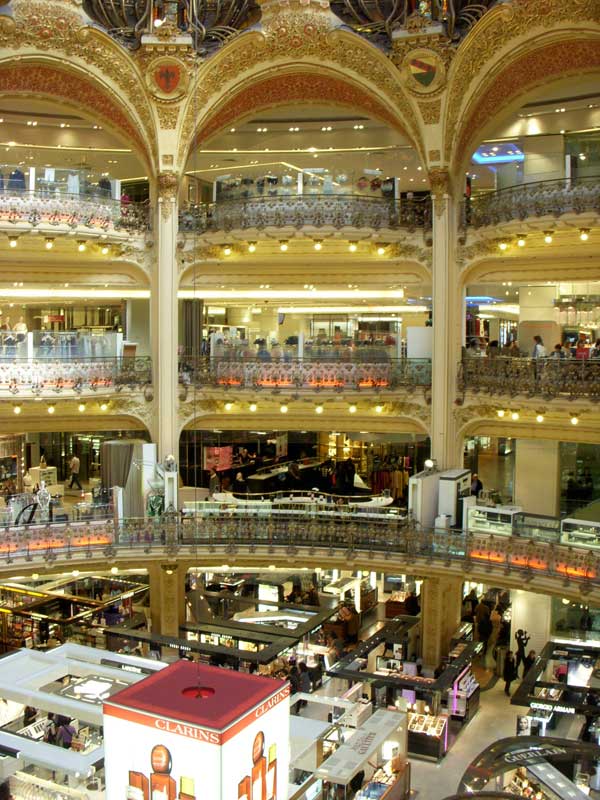 Inside well known department store Gallerie Lafayette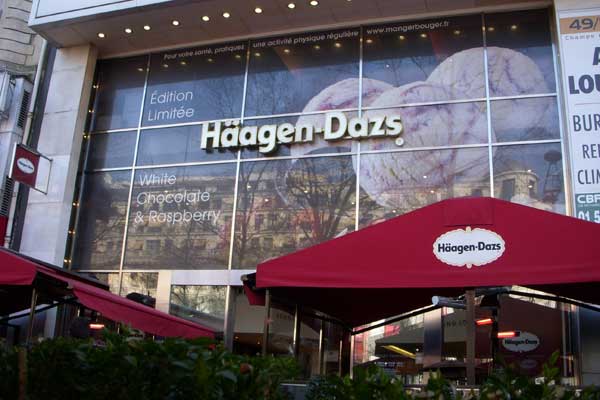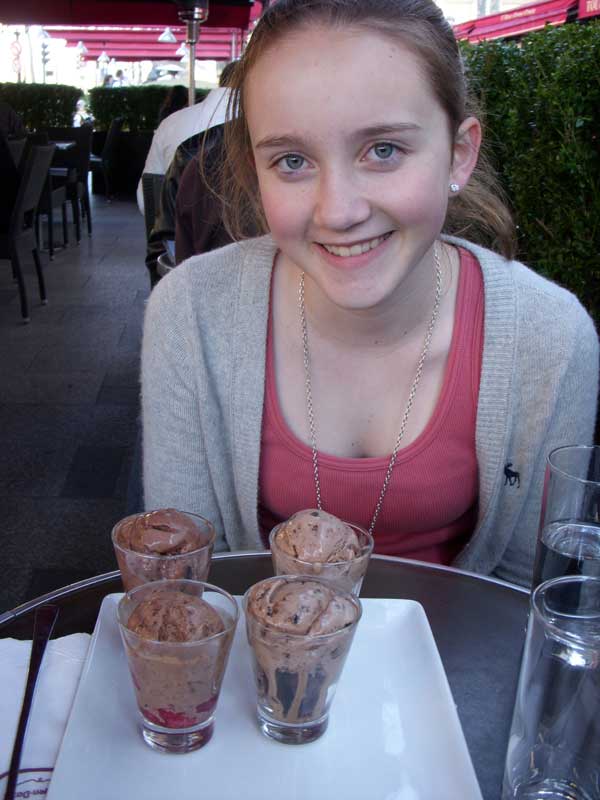 An afternoon stop on the Champs Elysees at the Haagen Daas Cafe: chocolate, chocolate, chocolate!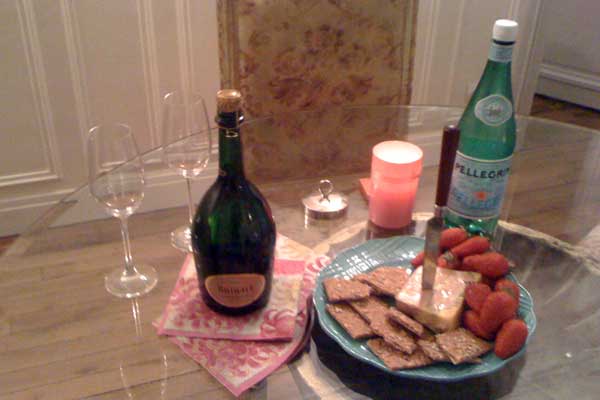 A pre-dinner delight of champagne with strawberries and pate!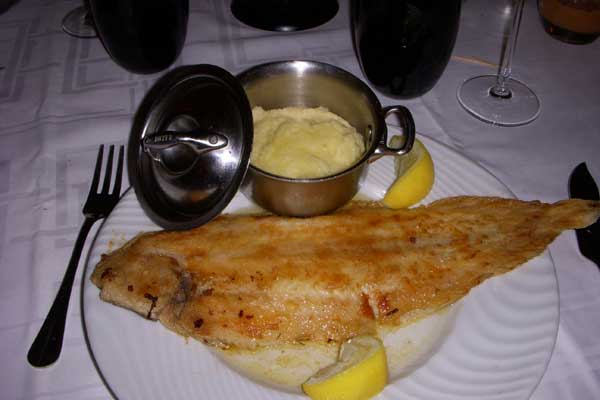 Dinner at Brasserie de la Muette in the 16th arrondissment: Escargot, followed by, fillet of sole with mashed potatoes (pictured above) and an assortment of sorbet for dessert.
Local fish market in the 16th arrondissment of Paris
Local meat market in the 16th arrondissment of Paris.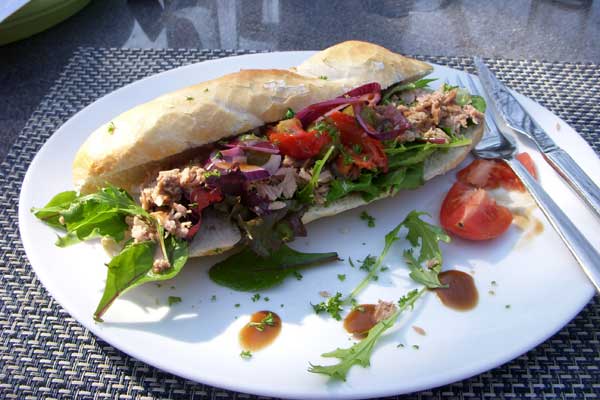 A beautiful lunch of tuna sandwiches prior to our departure... and finally horsey chocolates!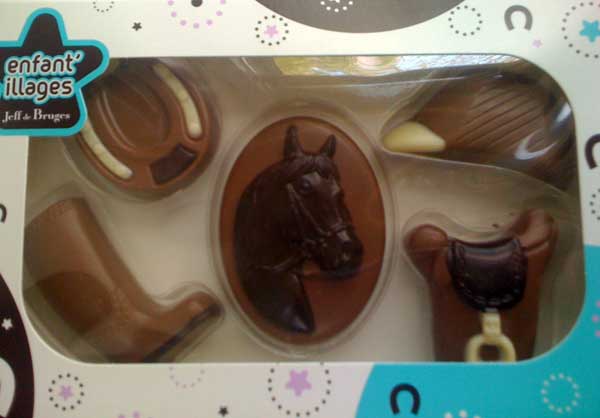 I cannot wait for my next trip!

A special thanks to August Maffry, Liz Routier-Maffry, Anne and Steve Juge, and the Jovins for their hospitality and providing us with such wonderful meals throughout our trip.

Enjoy French food on riding holidays in France. Check out the options with EquitrekkingTravel.com.