Geronimo Trail Guest Ranch Celebrates its 10th Anniversary
How did a family who grew up on an island off the Maine coast come to own a guest ranch in the remote Gila National Forest of New Mexico?
This month, Geronimo Trail Guest Ranch is celebrating their 10 year anniversary as a New Mexico guest ranch and we wanted to share the story. Originally started as a hunting lodge in the 1980's, Geronimo Trail Guest Ranch evolved into a guest ranch in 2002. It was 10 years ago that Harry, Diana, and Meris Esterly purchased the ranch.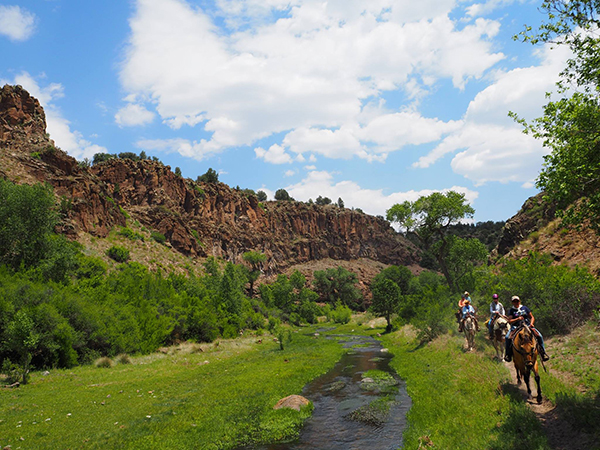 Ride the outlaw trails of Billy the Kid, Butch Cassidy and the Sundance Kid at Geronimo Trail.
It all started when Meris was eight years old and started taking English riding lessons together with Diana. After a few years of riding lessons the whole family decided to vacation out West, taking advantage of the trail riding opportunities offered. When Meris was fourteen they went to a dude ranch in Colorado for a week. They loved it so much that they returned every summer for 5 years.
By that time, Meris was old enough to work at a dude ranch. In the summer of 2005 she hired on as a wrangler at a dude ranch in Colorado where she worked for three summers. After the third summer, Meris had graduated from college while Harry and Diana had retired and they all were looking for a new adventure. The Esterlys love of dude ranching led them to seek out a dude ranch to buy. A broker set up seven ranches for them to visit from New Mexico to Montana. Geronimo Trail was the very first one they visited. It was love at first sight and the rest is history!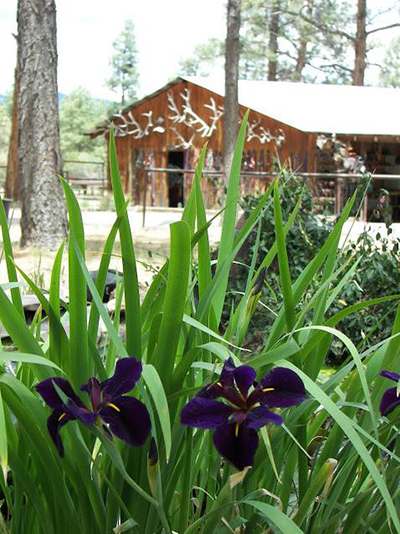 Guests stay in cozy cabins at this guest ranch with a maximum capaity of 16 guests.
Today, Harry and Diana have retired (again) to Bayard, NM while Meris and her husband Seth Stout take care of the day to day operation of the ranch. The ranch has been fortunate to meet people from all over the United States and the world, who visit to experience this beautiful and rugged part of New Mexico, where 1,000 year old archaeological sites are sprinkled amid storied lands. This part of New Mexico is where Geronimo was born and grew up in and the homeland of the Chiricahua Apaches. Set amid the Gila National Forest, the first designated wilderness in the United States, guests have lots of room to ride on these ranch vacations.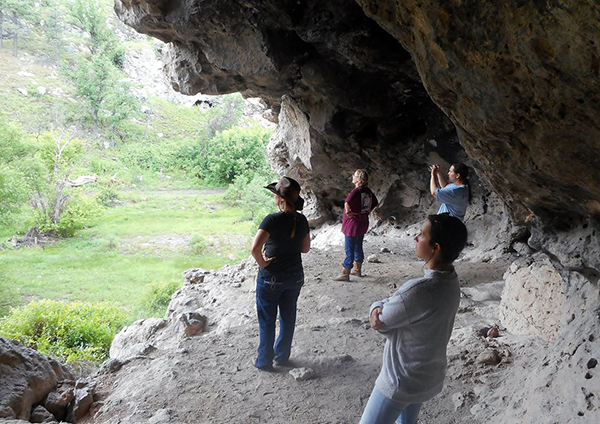 Close to the ranch, there are several privately protected Mimbres pictographs, cave dwellings and pit houses dating from 200 to 1150 AD.
It doesn't matter where people come from or how old they are or how experienced they are with horses. It is their love of horses, history, and the great outdoors that bring them to the ranch. As a result, Meris and guests have formed friendships that extend well beyond a stay at the ranch.
Learn about visiting this ranch, which averages 275 days of sun per year on their website, Top20Ranches and in the Equitrekking Vacation Guide.