Georgia's Southern Cross Guest Ranch Traveler Review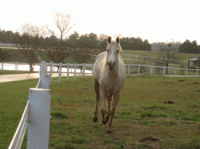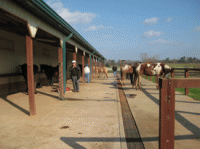 Easing my way back into the saddle at Southern Cross Guest Ranch.
by Equitrekking Member JoAnne

Persistent web searching led me over and over to Southern Cross Guest Ranch located about an hour outside Atlanta near historical Madison, Georgia. I was one of those typical horse-mad girls who had grown into a middle-aged woman who could not quite let go of the idea of spending a week on horseback. At the same time, I didn't really see myself at a typical ranch trying my hand at roping and eating over an open fire.
Southern Cross offered very comfortable rooms and tasty home cooked food as well as the possibility of riding for up to 4 hours a day on their own trails either with a guide or with another guest.

What really decided me was the price. I went during their low season in February (still a lot warmer for me than my hometown) and for the price of a typical B&B, I got a lovely and spacious room, all meals and horseback riding. It was easily half the price of most ranch vacations. I was on my own but the single supplement was more than reasonable and the other guests were very friendly (as is all the staff) so I had plenty of company for the rides and meals.

Imagine pulling up the long driveway to the house with dozens of horses grazing happily in the surrounding fields. I immediately felt my stress melt away. The access to the horses was amazing. As I toured the facilities upon my arrival, I was told I could walk into the fields any time which I did each morning and evening, my pockets bulging with carrots. Before each ride, we would go down to the paddocks to collect our horse for the day (you could stay with the same horse all week or change it up once in a while), brush it and help put on the tack. The trails are quite pretty and the riding is easy. The horses are more responsive than those on your average trail ride, and I grew quite attached to one particular character called T-Bone.

Access from Atlanta airport is easy. You can rent a car quite cheaply, take a shuttle or be picked up by a driver. I rented a car so I could visit the area, and it was useful on my regular runs to replenish my carrot supply.

The perfect place for a middle-aged woman looking to reconnect with her childhood obsession.

Learn more about Southern Cross Guest Ranch on their website and in the Equitrekking Vacation Guide.